C'mon Man, that's pathetic"...and turn abruptly to hockey.
---
May 5: Cinco de Mayo, Get Angry at our Treatment of Immigrants What? Our treatment of immigrants? No kids in cages, here. But worse, we make ours work in meat-plants. (OK, in the States, they also go to meat-plants, after being let out of the cages.)
Cameras are not allowed, of course, but the movie "Fast Food Nation", available at your library, provides a simulation. The book, by Eric Scholsser, is also required reading. (But only for people who eat food in our society. If you live off the garden, you can skip it.) The image at left is actually from the movie, not real life.
Meat-plants are the awful dark corner of the free-market system. It relentlessly demands that meat be made a little cheaper, a little more, a nickel per burger cheaper, until the only way to do it is with human bodies abused by crowding and RSI-causing robotic work. Only the most-desperate will take the job. I recall when times were really good in Alberta, just before the 2014 Crash, an Olds meat-plant owner complained about having to hire actual citizens. He really preferred people who'd go straight back to Africa if they gave him any trouble. He put it just short of that plainly, right on the news. Nobody even pretends.
Well, the CBC has at least done some nice long-form journalism on our pandemic disgrace. Well, our other disgrace, after the care-home debacle. Two outbreaks, with death-counts. They let it happen again.
Ultimately, the whole industry needs reform. They couldn't do much except shut down the meat-plants (and shoot all the animals queueing up for them, in a line that stretches back to the animal's birth) and drive us all vegetarian. The way to make them pandemic-safe is also the way to redesign them from scratch, to make them somewhat humane workplaces in non-pandemic times. Less crowding. Better ventilation. Less speed.
I won't even start in on sick-pay, the dead-obvious stuff that the news has been all over for months. It speaks volumes that this minimal step is still controversial with goverment regulators. The government regulators, the CBC story makes painfully clear, are worthless. They were willing to let Cargill stay open, when Cargill itself knew they had to close - shortly before cases spiked from 326 to 500 in a matter of days. Worthless. Reform the inspectors first.
A culture that, in my lifetime, went from coffee being coffee, to having endless grades of perfection, and breeding, and "terroir", has already discovered upscale meat: organic; free-range; grass-fed. It's great the free-range chickens experience less cruelty.
Let's all be willing to pay more for meat that relies on less cruelty - and death - for human beings.
---
May 4: Vaccinate Iqaluit. Today.
We could. The vaccines have just arrived for the week, and the Feds could absolutely tell the provinces that the expected doubling of Pfizer doses will be 0.4% light this week. Then carve out 8,000 doses and send them straight to Iqaluit. Military plane. Today.

That's physically possible, but bureaucracies never seem able to do such things, no matter how dynamic and action-figure the politician at the top, would love to be. We can respond quickly to things like fires, but only because a "fast response bureaucracy" has been built to deliver it.

The problem, check your CBC News, is that Iqaluit has declared a state of emergency, as it scrambles to contain a major outbreak. They're at 85 cases, enough to put people in hospital and ICU..of which they barely have any.

This should provide clear warning about the limits of vaccination: Nunavut is already at 41% vaccinated, but it's not nearly enough.

The town is a mere 8,000 people. I bet, being in town, more than 41% are vaccinated already, and only 4,000-odd doses would get them to 100%. They are now doing studies of vaccine in children. Let this be a great location for one of those tests.

These remote, hard-to-reach locations are such perfect places for vaccination. Other small communities, like Gibraltar, the Falklands, the Seychelles have become the world's first truly post-pandemic places. Canada's North could join them. Starting with Nunavut, today.

Remember: if there's bad news out of Nunavut in the next few weeks, it's all because we didn't just stop it, when we could have, with one plane-load.

I wanted to write about the abominable situation at the Cargill meat-plant this morning, but it's as well the Iqaluit story caught my eye. The meat-plant pandemic has been so infuriating, that I need a day to save up bile.
---
May 3: I Finally Lose It on Facebook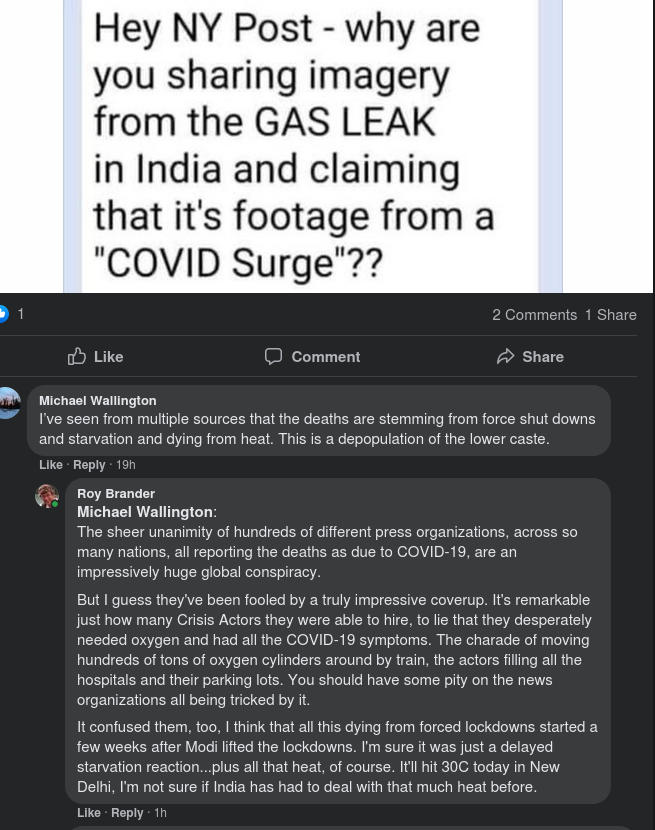 I didn't lose my cool in anger, but of suppressed need for sarcasm. I'm a naturally sarcastic person, needed decades to realize what a bad thing that was, and rein it in. (Mostly.) It builds up a need to vent some sarcasm now and then.

This particular Facebook post - a claim that India(!!!) was not really having a wave of death due to COVID-19, set me off on a total stranger I will never meet (with luck). I felt better, but I need to get that grip back. There's too much of this stuff to address.

---
May 2: Unbelievable, Twice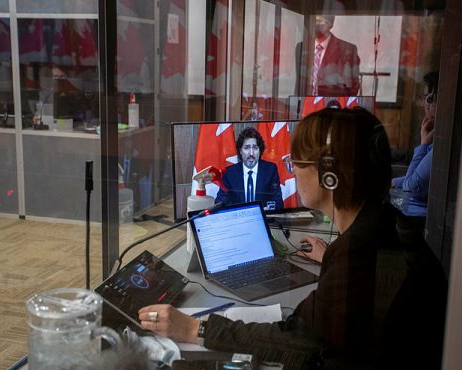 They're interpreters, not translators. My relatives that work in the field smack me on that one, every time. Those who work on texts are translators; those who work live audio in real-time, are the elite, they're interpreters. It's like regular doctors and specialist doctors, they're a cut above.

It's bewildering that Parliament would treat them this way. It's beyond stupid. What kind of message do they want to send, this allegedly "liberal" government? That they agree wholeheartedly with Doug Ford on this issue?

It's an issue of employment standards and fairness, and an issue of pandemic safety, all in one.

But, beyond political stupidity, the sheer arrogance of thinking yourself not vulnerable. Parliament is utterly dependent on just 80 interpreters that are required for Parliament to sit. They can't do their job without them. So, they gave them, not permanent jobs, but freelance gigs, and told them they have no sick pay, no coverage for requirements to isolate.

The second thing that is unbelievable is that just 80 people can't form a union. No formalities, no union vote, just everybody walk off the job the same day. Parliament would be brought to its knees within hours.

I'll chip in to the strike fund.
---
May 1: Fascist Losers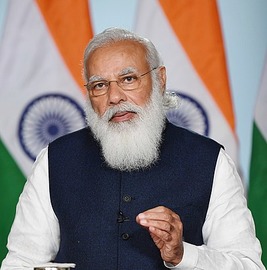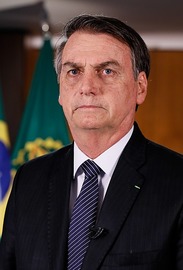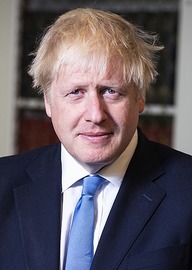 Is Modi a "fascist"? Is Bolsonaro? How about Boris Johnson, who sold Brexit by basically promising to stop letting in so many brown people?

The F-word is not to be thrown around lightly. Here. In Spain, where I've vacationed for at least a year or so of my life, out of dozens of visits, my relatives use the term quite casually, and so do most of the Left (of various parties, they have a few on left and right, each). In Spain, they know their fascists well. They were governed by quite open fascists for decades, and are perfectly aware that the successors of Franco are completely fascist in outlook and opinion, restrained only by implied threat of force when they get power.

Can I take a note from autism discussions and just call them all on the "Fascist Spectrum"? The Faspecs, let's say, are the world's most consistent losers. When did they ever win a war? When the United States stopped prosecuting torturers at Nuremberg, and started learning from them in the Vietnamese jungle, they stopped winning wars. The nation of Guantanamo and Abu Ghraib couldn't even beat the poorest country on Earth, not in 20 years of trying with thousands of drones. (Not saying they're a fascist country; but if the connecting thread of fascism is lies, then America's wars were started with them, and continued endlessly because they couldn't face the truth on the ground. It's pretty fascist-type behaviour...)

And now, the Faspec leaders are doing the absolute worst at the war with the virus. The United States was a global hotspot, when government changed hands, (to one that accepted the truth, from one who kept calling it a hoax), and the case-load plummeted that week. The UK has had one of the worst pandemics in Europe. As their case-load finally stops, we were reminded of that this morning, by this article about Johnson's charge sheet.

And then we come to Brazil and India, where it may not be possible for foreign aid to bring in mass supplies of oxygen, medicine, and equipment, fast enough to save even half the lives that their fascist leaders have as good as murdered.

The follies of Modi and Bolsonaro are now covering the news, no need to repeat them - I'll just note, that this morning, Modi's whole party is denying there's even a problem(!)

A lot of my political comprehension comes from one very defining book for me, "The Dictator's Handbook", by Alastair Smith and Bruce Bueno de Mesquite. The authors spend most of it explaining how dictators are men with very few choices: they have to be brutal thieves (who distribute the booty to supporters), or their supporters will toss them out for somebody who is. A later chapter digs into considerable historical record, about the Third Reich, to explain that fascists don't actually have the belly for a fight. Since they're in government for themselves, they run the moment a fight begins to turn, and abandon their countries. (So much for their super-nationalism and hyperpatriotism.) The wealthiest of Germany began pulling their money out soon after D-Day, and the German war funding shrank exponentially as they fled.

Modi and Bolsonaro will continue shouting that there's nothing really wrong, to the very end. Fascists cannot face the truth, cannot handle reality. Others will have to clean up their messes, and bury their dead.
---
April 30: Revised and Heartening BC Vaccination Schedule
It implies about the same for Alberta: similar-sized provinces with similar systems, and identical per-person vaccine access.

It's all from one article in CTV news, promising "every BC adult could get vaccine by mid-June".

I really have to snipe at Fraser McDonald of The Line, who baffled me with the criticism, "If this is a diversified portfolio of vaccines, it's not working great". It's just brilliant that we bought heavily into every vaccine product from Western companies.

At the moment, three of the four are not there for us. Johnson and Johnson is about to send enough to vaccinate 0.77% of the country, then nothing until June. Moderna has stopped deliveries, has no timeline for resumption. AstraZenaca, exactly the same. Three out of four have failed us, at least, for May.

But the fourth is about to double delivery! That's the substance of the article: Pfizer is about to bump up Canadian deliveries:
| Period | Doses/Week, BC | % BC Pop/Week |
| --- | --- | --- |
| Up to now | 138,060 | 2.7% |
| May | 274,950 | 5.3% |
| June | 337,000 | 6.5% |
| June - JJ? | 40,000? | 0.8%? |
We end April, this afternoon, with almost precisely 33% of BC's population vaccinated, a small minority of them twice. We only need to give second doses to 1% or 2% of the BC population in early June, as we were at very low vaccination up to four months before that. (We went from 2.5% to 3.5% single-dosed in February, and must give them a second dose four months later, in June.)
By Monday, the "start of May" in weeks, we'll be at almost exactly 34%. Alberta will be a smidge under 30%. Then we have four straight Mondays of going up by over 5%, over 21% in total, to over 55% on May 31.
Then, with luck, things pick up. If we're getting 6.5% per week from Pfizer, and nearly a percent from the Johnsons (I'm assuming the same weekly dump as we get one time this week, then it goes up to 63% and 70% on those next two Mondays.
And that's the end of the model, because nobody on Earth, in a polity of millions, gotten to 70%, yet. As noted yesterday, everybody hits vaccine no-shows at 60% at most, so far.
That's why they're saying that "every Canadian adult will have access" by mid-June, though they couldn't say that if everybody actually showed up. It's like a bank promising to have your money, knowing there'll be no run on the bank.
The revised schedule makes a great June possible. If every dose is grabbed up the moment it's available, even the variants will be on the run by early June, and the last of the curve will be crushed as we cruise on up past 75% by the end of the month.
That's statistically unlikely, given other places not doing it, but why not Canada, why not BC and Alberta, for the win? Urge everybody you know.
---
April 29: Will Canada Break the Vaccination Limit?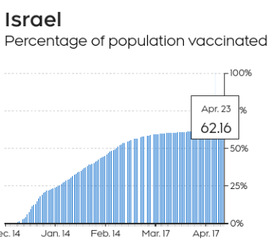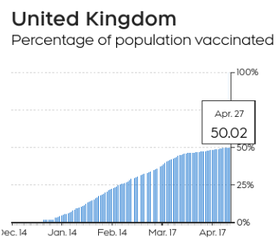 It's so heartening to see stories about people lining up for vaccine, making great efforts to get it.

The story, so far, from nations that have faster vaccination programs than ours, is not encouraging. Nobody vaccinated faster than Israel, they were the envy of the world. And the UK redeemed itself, somewhat, for incredibly stupid pandemic behaviour, by a remarkably fast vaccination program.

And then, they both faltered, and...just...stopped. Not because the governments were incompetent (for once), but because people just stopped showing up. And now, in the US, there are signs of the same thing, as they pass the 40% mark. (In the last week, a gain of 2%, from 40.6 to 42.6. The week before was a gain of 3%.) There are Americans skipping their second shot, even.

In Israel, business slowed right after 50%, was dead by 58%, has taken over two months to reach 62%. In the UK, it began to slow at 45%, has now almost stopped at barely 50%. UK vaccinations remained stale even as their infections soared past any previous peak, just last week. I don't know what to think about such stupidity. It's like reading that the new reality show is a stick-your-finger-in-your-eye competition.

I'm pretty contemptuous of the vaccination-promotion efforts to date, everywhere. I'd be advocating something pretty aggressive, involving major employers on TV, talking about how important vaccination is to their workplace, that unvaccinated employees may have to continue working from home, while vaccinated can return to the office. I'd have stories about how unvaccinated workers won't be able to do renovations for people, or go on construction worksites, how all warehouses and factories will require vaccination for on-site work.

I'd be requiring it for school, or a doctor's note explaining the medical condition,which would also go on file, so the workplace could protect that employee.

Oh, and obviously, politicians should announce that a major re-opening will occur the moment a province hits 70%, and Trudeau should announce a billion-dollar prize of parks funding to the province that reaches it first.

And I'm totally down with "vaccine passports" to bars, restaurants, and theatres. None of that forces anybody to get a vaccine, just like nobody is forced to get a social insurance number. So it's legal, which is all I care about. I have no interest in whether it triggers conspiracy nuts.

Screw them. They'll get people killed.
---
April 28: A Depressing History of the Next Nine Weeks
I'm a hard guy to please. The great news, clear a few days ago, is that we are for sure on the downside of the case-rate curve, as Alberta, Manitoba, and even Nova Scotia, are not, yet.

The bad news is that we have enough days of trend to estimate an "R", and it's 0.9. I'll spare you the tan-coloured graph image from CTV, you've seen them before. It's point-nine.

We could have done better, Quebec is a very impressive 0.8! But, I have a grim suspicion that point-nine is the best we're going to do, because BC has never done better than 0.88 in the whole pandemic.

There's no news about more vaccines coming. It's unlikely that BC will add at more than 5% per week to the percent vaccinated. Rounding down today's figure of 30.72% to 30%, to be conservative, here's the next nine weeks. The cases/day are the 7-day average for that day, not the daily.

The calculations assume a drop to 0.86 of the last week's figure every week, at first. I lower that slightly as vaccinations hit 50% and the first real effects of it are felt. Then the R is dropped a little more every week for the last three; I'm estimating an R for five days of 0.7, a weekly drop to 60% of previous, at the end.

The other phenomenon I have to account for, though, is the sad fact, from the UK, and other countries, that even sane, well-educated populations seem to fall off on vaccination as their country approaches 60%. The UK has leveled off at 62% for some weeks now, and the US is already faltering. This is crushingly disappointing (even infuriating), but it must be accounted for in the model.
| Date | Cases/Day,BC | Vaccination% | Comments |
| --- | --- | --- | --- |
| Apr 28 | 883 | 30% | |
| May 5 | 761 | 35% | |
| May 12 | 657 | 40% | |
| May 19 | 567 | 45% | |
| May 26 | 489 | 49% | Vaccine uptake slows |
| June 2 | 422 | 53% | Vaccines begin to reduce R |
| June 9 | 360 | 57% | R down to 0.8 |
| June 16 | 337 | 60% | Vaccine uptake begins to plateau |
| June 23 | 235 | 62% | |
| June 30 | 141 | 64% | R down to 0.7 |
The depressing thing is that it's June before we are down below the bottom of the valley between our fall and winter waves, the point from which we took off in November.

It's really hard to read a fun June into this table. The weather will be pure summer, school will be ending, people will want to be gathering at the barbeques, but we'll still be spending the month, 50% vaccinations and all, getting the numbers down from 400/day to 300/day, which is still a rate from which you could take off to ICUs-full in a few weeks.

I hope this is depressing because it's pessimistic. Maybe this "vaccinate the hotspots, vaccinate the businesses" strategy will pay off big. Maybe the R-value will plummet in a few weeks. Maybe well-educated, liberal, not-much-lied-to BC will keep getting those vaccines and be at 70% by the end of June, and R down below 0.5 - down below 1.0 even with a re-opening on Canada Day.

One can hope, and I will. But if trends from our own past, and vaccination trends in several countries, predict our future, this, alas, is it.

In the movies, the "fix" is always quick. The snake antivenom begins to make them breathe easier while you watch. Even the movie "Contagion" started to move time more quickly when the big vaccine clinics started, the drama was about over. For us, the fight is a patient, wearying slugfest to the end.
---
April 27: The Vaccine Wisdom of Crowds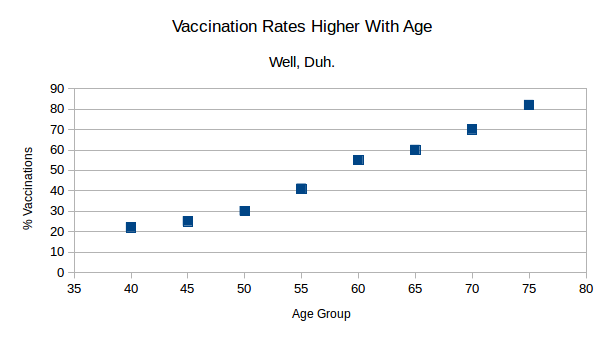 As one of my graph sub-titles says, well, duh. Hey, the regular news gets to fill space with boilerplate reports on the current hospital statistics (they must have an MS-Word macro that writes the story by now), so I get a day just reporting the obvious. But I'm doing it with statistical rigor.

This blog will have to end soon, not just because the pandemic hopefully will, but because it's all a single HTML file, now 396 posts long. The very first, for April Fool's Day, 2020, was about "You Chance of Dying Grows Exponentially With Age", and you can jump down there for the log graph, rather than this post repeating it.

The fun news just in, about the Calgary/Edmonton Battle-of-Alberta for vaccination rates, had a tidbit at the end of the story that made me perk up:
Vaccine uptake has ranged from 80 to almost 85 per cent in people over the age of 70, the numbers show, and between 54 and 77 per cent amongst 60 to 74-year-olds.
...

However, vaccine uptake in the 55-59 age group is just 41 per cent, 30 per cent in 50-54, 25 per cent in 45-49, and 23 per cent in people aged 40-44.
I did a little interpolation with those numbers, and produced the graph at upper right.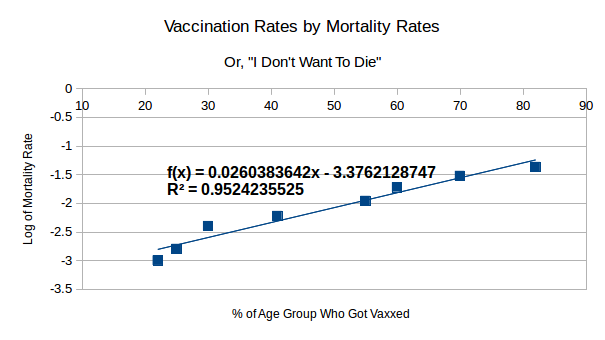 The vaccination rates don't quite go up linearly, there's a bit of a curve to it. If you throw out the age variable, and just graph the vaccination rates against the log-of-mortality as your XY, you get a very good agreement, an R-squared of 0.95, at left. You graph log-of-mortality, because that mortality goes up exponentially with age, so it's log is linear with age.
But, I noted that the graph of vaccination uptake was also a little curved, could it have a slight exponential to it as well? The "Wisdom of Crowds" phenomenon would suggest that, in statistically large numbers, people do have a strong sense of their risk level, and act to address it. If the risk goes up exponentially, the desire for vaccination should, as well. What happens if we graph the two logs against each other?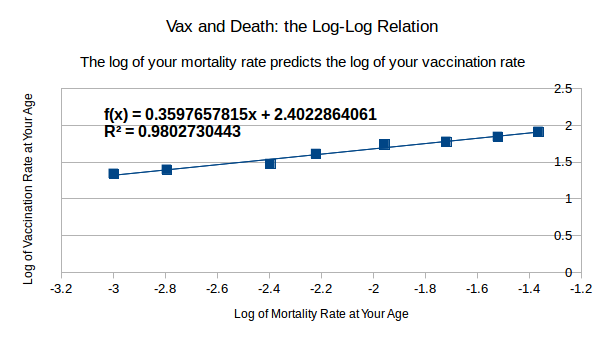 At this point, the graph is kind of meaningless numbers: no ages or raw rates left, just two logs against each other. But the meaningful number is the R-squared in the trendline. It's gone up from 0.95 to 0.98, which is significant. (The degree to which a prediction using the trendline would be wrong, has dropped by half.)
It's a pretty faint signal, I wouldn't write a paper on it, especially since my data are interpolated and approximate. But it's definitely worth a blog post, or an argument over a beer. If I could have an argument over a beer. Maybe after the vaccination rates pick up.
I now fully support frightening young people about COVID-19 with the mostf fulsome news coverage and overheated rhetoric about "they're coming in younger and sicker" that the journos can stand to write. I want those "young people" as worried as 80-somethings are today. It drives vaccination. Duh.
---
April 26: Good News From Brazil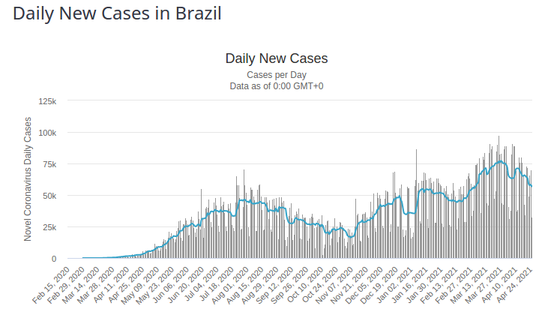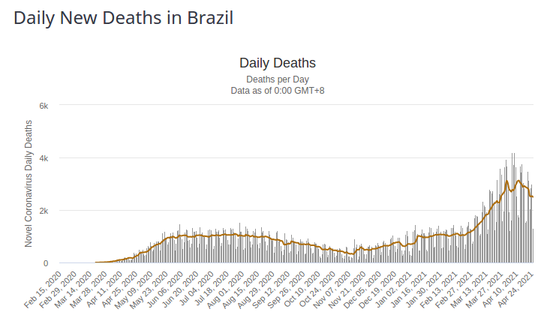 No, really. Well, relatively good news. Since "Good News is No News", CCCC would like to be your source for good pandemic news, on occasion, when the regular media have moved on to cover the next tragedy.

Brazil is an ongoing tragedy, of course, but when all the cameras moved over to the pathos of India, they missed a remarkably heartening phenomenon: Brazil's cases, and soon, its deaths, were going down. Cases are down a good 20%, and deaths already down 15%.

This is so heartening, because the Brazilians are doing it alone. The government is not only no help, it's a hinderance. Nobody is getting pandemic money relief; they're under the highest-possible pressure to keep risking themselves to work, most were desperately poor before this wave started.

But they're fighting back, and winning. Brazil (and, now, India) must both remained quarantined, of course. But we must offer any help we can. Their fight against the virus is our fight against the development of new variants.

Brazil's beginning-of-the-end (we hope) gives us reasons for hope in India, itself burdened with a quasi-fascist government that lies incessantly. Even when "led" by such fools and swine, people's common sense eventually triumphs over the lies, and they fight the plague the way they've been fought since ancient times. Stay in.

If only Doug Ford and Jason Kenney had such common sense.
---
April 25: New Kids on the Block?
It's a Younger Pandemic. HOW much younger?
Another Friday, another weekly news round up at the national statistics site, the one that had the data-glitch last week, where the number of people that had been hospitalized with COVID-19, Age 59-59, went down, so I could hardly show graphs with negative people. This week, it seems to be OK, and I'll just do stats for the last two weeks, versus the grand average for all the pandemic weeks before that, basically a year from March, 2020 to March 26, 2021.

It is indeed a younger pandemic, but the graphs are not exactly shocking in their sudden leaps and bounds of young people flooding into ICUs and subsequent graveyards. The rhetoric on the news is not accompanied by numbers: I suspect, not because the TV news crews are unable to get them - certainly, they're able to get the same numbers I am, at least weekly - but because they don't look very dramatic. It's TV: they prefer drama to data.

The graphs below are very different from the ususal pandemic statistics, which focus on absolute numbers. The absolute counts of deaths and cases are the important metric for following the pandemic, assessing your risk. And of course, the absolute numbers of deaths have plummeted with the vaccination of the care-homes and the elderly in general. By March 26, that much was done, and the orange bars on the right of the charts reflect the new elderly-vaccinated pandemic.
Cases

This is showing that the vaccines actually prevent becoming a case, at all. The over-80s are down from 7% to 2% of cases. Yes, they were only ever 7% of cases. The 70-80 gang that are mostly not in care homes are only down a little, and we 60-69-ers are barely down at all. The big jump in percent of cases, is actually the really young, the under-20s. But all of these changes are pretty minor, save the over-80 change.

Hospitalizations

Hospitalizations, the same only more so for all the younger demographics. The change for the old is actually smaller than the drop in cases: cases dropped by more than two-thirds, but hospitalizations only by about half, for the over-80s - probably indicating that the ones that are getting it, are often not yet vaccinated, so when they get it, they get it full-force.

Still, for the first time, hospitalization doesn't just keep going up and up with age. It goes up and up until you get to the age where we've vaccinated, then down and even further down for the oldest(!) because they're more-vaccinated.

Where you hear "they're coming in younger and sicker" in the news over and over, well, the percentage of age 40-60 is up from 19% of their beds to 40% of their beds. The number of people they see with decades left to them, has doubled. A very slight majority of COVID-19 hospitalizations are now under age sixty: 52%.

ICU Admissions

The drop in ICU admissions for the very old mirrors the drop in hospitalization: to less than half. The 70-79 have dropped somewhat, but the over-80s have dropped so much the 70-79 are a slightly higher percentage, as of everybody else: al l those younger than 80 are now a higher proportion of the ICU.

The "New Kids on the Block", of my truly tasteless title, is that those under 60 are now up to 44% of an ICU: not a majority, but up from 39% for the overall pandemic. Yup, it's gone up from 39% to 44%. That's why the actual number isn't in the news. It's not all that dramatic.

The undramatic numbers, if you're under 80, is that everybody is up a few percent, except the over-80s. Not a long story.

Deaths

And, of course, we come to the end of the story with death, which has a less-dramatic drop than the drop in cases. The over-80s have gone from 69% of the dead, to 44%, a drop of less than half, when the drop in cases was by two-thirds.

But still, those under age 70 are only up to 28% of the dead. It is still very, very dangerous to be an unvaccinated old person in Canada. We have heard of so few "breakthrough" cases, where a fully vaccinated person gets a bad case (a few have even died, but very few) that basically all those 72% of the dead that are over 70, are all from the minority that are unvaccinated.

If you know people in that demographic who are holding back from the vaccine, stress to them that we may never chase away all the variants, that vaccination around the world is topping out at 60%, not enough to ever be sure. Tell them they have to protect themselves, that this is their life. It is.
---
April 24: On the Downside, We May Not Be On The Downside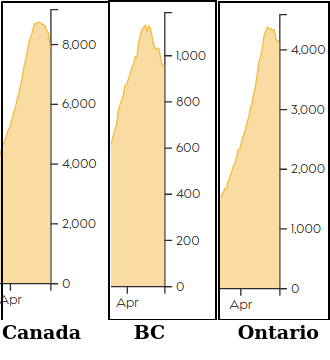 Alberta and Manitoba don't appear in the summary at left, because they're still going straight up in case-counts. Quebec, I really think is on the downside, down 20% over ten days of pretty steady decline.

BC, however, seemed to be heading down, then, two days in a row back up over 1000. It'll be into next week before I have any surety that the current restrictions are enough. I thought we were restricted enough back in February, too, but the decline stopped, we hung "on a shelf" at 400-500 cases per day, then headed back up, all in basically the same restrictions level.

As the sensible continue to scream for a "get to zero" approach, nearly every health system outside the Maritimes (and North) is so weak-kneed and tentative about every restriction, that we seem to be doomed to, at the best, a slow, halting decline in cases. And, at not best, to have people get "tired" and non-compliant, and not opposed, and to have the decline just go onto a shelf again, this time at 700 cases per day.

Folks, the vaccines are not the cavalry just barely over the hill. That particular cavalry is still stuck in traffic, and we shouldn't expect much for a month. This article is unintentionally pathetic, with it's title of "Canada's supply of vaccines set to ramp up in coming weeks, despite supply cut from India".

I mean, that sounded good, because all we've heard lately is 15M Johnson doses lost, India holding back its own output. So I eagerly clicked, hoping to read that we'd soon be at not just 2 million doses per week, but, say, 3.8 million, which would be 10% of Canada per week. (Well, 5%, since two doses needed, ultimately).

The actual facts:

The one-dose JJ product, 300,000 doses next week, not even a one-day supply, and then nothing until JUNE.

Moderna is being cut next week, and it will accelerate "in short order", which sounds like the last two month's vague promises of "next month".

Oxford/AZ supply from India is cut, and direct shipments from AZ itself are expected in, wait for it, JUNE.

Pfizer didn't come up in the story. Presumably, they, at least are not cut, but we also can't get more to substitute. We can expecte 1M doses per week through May 10, enough to vaccinate 2.5% of Canadians.
With the cut in Moderna, nothing new expected from AZ or JJ, we'll be lucky to see the continuance of 2M doses per week, for the forseeable future. It's a month yet before half of them are "lost" to second doses, so our vaccination rate should go up by 5% per week. 33% by the end of April, and over 50% by the end of May. That's the point where the vaccines will start to make a real difference in transmission rates.

For those next five weeks to the end of May, though, it's all about the restrictions, which are weak and timid for the problem at hand.
---
April 23: Ox/AZ is the Real Gold Standard, But the Mask Stays On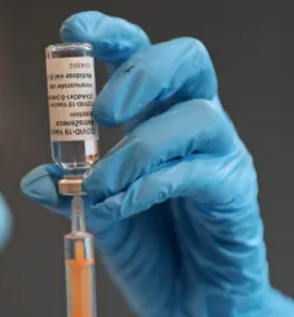 Yesterday afternoon, I hit 21 days since the Oxford/AstraZenaca shot went in, and I had all the protection I'm going to get from the stuff, for the next 100 days. (Unless, we, too, are soon "awash" in vaccines, and they tighten up the 4-month dosing gap.)

Some fresh data just hit The Guardian: "One dose of Pfizer or Oxford jab reduces Covid infection rate by 65%"

The article notes that the risk of symptoms bad enough to cause hospitalization drops by 94% with Oxford/AstraZenaca, but only 85% with Pfizer. Yes, you got that correctly: despite journalists rushing to declare Pfizer/Moderna as "The Gold Standard" for their "greater efficacy", it turns out to be Ox/AZ that has the real goods you want: not to go to the hospital.

I don't care much if I get a day, or a week, in bed; I don't care at all about an asymptotic infection, obviously: I care if I get so sick I need hospital. And that's more than twice as likely with Pfizer than with Ox/AZ. It's "94% reduction" in hospitalizations leaves only 6% of us in beeping beds, not the 15% you get with the inferior brand. So there. (All figures for first jab only.)

A 6% chance of becoming one of those tortured bodies on my nightly TV news, is still too high. Currently, over 100 people in their sixties are going into hospital beds every day. Six per day is still a bit much, for me. My real route back to normality is to participate in crushing the disease out of prevalence. Then the vaccines, and a little good behaviour, can keep it crushed down.

It will take both vaccines and behaviours. Think about that "65% reduction in infection" for a second: the original "R" was 2.8. The variants are definitely over 3.0, so they're above 1.0 when reduced by 65%. When we all get a second jab, it might be below 1.0, depending on how bad the variants have gotten in four months. Until then, I'm still an infection risk to others.
---
April 22: Rush to Blame Politics for Vaccination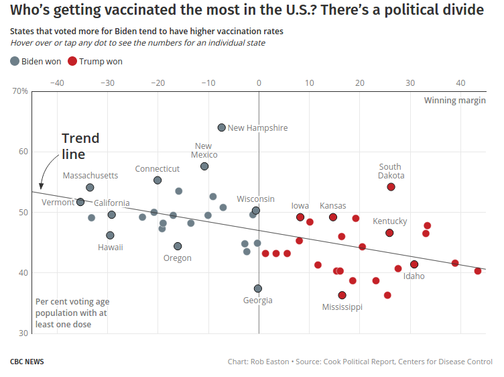 America finally had a drop-off in vaccination rates last week (11%) and CBC quickly got an article out on it: "...will demand keep up?". Why would anybody be reluctant to show up for a shot? CBC is quick to do a bunch of work to show off a keen graph, and blame You-Know-Who:

It's a lovely bit of graphic design, with many of the state names beside the data-point, the Biden-winning states in blue. The trend line is terribly important, here; I used them myself to make graphs more-pursuasive at work. The trend line draws the eye along with the argument, the lower vaccination-rate as you go from left to right into the red states.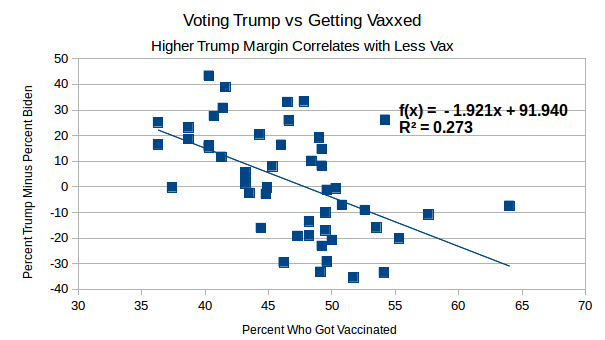 Without that line though, it's a fairly plump, diffuse cloud of points, and the angle of decline is pretty low: big Biden state Oregon has a lower rate than over half the red dots. I recommend clicking on the graph to jump to the CBC article, where you can get the exact figures for each dot by just touching it with a mouse-tip. Which I decided to do, for all fifty, and typed them in, so you don't have to: CCCC double-checking the CBC.
After I got those into a spreadsheet, it was off to a nice stats website that gave me average income for each state.
So, at right, the CBC graph all over again, basically; it's the same data. The difference is that I had my spreadsheet label it with the formula for that trend line. The "-1.921 x" means that the GOP vote margin goes down 1.9% for every 1% the vaccination rate for the same state goes up. Or, another way, for every extra percent voting Republican, half a percent haven't been vaccinated.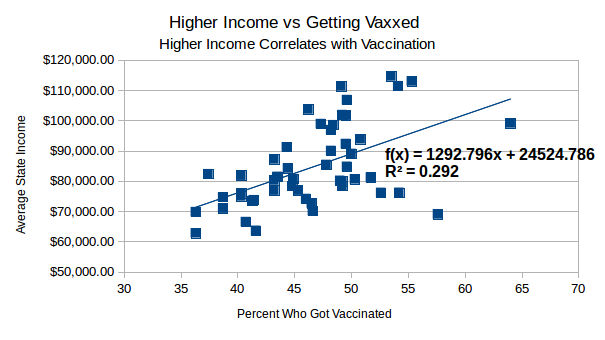 The more-imporant number is that "R-squared" below it. The "correlation coefficiant" is 1.0 if every dot were exactly on the line. If it's 0.9, the graph is considered very predictive, you could learn a state's voting or vaxxing number and predict the other with good confidence. Anything over 0.7 is often pretty useful, too.
But 0.273 kind of sucks. It's saying, mathematically, what I just said about Oregon being lower than most of the GOP states: don't use the vote to predict the vax, or vice-versa.
So, let's try the same vaccination numbers for those states, with the state's average income. This time, the graph slants upward, as the more money your state has washing around, the more vaccinations are going on.
To my eye, it's a slightly "tighter" cloud of points, but it isn't, very: notice the R-squared has only gone up from 0.273 to 0.292, which still sucks. Income isn't a very good way to predict vaccination rates, either, at least not at a state levl. I would very much bet that it is a better predictor at an individual level. We know that society's least-powerful have had the worst pandemic, and of course, they're having the worst vaccination. The correlation we are seeing is probably not because people making $60,000 get vaccinated less often than those making $70,000: it's because the low-income states have a lot more people making $30,000 - from two jobs they have to commute to on a bus.
Reporters just love, love, politics, and their first thought with so many public issues, is to make it political. The vaccination-rate story did not have to go political. It's a crappy correlation, and there are better ones that are more-neutral. Never mind income, how does it correlate to the state medical expenditures, the budget for their public health department? How does it correlate with rural-vs-urban ratio?
Politics really is so often to blame, especially for public health problems. There's no need to go drumming up extra examples.
---
April 21: Day Off, Apparently
Sorry, got busy with a project today, and the day's about over. I'll have to put off my cool data-reduction, complaining about CBC blaming American politics for poor vaccine uptake, until tomorrow.

In the meantime, all I can offer with short time to write is that, once again, I have to promote Andrew Nikiforuk in the Tyee. I'm still shaking my head over how a guy I'd written off some time ago, because I really disagreed with his take on the AIDS epidemic, is doing the best writing anywhere, on the Canadian COVID pandemic. Again, credit where due: Andrew Nikiforuk's article on "Canada's Crazy Pandemic Reponse", in The Tyee, is an excellent fact/opinion piece.

Maybe nobody beats Andre' Picard on pure daily reportage, but for the weekly (or so) sum-up and opinion pieces, Nikiforuk slices them fine with the sword of facts, then puts the slices on the griddle of his acid opinion prose, so scorching, that it's entertaining, at least for those not the target.

Some original work tomorrow, promise.
---
April 20: Oh, I Know How To Shut Down 4/20...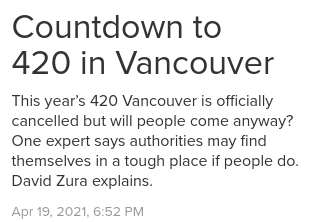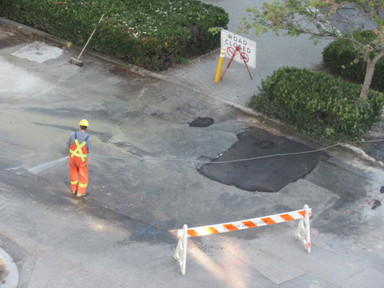 At left, the problem. How to get a bunch of stoners to not congregate at Sunset Beach in about six hours? The police have already noted that they didn't hand out tickets at English Bay Beach for two nights in a row of condemned, if pretty outdoor and mostly-distanced, partying.

I'm not all that stressed about it, really: every time they study outdoor transmission, they get more reassuring about how difficult it is: most of the "outdoor transmission" has been at patios, with people sitting across from each other, doing that "speaking moistly" thing as they eat and drink. Continuing the party after sunset is bad, they're also finding outdoor transmission is multiple times more common at night. But 4/20, at least, has always been a daytime thing, the tents fold at sunset.

At right, the solution. We were roused by more pounding construction equipment, this morning, as they laid down that asphalt patch and tamped it. But it was as nothing to the sheer racket of the vacuum excavator ("Hydrovac") that dug the hole. For hours. Yesterday morning. Right outside our window. We had endured months of that, for nearly two years. It's tolerable, but hugely annoying.

This pain can be inflicted on any city resident, if they have water pipes nearby. A beach doesn't need them, but Sunset Beach has some doozies, massive "feedermains" that supply whole neighbourhoods: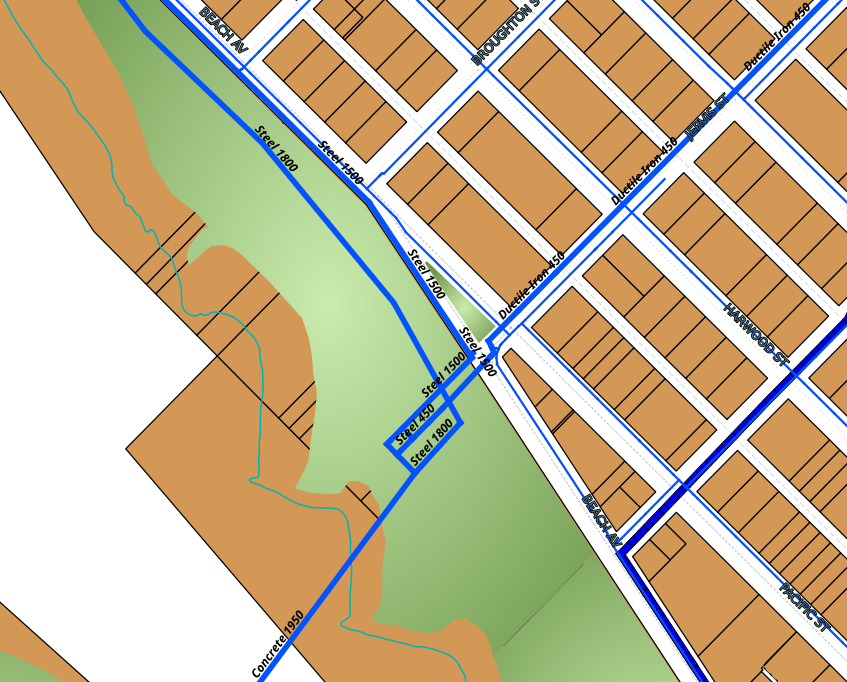 This is the Sunset Beach area where 4/20 always congregates. The huge mains run not just through it, and across False Creek: one runs along the beach.
The number after the material type, the "1800" in "Steel 1800" is the diameter in millimetres. 1800, six feet in diameter, would serve half of Vancouver. It's the same main that goes past our house, and was the subject of so much work since early 2019.
In my opinion, it's about time the VPD called up the Vancouver Water District to express concerns those mains might be leaking. They're very important! The only way to be really sure they aren't is to dig some holes and inspect. Time is of the essence, we want to be done by sunset, so let's bring out three vacuum excavators and dig three test-inspection holes simultaneously, from 2:30PM-6:30PM this afternoon.
An aggressive construction schedule will be helped by various trucks moving back and forth with equipment, workers, and supplies, though for some reason, they will have to be driving backwards, nearly all the time, adding three different BEEP....BEEEP....BEEEEP... singers to the construction song.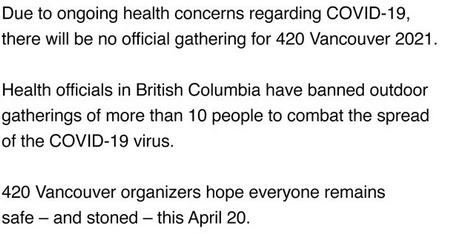 Loud rock music annoying? Hah; such children have no idea about annoying - these people would be professionals at it. The noise would be annoying to the condos up on Beach Avenue, but it's much further away than our condo was from our two years of construction noise: only about as loud as we had to put up with.
It's any beachgoers that would be chased away.
4/20 is Vancouver's summer kickoff, a month earlier than the May weekend that the rest of Canada uses (we're a month warmer), and I'm sorry to lose it a second time. Like Easter, it was perfectly positioned on the calendar to be hit twice.
Just above, the official message from the Vancouver 420 organization. It's a unique circumstance where they and the Authorita are sending the same message; never happened before, and won't again. Let's listen this year.
---
April 19: Don't Delay, Not Even a Day
There's little doubt, any more, that Oxford/AstraZenaca shots are correlated with later blood clots. The probability may be as high as 1-in-100,000, a one-time risk. That's the risk of blood clots; about a sixth, or even fifth, die of them.

But there are chronic risks, too: every day you live is another risk you'll get hit by that bus everybody talks about. The risk of dying in traffic is 1-in-100,000 every ten weeks. Just living a normal life that includes going on or near roads, in Canada, is one AstraZenaca shot every two weeks. (Every ten weeks is the chance of dying; like the blood clots, 5/6ths of car accidents just injure you.)

What's the risk of COVID? Well, today is the last day that AZ is confined to the 55-65 band that Calgary was having trouble getting out to the clinics, just yesterday, so let's look at our risks.

There are 5.3 million of us 55-65 cohort in Canada. That cohort, last week, had about 6500 new cases. So, your odds on becoming a COVID-19 case work out to 1-in-819, per week. If you get COVID-19, your odds of blood clots are about 15%, so, just being a 55-65 Canadian, in the current infection environment, are odds of about 1-in-5500, per week, of both getting COVID, and then getting blood clots.

We have reached the title of the blog post, when we divide by seven: your odds of getting blood clots because you didn't take the shot, are 1-in-38,000 PER DAY. On the day that you take the shot, you receive a risk of 1-in-100,000 of getting blood clots, and let go of a 1-in-38,000 risk of getting blood clots. Your vaccination-risk is "paid back" in nine hours.

I assumed total mitigation of COVID clot risk. The shot gives near 100% protection against having a disease that serious, close enough to be a fraction of a percent, so I can neglect it.

Skipping blood clots, and just going straight to "death", well, if one-fifth of the blood-clot cases die, then that would be 1-in-500,000 from taking the shot. Our odds of getting COVID, and dying of it, from blood clots or twelve other horrible things, mostly your lungs, are about 1-in-200,000, per week, right now. So that same 1-in-500,000 risk of dying is from not getting protected for 3 days.

To avoid death, don't wait three more days. To avoid great sickness from blood clots, don't wait a day. Don't wait nine hours.

Just get the shot. Protect yourself. Protect everybody else.
---
April 18: Frustrating Screwups in Health Stats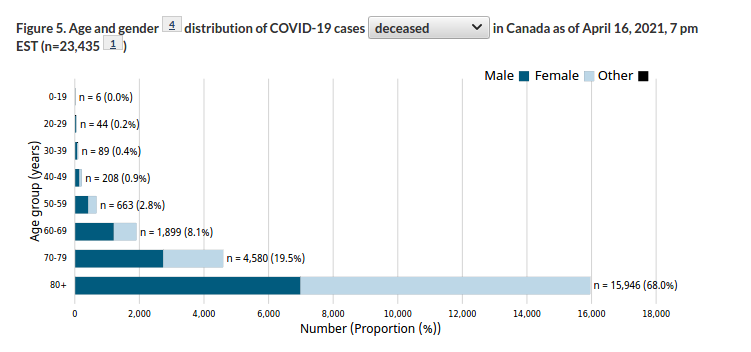 I remember a great truth mentioned in a discussion of violence against women, asthey struggled with the question of whether the phenomenon itself was increasing, or whether it was just being reported more. A criminologist pointed out that the murder rate was not rising, and "murder will out": it produces a body that somebody has to deal with, and records are kept of that, if nothing else. Other, lesser harms tend to rise and fall along with murder itself, so the other harms were probably not rising. This has been great advice in attempting to follow statistics about the pandemic, as it's much easier to lie (or screw up) figures of cases, tests, hospitalizations, than it is to lose count of dead bodies.

So the death statistics are upper left are about the only ones I can trust from Health Canada, this week. They screwed up very badly on the similar charts to the one above, which track hospital admissions and ICU admissions: the number for the 40-49 group went DOWN substantially in one week. Not the numbers of new cases, the pandemic total went down. Somebody both screwed up the data input, and didn't check against previous numbers. (They even went down compared to the totals of three weeks ago.) So, I can't, not for sure, tell you whether "young" people, under sixty, are now crowding the ICUs of Canada. (Unless you'd like a reassuring report that "-209" people, aged 40-49, entered an ICU.)

I can tell you that nearly as many people of all ages entered hospital, or into an ICU, in the last week as in the two previous weeks, except for the oldest groups, the two over 70: they added somewhat fewer in one week than two previous.

For dying itself, the data at upper left tell us that we're down from the over-70s doing 88% of the dying, down to 75%. The 50-59 gang are up from 4% to 7%. (Less terrified now?)

But because "death will out", I'm getting the impression that the news is exaggerating somewhat. Listening to the nightly anchors interviewing exhausted ICU doctors, you'd get the impression that most of the beds were essential-services workers in the prime of life. I think it's closer to say, it's gone up from a third to just over half that are 30-59. And the 20-29 crowd, that they'd like to scare into not having parties, are still just a few percent of the ICUs. "Just" six of them died in the last week (up from 38 last week to 44, shown in graph). Worth noting though, that the six in the last week, is one-seventh of all the 20-29 Canadians that have died in the last year. It would be fair to describe their death-rate per week, as up by a factor of seven!

And having found a scare number to promote, I'll sign off, and mutter my disgust at Health Canada's incompetence. Maybe they'll fix it next week. The numbers will keep getting worse for at least 2 more weeks, so that'll be a more dramatic post anyway. I'd really planned on this post, I like finding numbers that are not making the news, show something you can't get anywhere else. So, in part, I'm posting about the frustrations in reporting on a pandemic: so dependent on good data that often is not there, or clearly erroneous.
---
April 17: How Full of Crap is Doug Ford?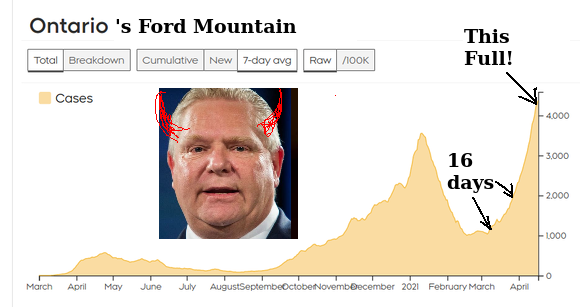 I have a bunch of new data to crunch today, but that's for posting tomorrow. I hope to get clear numbers on just how much younger those younger ICU patients are getting.

For today, I'm basically taking the day off by just piling-on Doug Ford. It's not needed; the least-useful thing a blog can do is point at mainstream news and say, "Yeah, what she said". I wish I'd noted the name of the CBC analyst who followed Doug Ford on TV this morning with his rant about "how this wouldn't be happening if we had 300,000 vaccines a day back in February".

Doug, we didn't even approve Oxford/AstraZenaca until February 26, and I think every Canadian is aware that we had bad vaccine deliveries before mid-March. (Blame the feds or not; most look at other countries, and don't.)

Ford's "It's all their fault" doesn't pass the laugh-test, of course; all the other provinces have the same Feds, the same vaccine situation. CBC brought on an analyst who sounded more like a prosecutor cutting a weak defense to shreds with fact after fact:
The current rise is just what was predicted by epidemiologists if Ontario didn't shut down more in response to the variants increasing;

The government didn't listen, kept travel and business going.

Ford was warned about the vaccine situation all along, knew what he had to work with.

Doug is asking for 300,000 vaccines a day, but has never delivered more than half that into Ontarian arms. There's no proof at all he could have used 300,000 per day.
It's as if Ford expected the Feds to bail him out...with a time machine.

At upper left, the mountain Doug Ford has built with his pandemic response rules. Way back on March 11th, CCCC hilariously worried whether variants could give Ontario 2,000 cases per day, in a month?. It in fact took just 16 days. Everybody else has done better, Doug.

What if Doug got his wish, starting today, and could fully act on it, deliver 300,000 per day? Well, that would, for sure, get Ontario from 22% vaccinated to 50% vaccinated in two weeks. That's not herd immunity, but the curve would certainly begin to bend. The reduction would be visible by the end of April, and by a month from now, it would be going very well.

But, what would happen in the next two weeks, under Doug's old restrictions level? Well, obviously, cases would go up another 58%, just like the last two weeks. That would be 7,000 cases per day. It would be another 84,000 cases, total, and many hundreds dead.

And it would all be Doug Ford's fault. I don't believe this was medical-officer incompetence. I believe that public health has been overruled in nearly every case where a province has behaved badly: BC, Alberta, Ontario, Quebec: I blame the politicians, not the doctors.

And certainly not the vaccine-delivery operation, which has performed multiple miracles, exceeded every expectation. Dunking on them is really low.
---
April 16: Graphically, How Well Vaccinations Work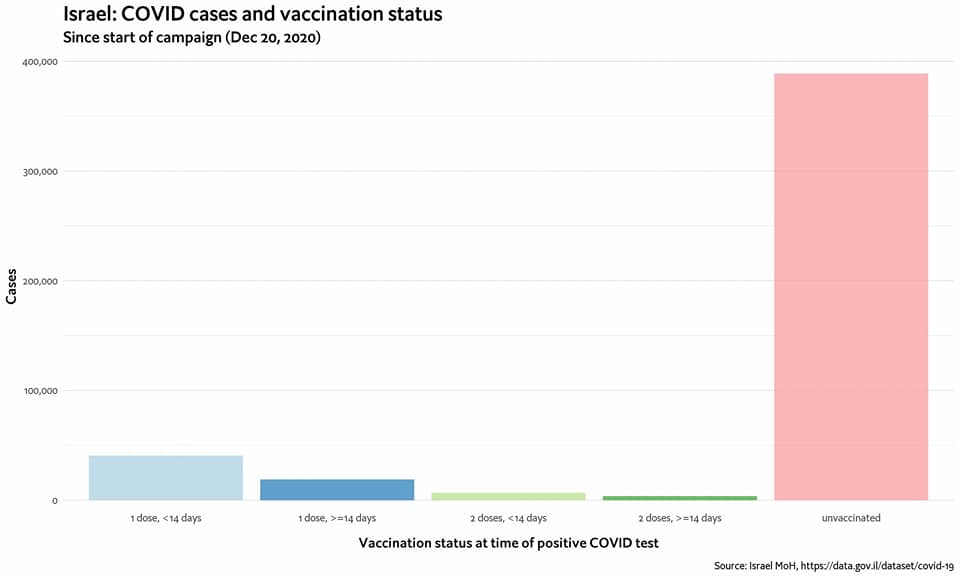 I guess it's OK to publish this, though if you click on the graphic, you'll be led the URL at its lower-right corner, which is entirely in Hebrew, and has no obvious path to find the chart, or supporting data. At least not if you don't read Hebrew. The graphic actually comes by way of friend Mike Babulic, who put it up on Facebook (Roy admitted, with a blush). I found that it was also put up on a Quebec Reddit Forum and on Twitter by one Eric Topol, physician and author. So I don't think it's made-up, just hard to find, buried in a Hebrew-language government data report.

Yet another picture worth a thousand words, you can't even be bothered wanting the scale to give you the exact numbers on the risk-reduction. What's plain to me, is that I was a little wacky even having short-timer syndrome in the second week after my vaccination. The bar is so short even for the "under two weeks" at far left.

The Twitter post is answered by a Yair Lewis, who provided the "raw data":
57% of population received at least 1 dose; over 5 million people.

Out of 458,503 COVID cases in this period:
- 388,789 (84.8%) unvaccinated
- 65,916 (14.3%) partially vaxed
- Only 3,798 (0.8%) fully vaxed

And I write this on Day 15, now part of the cohort in the second column, half as tall. What's interesting about those tiny columns is that the studies show just 50% protection after two weeks. Why aren't the columns half as tall, instead of such a small fraction?
I've got a theory, at least: the article notes that the effectiveness numbers come from those first vaccinations of medical staff - heavily exposed, so you get good numbers for effectiveness. But medical staff are also much better symptom-reporters and test-takers than the general population. General population that get a day of mild chills, and some headache, have certainly become part of the 50% that "weren't protected". But did they bother to call their doctor, report a case, get a test? It was over by morning. They just got on with their day. A nurse, on the other hand, is hypersensitive to those symptoms, gets a test within hours, and takes time off work.
Just a theory. If your standard for "protection" is that the disease doesn't even slow you down, then I suspect that the graph at left is the accurate picture, for you. It's not like 50% protection: more like 95%. And 99.5% against hospital.
Get the shot.
---
April 15: Can the Canucks Take a Dive, Please?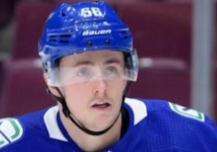 I haven't had a hockey hero in decades; but Canuck Forward JT Miller just qualified, with his "brutally honest" answer about not being "ready at all" to hit the boards.

No Canucks have been hospitalized, which I, with no grace or decency at all, will kind of regret. A bad thing to wish on anybody, but the public service of it would have been awesome. We'll have to content ourselves with JT's honesty. Miller wasn't speaking for anybody else, but it was clear that a number of Canucks have had a rough couple of weeks: "...skating a couple of times, my lungs are screaming and definitely not in game-shape at all right now..."

Miller's response is rare in sports, where "suck it up" and "walk it off" are mantras, along, always, with "play with pain". Except for Boris Johnson, we've not had the public spectacle of a prominent person really struggling with COVID, clearly down from it for weeks on end. Since that's a real thing, it could use some celebrity dramatization that we get with every other problem in our culture.

So, I'm asking: could the Canucks, as a public service, take the same kind of dive that hockey players a famous for taking when an opposing skater elbows them? Could they just, again, over-do the pain and suffering a bit, really moan and whine into a TV camera? We really need it right now, really need to change people's behaviour, and on a dime.

Season's over anyways, guys, this is the best thing you can do for your town and your country.
---
April 14: Vaccine-Hesitation is Like Titanic Lifeboat Hesitation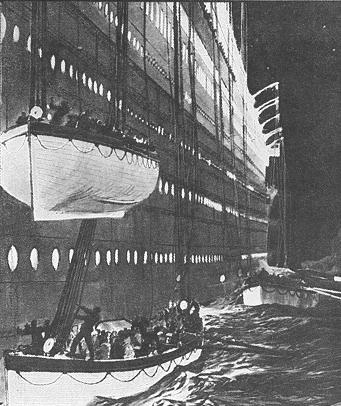 How would you like to be crowded in with dozens of other people in a wooden shell that was then hand-crank-lowered down a building some seven stories tall, and into the ocean?

That was what the staff on-board the Titanic urged people to do, and they quailed at the risky-looking idea. They didn't line up, held back. When the owner of the ship, Bruce Ismay, was criticized for getting aboard a lifeboat, when so many were lost, he defended himself by pointing out that he boarded a lifeboat with seats left when nobody else wanted aboard, no women in sight - after he'd urged other people to board it the whole time it was loading.

In the end, the total lifeboat seating, of nearly 1100, saved just 706 people. That was 109 years ago tonight: 1500 people died, April 14, 1912 - some hundreds of them because they didn't get in the boat.

There were other screwups: it didn't help that one lifeboat was nearly lowered on top of another. (The Lusitania sinking had that actually happen, too: this is why you have lifeboat drills, which they did not.) And some of the lifeboats got tangled in the ropes and were never deployed.

But the biggest problem was that the lifeboats looked riskier than the big, solid, iron boat you were leaving. Alas, there was no time to give everybody a tour of the lower decks, where water was gushing in at great speed, just like we can't give everybody a tour of the ICUs just now.

But the risk, see my last few posts, of not getting in the vaccine lifeboat, is much, much higher than the vaccine lifeboat.

Get in the boat.
---
April 13: Blood Clots and Gender - Risk Calculations
So now it's the Johnson and Johnson vaccine that may be held up due to blood clots. So far, that's based, in America, on six cases out of seven million. The odds are probably higher than one-in-a-million, however: all six were women, aged 18-48. That cohort is halved by gender, and again by age, so for them, the risk is perhaps one in a quarter-million. Of the seven, one dead, one in critical condition.

There may be similar associations for Pfizer or Moderna. This article in StatNews keeps coming up with those million-to-one ratios, however. The numbers are so small that separating "causation" from "correlation" is difficult.

If we had confidence that some vaccines didn't have the risk, the solution seems simple: confine younger women to those products, and give the AZ and JJ to men. I have no idea whether that causes social side-effects (one can imagine areas where only one vaccine is available, so only one gender is getting jabbed); but surely we can work it out. Ship them in pairs.

I knew nothing about gender, of course, when I very cheerfully accepted the blood-clot risk to get my own AZ jab. I think most people would prefer the clot-risk from the vaccine to the clot-risk and sixteen-other-risks from the disease. The risk is so high that patients that make it to ICU are routinely put on anti-blood-clotting on the spot. The referenced article notes that clotting problems were found in 10% of the patients that enter hospital. (Not ICU, hospital.)

Run that math: about 10% of cases wind up in hospital, so abou 1% of COVID-19 sufferers get blood clots. Several percent of BC has how had COVID-19, so that's a few percent of 1%, or a few citizens out of 100,000 that have already had blood clots, because of COVID. When I took that AZ jab, therefore, my odds on getting blood clots in 2021 dropped ninety percent, from one in 25,000 to one in 250,000...if I'd been younger, and female. Those were my odds, as far as I knew, then.

Most of those COVID blood clots were survived without damage, as were most of the clots that may have come from the JJ jab; but the risk is still ten times higher. For every percent of the BC population (it's already probably 3% or more), a hundred people, at least, will get blood clots; only a few if we jabbed 3 million people with Johnson and Johnson.

The pauses and concerns thus sound crazy. They're all about the way we process risk, a topic for tomorrow.
---
April 12: Is Israel Showing 60% is Good Enough?
I'm still grumpy about whatever data-glitch (was it just at CTV? I didn't check anybody else) that had me thinking Israel was nearly all vaccinated, when the numbers suddenly jumped down to 50% last February.

The story gets weirder: it wasn't data-trouble, but a sudden loss of interest in vaccination by Israelis, that stalled the vaccination at about 60%. The linked story, from two months ago, stresses that Israel had not "beaten the pandemic", that it still had high case-counts, some 5500 per day at the time - basically, you get Canadian equivalents by multiplying by four, so that's like us having 22,000 cases/day, three times as bad as our current troubles. Imagine having 3X Canada's cases, and still down to having the GP phone patients individually to beg them to get vaccinated at the empty clinics!
My post then, of "Israel, WTF?" was almost too weak. Or was it?
Israel, in two freaking months, only went from 58% to 61% vaccinated, a total stall. And yet, that case-count dropped from over 5000 to just 280, now. The death-rate is down to a few per day, like seasonal flu. The pandemic, by gross evidence, is over for them. They still have some restrictions, are moving schools away from bubble systems bit-by-bit, and they are using some kind of vaccine passport, as story in Haaretz notes that they have "re-opened commerce and culture for vaccinated people" (italics mine), which makes the reluctance of that last 40% even more puzzling.
But the decline in cases, while not that dramatic "cliff" I was hoping for, shows that restrictions and vaccinations can work together to end the pandemic, long before you reach that 70% "herd immunity" point. They still have some restrictions, but I scanned over the whole main pages for The Jerusalem Post, and Ha'aretz, and the only pandemic stories were about Pfizer not shipping any more vaccine, because Israel didn't pay for the last 2.5 million doses, and Israel now making masks.
Canada hits 20% today, and should rise at nearly 1% per day, soon. Six weeks until we hit Israeli numbers.
---
April 11: How to Throw a Pandemic Funeral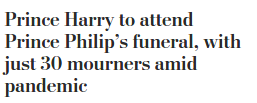 It turns out that you follow public health guidelines. Sorry, I guess that makes for a pretty short post. I could expand, I suppose, but I'd just be just repeating my August 25th post.

Which bears repeating, not because of the doddering, raving, former politician needs any more dumping on, but because the newspapers do.

Given the antipathy between the very-ex-president and the press, given the seriousness of the American pandemic last August, and given the election ongoing at the time...I still can't believe the utter lack of criticism for the sense of entitlement in holding a 150-person funeral in the White House..

Those links, I just googled up today. I couldn't find ONE article where the journalist took the White House to task for inventing its own pandemic-gathering rules. They all reported it as if giving everybody tests an hour earlier, then requiring no masks, was all the protection needed. (We know the tests can fail, and with 150 people, the odds of at least one failing are pretty good.)

But again, no physician weighed in on this. Public health was simply bypassed by the sheer power giving the orders. What was public health to do, send DC police up against the Secret Service? They did it because they had the power.

Well, so do the Royal Family. If they'd really wanted, they could have thrown their considerable weight around, said everybody would be vaccinated, everybody would be tested, we're at least bumping 30 mourners up to 60 so that we can invite the whole family, and the top politicians. Or Dukes. Whatever. They could have done it, too, and they didn't.

They are not being given any credit for this. It's just what's expected of real leadership. What I can't get over is that there was no criticism of the previous failure of leadership, and no comparisons being raised now. Except at CCCC, of course.

I'll throw in a bonus. I missed this hilarious example of sheer entitlement at the time. The headline is "Funeral Guest Hit Restaurant Worker".

It seems a bunch of the elite mourners headed for the Fig and Olive, were seated to pandemic maxima - four tables of six - then more showed up, and the restrictions explained. Whereupon a mourner (not a celebrity name), broke the nose of one of the restaurant workers. "Then it just escalated for no reason", said a restaurant spokesman. I think anybody who's seen "mask derangement syndrome", from store owner's videos on TV news, knows what that looked like.

There were no arrests. A lack of police presence to which the guests were, I guess...entitled.

Those who have real Titles have just shown us the price of them.
---
April 10: Back to the Future with Laurie Penny

I discovered Laurie Penny's writing a couple of years back, and have been following her career ever since. She's a very talented and very passionate writer, has done some outstanding journalism by just getting in there and talking to people, and her insight is like an MRI machine. She's had very precarious employment, journalism being what it is, and went away from it for a while when Joss Whedon also spotted her writing talent, and got her to try her hand at fiction with an episode of The Nevers, now imminent on HBO (and Crave in Canada).

But she has some support - CA $3,824 per month, according to the Patreon web page - from people like me, who just, umm, well, patronize her, in the oldest sense of the word, via Patreon.com. In return we get access to all her writing, and e-mails to push them at us. I got one this morning, and it's from our future:
For me, the after times came all at once. I'm one of the few people who got to step from one reality right into the other. ... I'm now in Melbourne, where there's no COVID at all. None. For me, there was a specific hour, a specific second, when the after times began. ...

In Australia, COVID has been almost entirely eliminated. In Victoria, where I am, there are no cases at all. It's not that the country has been untouched - Melbourne had a hundred-day lockdown last year, which meant jobs lost, businesses closing, communities struggling, families fractured, the special hell of homeschooling for some and the grueling routine of isolation for others. ...

On my first day in Melbourne, I put on a real coat and boots for the first time in a year, and off I trotted out into the world, wanting to see everything, to go in everywhere. The department store! The supermarket! The library! I found somewhere to get a haircut after a year of auto-topiary that left me looking like an extra in a 1960s musical about orphans.
Just hold that image, as we have to lock down again, here, and watch newscast about ICUs stuffing patients into operating theatres. It is coming. Just to rub it, Laurie is living in what Canada could have been, with the Canadian Shield strategy, last fall. Sigh.
I let Laurie write my blog this morning, not just to get my money's worth out of the patreon.com expense ($3/month: you have no excuse), but because I'm grinding numbers.
I'm comparing the Canadian COVID stats for ICU, hospital, and so on from the last two weeks, to the previous pandemic sum totals. They're shifting, but not as much as the news would have you believe. For instance, the over-80 demographic are 70% of our pandemic dead, overall: but still 50% of our dead, the last two weeks. More tomorrow, and much more in coming weeks as the numbers are tracked while vaccinations rise rapidly.
---
April 9: Worth a Thousand Words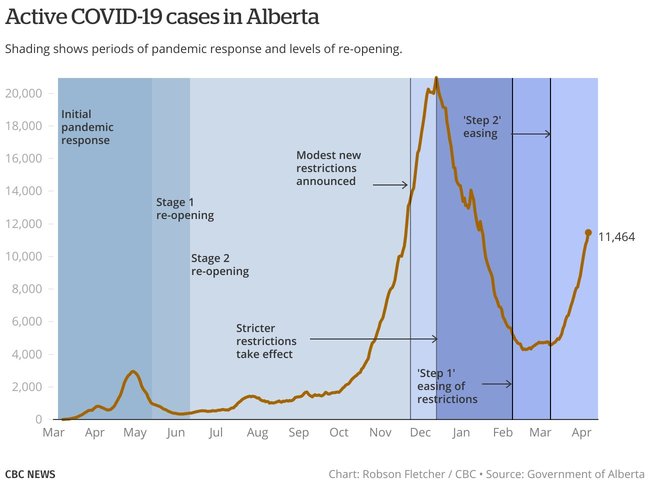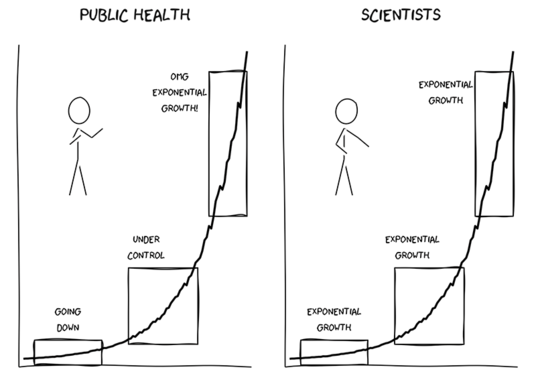 Between these two images, everything you need to know about Alberta, and also, Ontario, really, our two most-conservative-leaning provinces.

At left, from CBCnews, all applause for the info-graphic that tells a story, as the best info-graphics do. At right, a comic from BC Data Modeller Jens von Bergmann, who clearly loves "XKCD", and has the same sense of humour.

That one is a bit tongue-in-cheek, but it's pretty close - and I'm talking the mentality of health ministers and premieres, not the people protesting restrictions. Their ability to look at growing numbers and see nothing there is already legendary. Why the public health ministers "average in" their views to get a feel for what they, as politicians, should be doing, is beyond me.

It's certainly the source of our current problems.

With luck, we are at least on the downside of the roller-coaster for a month - that's even assuming current restrictions get even P1 down below an R of 1.0.

With luck.
---
April 8: Church Does Right Thing
...is that ever supposed to be not news. But, alas, it is.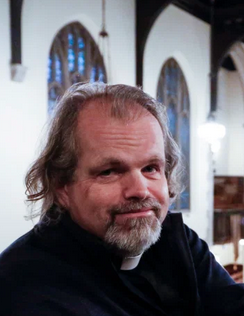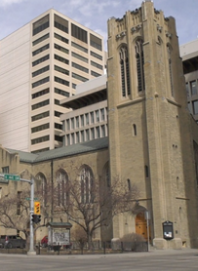 The Reverend Dr. Greg Glatz, left, (links to nice story about him) is of the lovely and historic Knox United Church in downtown Calgary, right. And he just did something that I can't recall another local reverend getting in the news for, not this whole pandemic. I'm wracking my brains, but not google: if you have to use a giant search engine to find something, after a year as a news junkie, it was a fairly obscure event.
The Reverend Dr. Glatz said it was "good" that a fellow churchman had seen his church shut down, fences put around it. There have been major religious figures stand up for things. From the Pope on down, the top guys in most denominations have put out messages of stay safe, stay home, tried to provide for Zoom-type worship services.
But, when I read the story and was moving along, it suddenly struck me that this is the first local pastor, in the same community, to condemn fellow churchmen, for spreading disease. For deliberately mis-quoting from scripture that for 2000 years, has been seen to counsel acceptance of worldly authorities, to focus upon the saving of souls.
It's one thing to stick to positive messages, add to the voices calling for distance and stay-home and so forth. A negative message, basically an attack upon a fellow Christian, is a whole other level. Christian soldiers, could be saddling up; Dr. Glatz could well be the object of attacks on himself, his church, his whole denomination, in return. (Link to story from church graphic.)
Congratulations, Dr. Glatz: you've displayed the virtue of courage. Anybody could have stepped forward, but you are conspicuously alone, always a courageous thing to be.
As for the rest of you, show some spine. If you don't give Caesar a little support, there could be a lot more of God's souls rendered back unto him.
---
April 7: Shocked, Shocked, That Ontario Needed Lockdown
What a surprise. Nobody who was determinedly looking away, and avoiding all the gathering data, and not-listening to multiple warnings, saw that one coming!

I won't even bother with a link; it's the top story on the major papers, and TV channel news sites. Except The Herald, where Alberta's own problems have their increased restrictions as the top story, and the Vancouver Sun, which of course is obsessed with real estate. (People have been dying for a year; but these bidding wars are news!)

There's a great line, I won't bother to look up - I think the original is about "America" - which can be recycled here as: "Doug Ford will do the right thing, only after exhausting all other possibilities". Hey, remember Doug and Jason briefly distinguishing themselves by doing the right thing? Those were the Good Old Days.

Now, it's not just Doug and Jason holding back, and holllllding back, until the virus throws them into a come-along armlock, and forces them to do what they should have done a month earlier - other provinces have fallen into their bad habits. Remember when Saskatchewan was a safe place? Sigh.

Once again, I have to tout Andrew Nikiforuk in The Tyee, and his article on a major French study about pandemic response strategies.

Seems that they reviewed all these many countries, and the different health regions, states, provinces within federated countries like ours, and determined that Get To Zero is the best strategy. The one that Australia, Taiwan, South Korea, all those pandemic champs followed - it saves not just the most lives, but the most economy, the most money, the most schooling, the most jobs. That was yesterday's article. Today, he has another on how BC slipped up from doing well until Fall 2020, to the mess we are in today.

Andrew and Andre' (Picard): Canada's best reporting right now.
---
April 6: I Am Hiding Under the Bed This Week

Yesterday's "Short-Timer Syndrome" post was a little tongue-in-cheek, of course. I went out soon after, and took many pictures of the West End cherry trees in full-bloom, as they attracted their yearly fan club of admirers. As you can see in those photos, it wasn't "crowded" like a civil rights demonstration, and those were pretty low-risk.
Then, my first news story this morning was posted up on Facebook by a tiny newspaper for just the West End, at right. Well, great. Those crowds loving the cherry trees were in BCs worst hot-spot, apparently.
And, oddly enough for the "blood clots" issue, The National, last night, had an entry in their new series of stories about COVID-19 cases. The doctor stressed how this guy was in his early 30s and completely healthy before contracting it. He wound up intubated for a period, and also the victim of, wait for it, blood clots in his brain. This guy is not one of millions of vaccine recipients, because Canada's only had the one million cases. It's much, much more likely for COVID-19 to give you blood clots, than any vaccine. The disease is getting more frightening, every variant that comes up.
I've got a new thing for CCCC. Because I record television Over-The-Air, with an antenna, I have a power that cable/sat subscribers don't: I can record my TV, save it, edit it, shrink it down to half-size, as below. It's just a 30-second clip...but look at that man's eyes.
I have to credit The National, and the fashion-courage of their correspondent, Dr. Michael Warner, for just appearing on-camera in his scrubs - and his clear fatigue and depression. He's far more effective than any chipper public health spokesman spieling about washing your hands.
Effective enough that I'm going to be in hiding from the thing for a couple of weeks to come, and wary even after the protection kicks in. I'd sooner kiss a cobra.
---
April 5: Short-Timer Syndrome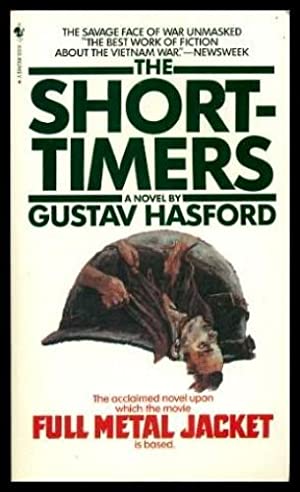 The novel about Vietnam war experiences was turned into the movie, "Full Metal Jacket". The movie doesn't much mention the title of the novel. A "tour" of Vietnam was precisely 365 days. On the day you arrived, you'd be told, "you have 365 days and a wakeup". You'd lay your head down in Vietnam 365 times (if you could sleep), and on the 365th wakeup, you'd get on a plane.

These 365 were counted down obsessively by those who didn't want to be there. When the count hit 30 days and a wakeup, miltary superstition would start to kick in. Soldiers, the novel explains, are the most superstitious people in the world; an athlete unwilling to change socks during a winning streak has no comparison. Since life and death in modern battle are terribly random, any angle to improve your luck is believed: lucky rabbit's feet are held tight.

One thing that can drive you crazy is the thought of getting hit on your last day, your last week. It was actually at the last month that everybody would conspire to help a "short timer" avoid further combat missions. Partly from superstition, partly because: as he lost focus on being a soldier, and began to imagine actually making it home to the world, he'd become a liability, not an asset, in the field. So your last month was often almost all on the base.

I'm now four days after vaccination, and very little protected. There aren't figures on the protection level at this point, but they're pretty near zero. There's some significant protection as early as 12 days, and high protection by 15 days.

Now would be a very, very slightly better time for me to be exposed to COVID-19 in medical terms; I bet I have a few percent lower odds of hospital; but it would be the WORST time for me to get it in irony terms: the vaccination wasted, my disease basically unchecked. I really, really, really don't want to take risks now, just like a Vietnam short-timer: not when escape is so close.

So, even though we could use some milk and other groceries, I think I'll stretch it to tomorrow before hitting the store: Easter Monday is still the weekend, it might be crowded. It'll be another week after tomorrow before I'm ready to take risks like entering a store for non-essentials. Now is just not the time.
---
April 4: Open Letter of Apology to Paul Godfrey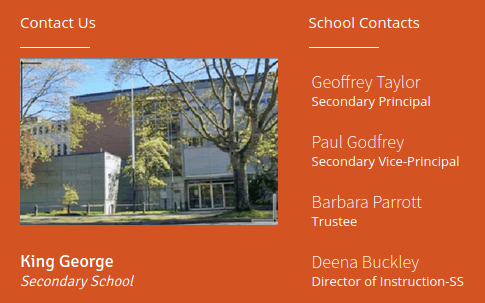 Dear Sir:

I write you at random, having selected you second from the top of the contact on the nearest school to my house. The first guy might be senior enough to be over 55; you, probably not.

So, notionally at least, it's your vaccination's last bit of soreness that is leaving my arm today, as I start to build immunity from the Oxford-AstraZenaca vaccination that was meant for you, and I'm sorry about that.

It's no fault of either of us, and it follows accepted medical practice. The vaccinators are running scared of the anti-vaxxers, like elephants terrified of a mouse. Our culture has no greater heroes than those who invent and make vaccines right now, they should be all-powerful elephants. But the mice are empowered by Fear and Stupidity, great powers of the universe, and the elephants must tread very lightly.

So, even though the worst of your math students could easily compute that any risk from the vaccine is enormously outweighed by the risks of you not getting the vaccine, you will be denied it. Oddly, we give people great freedom to refuse a risk that is so small it may be imaginary - but no freedom whatsoever to accept a risk, though the acceptance may be mathematically obvious. I bet 90% of teachers would have signed any release form at at all to get my shot, but that wasn't an option.

It's as if seatbelts were associated with skin cancer (from contact with the plastic belt if you don't wear a shirt in the car), so you're being denied a seatbelt, then told to get back in the car and drive cross-country.

If I read about a single BC teacher actually dying from coronavirus contracted in the weeks before this is all sorted out, I'm going to have an ugly case of survivor's guilt.

"Having survivor's guilt" isn't much of an apology if it's you that doesn't make it, Paul, but it's there for what little it's worth.

I write that last, because that's the point of picking out a name and printing it, the same as Maclean's now-regular feature of "They Were Loved", putting faces and bios to the pandemic dead. We need to remember that we're talking about people's lives, people serving the public trust. Stay safe, Mr. Godfrey. Your medical system has failed you, and you're on your own for at least a few more weeks.
---
April 3: Good Saturday
Just to confirm, all those annoying reactions were down to a tolerable level a few hours after I posted yesterday morning. I got some mid-day sleep and was functional, if not vigorous. By nightfall it was just a one-asprin headache, and all my energy came back right around the 24-hour mark after they started, about 11PM.

So, that's that. Back to normal this morning. I enjoyed a Zoom chat with some friends last night, including a guy who'd gotten Oxford-AstraZenaca several weeks back, along with his wife, in Britain. He'd had no reaction of note, but his wife was laid up for a day in bed with my set of reactions, only a bit worse. Chatting with people in the area, that was not uncommon.

I managed to find a comparative table for different vaccines, and AstraZenaca does have higher odds of some reactions - but very slightly. They all have more than 50% of protectees having a few of them. (Fatigue and headache are the most common, after "pain at the injection site", which I did not get.) The other two vaccines are actually more likely to have such reactions on a second dose. Oh, yes, you can get the issues after the second dose: something to look forward to. But, hey, only about 20% get nausea, though it's 40% for Moderna on second dose.

The article also notes something about "efficacy", where doctors have hastened to reassure people that AstraZenaca's "76%" is really just as good as the Moderna/Pfizer 90%+. The article points out that AstraZenaca figures come mainly from where it had to deal with the B.1.1.7 variant, that's more transmissable, by about 40%. Oxford-AstraZenaca may actually be just as protective as the other two. (The other way to look at it, is that they will all be "only" 75% protective soon, as B.1.1.7 and P1 take over the field. Try to remember that a 75% vaccine is awesome by all previous vaccine standards.)

I joked with the party, that it was weirdly good, in a way. It would be a total act of faith to trust the vaccine without such reactions. A guy pokes you with a needle, nothing happens, was it a vaccine, or tap water? But if you go through a 1%-as-bad version of the disease, you know something is happening in there: for your T-cells and white cells, that day of malaise for you was the Rocky Training Montage, and they now have the Eye of the Tiger fastened on COVID-19.
---
April 2: Bad Friday
My vaccination went off without a hitch. I had been thinking of an amusing(?) post where I randomly picked out a local teacher - perhaps there's a 'teacher of the month' page at some local school - and apologize to her for taking her vaccination. That took a minute to sink in, when I saw it on the news: we 55-65 lucky duckies are getting the dreaded Oxford-AstroZenaca meant for essential workers, particularly teachers.

I can only hope the decision is reversed quickly. Britain is now up to 30 cases of the blood clots - but out of 18 million doses. If that body of people also got 30 blood clots in the couple of weeks before their vaccinations, then I think we're done here. Fingers crossed.

But, alas, poor poor me is having a Bad Friday. I got picked, also at random, to be one of the guys that got a bunch of side-effects, closely resembling a super-mild case of the disease itself. A few hours of feverish chills and body aches last night, which combined with a dull headache to ruin my sleep. This morning, only the headache remains, and fatigue, though that may be more lack-of-sleep than a reaction.

I am still feeling very lucky and glad. With any luck at all, by tomorrow it'll be Good Saturday. And April 23rd, of course, will, statistically, be "75% protected against any symptoms, 100% against the ICU" Saturday. Also 67% protection against spreading the disease.

That is so worth a headache.
---
April 1: Anniversary Post: Hallmark Ending(?) ... Blog Birthday Present
The first post, here at CCCC, was April Fool's Day, 2020. The single most-appropriate "2020 Day". Christmas 2020 was not much of a Christmas! But April Fool's Day, 2020, was very much an April Fool's Day.

The April Fools this year are all the polities - Canada's provinces, save the Maritimes and North, basically - that just foolishly thought cases that were going up, would start to go down if they did nothing more than plead for caution from podia. ("Podiums" is allowed, but I always go for the "ia" ending: "Stadia", "Millenia". It's just nicer.)

So, the blog's Least Surprising Birthday Present Ever, we get "sudden" lockdowns that are a "surprise" to the affected restaurant owners and so forth. I actually saw a ski resort pub employee (at Whistler, not the Kelowna place that disgraced itself and lost its lease) say "nobody saw this coming". Seriously?

There's nothing to say about it, no stories worth linking to. ALL of the stories for weeks have been about rising case-counts, variants becoming dominant. It was like "predicting" that sunrise was imminent, as you watch the eastern horizon get too bright to look at.

I'm able to summon up anger, even as I get my Hallmark-movie moment. Who the heck could have predicted I'd be scheduled for vaccination on the very anniversary of starting a pandemic blog? I mean, to a Hollywood scriptwriter, at least, it's hard to maintain dramatic tension after that needle goes in, and the protagonist is out of nearly all danger. Time to jump-cut to the "six months later" scene around the Thanksgiving table, start rolling the credits.

There's been some almost-movie-grade drama. I got a call yesterday afternoon, that, sorry, appointment cancelled, the government didn't deliver. Then, she called back at 8:30 PM, from her personal phone, to say that was reversed, the truck came through, the appointment's back on.

The appointments were done just as you may have seen on the news: a sign-up sheet. My vaccination actually kind of depends on nobody losing an 8.5x11 bit of paper. But with people like the young lady from Shopper's, calling me at night on her own phone, I'm actually very confident of success.

Given how bad the people at the top are, who led us so timidly and vacantly into a new wave, I think that young, conscientious, ordinary workers - with sign-up sheets - can frankly do better.
---
March 31: Tomorrow, Tomorrow, The Sun Comes Out Tomorrow
Fingers crossed for it, at least.

I thought, "what the heck", and walked to my nearby drugstore about 8:30 this morning. Deserted. "Yes, do you need a refill?". "No, I say", pointing at the "VACCINE APPOINTMENTS HERE" sign. "I'm 62, and watch the news."

She smiles, but shrugs. "The lineup went out the door yesterday, while that news was still on. The list filled up in minutes, also the waitlist. The Davie street location got a lot more, you could call."

The number in my pocket, I take a 20-minute walk, instead. No hurry, it'll have filled, yesterday, too. But maybe they'll tell me how many doses they got, how long they took to fill up - nice bit for the blog.

At the pharmacy window, a couple were finishing up, and a guy stepped forward from my right. "Hey, I'm right here." "I was over there, on the dots", he replied, pointing - I hadn't actually been in the line. "But go ahead".

I didn't step forward; just called over to the pharmacist, "Just wanted to ask when your vaccination appointments filled up yesterday?"

She blinked. "I have two left, 5:55 and 6PM tomorrow". I waved the other man forward. (I really like to think I would have done it if she had said she had only one left. Pretty sure, anyway.) He got 5:55, and I got the very last vaccine appointment for tomorrow. I'm sure, the last in the West End. Booked by 9AM, the day after the news.

I already posted "I Ain't Afraid of No Blood Clots", but that does come with the caveat: I'm very afraid of the blood clots you can get from COVID-19. Not as afraid as I am of the neurological damage, and not nearly as afraid as I am of the lung damage. But much, much, much more afraid than I am of Oxford-AstraZenaca blood clots, which occupy a reality zone between in the triangle between "fear-based myth", "hypothetical", and "only visible with the best statistics".

I joked with the first pharmacist that I was overjoyed to hear I had no appointment there because of the huge, round-the-block response. She nodded rapidly; from the news, health professionals are scared that vaccine fearmongering was going to have a win from this. Very reassuring to know that most people have more sense.
---
March 30: Dumb and Dumber and Dumberer
In order, Dumb is confusing "circuit breaker" with "rheostat". A "circuit breaker" briefly stops all electrical transmission while you make sure a fire won't happen. A rheostat just turns down electrical flow by a bit, turning a valve. In British Columbia, just closing bars and restaurants and gyms, not all businesses, not schools, is a rheostat, not a "circuit breaker". They're debasing the terminology, but more importantly, being timid and weak about an already-desperate, time-sensitive fight with the variants.

Dumber is Ontario, where they've seen this coming for weeks, known it well from two previous waves, and have still bumbled into 67% variants, and the pandemic "completely out of control". The "dumber" title comes from this story, actually, the tidbit that hospitalizations are this time 20% higher than they were at the start of the last lockdown.

Think about it, that means that instead of getting smarter every wave, saying earlier and earlier that "this is the start of a wave, let's stop it early", they're getting dumber every wave, taking longer to accept the obvious. If a cancer patient allowed more and more cancer symptoms to appear and worsen, every time the cancer came back, you'd say they deserved to die after the tumours grew for a third time, ignored.

And Dumberer is this story about the most-Republican of American states, where the governor is now touting her bravery at never locking down, any business, never recommending masks, as a campaign feature, a triumph of governance. It's a Bush speechwriter and lifelong Republican columnist who is saying of that:
Now let me be clear. South Dakota has the second-highest case rate and the eighth-highest covid death rate in the country. In that sparsely populated state, the disease has taken the lives of nearly 2,000 people. And Noem's defiant inaction has made that number higher than it should have been. What level of hubris, extremism or insanity does it take to crow about one of the worst covid records in the nation? Noem might as well be campaigning for higher office in a hearse.
It does help put BC and "dumb" in perspective, and one might even be glad to live in "dumber" Ontario, given the amount of "dumberer" out there. Ah, well, I will cheer myself up by promising to get back to Brazil, soon. Good news: Bolsonaro is doing badly.
---
March 29: P1 in Vancouver
I just don't know whether to be frightened or reassured that St. Paul's Hospital found more cases of the P1 variant than are known to be in the whole United States. St Paul's is almost exactly a mile from my house.

Normally, that would mean that my post of the other day, about "The balloon goes up", had gone up about P1, that there would be twice as many cases per week of P1 from now on, that it would take over during the course of April. That has been happening with less-bad "UK variant", B.1.1.7, but P1 would be worse.

What's reassuring, is Dr. Bonnie Henry, staunchly claiming that this very large cluster, along with several clusters of B.1.1.7, have all been "contained". That's a very large claim to make about so many cases, a statement of remarkable trust in the sheer thoroughness of the contact-tracing. It would require that everybody with any contact with any of all those cases, has been not just checked for symptoms, but tested, since so many are asymptomatic.

I can only hope she's right; certainly, she won't escape criticism if she's wrong. What was solidly reassuring is her statement that virtually all tested cases are now also being checked for what variant they are. We'll be able to track the progress of the "new pandemic" (and it is), as it happens to us.

The real hard question is what the public health doctors will insist upon if the P1 variant (in particular, but also B.1.1.7) moves into a high "R" value and control is lost. Those of us calling for "Canadian Shield" and "Get to Zero" and all that, for two months, have been proven right so far. If P1 can cause severe symptoms to the already-vaccinated, then we're in for 2021 as a Groundhog Year re-run of 2020.

So, they'd better be right.
---
March 28: Brazil Faces the Test: Will Bolsonaro Hang?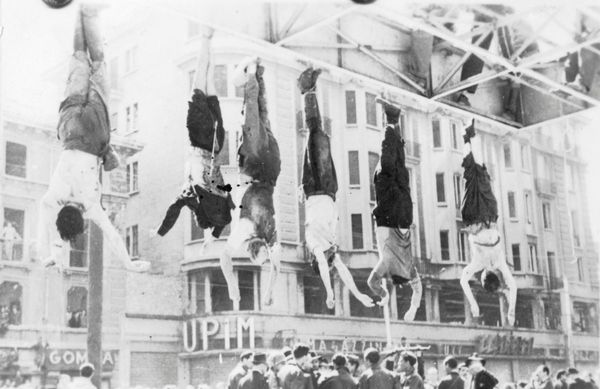 Eventually, the nicest people have had enough, enough to make them a raging mob. Our hearts all went out to the people of Myanmar, the other day, who didn't just oppose lead and steel with fragile flesh...they come back for more, when they regrouped. It's happened before, and will again. I read the same story in Red China Blues, by Canadian journalist Jan Wong, who had a ringside seat at the Tiananmen Square uprisings. She reported with awe that people would be driven from the square, with machine guns, leaving bodies all over the ground...and then, they'd regroup and come charging back. At machine guns. There were similar acts of courage in Tahrir Square in Cairo, now a decade back.

The photograph shows Mussolini, and some cronies, who were shot and strung up, not by the allied troops, but by Italians:
After being kicked and spat upon, the bodies were hung upside down from the roof of an Esso gas station. The bodies were then stoned from below by civilians.
I was joking, right at the start of this blog, when I asked on April 30, "Where is BoJo's Noose?" about Johnson, though resignation was certainly appropriate (and still is).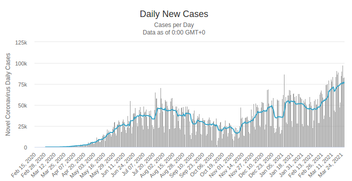 Bolsonaro, on the other hand, really has gone an order-of-magnitude past Johnson at getting his people killed. His P1 variant (yes, he gets to own it; there wouldn't have been enough cases to produce new mutations if he'd done his job) is now going to kill millions around the world - but most, in Brazil.
Brazil pulled into the lead, the other day, at most deaths ever declared in one day by any country, well over 3,000. It exceeded any American numbers from their last wave, though Brazil has just two-thirds the population.
But the thing is, the dying of yesterday is based on the case-count of three weeks ago. When the hospitals were at the breaking point, but mostly still functional. This article from Friday describes 15 patients arriving, for two beds - 13 turned away to die. Those terrible choices that Italian doctors were just starting to have to make in Lombardy a year ago, where you take an 85-year-old off the ventilator to give it to a 75-year-old with half a chance - that's now every day and hour in Brazilian hospitals.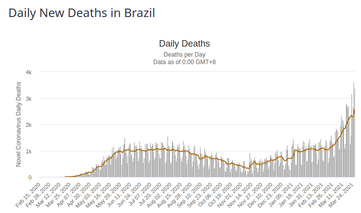 The case-count is not rising all that rapidly, recently: the dying would only go up to 4,000 per day...except the hospitals are now turning most away, and it will probably be worse. They're running out of oxygen.
Gwynne Dyer, wanting to "hit the panic button on Brazil", is not of the opinion that the people can remove Bolsonaro (Tiananmen Square failed completely), but I'm starting to wonder. Every population has its breaking point. Watts, Tahrir Square, the Orange Revolution - they were all surprises when they hit.
I look at those graphs and I see that record-breaking death rate doubling in a month. How much can they take?
Bolsonaro might want to avoid gas stations.
---
March 27: The Balloon Goes Up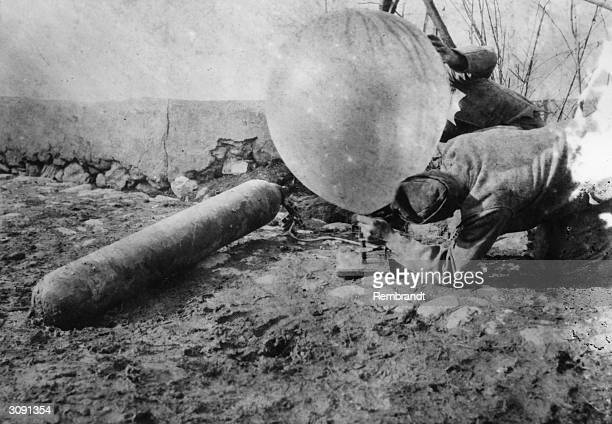 One of those phrases you use, know what it means, but not where it comes from. Turns out that the best way to get all the WW1 artillery guns to start shooting simultaneously was to just release a balloon that they all could see, up and down the line. More reliable than wires (fail) or making a noise (might be drowned out). So the heart-lifting sight of a balloon rising lazily into the sky, beloved by every child, was used to signal "time for death".

The covid balloon went up over the last two days across the nation. It was just 14 days after I asked whether Ontario was just a month away from 2,000 cases per day, that Ontario posted a number quite a bit higher. I wondered for a day if that was some kind of weird spike in reporting, it was so fast. Five-fold growth in 14 days? But then yesterday was also over 2,000. It's on, the variants are growing faster than even the pessimistic models predicted, and Ontario is in trouble.

Alberta and especially BC may be in more trouble. I haven't seen a jump like the last two days in BC, in the whole pandemic. How could it grow from 716 to 800, then 908 in seventy-two hours?

If it keeps growing like that, we'll be in a fear-based lockdown in days, whether the government calls one or not. I feel like stocking up at the store today, preparing to hide inside for a spell.

I wonder if the store will be busy. Maybe I should stock up on toilet paper. If increases of 14% per day - an R of TWO - continue over the 3-days of tests that will be reported Monday - then BC will hit 1200/day early next week. The Ontario growth suggests an R of 1.7. These numbers are hard to believe, R values higher than any reported from UK - but if some local stupidity and superspreading are at work, they'll go on until people stop, or are stopped.

It may grow out of control, until we are in real trouble. Fair warning, you should prepare.
---
March 26: An Extremely Short Summary of Yesterday's Press Conferences
Cases are skyrocketing!
The variants are taking over!
Now, let's talk about our continued re-opening plan!
Well, fine, I'm exaggerating a bit, and it wasn't that bad in every province. In Alberta, the re-opening discussion was about putting off the next stage...but noted that most transmission is at home, please be careful of others at home if you feel symptomatic. Yeah, it's all our fault.

Here in BC, the whole conference went on and on about new closeness allowed in care-homes, because they, at least, are vaccinated and somewhat safe from severe disease. There was just no discussion of the shocking jump to 800 cases per day, and whether that suggests a response.

I'm going to save Ontario for tomorrow. That article makes me too angry.
---
March 25: The Tyee's Nikiforuk Rubs It In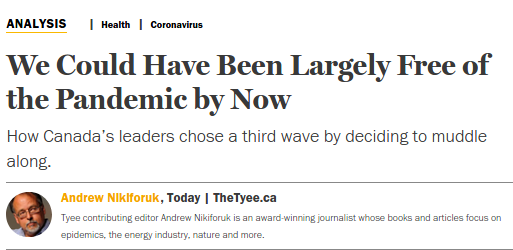 I try to provide more value than the usual blogger's "You've got to read this" link; but, today, anything I could add would be weak, both for information and entertainment, than Andrew Nikiforuk's you-idiots review of the last eight weeks. It's eight weeks today since a strategy was put forward, called "The Canadian Shield", praised by CCCC. (That was six weeks after CCCC hugely enjoyed Nikiforuk's scorching of Jason Kenney's pandemic performance.

The Canadian Shield strategy actually could run in six weeks, if all went well, exactly as it did in Portugal, covered yesterday. Following the Canadian Shield, our graph could have looked like Portugal's, below. In fact, oddly enough, Portugal's cases-per-day started plummeting exactly on January 30th, exactly as if they were the ones who'd read the article two days earlier.

Nikiforuk does a Sherman's March across the country, "congratulating" the offending premieres one-by-one; every province had its own screw-ups, but they all boiled down to weakness in the face of protests, lack of courage to move quickly, to trust in science. Politicians all, sitting tight and keepin their heads down, not real leaders.

I linked directly to Canadian Shield on Januarly 28th, only noticed Nikiforuk's "Get to Zero" article a week later, but it's the one he links back to, pointing to all the nations that did basically get to zero in six to eight weeks: New Zealand, Australia, Vietnam, Iceland and Taiwan. Oh, and all of Atlantic Canada and our North. It could have been done. He is especially excoriating about how we've not learned from our mistakes in previous waves. It's aggressive dumbness.

We can still do this, to squash down the variants. If we don't control the variants, they may well get around the vaccines; that's what evolution will naturally tend to do to them. It's quite urgent.
---
March 24: Praise Proud Portugal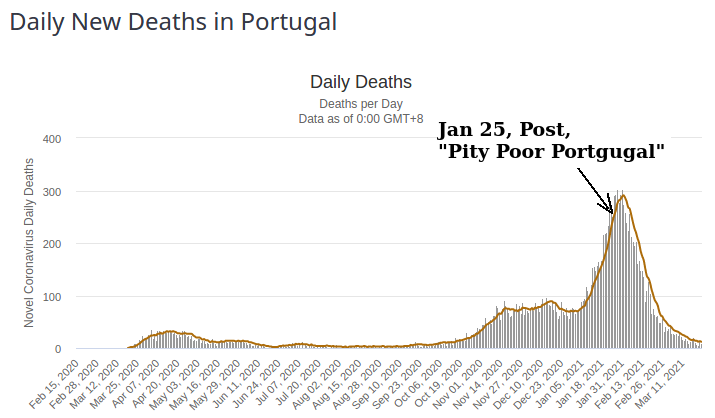 It was just two months ago tomorrow, when I posted "Pity Poor Portugal", which had been exemplary, at low cases the whole pandemic, until last fall, when their second wave was one of the worst it Europe. Here's the peak death rates, when countries started to turn it around, in terms of deaths per million population:
UK: 1200/68 = 17 deaths per million per day
USA: 3300/332 = 10 deaths/million/day
France: 600/65 = 9.3
Portugal 300/10 = 30
Portugal hit a bad place before they got serious, but holy cow, did they ever get serious. I haven't seen a decline like that, in any country, the whole pandemic.

Portugal is perhaps the single poorest country in western Europe; with a tourism-dependent economy that was hit hard. Nonetheless, when they locked down, they really locked down. Articles about it quoted government and medical people, talking about the details. There were simply no stories of protests, defiant restraunteurs, backlash, nothing. They just locked down hard for two whole months, everybody took it seriously, and that knocked the case-rate down from 12,000/day to 3,000/day in two weeks flat. That's an "R" of around 0.65; I can't recall a steeper decline in my whole time doing this. In the last five weeks, it's from 2500 to 500, about 0.8 - that's the shallow portion of their curve, but it is like the best-performance for any other nation.

Portugal is about a week behind Canada at vaccination, just under 9%, to our 9.5%. Their remarkable discipline, and cautious re-opening. Population-adjusted, their case-rate is now half of Canada's.

Praise Proud Portugal. I am so very happy to say a 180-degree turnaround of my own words of two months back.
---
March 23: America's Mass Shooters Herald "Return to Normalcy"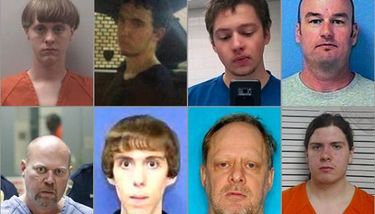 After many months of near-dormancy because of the pandemic, America's purveyors of mass gun violence today held a press conference to proclaim a "return to normalcy", and a resumption of regular mass-shootings in the news.

"We felt America was simply tired of crouching inside, afraid of being killed by a virus", said mass-murderer spokesmen, "when, as a good, strong, red-blooded people, they needed to get back to crouching behind counters and desks, afraid of being killed by us."

Continuing the news conference, by taking reporters hostage, and crouching behind their podium, the killers re-iterated that this was "part of America's great re-opening plan".
"There were mass shootings constantly in the news, until this stupid disease came along, killing people the old-fashioned way", noted spokesmen.
"It's just so out-of-touch in the 21st century to continue with these obsolete ways of dying. Republican rhetoric about 'culling the herd', with the virus, is just stuck in the Middle Ages. We mass-murderers can cull the herd with much greater speed and efficiency, without wasting medical resources."
Reporters commented, after taking a few casualties, and regrouping when the spokesmen fled in a car (swerving to hit pedestrians), that the shooters have certainly being getting back to it with undiminished vigor. "At least, it's not a racial thing", noted some police, with relief. "They said so".
The database at right, from "gunviolencearchive.org", only goes back one week. (There were 25 injured and 3 dead in the two days before. You're welcome.) The graphic links to their database. The rest of the chart, not highlighted by the comments, adds up to another four dead and 35 injured.
We are not, alas, all in this together.
CCCC is not going to turn into The Beaverton. This was just how I coped.
---
March 22: Vaccine Supply and Demand, British Columbia.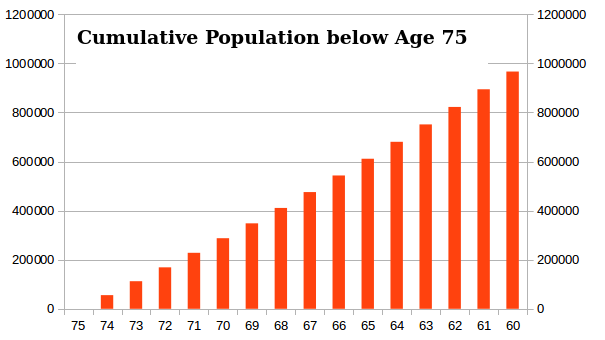 I was much taken by the vaccine appointment schedule on the news, last night. It was down to specific ages, for the next week. Age 79, age 78 two days later, age 77 two days later...age 75 by March 27.

If you compare to the BC population-by-age chart at left, which is cumulative, you see it grows by about 35,000 people for every year younger you go, so two days apart means they currently can get through appointments for over 15,000 population, per day. Of course, not everybody is coming in. Vaccines have only been arriving at about 10,000 per day, recently, so uptake of appointments on first offer is presumably around 65% right now.

By the end of March, we should have taken care of everybody down to age 75 who's going to show up early, so April starts us off with age 75, "done", for now.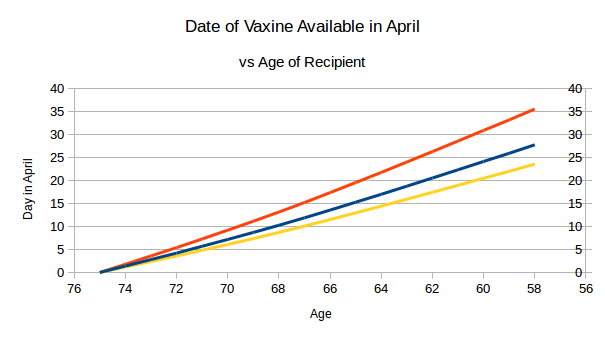 The trouble is, that the number of people per year takes a jump at age 75 and downward: they're into the baby boom. There are about 44,000 people age 75, but over 55,000 age 74, and then it goes upward by 1000-2000 per year.
The chart at right is a model and here are the assumptions:
The blue line assumes 75% uptake, and 30,000 delivered per day.
The yellow line is optimistic, assuming only 70% uptake, and 33,000 per day.
The orange line is pessimistic assuming 80% uptake and only 25,000 delivered per day.
As you can see, it doesn't make a ton of difference. My favourite number, the day that I can make an appointment (age 62) varies from April 18 at best, April 21 medium, April 26 pessimistic.

BC and Alberta are similar enough in population profiles, and are in any event getting vaccines supplied based on population, so Albertan readers can assume about the same thing.

Age 60 is a milestone, which looks like about May 1. 96% of Canada's deaths have been to those over age 60, so we can assume that, even if the case-rate in Canada is high, the death rate will be negligible.

Unless the P1 variant does just slip past vaccines, of course. I continue to beg every government to quarantine Brazil.
---
March 21: Think Spring
Fear of Brazil, and variants in general, has had me getting a bit dark, the last few days. And the first day of Spring in Vancouver is typically being celebrated by pouring rain.

I've decided to think of some silver linings in the dark clouds, by an effort of will. Here's my best shots:
The new vaccine technology. We've had many articles about it, but it's just our nature to take good things for granted, all too quickly. Anybody complaining about vaccination taking a long time needs to remind themselves that the whole program is a year early, by any previous standard.

The new vaccine technology. This isn't just useful for this particular disease, the human relationship with disease itself could be about to undergo nearly as big a revolution as when vaccines were first invented. One of the developers said that her team is going to tackle cancer, next. Cancer.

The pandemic is showing up authoritarians. China, in particular, has spent years touting that their controlled society is actually good for people, riding moral high-horse on the strength of so many hundreds of millions lifted out of poverty in recent decades. (Mostly by selling to us.)

But China's information control, the authoritarian impulse to deny that anything is wrong on their watch, prevented the pandemic from being stopped inside their borders, let it loose upon the world. Another big embarrassment is their vaccine safety scares and ineffectiveness. Brazil, I don't need to repeat myself; and half the postings here have been about the awful American response..which is obviously improving with a change in administration.

All around, if you hate authoritarians, you have to love how the pandemic showed them up as no-good, terrible, awful, pathetic excuses for governments.

The pandemic is giving aid and comfort, if not to people, to the ideas that left-wingers (like me) have been trying to sell for decades. The United States may finally get, perhaps by 2026, the universal health insurance that Canada passed in 1966. Canada may advance on to a universal income support of some kind, like Spain, which announced a Universal Basic Income plan 11 months ago.

You appear to be able to significantly reduce your risk of infection with nothing more than good vitamin D levels. I've been a vitamin D fan since remarkable studies a decade back showed it was a clear cancer preventive. Everybody take their vitamin D. The first day of Spring is a great day to advise a (careful) increase in sun exposure, too!
I was going to add in "we at least are now aware of our care-home failures"...but I cannot, in good conscience, assume that now we'll address them. Which is a sad thought, I'm going to put it away now, and focus on the good ones.
---
March 20: Follow-Up: The Variants Are Still Coming
First a follow-up to yesterday's post. BC was unfairly given a great rating of merely 3% variants in its cases. Yesterday's public health announcement, that we had 737 new cases in 24 hours, of which 68 were variants, is much better data, comparable to what was used for other provinces.

And that comes to 9% variants, not 3%.

In short, Ontario is a few weeks away from huge case numbers as the variants become dominant this week; Quebec is a few weeks behind them; and Alberta and BC are just a few weeks behind that.

By the time BC is in a variant wave, even my age group could be getting vaccinated, but that will only reduce the death toll, not the misery. COVID is still a hellacious thing to get in your fifties.

Brazil was on the CTV news, last night, but still not as a menace to the world that needs to be nationally-quarantined; just as a local tragedy, which reminds me of coverage of Wuhan 14 months back. You'd think we'd have learned something.
---
March 19: What's Different About Ontario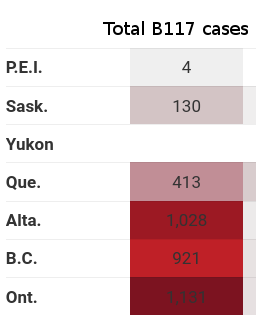 I think I've resolved a bit of a head-scratcher about the total counts of variants in different provinces. When you look at the grand totals that each province has encountered (at left, with thanks to Alan Beairsto; it links to similar numbers at CTV) it looks like BC and Alberta are up in the same Danger Zone that has everybody concerned about Ontario: over a thousand in both Ontario and Alberta.

The thing is, variants have been trying to get going in Alberta and BC for some time; the numbers haven't grown rapidly - one doubts that's some divine miracle limiting their enhanced reproduction, it's laudable work from all those contact-tracers, running down all the connections, to draw a limit around the spread from each case. So far, the numbers, at any one time, are not nearly as high as Ontario's.

Counting the variants is not like counting the cases. We have tests now that let us tell you every day, how many positive tests there were that day. How many were variants, is not always checked for every positive tests; the DNA sequencing is mostly not as available. So we have statistical measures, often, how many out of a hundred random COVID tests were also variants.

We have snapshots of the how many variants are identified out of the currently-active cases, or how many were found in a day, versus the daily COVID case count, giving us a rough idea of the percentage of cases out there in the community that are the variants. Here's the numbers I could find in the last few days of news reports:

In short, Alberta and BC have higher total numbers because they've trickled in slowly; are growing, but slowly.

Quebec is Ontario, a week or so behind; they recognize that the variants will have taken over in about four weeks, at the rate they're growing.

Ontario has enough data for statistics: the regular form of COVID is still being defeated, has an "R" of 0.9, the cases shrinking by about 10% every five days. But the B117 variant has an R of 1.3 or 1.35 growing rapidly as the other shrinks, so that Ontario is just days away from "over 50% variants", two weeks from them being the huge majority. The differing growth curves make them the "pandemic within the pandemic" of the article title.

B117, not much worse than regular COVID, is giving us a heads-up about P1, the even faster-spreading Brazil variant. While we need to hit that Brazil panic button, that will only give us time. We should start preparing now. For all we know, that one will need both the vaccines we've already got, and some activity restrictions, until we can formulate a booster. Sure hope not.

We are very lucky that B117 can be controlled by the vaccines; it's apparently 67% deadlier - five dead in Britain of B117 for every 3 that catch the regular. P1 is infecting people in Brazil who've been infected with the first one, so the vaccines probably won't stop it, alone. If it's also deadlier, then Bolsonaro will have effectively murdered millions.
---
March 18: Hitting the Panic Button on Brazil
Dr. Gwynne Dyer is one of my very few North Stars, writers I automatically trust. I'm sure he's made mistakes in 40+ years of it, but damn few, and almost none that could have been avoided with more due-diligence at the time.

So I assume he's done his homework with this frankly scary article about Brazil and its new variant.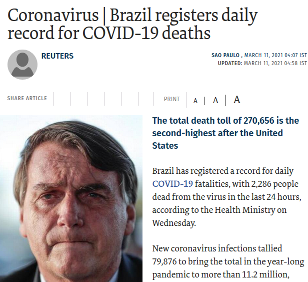 Excerpts:
They'd have to lock Bolsonaro up first because he flatly refuses to do any kind of lockdown. He also regards vaccines as sissy and will not support a national program to vaccinate the population.

...

Because Brazil's infection rate is so high, it is an ideal pressure-cooker for new and sometimes more dangerous versions of the coronavirus. ... What makes it so frightening is that it spreads twice as fast as earlier COVID versions - and it seems able to reinfect people who have already had COVID once.

If it can do that, it can probably also get around the immunity conferred by existing vaccines.
This combination of facts makes Brazil out to be a clear and present danger to the entire rest of the world. By letting the disease run rampant, Bolsonaro bears responsibility for the existence of P1, a threat to human life much more serious than Iran could conjure with a dozen nuclear bombs. By letting it continue and not quarantining his country, he is, at one remove, staging a biological attack upon us all.
Dyer ends by calling for complete quarantine of the country. What's bothering me, is that I found the article last night, already over a week old. There are indeed other articles in the news that seem to concede the same basic facts, if not all as urgently. (There's apparently hope that vaccines will still work, at least partially, against P1; and Bolsonaro announced a change of mind on vaccines, the day after Dyer's article - which still strikes me as a remarkable case of "too little, too late", given how Canada itself shows how slow a vaccine rollout can be. Brazil, a much-poorer country with a far weaker health system, can't possibly do anything useful against P1 in time, not with vaccines. Bolsonaro still won't lock down, or restrict travel.
So, Dyer's right, and we're just not facing up to the obvious risk coming in from another country, exactly like this time last year.
We're looking forward to the end of the pandemic over the summer, but if we don't hit the Brazil panic button, even out of an abundance of caution, we're taking a stupid risk of a second pandemic.
The term "crimes against Humanity", normally refers to a crime against any humans that denies their rights, and therefore all of ours. In this rare case, he's committing an actual, physical crime against all humanity, far worse than the usual meaning of the term. As his behaviour is willful, and follows multiple warnings, he's arguably the greatest criminal on Earth right now, trying to kill not just a million more Brazilians, but tens of millions of other humans.
Hit the panic button.
---
March 17: Variance of Variants
The Provinces are Laboratories of Pandemic Behaviour
I was going to hold off a little longer, after the modeled March 4th "takeover" of the variant in Alberta, was clearly not happening. It's only two weeks past that, tomorrow, and while it's nice not to have that major exponential rise in the model, yet...it could start happening any day.

But what caught me today was the big difference with Ontario, where that has already happened; but only in Ontario. Why Ontario? What are they doing wrong, or other provinces, right? Here's the variance of variants:
| | | |
| --- | --- | --- |
| BC: | 116 of 544 | = 21% |
| Alberta: | 62 of 355 | = 17% |
| Saskatchewan: | 66 of 156 | = 42% |
| Manitoba: | 14 of 111 | = 13% |
| Ontario: | 1034 , estimated: | over 50% |
| Quebec: | 179 of 703 | = 25% |
Why Ontario? Mind you, Saskatchewan has more cases per capita, and almost their variant percentage. It's easy to point out differences from huge, urban Ontario and the rest of Canada, but why does Saskatchewan have over three times the percentage of variants found in Manitoba?
I doubt the public health officials have time to chase down these questions, before the question has changed. One can only hope that we figure it out eventually, figure out what went wrong and right.
BC has been an conundrum for me. I've been railing that we have to change our behaviour, have to restrict more, it's about to take off - but I've been wrong. BC has been wandering up and down, spikes and dips, between 400 and 600 cases per day, for over two months. It's weird for pandemic count-numbers to do that -most stories are like Gibraltar yesterday, either soaring or plummeting, (or at least, sinking steadily).
I'm not complaining. The number is low enough, that with the old vaccinated, we aren't taking many casualties. If only Ontario could do as well.
---
March 16: Let's Hope We're Like Gibraltar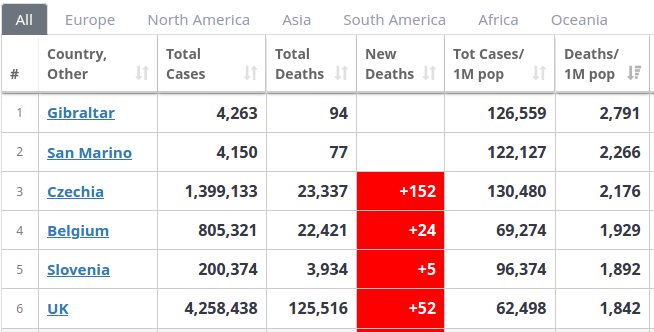 I normally ignore places like Gibraltar; they show up as separate entries in the "worldometers", but with just 33,000 residents, aren't a fair compare to what I called "The Major League" in my initial essay. Gibraltar, at left, is actually the single worst "standing" in the COVID Cup, with "2700 dead per million", despite under 100 deaths, some half again as bad as the catastrophes of the UK and Belgium.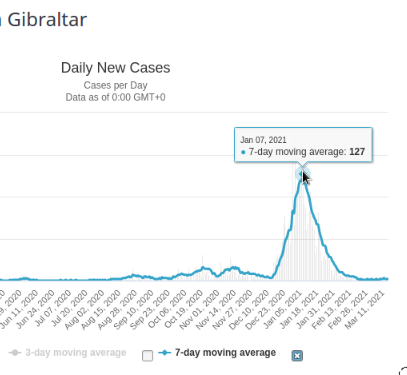 But it's also the place that has pulled off the tremendous response to the recent wave that began in December and did all the killing. They instituted a tight lockdown at the start of the year, and it worked immediately, cases falling rapidly just a week later.
A few days after that, a major vaccination drive began, reaching past 40% vaccinated in just two weeks; by the third week, they were announcing the coming end of the lockdown, and by week four, February 1st, they started a re-opening that was completed over the course of February.
But not too quickly, or too soon; they didn't fully re-open until the start of March, they waited until cases were down to almost nothing...and until they were past the 70% mark for at least first vaccinations, and only people in their 20s were still exposed.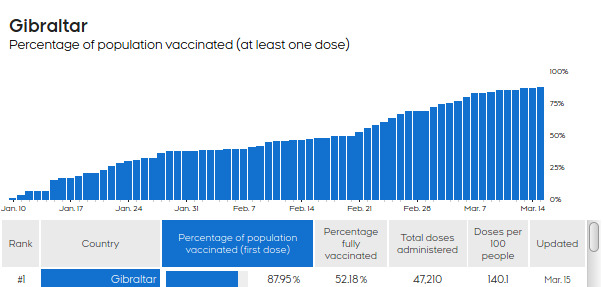 And now, they've reached that wonderful spot I only thought Israel had reached some weeks back: 88% vaccinated, cases at a couple per day.
Gibraltar, as said, is too small to compare to large nations. But, as an aspiration, their story of the last three months is one to hope for.
We've fallen off in doing comparisons to other nations. It's been some time since I read a story about South Korea, Taiwan, Hong Kong, New Zealand, and Australia, the COVID Cup Champion fighters. I did see one recently about how Taiwan was already marketing itself as a safer place for business and tourism - not based on the current case-count so much, as bragging about how well it has done in the overall pandemic fight.
I think that business and travel alike are going to be taking a hard look at pandemic performance, once all the dust has settled, late this Fall, and investments may move around, the same as they do when a nation displays political instability, or economic fragility. COVID's judgement will be noted, for us all.
I loved my visit to Gibraltar, some years back. Climbing that whole mountain, and down again, to shop in town, was a magnificent view and a fun day. I'll have to go back; maybe stop in at city hall and offer congratulations. The COVID Cup's worst sufferer also played a near-perfect game.
---
March 15: I Ain't Afraid of No Blood Clots

...at least, not compared to how afraid I am of COVID-19. It causes blood clots, for sure, instead of a barely-possible, hugely-unlikely maybe.

The doctors have to act this way; they basically aren't allowed to use "common sense", since, in the long run, science has often triumphed over common sense. Things that "really just couldn't be", turn out to be the unlikely truth.

But the price of science is patience, and I have none, just now. It's correct, over the long run, to be wrong ten times to be right once, follow the science. Four cases of blood clots just happened to follow vaccinations of the old, just as kids tend to show signs of autism around age 3-5, the same as when they are vaccinated, and you get a time-correlation, that is very probably not causation.

With autism, multiple careful studies established that there's no causation. NO, I'm not linking to them. If you still need that proven, then go away, I don't even want you reading my blog.

With blood-clots, we can no doubt gather data together fairly quickly, since so many are being vaccinated, that the rate of people developing blood clots, around their vaccination, is the same before and after the vaccination itself. Old people get blood clots. If you vaccinate hundreds of thousands, then the causation-proof would be that (say) 1 person per 10,000 per day gets a blood clot in the 7 days before the vaccination, and 2 or 3 persons per day, in the seven days after.

That's almost certainly not going to be the case, because of that "common sense" thing: nothing about the vaccine, or immune responses to such vaccines, has ever been associated before, with clotting.

Scientists have to check, that's science. But politicians have been overruling them, for economic, lobbyist-borne reasons, for the whole year. Let's overrule their caution, and volunteer Canada to receieve all the Oxford AstraZenaca products that other countries are currently not taking.

I'll take the first shot.
---
March 14: Did I Call That One, or What?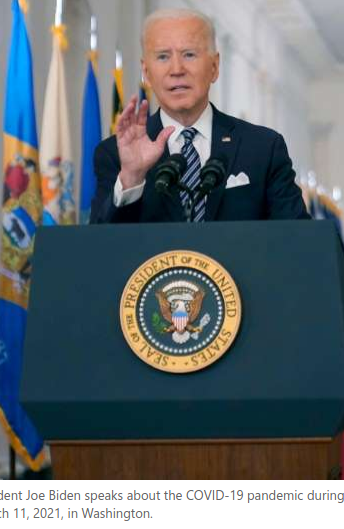 It's six weeks since I predicted that Biden's "Path to Victory" was to shoot for their Independence Day for the victory party. As linked to at left, he just announced it.

To be exact, my words were:
Then he can stand up on the steps of the Capitol again, on Independence Day, and declare American Independence from the tyranny of the virus.
And his words, the other day, were:
"That will make this Independence Day something truly special, where we not only mark our independence as a nation but we begin to mark our independence from this virus,"
Not that it was hard. Anybody who loved Bill Pullman's speech at the end of the movie, "Independence Day" could see it at once. The trick is to turn it around, and consider what a failure it would look like if July 4, nearly seven months after the first vaccines got out of labs, had still left Americans unable to have their summer kick-off party? Unacceptable.
Moving at least some kind of major social-events re-opening to the beginning of summer is an obvious morale need for us, too. Because Canada got off to a later start, I'm not sure we can do the same for Canada Day; that's why I went for the Fireworks, (and the August long-weekend) as BCs target holiday.
Calgary, of course, is going to want the Stampede, and that may be tricky, at least without "vaccine passports" at the door. Hardly surprising that Jason Kenney just raised it as a goal, though without commitment. I wouldn't commit, either, not with half of Europe re-introducing restrictions. These new variants are proving to be as scary as predicted. Fingers crossed we can get the case-count way-low by late June.
---
March 13: Underground Calgary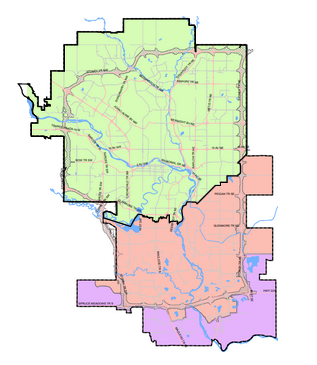 I now have multiple friends linking me to the Centre for Health Informatics at the U of C. They are publishing COVID-19 test levels from three sewer sampling sites, each of which agglomerates much of the city - there are just three zones being accumulated into one big reading. (Map at left).

Well, finally.

CCCC, having a history with sewer management, has long since published links to similar projects at Ottawa, and Guelph, both last October. Those projects followed a successful project in New Jersey colleges.

Everywhere it's been tried, it's worked, been a fine idea. It just doesn't catch on, doesn't get real funding. Everybody doing it is doing research, not active public health work. Hugely frustrating! But, typical. I realized, last spring, when innovative ways of testing were unable to get traction, that public health bureaucrats are too conservative to innovate on-the-fly. We can only hope they pick up reports from the researchers that will cause them to add these tools to the next fight, probably decades from now.

But, just FYI, this is a map of Calgary's sewer catchments. There are over 50 of them, though only 25 have more than 1000 pipes: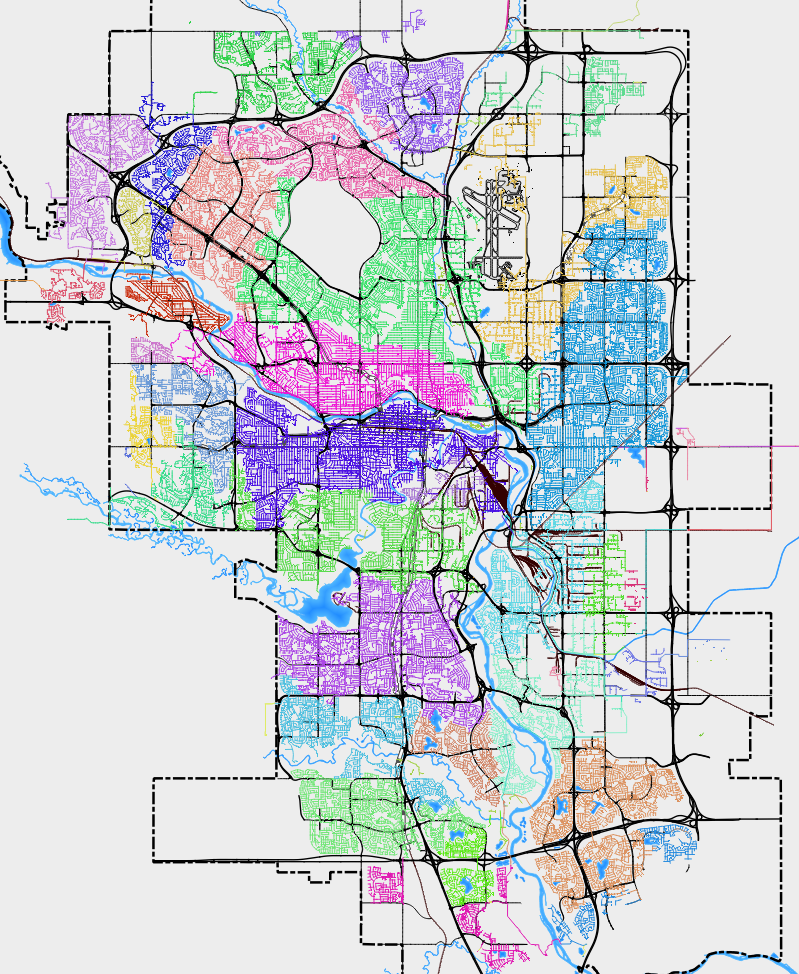 The fun thing about a blog, is you can't run out of room. Want to fantasize about really bringing accuracy to this fight? You can also name the 500-some manholes that just collect a subset of each of those, the sub-catchment, and Calgary has over 500 of those, though just 450 with over about 20 pipes.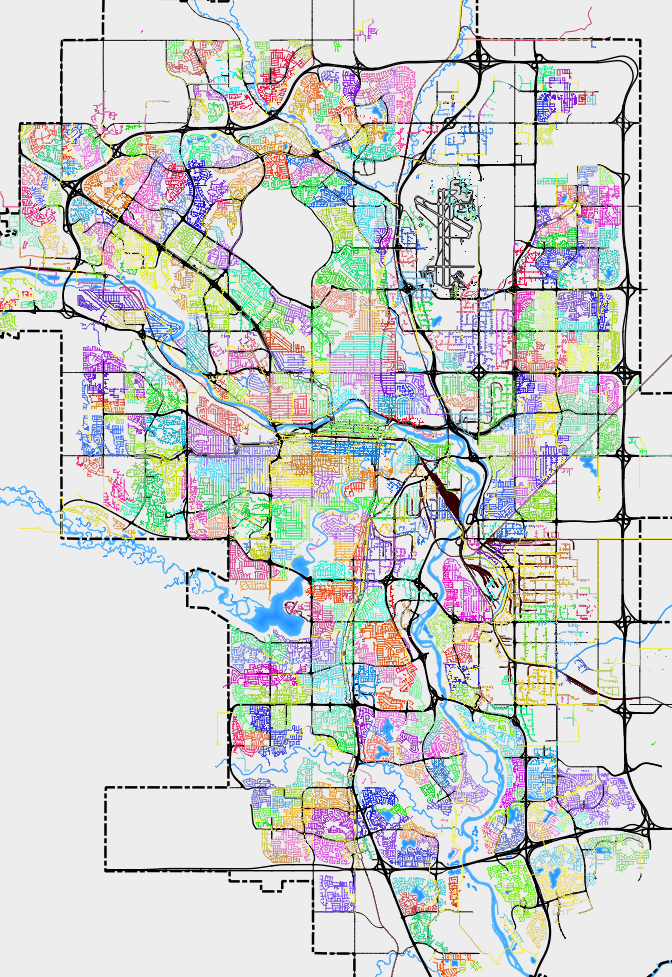 Most likely, you'd want a mix: go to sub-catchment level with the biggest catchments, basically break the city up into about 200 zones of comparable size. Then you'd be down under 10,000 people in every test zone. You could put test-collection at all the "campuses", every institutional site that has its own collection system: Skyscrapers. Schools. Industrial areas. Food production.
I can almost hear some Calgary researcher breaking out into laughter: 200 test sites? Does this CCCC idiot have any idea how much it costs to run one test site? The staff-hours, not just the equipment?
If so, he's a researcher that don't know business. The pandemic is probably costing Canada hundreds of millions of dollars a day. Strategies that would let us get more work done, save lives, would have been worth going into mass-production on that equipment, and mass-production (training) of staff, eleven months ago. We certainly could have been ramping up a heck of a lot more than this, since October, when the other projects showed success.
I tend to think, that higher-ups don't like to even think, about wastewater projects. The whole subject is distasteful. Like really old people with dementia in care-homes: the subject gets forgotten, over and over. Remember how in "It", all the awful things that happened in the town of Derry just...slipped away from people's minds. In the Stephen King novel, that was magic, but he was riffing on a real phenomenon: people want to forget some things. Until it's your grandma, then you can't.
And we all want to forget the sewers. It's caused us to miss an opportunity...so far.
---
March 12: Calling All Dentists
People have complained that lockdowns deprived them of movies; of restaurants; of bars and gyms and friends. I can't recall a single person complaining that they'd have to delay their dentist appointment.

I know, that in my heart of hearts, I was kind of smug about it, though I've had many dental issues over the years, and am hugely indebted to the miracles of modern dentistry (three implants..or is it four?) I had one implant replaced during the pandemic, under all kinds of extra PPE that made me feel my least-safe moment was in the entry room, when another guy walked in.

Six weeks ago, Dentists in BC asked for early vaccination, so they could get back to work. For many, that's just about them, but for medical practitioners, it means getting us pro-active care we need (if not want enough to protest about it), rather than only emergency care. It's an entirely reasonable request, from the public's point of view, much less theirs.

But CCCC would like to go a step further, and do a little social engineering. Dentists are obviously able to administer vaccine. Hell, they're the only people who have to give you shots into your gums; your arm, they could do blindfolded on a trapeze.

CCCC hereby proposes making all dentists offices vaccination centres - but only for patients! If you come in and get your dang checkup and cleaning, you can have an early vaccine shot.

They would, of course, be fully booked as fast as their receptionists can type.

Perfect.

Of course, I'd also tell all the meat-plant, and other neglected "essential workers", about the idea, a day early.

There are about 3,000 dentists in BC, and I'm sure they can all see a dozen people a day for basic services. And they'd be happy to put in six-day weeks for a few months, they've lost a lot of work. That's 800,000 people in a month.

Just brainstormin'.
---
March 11: Ontario A Month Away from 2000 Cases/Day?
Alan Beairsto is doing reporter work for CCCC now, as I'm not working hard at it recently, distracted by another project.

He writes that I would really love this CBC story with five excellent infographics (some moving ones, always cool), not just about disease, but shopping and work patterns, home prices, and travel.

That linked, top item, to breaking news about the growth of "variants of concern", in Ontario. They've nailed down the R value for the biggest variant, at 1.24. That means, as you can see from a graph of the last four weeks, that it will about quintuple in a month. By the 11th of April, todays average of 450 cases/day will be over 2,000.

If all goes well, they should have everybody (sane and) over 70 vaccinated by then, and the death rate from those 2000, per day, will be a fraction of a percent. The hospitals will be "only" as crowded as when they were getting 3500 cases/day in December.

But, still, it sounds nuts to open up in Ontario, unless the variants are very resricted to some regions, and the others have a little more time.

Here in BC, many have been baffled that Bonnie Henry is talking both with concern about variants, and about doing some re-opening, presumably because she's confident about keeping a lid on it with contact-tracing. I don't think Ontario has that luxury.
---
March 10: We Need to Hit 50,000 vaccinations per day
Huge family milestone the other day, our oldest relative, 89, just got her first shot, and is now less likely to be hurt by COVID-19 than her children. A real relief, as safe as she's behaved for the whole year.

I've been running numbers on how, damn, if they want to vaccinate over 4 million British Columbians by August, they need to do 32,000 a day from now on - and at present, they have a spike of 12,000 per day, every week when the shipment arrives, then less for the rest of the week.

This article at the CBC does the correct math, where we will take time to ramp up to that, so we'll have to go past it to make up, with a peak at 50,000 vaccinations per day, just in BC. The overall nation will be needing almost exactly ten times that, over 3 million per week all summer.

It's reassuring to hear the confidence with which the political announcements are claiming that level of supply will be coming in. They just have to not screw up the deployment, and all those early supply problems will be forgotten, all forgiven. They know that if they do this really well, they'll probably get away with a lot of their worst failures, in care-homes and rapid testing and schools.

It's also nice that Israel tried out Pfizer on 600 young children, with no ill-effects, even some with cystic fibrosis. Somebody has to try things first, and we are all in their debt.
---
March 9: MTV is Dead: I Want My Fireworks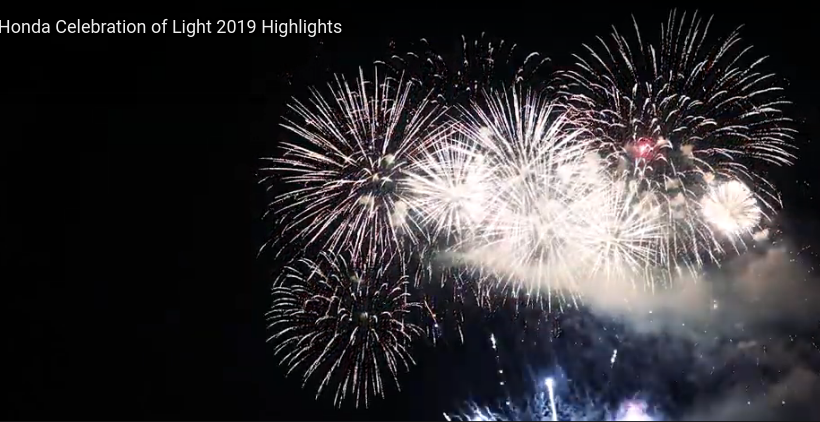 Nobody is committing to anything. The trouble is, events don't happen unless you commit work to them months in advance. But if there was one bet you'd think was decent, it would be the Vancouver Fireworks ("Honda Celebration of Light", fine) that come at the end of July.

We're currently figuring that everybody who wants a vaccine will be able to get one by then. It's a really good bet that high vaccination rates for the previous two months, combined with summer, will have the case-load on the run by then, as well.

Yes, it sounds insane: you can get up to 250,000 people watching, they say, probably over 200,000 just on English Bay beach. But everywhere except the most-popular spots right at the centre (where the rock bands also play for hours beforehand) is fairly spread out; I've mostly had over a metre between our blanket and the surrounding ones. It's not much closer quarters, out of doors, at a beach where there's always some breeze, than the Black Lives Matter gathering near Sunset Beach last summer.

Further, the fear of "superspreader" events is two-fold: the actual infections, and the secondary infections from those. As the event would be near the end of the vaccination schedule, the number of people who can even get the secondary infections would close right down in the few weeks after the end of July.

And why restrict ourselves to the normal date? The date could be pushed back about three weeks, to just before the end of August, and still be summer. By then, we'll probably be slowing down on vaccination, from lack of customers.

It would be a great moment to pick as the point where it was basically all over. Fireworks would be the perfect end-of-pandemic celebration.
---
March 8: The Limits of Vaccination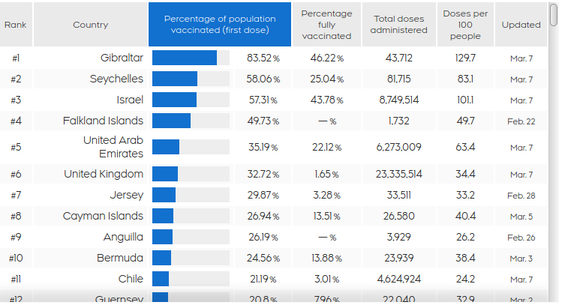 First up, a retraction of two posts is needed, as they were based on incorrect data. The Israeli "cliff" post and the "Israel, WTF?" post were both based on data from the source at left, which was showing Israel as having vaccinated 70, then 90+ percent of its population - until recently, when the number jumped down to just over 50%.

I was at first wondering if Israel had taken to heart the SNL joke about "Israel is half vaccinated - the Jewish half, I'm thinking", by Michael Che. (In point of fact, Israel is not vaccinating the Palestinian Territories yet, save giving some leftovers to their medical staff.) But, no: while Israel is vaccinating Muslim Israelis, (not "Palestinians", citizens), I think that the tracker service simply confused "doses per 100 citizens" with "percent citizens vaccinated", or some such. In any event, the reason they've hit a plateau on cases is now clear. We'll all need some patience to see the miracle of herd immunity make that cliff happen.

But the limits to vaccination that caught me this morning was the news of not just one, but two outbreaks at a hospital in Kelowna..

These are recent. They happened after we'd vaccinated (nearly?) all our medical staff, who were in line starting December, and are not anti-vaxxers. These hospital outbreaks are happening despite the staff, who should be about the only humans in contact with patients, having at least one shot.

It's much too early to tell just how effective vaccines are at stopping the spread, as opposed to stopping the symptoms, but news stories like these urge us all to caution. As the vaccine rollout hits high gear in a couple of weeks, by a month from now, people will be wanting to "act normal".

Don't let vaccination drive your behaviour. Let the case-count drive your behaviour. If the vaccines are working, the case-count will show it.
---
March 7: How to Take Over the World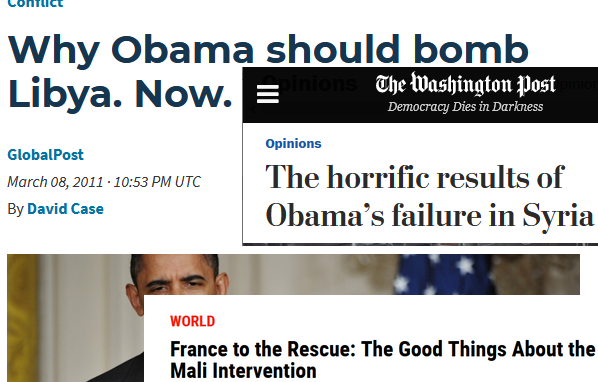 Permit me to go off-topic for a bit; there's just a fine contrast, in my media mix this morning, between two ways of "taking over the world".

Salon.com has an excellent (non-pandemic) article, linked at left, about how the media sells war to liberals by portraying each intervention as a necessary humanitarian effort, or a "tragic failure" if we don't drop bombs.

It contrasts all the many, many articles over the years that have headlines like these, with how well that worked out in Libya - the country fell to warlords, is still a charnel house - with slave markets. Curiously, new articles about Libya all wonder how it could have happened, often not even mentioning the massive NATO bombings.

The same morning, I read at the National Post, about Russia, China, and India moving aggressively to provide vaccines around the world, China to more than 50 countries.

"No strings attached" has legal merit, but emotionally, this is going to have positive impact the way that "vaccine nationalism" had negative impact - people remember who their friends were, when they were in need.

I suspect that vaccines themselves are going to be awfully plentiful in a few years; as CCCC has documented with sanitizer, the free market aways overreacts to any strong stimulus. Drug production, on the whole, however, is still an industry Canada could look into, again, for the whole world.

This 2018 Gwynne Dyer article, "Only the Poor Die Screaming" will tear at your heart: how the very cheap new opiates that are killing so many in the first world, are not cheap enough, in the third, to prevent terribly painful deaths to many.

Canada could push back against Big Pharma, by becoming a Very Big Pharma player -and not for excessive profit, just for good jobs doing good deeds. Vaccines are just a part of it.
---
March 6: BC and Alberta Have Switched Places
Well, things have gone south, or, rather, gone west, since my January 16 post about BC being "twice as smart" as Alberta.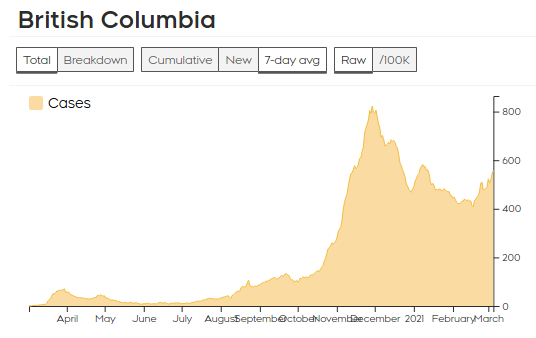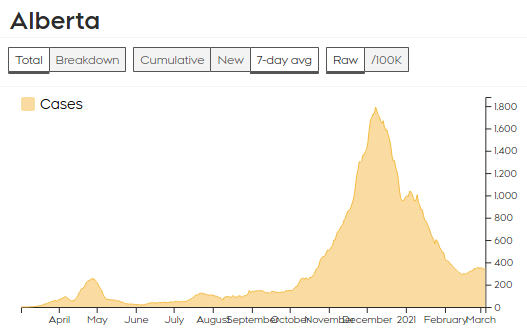 We all went through the up-tick in cases a month later, but Alberta, the last week, leveled off and even posted a slight reduction, like most provinces. BC, on the other hand, just keeps heading upward, starting to look like that frightening variant model from February.
Worse, the two provinces have now fully switched places: after a whole year where BC had half the cases of Alberta, it's now Alberta that's down in the mid-300's of new cases per day, BC over 600.
I do not credit Jason Kenney.
One could certainly heap blame on BC politicians and public health officials, for not being harsher, and CCCC certainly has, repeatedly. There's a lot of blame due for not using enough of those rapid tests, too. What probably hasn't been done, is enough credit to all the contact-tracers that have held down the growth as much as they have. The curve still doesn't look exponential, and the fact that we have days where the new-case count goes down, tells you the battle is still joined.
But the bad guys are winning, in BC, at least, and from that recent desperation move, it seems likely they've pinned every hope on vaccines holding down the death count until they can hold down the case-count, months from now.
---
March 5: Grim Graphics: Meat is Murder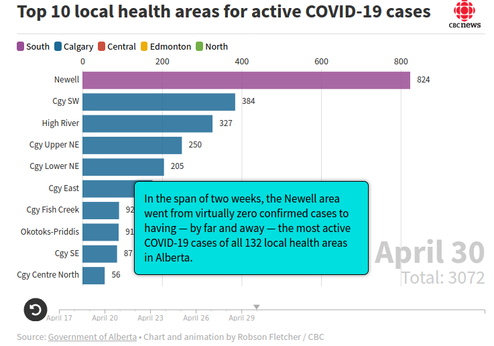 As a lover of information graphics, may I ask everybody to click on the graphic at left to jump to the fine CBC article using that art and science to show the pandemic, particularly the "risk your life to work in a meat plant" part of the pandemic.

This article needs an extra headline: At Least Vaccinate the Meat-Processing Staff.

We're vaccinating the care-homes, as the highest of high priorities, but the only transmission difference between those homes, and The Line, is the relative youth of the victims, holding them down to a few deaths per hundred. The workers are telling their union they're scared. But, if they had any power or money in this world, they wouldn't be working there to start with, so they've been abused by their management and multiple levels of government. A few bucks' worth of vaccine is the least we can do.

The CBC article is about the Cargill plant in Alberta, but the news is also fresh because of the re-opening by Olymel of another one in Red Deer - just in time for that March surge every epidemiologist is expecting.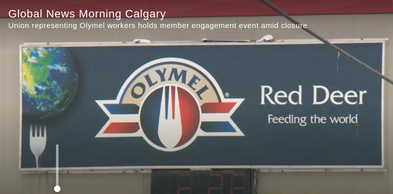 The article contains a very telling sentence:
The Quebec-based company said reopening has become possible because "management and the regulators are satisfied that employees can return to the plant safely."
Conspicuously absent, is any indication of whether the employees think that they can return safely. Normally, in any other line of work, that would be the criterion; in the circus, nobody asks the clowns whether the trapeze is safe for the acrobats. You ask the acrobats who depend upon the ropes.

The employees may have been distracted. They still have 78 active cases out of the 515 who became infected, over a quarter of the 1818 staff. A fourth case died just yesterday, as the Olymel annoucement was coming out, which puts Olymel ahead of the Cargill outbreak for total deaths.

Remember to multiply by, umm, "several", to get a count of infectees who won't ever be quite the same, sustained permanent organ or nerve damage.

We have no excuse. We're eating meat, and sneering at the butcher's pathetic, avoidable death. Vaccinate them all.
---
March 4: Venceremos, Virus
Mostly, the world is more complicated than we imagine, and anybody who attempts to "DIY" profesional products or services, learn they can't even come close.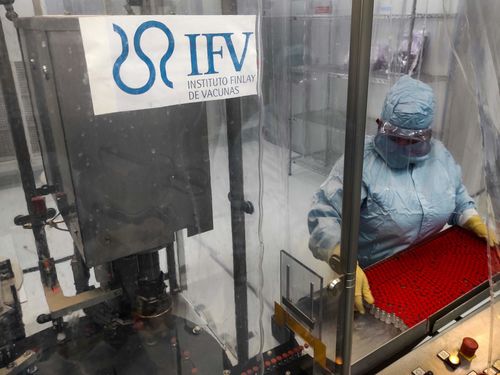 But not always. My career included the very origins of the first GIS, "Geographic Information Systems", i.e. smart electronic maps like Google Maps. On that first project, I got to study the database that early GIS used, the code that worked it.
It wasn't that hard. This world has some really complex computer programs, labyrinths of logic, but the problems of "mapping things in XY" and "tracing networks of nodes and links" (like that shortest-path for your car, on Google Maps) are not among them. They're 3rd-year undergrad computer science problems, at best. (Maybe 4th year if you get into spherical trig of the actual 3-D globe, which we didn't.)
As my employer struggled to get a large corporate GIS working, for years...and then, years more, when we concluded that original product I'd studied had to be dumped and replaced with ESRI, the big industry standard package. During those several years, I simply created the GIS functionality Waterworks needed, on top of our simpler CAD (Computer-Aided Drafting) package.
I repeat, it wasn't hard. The database design was a few weeks of work, not months. The CAD coding contractor ultimately charged me $400,000 to rewrite the code for both water and sewer, after charging maybe that much again, for the first water-only version over the previous few years. It was all less than a million.
It did all the GIS stuff I needed for my job - and for other people, many dozens of jobs - for twenty years, so far, and counting. They're still using it. About 10 years back, the corporation launched a massive project, about 30 staff, to replace it with a new Water/Sewer GIS based on that standard ESRI. The project was cancelled at the $8 million dollar mark, when a review showed they were $3 million away from producing a not-superior product, so mine's still there. (Why could $10M not replace my $1M? Overambitious project, badly managed...but the key, I thought was that the programmers were NOT GIS professionals, and not engineers, didn't understand the industry. They spent millions just deciding what to do, whereas I knew what I needed, going in.)
So there's "DIY" working, where the "real professionals" didn't. Sometimes, customers go with the big commercial offering because it was there, and "bigger is better" remains a default assumption, but it can be wrong.
And so we come to Cuba. This is different than my September 13 article about DIY vaccines and how we should just try them.
Cuba, pariah to America and abandoned to dire poverty by its original Communist sponsors for decades, simply ("simply"??) went DIY on vaccine. . The first two candidates are both called "Sovereignty" (Soberana 1 and 2), rather than "ScrewYouToo", because Cubans are nice people.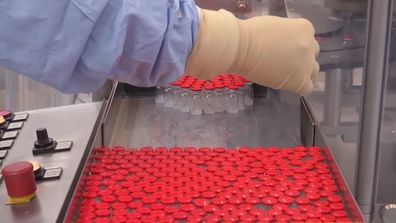 That's different from some meatball-vaccine experimenters at home, because Cuba already does this: produces 8 of the 12 standard vaccines for its own vaccine program. My "DIY" term is actually an insult to the Cuban professionals that have been doing this for a long time.
The connection between my story and theirs is that: I, too, was a GIS professional, in command of all the relevant knowledge actually needed for the job. (The better-funded guys that tried to replace mine, not so much.) I just wasn't as big a deal as a big GIS company, so seemed to suffer in comparison. But you don't need to buy your fish from a giant fishing boat: the fish from a little fishing boat are just as good, because even that boat is big enough for that job. Bigger is not always better. Pfizer and Moderna are bigger vaccine makers than Cuba, but Cuba can, in fact, do it.
Even though, they're just this little island of 11 million people and about nine spare dollars. These news articles kind of surfaced, only when they got into trials, recently.
There's a whole proud Cuban history in medical care, at this point. Medical brains are pretty much their best export. Fidel himself oversaw the development of their biotech sector 40 years ago. The Soberanas are just the first two of five vaccine candidates they have in development. They believe they can crank up production to 100 million doses per year.
Quite the contrast to Canada, four times larger, seventeen times richer (GDP of $1.7T rather than $100B), which can't produce the needed vaccines now because we abandoned the capability.
I'm confident, lately, that we'll soon have a pretty fast vaccination program with our imports. But I almost wish we could instead just plan a vacation to Cuba for some vaccine tourism.
And those limes. And the Afro-Cubana bands alternating with Salsa bands in the bar. How the hell did just eleven million people invent two whole musical genres?
Hats off to Cuba.
---
March 3: Scenery, Cycling to Canadian Tire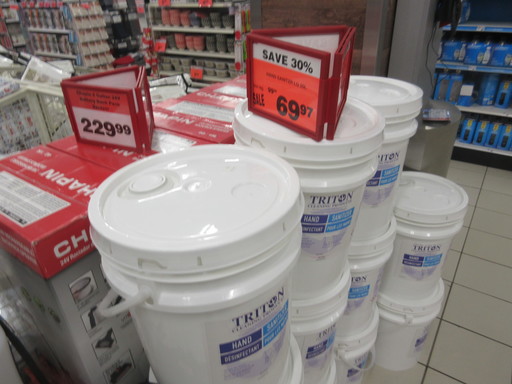 Hey, it's just a blog, some days I only journal. My January 18 post about finally having too much sanitizer clearly needs an update. Stock up for the next pandemic, now's the time to buy! Remember when it was $7.99 for 150ml?

That's available at Canadian Tire right now, so hop in the car. Remember that you can burn it for heat, in other kinds of emergencies. Not a huge drop, really, just down to $14/L from January's $21/L, but it stores better in your shotgun shack.

En route there, on a Monday, I crossed paths with a demonstration, oddly at the Law Courts rather than the usual public square behind the art museum, making it kind of cramped and harder for the public to be in awe of. Maybe they liked the cramping so that they could better deny that there is even a pandemic - or "casedemic", as the sign says. (If it's a world-wide "casedemic", of cases of a disease, isn't that a pandemic? Never ask.)

There's a certain peace descended upon me since the American election went off-the-rails. (It mercifully went off the rails only a month or so after it was over.) As one listens to the bizarre, fragmentary, and so, so vague clouds of conspiracy theories about the "steal", you have to realize how hopeless it always was to convince some people of anything they don't want to believe.

So I smiled and even waved, as I cycled past them. After all, they were on the other side of the road, so I wasn't going to catch wrongness from them. NB: I did clip out the sign that read "Lock Up Comrade Bonnie", alas, but I liked the one turning "Global News" into "Globalist News"; I'd send Keith Baldry a fedora so he could look more spy-like, but I doubt he'd wear it on air.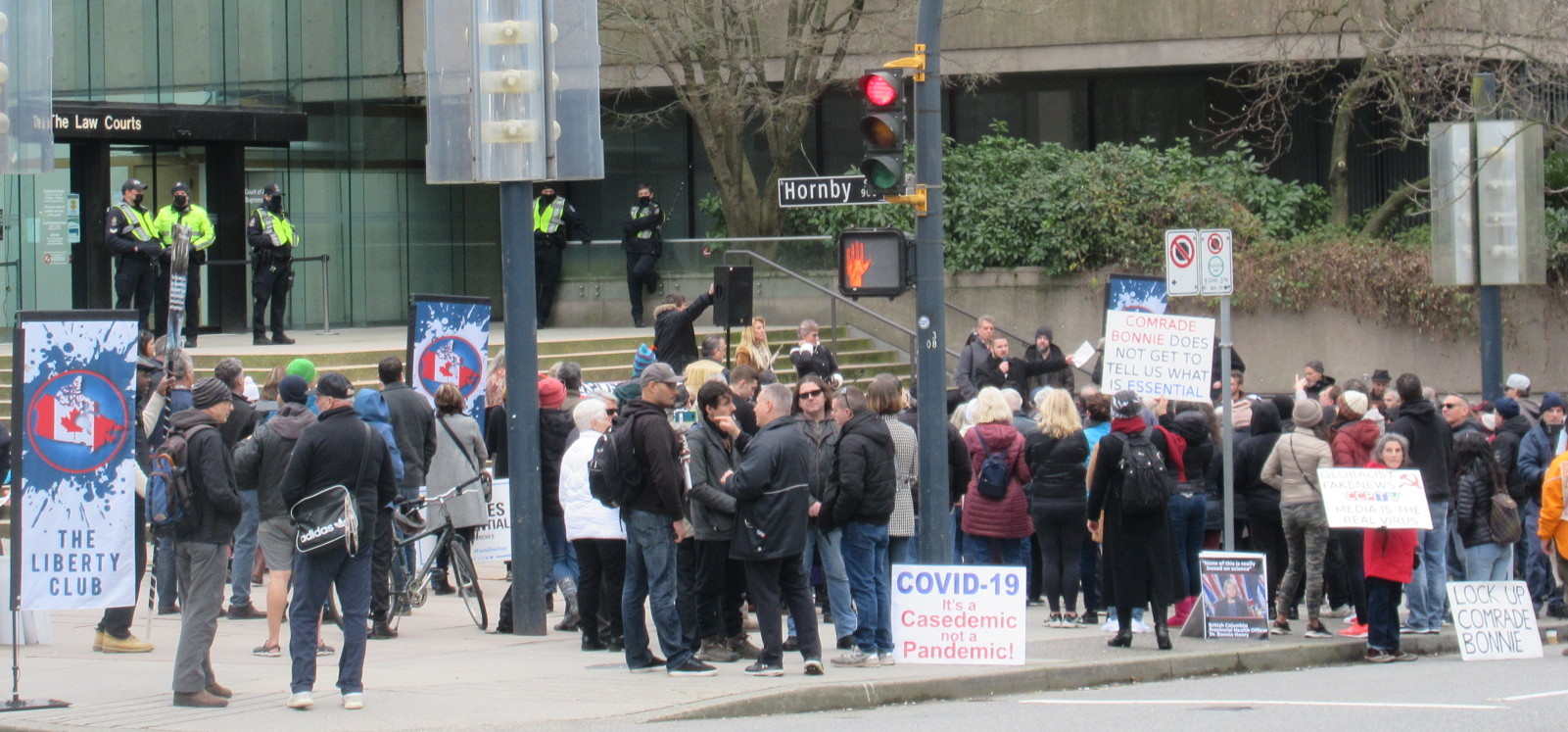 ---
March 2: BC Vaccination Schedule Reeks of Desperation
I shouldn't use a negative headline, I suppose. (I really do read too much American news: "reeks" belongs in a Fox news headline somewhere, owning the libs.)

It's kind of bold and daring, the stuff that we pioneering Westerners imagine as a cultural feature out here. Nobody else on Earth, so far, is stretching out the gap between doses to sixteen weeks, 116 days. And it was fun, seeing the previous, plodding schedule get a major goosing forward. We should be done all the receptive vulnerable people by the end of March: not just the over-80s, but now all the 70s, and at-risk people down to 60.

The very first CCCC post was about the age-related odds: the 70s are the 4.3% mortality group, we 60s just 1.9%. Then, for the 50s, it leaps down, 3-fold, to 0.6%.

There's undoubtedly desperation, because we've clearly given up on that next wave that I've been predicting for ten weeks. By April, they're probably figuring on over 1000 cases per day, and exempting nearly everybody over 70 means 1000 cases becomes only 10 deaths.

People are kind-of shrugging at 10 deaths per day right now, so that won't cause a panic, though I hope it bothers somewhat that they'll mostly be in my age group, with a few decades left.

Having tossed out the strategy of minimizing transmission,in favour of "protect the old", it's my own age group, and a smaller number of 50-somethings, that will be taking it in the shorts. More total cases, almost none over age 70, so those extra lives lost will mostly be in their sixties.

Of course, that Simon Fraser paper with the "600 lives" calculation may have assumed the R-value of the original COVID; Dr. Bonnie may be afraid that even frantically vaccinating essential workers instead won't hold down transmission enough, any more, as the variants spread.

Either way, it boils down to:
The wave is coming. The officials are planning for it.

Get your jab as soon as you can, oldsters. This one might be the worst.

Young people, you don't need as much good luck, but good luck. Once again, try to stop being the reason we are having this wave, for what it's worth, for anybody to repeat it again.

Fellow sixty-somethings, understand the next eight weeks are you, going under the bus, and you have to protect yourselves. Many of us have the great luxury of retirement, can just stay home, act like it's a year earlier. If you're not retired, look into vacation, unpaid leave, even early retirement. Unless you have total telework, of course. If you can just stay safe until May, many of us will be vaccinated and protected by then.
After early May, the vaccination rate will drop again, as they will have to go back to ever-other-dose being a second shot. The desperation move will work out pretty well, though, as long as the amount of vaccine flowing at least doubles during those ten weeks. Dr. Bonnie is clearly counting on it. Fingers crossed, for her and us all.
---
March 1: Decline Over in North America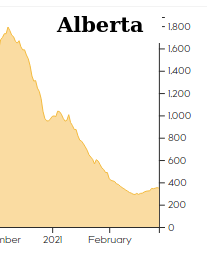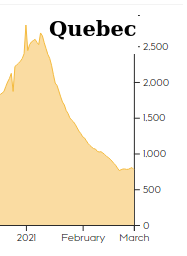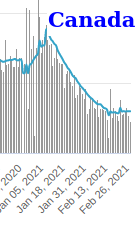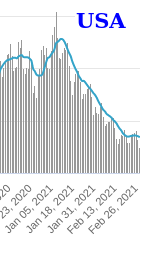 I'm putting no more effort into straightening out those graphics from worldometers and CTV; the point is that they're all the same shape, all over North America. Mexico still has some decline, but nearly level.

They say that the goose at the point of the "V" in a formation, is not the leader; they all have a consensus about where they're going, even the "leader" is constantly adjusting his flight as he notes where the geese on either side are turning. You'd swear that coronavirus response had turned that way across a whole continent. States and provinces that had different curves a month ago, are all now just...hitting bottom, and starting slight inclines in cases.

This isn't true in Europe. Spanish cases are still in steep decline; the UK has moderated the rate of drop, but still dropping. (A bigger exception is Portugal, which has done the most amazing decline of the pandemic; they deserve their own post.)

The bad news is that Germany is looking just like North America (slowly rising at about 8,000 cases/day, worse relatively than Canada now), France has been rising from bottom for a month, and Italy has just started to curve sharply upward.

So, it's a mixed bag, but even worldometers grand-world-summary "New Cases" graph has leveled-off in the last week. The predicted Revenge of the Variants would seem to be just about upon us. The case-load is as low as it's going before the next wave hits in a week or so.

That's it, today, just data observed and reported. I'm done railing at it; now it just has to be dealt with.

This story ain't got no moral,
This story ain't got no end;
This story only goes to show
There ain't no good in Men!

---
February 28: Fighting COVID With Hippie Voodoo?
The National Observer has a headline up: Other countries are treating COVID patients with probiotics and vitamin D - why aren't we?.

Because this is the 21st century, I thought, but clicked, and it has a link to a paper out from the Chinese University of Hong Kong, which has this in the summary:
The CUHK team recently developed an oral microbiome immunity formula for COVID-19 patients and postulated that this formula would improve clinical symptoms and decrease proinflammatory markers in SARS-CoV-2 infection. In a pilot study in patients hospitalized with COVID-19 7, significantly more patients who received the formula achieved symptom resolution and a reduction in pro-inflammatory immune markers than those who had standard care. Relative abundance of favourable bacteria species also significantly increased after synbiotic therapy compared with baseline3. These preliminary data suggest that modulation of gut microbiota offers hope of boosting immunity against COVID-19 and other emerging viral infections.
I am duly corrected. If the new Canadian study, PROVID-19, at U. Sherbrooke, pans out, at least.
And I am duly reminded of the great statement about this formulated by musician/comedian Tim Minchin, and his song/poem, "STORM", which you should click on immediately if you haven't heard it. Storm has the greatest statement about this topic, ever:
No, there's no such thing as "Alternative medicine that has been proven to work". "Alternative medicine", by definition, has either not been proven to work, or has been proven to not work. Any alternative medicine that is proven to work, is simply called...medicine.
Best of luck to U. Sherbrooke. We could absolutely use a new medicine in our toolkit. I am also reminded of the greatest quote from the movie Wargames: "God Damn it, I'd piss on a spark plug, if I thought it'd do any good".

Let's try the hippie stuff instead.
---
February 27: Israel, WTF?!?!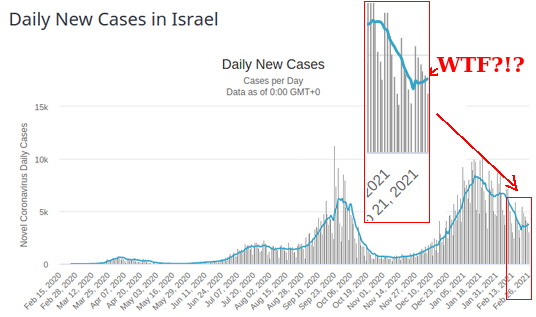 So much for Israel falling off a cliff (in COVID case-counts, when vaccines took hold).

For the last week, it would be fair to say that Israel has met the conditions for "herd immunity". As of seven days ago, February 20, Israel had:
83% population with one shot in them;

73% population where one shot had a week to take effect;

66% population had a shot over 12 days earlier, the point where this study showed that infections had greatly reduced viral loads: implying, if not proving, reduced transmission by the vaccinated, not just reduced disease for themselves;

58% were 7 days past their second shot, which Israeli data itself has confirmed, confers some 94% immunity.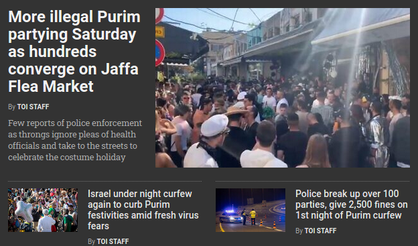 I had already been expecting the slope at the right-hand of the graph above to get steeper (if not quite a "cliff") for two weeks, already. Note again, that the figures above are seven days old. Israel is now at 92% of the population vaccinated (which may make them the most-compliant vaccinators, too: Here's the sad and stupid story of a third of the US military refusing vaccine.)
Instead, the whole last week since those statistics happened, has given us the opposite of a steepening. The case-rate leveled off, and has actually risen nearly 3%, in the last few days. Their seven-day average is 3,784 cases-per-day. That's more than 20% higher than Canada's - and we have over four times their population. Israel's current per-capita case-rate is 75% higher than Canada's brief peak on January 9th.
Which, perhaps, explains the (I'm sure, brief) halt in reductions, and even the little increase. Because the virus is still very prevalent in Israeli common spaces - and the Israelis are abandoning all those "safe behaviours" that CCCC champions. What a validation for my blog! But researchers are blaming behaviour in Israel for the infection increase.
Their language in that story is mild, reminding us what cautious, tentative people researchers are. Anybody else, looking at the cover of today's Times of Israel, at left, would just day "DUH".
Israel is doing so well with vaccination, and using the very good Pfizer product for all of it (they have so much vaccine, that they aren't bothering to use their Moderna stock, fobbing off that extra to Palestinian medics), that the virus can't hold out much longer, no matter how badly they behave. But their current death rate of about 25/day, when it could already be down to half that, means those Purim Parties are going to cost dozens or even hundreds of lives.
The last to die, for a mistake.
---
February 26: "Restrictions"? We Don't Have Real Restrictions. UK Does.
I should note, up top, even the jokey little devil-horns on Dr. Henry, yesterday, are regrettable in that, later yesterday, her TV address mentioned death threats, security on her house. I'll leave the photo up, but I'll consider myself reminded.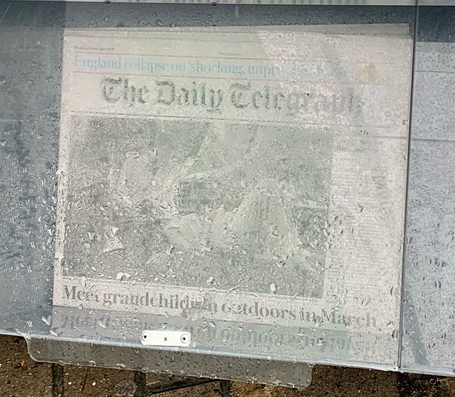 A fun thing (probably the only fun thing) about a pandemic blog, is that you can often just journal your own life, since it's happening to us all. Last night, I went for takeout to a shawarma place that shall remain nameless, save that it's on Denman Street next to the Babylon Cafe, which did deserve my business.
The shawarma place is about five metres square, somehow squeezes in four little booths. And they were nearly full. They had barriers between them, so that twenty centimetres and some plexiglass separated you from the next table. The plexiglass goes up about a foot about your head, and stops.
I had entered it, in that state, with two masks on, to give a quick order at the counter and wait outside. Last night, the space for ordering had three people crowded into it, elbow to elbow. I stared for a minute, and went next door, which was being run safely. Go, Babylon Cafe. I have no idea how the other place is escaping Public Health inspections. It felt rude at the time, to take a picture. I should go back tonight, snap one, and complain. (Also, I was very hungry to get home.)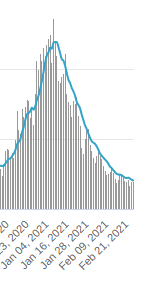 Then, today, I get an email from CCCC friend Hugh Costello, who's been in England for months, with his daughter and new granddaughter, Maria. Hugh's wife Christine is still there - perhaps long enough to get vaccinated! Hugh wanted to get home before the new hotel rules came in, and made it. He writes:
Lockdown in UK is quite extensive. Christine and I took Maria for a walk and picked up a few things at the grocery store. I stayed outside with Maria and a headline on the Daily Telegraph caught my eye; grandparents not living in the same house were going to be able to visit with their grandchildren outside (they still won't be able to come indoors) at the end of March. As of now FaceTime and the like are the only options to interact between social bubbles.
So, if you're envying the rapid decline in cases that the UK has achieved in the last five weeks flat, at left, that is how you do that. You don't let restaurants open, pretty much how they want, on their own recognizance. People will just do what the shawarma fans last night were doing: deliberately ignore risks.

I'm still putting off showing our own case-count graphs, which clearly show our struggle to go down at all, rather than up. BC in particular, has gotten cavalier about the virus, and we're asking for trouble.
---
February 25: Now Who's Not Following the Science?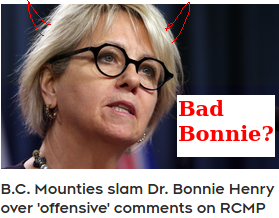 Today is a "CTV News"-themed post, in honour of their fine work in spite of over 200 staff being laid-off by their owner, Bell Media, a profit-making enterprise that has correctly seen news as a financial liability for their corporation.

Before they finish killing off CTV News, with cut after cut, though, the newsies are getting out the stories, serving the public trust, if not the bottom line. Today we have two.

Both stories criticize the provincial health plans, with Dr. Bonnie at the buck-stops-here desk, so she gets piled-on today. (The photo is from the non-covid story about her conflict with the RCMP about Naxalone; they're hating on her, too.). But our first story is about the BC decision to go ahead prioritizing my age group in April over high-contact workers. Simon Fraser U has published a model showing it would actually lower cases and save up to 600 lives to delay us 60-79 age group to focus on "teaching, retail, food production and law enforcement".

It's just as wrong to ignore the best-available science to save those 600 lives as it is to ignore masks, or vaccines, or ventilators. You use every tool you have.

It's politics, of course. We old people really get out and vote, and people vote when they're scared. Bonnie's boss, politician Adrian Dix, is right to fear the wrath of old people having their vaccines "snatched away" for a couple of months.

Scientfic strategies minimize loss of life. Political strategies minimize loss of votes.

The second CTV story is nation-wide, though BC is part of it, so we'll link to my own MP, physician Dr. Hedy Fry, calling on BC to use up its million rapid covid tests before they go bad.

Un. Be. Lievable.

As much pandemic news as I follow, I'd just given up on rapid tests. I did post after post about the need to use them, and finally gave up hope. Well, it turns out that they finally got approved, mass-produced, and distributed by the Feds.

And ignored. Left on the shelves. Insane.

The problem is the same as the early failure to recommend masks: they're thinking like personal physicians, not as epidemiologists, fighting fog with things that, statisically, reduce fog.

The logic with masks was that you'd put on your N95 a nurse needed, think you were invulnerable, and behave as if there were no pandemic. They had to flip when it was admitted that while masks provide very partial protection no doctor would rely upon while working, they did statistically reduce transmission so much they were a huge effect.

Their hatred of testing is based on the same objection: rapid tests aren't accurate enough. You can take one, see negative, and think that's certain, behave badly and cause transmission. All true. But uses of rapid tests that are aware of that can statistically reduce transmission. If you rapid-test a whole class after one kid goes positive, and keep the school open instead of closing it, you're very likely going to be correct. Ditto with all those workplaces that need the vaccines! So the other theme of today's post it "what about the essential workers?" CTV's Don Martin interviewed appalled doctors.

Too late for the care-homes: Simon Fraser appears again as Dr. Bonnie's nemisis (and all the other health authorities), calculating that use of rapid-tests in care-homes a year back would have saved about half the deaths in nursing homes. About a third of the deaths in Canada!

The story says that Trudeau is about to start handing the tests to pharmacies, in frustration. BC should just hand them out to school nurses, at least.

These are foolish mistakes.
---
February 24: Killing People To The Very Last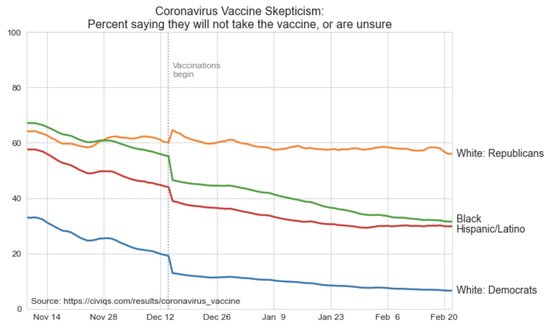 There's two stories I'm delaying as best I can: the high probability that we saw our lowest case-counts for months to come, last week; and that Israeli "cliff" I was hoping for isn't that sharp. So every morning I look for anything else that needs attention, to give another day for data to break my way.

Today's is pretty self-explanatory, at left. (I also look for stories that tell themselves.) I'd love to claim that this was just about our fascist-adjacent neighours to the south; but we all know that there's a fair-sized chunk of Canada, too, that also love the whole cluster of beliefs that the "White: Republicans" group clings to (bitterly).

Obama's "cling bitterly" line, is the about the best description for still holding beliefs that the virus is a hoax, that it's no worse than the flu, that you're safe if you ask for hydroxychloroquine...and now, that vaccines are, if not poison, dubious. Suspicious. Somebody else go first, I'll try it in a year.

For Canada, this group seems to be small enough to not be a serious factor in vaccine acceptance: we should still be more-worried that long-disadvantaged groups are suspicious of White medicine. Even for America, a back-of-the-envelope is easy.

Simply rounding to 40% White Republicans, 40% White Democrats, 20% non-White, gives us:
90% of 40% White Democrat = 36%
70% of 20% non-White = 14%
50% of 40% White GOP = 20%
...Equals 70% of total. They'll be OK. I think some of those numbers will rise as hundreds of millions are vaccinated without problems.

For the GOP, arguably another huge fail. If they'd been numerous enough to deny that "herd immunity", then they could still be killing other people, and making government look generally bad, just like distance-and-mask-defiance that killed off so many in their Red states in the fall.

But if herd immunity is reached, then all the last deaths, as the epidemic fades at last, will be happening with the anti-vaxxers. Sympathy for them, from almost anybody else, is going to come hard.
---
February 23: What The Hell IS "Pandemic Fatigue"?
Fatigued Not Fatigued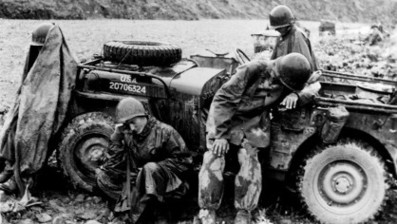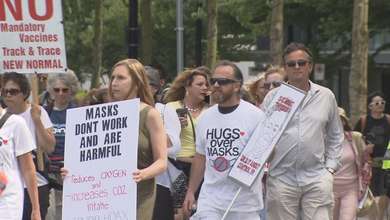 DATELINE, STRASBOURG, June 28, 1943:

German officers were baffled today, when French civilians presented themselves at the train station, demanding to start their annual vacation to Bremen.

Stating that "We've had enough of this war crap; we're tired of it. We've skipped our Bremen vacation for three years in a row, and we've just got War Fatigue." The German officers attempted to politely explain that the war was still going on, and that some inconvenience was unfortunately necessary, when the French would-be tourists became belligerent.

Exasperated, the Germans arrested them. The French have demanded to be jailed in Bremen, with a good view of town.

...said no newspaper story about war, ever.

You'd swear that the central conceit of "Pandemic Fatigue" is that the pandemic is the fault of the government, and The People, bless 'em, have a right to redress for the outrage. Well, you have no right to rail at Mother Nature, you're being silly. It's like being tired of life itself, which is very fatiguing, with all its diseases, and other challenges. It ain't called "This Vale of Tears" for nothing.

I'm grumping because I was inspired by a counter-example on last night's CBC news. They covered a 90th birthday of a man who has only been able to wave at family through a window, for a year, as the last days before his vaccination tick down. But our jaws dropped when they mentioned that his live-in caregiver simply had to bubble up with him, and not her family - she's been living with him for a year, and hasn't hugged family in that long. It was a professional dedication to a job, and a personal dedication to a vulnerable man so dependent on her, that left us in awe.

These marchers seem like such whiny babies compared to her, an adult who accepts that life comes with war, disaster, and disease - that must be met and dealt with, whatever the cost.
---
February 22: When Do The Vaccinations Get Down To Me?
I believe that CCCC may have found its stride, in the underserved journalistic area of "rough speculation". Not wild speculation, but not professional, responsible speculation, either. Regular journalists are professional, and responsible, and only interview doctors and bureaucrats who are professional, responsible, and cautious - which means you don't even get a rough idea.

All we're getting on the vaccination schedule is "we'll all be done by Fall", which is like saying "everybody will finish this marathon by midnight", when Colour Commentary requires at least an honest guess at who will beat what time.

For irresponsible, rough speculation, I'm using the following easy, fun model:
Neglecting everything done up to last week. Why not? We're only at 3% vaccinated, so my model is 97% accurate, and 200 days from now, that's only a week off! What's been done so far is almost entirely medical staff, and care-homes; the "general community" outside those care-homes is untouched. So we start at ZERO on Valentine's Day.

We got 400,000 doses last week, and 475,000 coming this week, because they said so.

It'll be 450,000 doses the next two weeks, because I'm skeptical they will keep that up, so I made up that number. (I said it was fun and easy.)

Then it's a flat million doses a week starting at mid-March. They've claimed for some time this number would come, I'll extend a little trust starting then.

Doses=people, for the first six weeks, up to the end of March. After that, half of all doses are assumed to be second-doses for already-pretty-safe people, so the persons-affected-per-week, drops by half.
After that, I just needed the Canada age distribution from Statista, which gives the first few columns of the chart at upper left. You can see why I "neglected care homes" (everybody else did); they're only a fraction of the over-80 population. Assuming we vaccinate in strict age-downward fashion, admittedly another simplification, they're down to Age 70 when they have to start dedicating every second dose to the already-done, at end of March.

This is enormously reassuring to those of us expecting a terrible variant-driven wave to rise in March, and for April to be very bad. As the cases go into the high thousands per month, nearly everybody with a hospitalization-probability in the tens of percent, a death-rate over over 2%, will be safe.

We'll be able to sustain over twice the case-rate, probably triple, before the hospitals fill up again. It'll give us time to admit what the smart already know, that we need one last lockdown. My earlier hopes of an Easter supper with family. have probably been ruined by the current timidity, the abandonment of "get to zero".

Even better news, they should get down to me before: Canada Day, The Stampede, my birthday, that whole early-July season that always takes me to Calgary for parties and friends. That may still be all cancelled this year, but there's some hope. By the usual Vancouver Fireworks time at the end of July, they'll be down to the early 50-somethings. Again, maybe cancelled, but maybe not.

The schedule is already very rocky by the last date on that table; they really have to go past 1 million doses per week at some point, or 40 million people will take 80 weeks, over a year. Even "herd immunity" would take until December. So they have to pick it up - hopefully, by June, so that all those summer festivals can go on.
---
February 21: A Thousand Kids
In Canada, just four of our COVID-19 dead are in the 0-19 age group. That's another thing to remember, about Canada's considerable superiority at fighting COVID-19. In the USA, a proportional number would be 36, but it's actually about 250.

And America's deaths are one-quarter of the world's, so I extrapolate to get our headline. COVID has killed a thousand kids.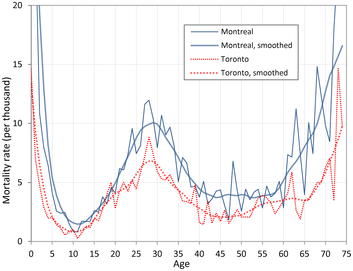 COVID-19 is merciful, compared to the 1918 Flu, of course. The graph at right, from a paper published just a few years ago, shows how cruel it was. The same high mortality for the old, starting around 65; but also an age range of high mortality from age 20-35, the peak productive years! Many widows and orphans.
But the terrible story is at the far left, where the highest mortality was for babies, shooting upwards higher than the 70-somethings, for ages under three.
I got on the topic because the news sites more cautious than CCCC, which follow offical stats, rather than worldometers, are just today filling the top half of the page with the 96-point headline "500,000 dead". The Washington Post has a heart-rending article on the small fraction of those dead that were those hundreds of little children.
If you need strength to get angry at yesterday's rally against public health, just dip into it, as much as you could bear. I had to stop reading:
They had futures in mind. In Gainesville, Fla., Kimmie Lynum was busy planning her 10th birthday party. J.J. Boatman, a 9-year-old in Texas, was thinking about his future; he wanted to be a policeman or maybe work at Taco Casa so he could bring tacos home every day. Tagan Drone, a 5-year-old in Amarillo, Tex., planned to be a mermaid for Halloween.
The article mainly focuses on the remaining family, though. There's nothing more devastating for any parent, but also, the brothers and sisters are never the same.
Covid-19 killed Gigi Morse in August in Jackson, Tenn. She was a dynamo of a kid who loved Froot Loops and was obsessed with all things 'Frozen' - the songs, the characters.

The virus didn't kill anyone else in the Morse family, but Gigi's mother says it might as well have. The pain does not ebb. The guilt gnaws at them constantly.

"You see on the news, 'X amount of people died,' but it's so much more than that," Priscilla said. "Do people see just how destroyed your family and your life is, six months later?"
I get more sanguine about how much faster the American vaccine delivery has been, reading this stuff. America has suffered so much more than we have. Yes, yes, they "brought it on themselves"...except that Gigi Morse did not. The sooner America gets vaccinated, the fewer Gigis and Tagans there will be.

Canada prevented six out of seven child-deaths that we would have had, if we'd been like them. Our kids are in one-seventh the danger. Their vaccines are the next Gigi's salvation. Go, USA.
---
February 20: Picard on Health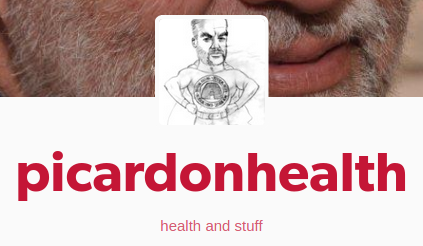 We're in the weekly 3-day data-drought in BC. Yesterday, a case-count of over 500 clarified that BC is indeed in trouble, with COVID cases suddenly shooting up in multiple locations, as analysed yesterday, just below. Public health simply said nothing about the frightening numbers, but if all three numbers reported on Monday are up, they really need to talk about a response.

While CCCC awaits those developments, more thanks are due to Globe-and-Mail health reporter, Andre' Picard, last back-patted on November 15.

Andre' sat in for Canadaland Short-Cuts the other day, and tried to counteract the tension-cranking, and attempts to stoke conflict, that the rest of the media are peddling.

Over at Canada's new effort at journalism, The LINE, they're selling the notion that the vaccine rollout is so bad as to cost Trudeau the next election. (I'm actually very excited by The Line, they're writing good stuff - only the problem that I'm now subscribing to about six things, has me hesitating to subscribe for $50/year.)

Host Jesse Brown set up all of that, summing up the national vaccine-panic stories in a voice that kept rising in pitch. Then Picard's voice, low, slow, and calm, shut it all down. Canada's progress is well behind some countries, but really about middle-of-the-pack for developed countries. Nobody is really protected until we all are, so the date you get your shot, is not as important as the date then 70% vaccination is reached. There is just nothing to get that upset about. The media love to build up these things, and oh, they love, love, love to say that political power hangs in the balance on this issue, but the vaccine story is not that dramatic.

Bravo. I've let myself get more excited by it, than it deserves. Picard also noted that some of the best-performing vaccinators: the UK (26%) and US (18%) are the ones in most-desperate need of the help. Both still have far higher per-capita case-rates than we do, you're still safer here!

Picard is still at the Globe, of course, and the graphic at top links to his blog, Picard on Health.
---
February 19: What The Heck Is The Spike in BC?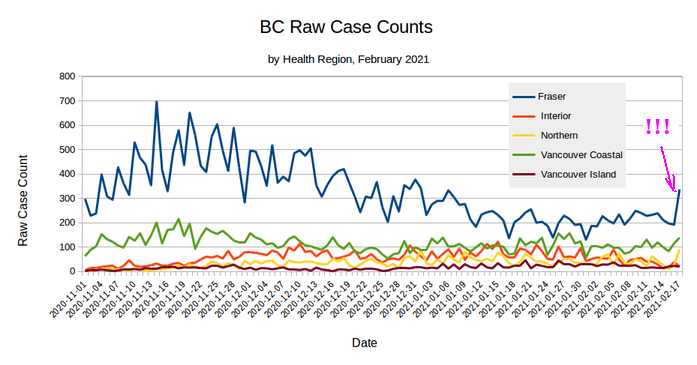 It was especially galling, because former problem-places like Ontario, Quebec, and nearly all of the United States, have had rapidly-falling cases for weeks, so much so that there are articles puzzling over why cases are dropping so much, so fast.

BC had been bumbling along, with cases barely dropping at all, sometimes ticking-up a bit, for all of February. One hoped, every day, for the numbers to tick-down, finally. That BC would join the continent-wide curve-crushing, before the variants came.

Then, yesterday, the reported case-count was 617, nearly two hundred higher than the average of recent days. What the hell?!? Surely, this was some catch-up of cases from previous days, gone unreported? Nope, nothing about that in the news announcement. Dix and Henry blandly reported that cases had "ticked up". Ya think? 50% in a day? Some tick.

I wearily downloaded the whole case database again, to see if this was a single outbreak, somewhere - a work-camp suddenly reporting they'd all got sick over the last week? Nope.

The chart at left shows the raw case-counts, and so the lines are very raggedy, up-and-down every weekend. But if I'd used the "7-day moving average" mostly needed these days to smooth that out, you couldn't see the tremendous spike at the end.

Unsurprisingly, it's the Fraser region, our largest, at 1.8 million, nearly half the province, that is responsible for most of the spike, as it's been responsible for most cases. That's not entirely the larger population: they've had a higher per-capita rate, too. But you can also see upticks in the Vancouver Coastal Region (that is, most of Greater Vancouver), and in the Northern Region (the vast forests from Prince George to Prince Rupert, and far north of them).
The table at right drills down to the contributors to the "spike": Fraser Region is over 140 added cases, compared to the previous two days, Northern added over 60 more cases than previous, we in Coastal were "just" an extra 20-30 cases, all of a sudden.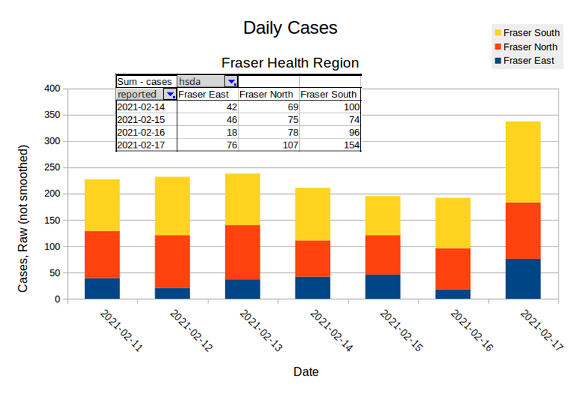 So it was all over. Cases just spontaneously picked up in much of BC, places far apart.
I was still hoping that the big jump in Fraser was concentrated into one event, something that happened and was over, wouldn't spread. So I broke up the Fraser Region into its sub-regions - there's a map of them all here, at StatsCan, but basically:
Fraser East = Chilliwack and Abbotsford - jumped up about 30
Fraser South = Delta and White Rock - also about 30
Fraser North = Greater Vancouver north of the River and East of Vancouver - spiked by 60
...so it was all across the Fraser Region, east and south of Greater Vancouver, and points east into the mountains.

I'm chasing this down, carefully, because it looks real bad. If there's no special place this is happening, then it's not isolated; the infection just spread, the last few days, much faster than it did for whole weeks before.

It's hard to panic, as in "The Variants Have Come! Run!" ... even the dreaded variants can't cause a 50% jump in one day. I really don't expect another report of 600 or higher this afternoon. Spikes happen in statistics.

But this is as concerning as it can be. If today's numbers are up even somewhat from two days ago, if the increase holds through the coming weekend (BC will have one more report today, then none until Monday), I don't see what public health can do but move swiftly to a lockdown.

Fingers crossed.
---
February 18: Just How Bad Was New York?
Well, it's not as bad as Lombardy.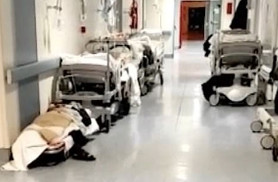 Lombardy is the northern province of Italy, population almost exactly 10 million. It was where COVID-19 really hit; it has a lot of old people, care homes. It was the source of those harrowing news videos last spring, every room and corridor crowded with people on oxygen, choices made about whom to unplug.
This Lancet Paper from last April 15 indicates that Lombardy has 10 million people, or one-sixth of Italy's population, but took 53% of Italy's deaths up to that date, or three times the average. Italy is now at 1571 deaths per million. So, Lombardy, if it kept up the ratio, is at 4500.
Even if Lombardy improved its performance later in the pandemic, it's worse: that April 15 number was 2200 deaths-per-million already.
Which brings us to New York, second-worst in the United States at 2,388 deaths-per-million, just behind New Jersey at 2,548. The problem for Governor Cuomo, left, is that the number is false.
New York claims a death count of 45,457. this Associated Press report from last summer suggested that the 6,600 of those deaths claimed to be in care-homes were under-reported by half...and perhaps as much as 65%.
But before we run those numbers, let's take a moment to appreciate what a loathsome swine that Mr. Cuomo has been in other ways. As The Daily Poster reports to its e-mail subscribers today: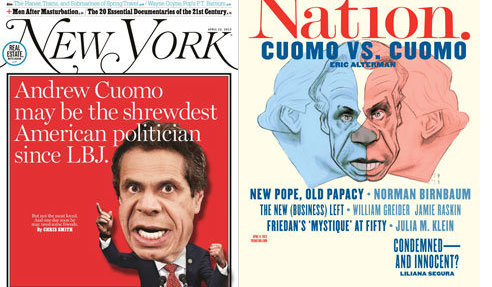 Amid New York's exploding COVID death toll in April 2020, Cuomo's budget included a provision shielding hospital and nursing home executives from legal consequences if their corporate decisions killed people during the pandemic.
...
Cuomo's corporate immunity provision was quickly copied and pasted into other states' laws and into Senate Republican legislation, in near word-for-word fashion. The liability shield spread from New York to other states...

"The immunity laws could be wrongly used to provide any individual or entity from liability, even if those decisions were not made in good faith or motivated by financial incentives,"
- Report by New York AG
Those are his pandemic sins; I'll leave it to other news to report on the squalid political squirming that followed recently: intimidating whistleblowers, and even just critics, with threats.
But, those stories do inspire me to use the CCCC superpower of not caring if this is responsible journalism: let's just assume that "as much as 65%" is true. Indeed, CCCC would bet money on it, when all is fully invesigated. If 6,600 is barely a third of the total, then CCCC gets to add no less than 12,000 deaths to that 45,457: we'll kindly round down to 57,000.
57,000 dead, divided by New York's 19.5 million people brings them up to 2923 deaths per million. I'm sure that Lombardy is surely over 3,000 by now, at least.
So, New York is not the absolute worst. Cuomo, on the other hand...really does need to be recalled, impeached from ever again holding office, and, one hopes, charged. It's got to be some kind of crime to lie about how bad a public health crisis is going. One trusts that American Democrats are not the same kind of personality-worshipping tribalists as their Republicans; that his former supporters will now turn upon him in outrage, and end his power to keep hurting people.
---
February 17: Why Is The Whole West Ticking Up?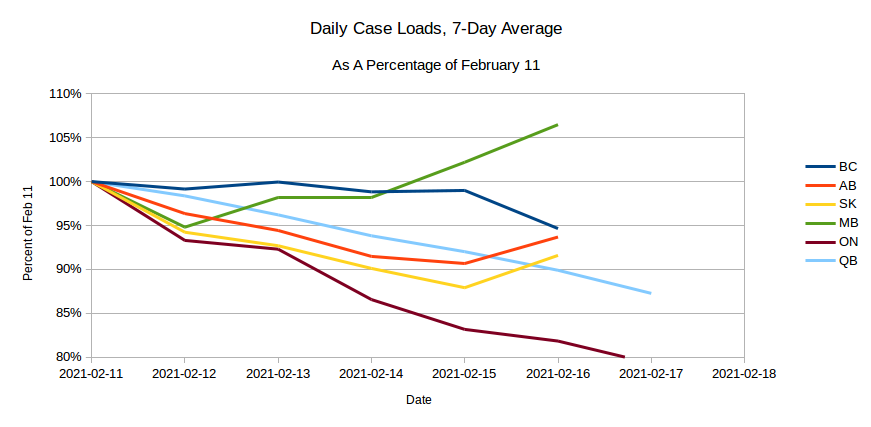 I was going to write about Dr. Henry's complaint that Fraser Region is ticking up. This was a surprise read, because of my own analysis over two weeks back that Fraser was the only one reliably going down. Things have clearly changed.

When I went to check the numbers, and made the graph at left that compares six provinces by how much they've reduced their 7-day average over the last 7 days. BC actually had a decent downward-tick yesterday; (dark blue line). Henry was obviously advising caution about it.

I was going to add comments about how Alberta (orange line) is now far better than BC, after all those months of being twice the rate; but then I realized that the whole West had an uptick the last few days. Family Day? It's not our biggest holiday, doesn't come with a family feast-meal like December. And here's the thing: Ontario also gets Family Day, and their descent (dark red line) is the best of us all!

One really has to wonder about Manitoba: heading straight up, all week.

We've just a few weeks now, before the variants change the R. We could really stand three weeks in a row like Ontario's: 20% reduction every week. That would halve the current numbers, get Canada down to the peak of the first wave. That's not a great position to go into a new wave with, frankly, but it's a lot better than our current situation.

We're acting like the vaccine cavalry is just over the hill, going to arrive next week. For the very old and institutionalized, the health-care workers, yes, it is. The rest of us, however, need to get serious.
---
February 16: Not to Praise Iowa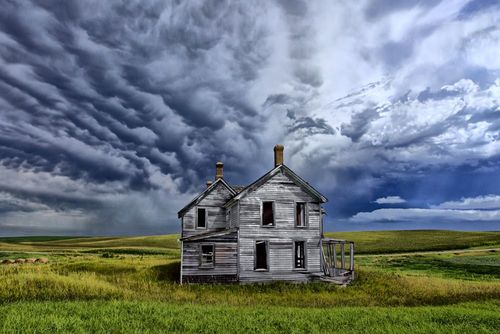 There was nothing special about Iowa in the numbers with which CCCC is sadly obsessed. In the great worldometers scoreboard of CCCC, where every US state has its own database entry (but not Canadian provinces, the jerks), Iowa currently clocks in at 1668 deaths-per-million, which is awful, worse than our by-far-worst province, Quebec. It's worse than the US average, which crossed 1500 yesterday, and worse than most other nations, worse than poor Italy, poorer Portugal. But it wasn't that bad as US States go! The US has done so badly, you have to grade on the curve, and Iowa is the 16th-worst state, a long way behind the horrible failures of New York/New Jersey care homes. (Wealthy Connecticut was also dismal, at over 2000 deaths-per-million.)

But Iowa is special because its bad performance comes in spite of its (covid survival) virtues. It's nearly all-white; financially comfortable; provisioned with infrastructure, and extremely rural. Iowa's pandemic problem is its politics.

An introduction to that bag of snakes would start with this Atlantic article on their representative Steve King, tossed from the Republican party for his openly anti-Semitic and racist remarks, but still loved back home.

By last December, The Atlantic was even more torqued at Iowa, with the article "Iowa Is What Happens When Government Does Nothing", excoriating the state's awful pandemic performance, losing thousands of lives that could have been saved. They have a total population of just 3.1 million, but over 5,000 dead. Manitoba and Saskatchewan, together, have nearly that population (2.5 M), a similar geography, and just over 1,200 dead. Compared to them, Iowa tossed over three thousand lives away.

That article makes it plain that the performative-freedom-politics, where you pose yourself as a hero to the Common Man, fighting against Oppressive Government by opposing public health steps, is responsible. Example after example, of the government doing nothing, while government figures actively praise bad behaviour.

What cranked up this Iowa ill-will, is the more-astonished-than-angry article in the Post, "Welcome to Iowa, A State That Doesn't Care If You Live Or Die", a few days ago. At this moment, where everybody sees the variants taking over the case-load, where the scientists that were all right other times, are predicting a bad March, and worse April, Iowa just lifted all restrictions. Without explanation or warning.

If you only click on one of these articles, that's the one. Iowa is also the source of that story about the meat-plant managers betting on how many would get sick, after the plant forced workers back to work (or be fired), without PPE to protect them.

Hey, the vaccines are coming, right? Well, Iowa ranks 47 out of 50 in vaccine distribution. I've actually found a place, not far from here, that I pity more than Saskatchewan and Manitoba. Imagine having to live in an endless, featureless prairie, and also having terrible, useless, uncaring government by proud, upfront racists.
---
February 15: Random Factoids
Because it's population is almost exactly one-third of a billion, the United States will hit two round numbers in pandemic deaths, today, or early tomorrow, on worldometers:

Half a million dead, they're at 497,244 as I write, and over two thousand dead today is basically certain.

1500 deaths per million, a "club" populated only by Belgium, UK, Italy, Portugal, Czechia, and a few small countries. The post on them hitting one thousand deaths per million, was just December 23rd.

On the other hand, today they will have vaccinated nearly 39 million Americans - about the exact population of all Canada!
Fortunately, their overall case-rate is in sharp decline, already, and their vaccinations, going well: today they will vaccinate over 2 million Americans, as Canada stuggles to reach vaccinating 1 million Canadians, over the last two months. Yeah, they're nine times our size...but vaccinating at over 100X the shots per day.

It took me an amazing amount of googling to answer one simple question: Where are the Israelis getting all those vaccines from, and how?

Every news article just noted "The vaccines arrived" without naming the source. Finally, I found the Financial Times link above. It's just those same European Pfizer factories that are supposedly denying Canada supply out of "Vaccine Nationalism".

Ummm...why does the vaccine nationalism not apply to Israel? How many soldiers did they sacrifice to defending Belgium, whom I think promised eternal gratitude and friendship at the time?

The FT says that Israel impressed Pfizer by promising the fastest, smoothest vaccine rollout ever (delivered, must admit), and full sharing of data, so that Pfizer would benefit from the quick win, and the natural experiment. I suppose that did benefit Pfizer, and our health-care bureaucracies, that had done so badly at testing, couldn't be expected to manage a fast vaccination. But still, letting the benefits to corporate image dictate national strategies seems blind.

We are members of NATO, so that our military can go do more dying for France and UK and Belgium, should they ever need it. I'm sure they'll promise Eternal Friendship on that occasion, too.

It's no surprise, of course, that "Vaccine Nationalism" applies to our relationship with the United States. Theoretically, they could have shared their manufacturing, agreed to vaccinate both nations in tandem, so that the infections on both side of the longest undefended border would decline in concert. We're so much smaller, they'd still be at 10% of the population done, instead of 11.6%, this morning. But hey, they only agreed Friday to lift the steel and aluminum tariffs for this morning's shipments; until today, we were still a "security risk"...and poor treatment of allies was about the least-mentioned sin of the last administration; Americans just barely care.

But, same deal: I'm sure we'll be hearing from them the next time they throw a war for us to go die in.
---
February 14: Valentine's Day Inspirations
I was thinking of putting two contrasting stories in, today: Bhutan, and Iowa. The former, lauded for success, the latter, excoriated for delusional pandemic failure. But, this is Valentine's Day, and the need for uplift as the cold front grinds on, is acute. Let's have two positive stories instead.

I can always crap on Iowa tomorrow. (Both their senators just voted to acquit. Screw 'em.)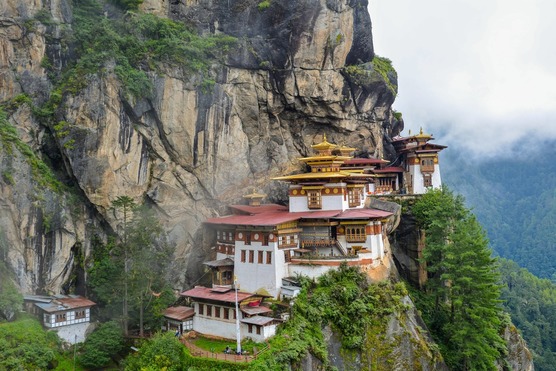 It's this Atlantic story about the little kingdom of Bhutan, population 777,000; like Nepal next door, a mountain fastness on the northern edge of India.
Having success at the start of the pandemic was easy for these remote places. Bhutan has a small tourist industry by design; they always wanted low impact on their country, and ensure it's expensive. So it was easy to keep it out, at first.
But, that only works for a few months. If you don't have safe behaviours, a single case will become thousands, and in a few months; we've all watched it, over and over. Peru and Bolivia are remote from rich countries, and not big tourist draws, but both have been ravaged. Bhutan has kept it out, and kept it down. Down to nothing: they've had one case per thousand residents, (Canada has had 20). And one death, despite having only one ventilator. (Average income, about $3000.)
It won't surprise CCCC fans to know they've done it by a maximum of safe behaviours, and almost-astounding public-health competence.
Around midnight on March 6, Bhutan confirmed its first case of COVID-19: a 76-year-old American tourist. Six hours and 18 minutes later, some 300 possible contacts, and contacts of contacts, had been traced and quarantined. "It must have been a record," Minister of Health Dechen Wangmo—a plain-spoken Yale-educated epidemiologist—told the national newspaper Kuensel, with evident pride.
The other Good News story is New Zealand, with Aukland going into a three-day lockdown because they had three unexplained cases.

For New Zealand, this is "a significant setback", but I'm thrilled by it. First, that the public-health system was that confident, and swift, and decisive. So much better than our nervous, tentative warnings about what we might have to do, please just be good.

Secondly, that they have this thing so whipped that the tiny outbreaks can be nailed with a mere three day lockdown. Three days? BC couldn't fix its current mess in less than three weeks.

I've been posting downer material for days, about case-rates that sit on shelves instead of declining, vaccines that aren't coming, trains rushing at us. It's nice to know that at least in some places, sanity and science have prevailed.
---
February 13: Vaccine Blame Game?
Who gets the blame? The USA is hitting 15% vaccinated today, we might hit 3%. We only have about 55% of our health-care workers done so far, and 12% of our over-80s, basically just the ones in long-term care. We will be at less than 10% six weeks from now, it's going so slowly.

Trudeau will get the blame, obviously, "the buck stops here". Certainly the provincial politicians will take none, though they actually have, always had, the power to make their own deals, as they did with PPE. Trudeau alone has no higher power to point to.

But Trudeau, and previous Prime Ministers, did let themselves be ruled over by the one overarching Ruler of the Earth: the Free Market. All the vaccine manufacturing is in other countries, not because Canadians forbade it, or chased it out; it was just a little cheaper, or a little closer to Home Office, to put everything in Europe and America.

It nice, I guess, that nobody is pointing fingers at "other countries", and making this a diplomatic fight. But there's no getting around it: our closest allies, for whom we did not have to send Canadians off to die in war, ever (we've never needed to defend ourselves since 1814; every Canadian soldier since has died for an ally) turned their backs on us, rather than take the kind of political heat that Mr. Trudeau now feels.

We've done a lot of dying for Europe, for Belgium and France. We did some recent dying in an apparently pointless, vain, war in Afghanistan, for America. Their 15% today, would still be 13.5%, if they'd committed to Canada and America vaccinating in tandem, each at the same rate. But nobody even discussed holding back the American program by one-tenth to keep our program at par. The very idea.

At least, now we know whom our friends are: not our military allies, and not those wonderful, innovative, enterprising entrepreneurs of the Free Market.

Well, CCCC attacks from the Left, if only to give readers a little variety from most news. Mr. Trudeau should make some noise about just nationalizing the Canadian Pharmaceutical Industry. The idea has had currency for some time. Normally, nationalization is crazy talk - humanity found out the hard way that government control of the economy is stinks on ice. But Big Pharma is such a tight, centralized oligopoly it's practically a government right now - just not a government that serves the public trust.

I'm not saying Mr. Trudeau should actually nationalize the whole industry; I'm saying he should make some noise about it - I just want to see the looks on their faces in the Parliamentary hearings.

If Trudeau can beg, threaten, or bargain for a flood of vaccines in the second quarter, he'll be saved. If not, he should deflect blame to the industry - make some noise about how they're an unelected government of Canadian Health Care, promise to fight against them for Canadians, point out a bunch of their sins (that should not be hard), and propose something populist, if not nationalization.

But just getting more deliveries instead would be far better. People remember the end of the story.
---
February 12: April Is the Cruelest Month
(From a TS Eliot Poem)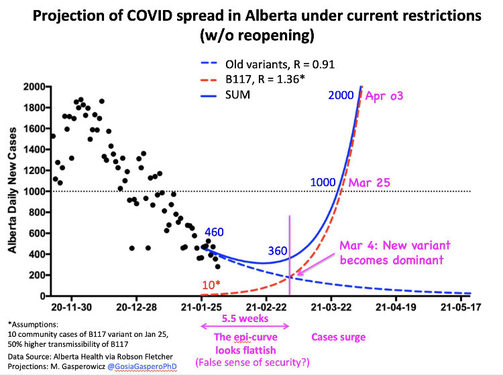 I'm not really on a different topic from yesterday, I'm just taking time to wallow in it a bit, obsess over it.

What multiple news sites and social media meme-forwarders are passing around is this model produced by people at Alberta Health, about what the B117 ("Kent", or "UK") variant means. Here's the very short version: the UK variant grows, under restrictions that do suppress the original, as fast as the original did with no restrictions. It will be a jump one year back to last April, only with all that explosive growth happening despite the current level of restrictions.

And I just changed that last sentence from "would be" to "will be", because I think that the public health people are simply resigned to letting it happen, so that people will agree to a "COVID Zero" grade of lockdown.

Norway has shown that a tight lockdown can control even the B117 variant. Their case-rate is stable again, their postive test rate down to 1%. But it took some tight restrictions, which the public health people are clearly not going to pro-actively order. This makes me very sad; we can see this train coming, know how much it will hurt when the train hits us, and we aren't getting off the track. When this graphic showed up, some were still hoping for a strong pro-active response, so that cases would be WAY down by March, the growth of the variant also suppressed, giving us more time to vaccinate. It's not happening. So, this graphic is now a prediction, not a just a warning.

The model shows the situation I discussed yesterday, where the case-rate is much higher than today, by the start of April - so high that the death-rate will soon be the same, despite everybody over 80 being protected.

The vaccinations will be picking up, and the over-70s will be kind of frantic to get them, as the ICUs fill up with people in their age-group, and some 60-somethings. Finally, there will be a lockdown, because people always do the right thing, when you hit them over the head repeatedly, and threaten their lives.

But it will, very predictably, be the cruelest month. I really feel like dropping this blog so I don't have to watch the train coming.
---
February 11: Resigned to an April Wave, Let's Calculate the Death-Rate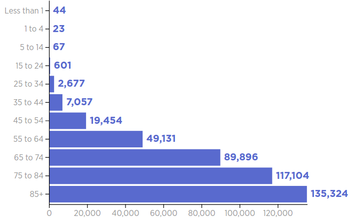 I won't even go over all the stuff that every other pandemic article, comparing case-trends, to variant expectations, to vaccination rates, save to sum up:
We are not going to push down the current wave very far before the variant(s) become dominant next month. Even Bonnie Henry seems to feel helpless to administer more restrictions.

In March, the variants become dominant, the R goes over 1. By April, cases will be soaring, and scaring people, probably resulting in a new lockdown.
The vaccinations by then, in Canada at least, will only have protected health-care, and a few other essential, workers, and those over about 75.
So, it will be like the Great Barrington boneheads got their wish: the old protected, and the rest of us just getting infected. How bad will it be?

Here's a very rough approximation, using the wrong statistical technique: just chopping off the deaths over age 75 on the chart at upper left. They're about 252,000, compared to 169,000 deaths under age 75, in the US, that is, the under-75s are 40% of the total dying. (Half of those are 65-74, so one can imagine their frantic search for a vaccination, by April.) So, will the death-rate per 1000 cases be about 40% of current numbers?

That's probably close enough for such inexact estimation, but it's not how you do it. You have to subtract the protected from the current case-distribution. (12% should be in the mostly protected, over-70 group). Then you treat the remaining 88% as 100%, and have to bump up their death-rate, because they are now all of the cases. Roughly.

It doesn't make a lot of difference; the death-rate will be about half what it was, with 1000 younger people being all of 1000 cases, than with 1000 people, of whom one-eighth are old.

Right now, BC and Alberta cannot seem to get much below 700 cases per day, and have nearly 20 deaths per day. Suppose we have it down to 400 by early March, when it starts going up again, because variants bypass our restrictions. By mid-April, they could be at thousands of cases per day. Once it hits double the current 700, once it hits 1400/day, the death count will be the same, then start going up...and few of the dead will be very old.

That will be the point where there will either be a massive, well-run vaccine program going full steam - or political heads will roll. The complaining right now is nothing.
---
February 10: Shun "The Sociables", A Menace to Us All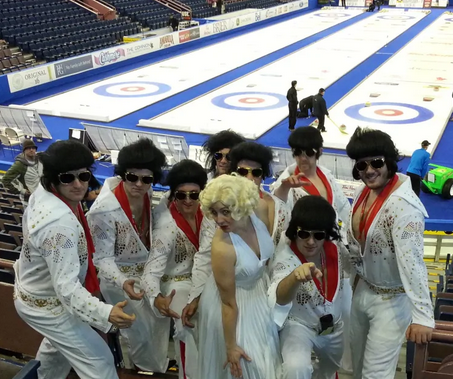 A regular CCCC reader is among the culprits identified by a large group of curlers and physicians as the real problem with the pandemic: socializing.

The words above link to the most-viewed story on CBC News this morning: that the scare we all got a year ago, when 40 of 73 doctors and nurses at a prairie curling bonspiel got COVID-19 in a matter of a few days.

So, the doctors struck back with science, making data-lemonade out of the viral lemons, interviewed everybody about their contacts in detail, and how many secondary infections there were. The came up with one conclusion of special interest to the general public: it was the socializing. Seventeen of the 18 teams that participated had at least one case. The only exception was the team that skipped all social events.

Turn that around to a victory statement: they curled with people that were all turning positive and shedding virus, who were all getting it from each other, and were unscathed.

That means that curling itself can be a safe activity! So, perhaps, can be all those children's sports that many are hesitant to re-start. Hockey can hardly be more dangerous than curling, (except for head injuries, of course).

And, again, and again, we see the blame pointed at those darn "sociables". Not, maybe the world-famous "The Sociables", gang of Brier SuperFans that delight the crowds (and bored news cameramen) pictured at top, (picture links to their story). They've been out of business since that bonspiel scared the bejezus out of the whole sport.

But, the sociables, more generally, are the problem with everything. We can probably do more activities - sport, business, school - as long as we avoid the stuff that humans do when they socialize: face each other and open their mouths.

So: everybody stop doing that, and we'll be fine.
---
February 9: Handicapping the COVID Cup by Age Demographics
About ten years ago, I caught most of a lecture by David Foot, the Canadian Demographer who wrote "Boom, Bust, and Echo", and explained how "demographics is destiny", how much of society can be predicted by just looking at it's "Population Pyramid", as with Canada's, at left, in 2006. (The most recent year he had for all provinces, in his lecture). The overall Canada pyramid is the colourful background to all the graphics below.

With Canada, you can see that in 2006, there was a lot of population in the 40-55 demographic, and you can still see all the "extra" females over 80, compared to the men, dead of WW2, and earlier health mortality. You can also note the dearth of Canadians in the 0-14 age group - the size of the "under 5" bar is how big the "40-45" bar would be in 40 years, were it not for all our immigration. (This is why we have high immigration: if the 45-year-olds want somebody to sell their houses to in 25 years, there wouldn't be enough 30-year-olds buying then to avoid a housing crash, save for immigration.)

Anyway, that's the kind of stuff his lecture was about: when will various economic needs change because they're age-specific. Like houses. And medicine.

The other graphs, as for Alberta here, show the target population as the white outlines superimposed on the Canadian average.

Alberta has a lot more people in the 0-35 demographic, in 2006, and probably still does, because Alberta gets so much young immigration, from other countries and other provinces.

Similarly, above age 55, Alberta has relatively few senior citizens, compared to the rest of Canada.

By the time you get up to age 80+, the "COVID Death Zone", Alberta is really defincient. The province really has an easier time of it with COVID death counts.

For a sharp contrast, Quebec has the opposite situation: short of teenagers and kids, a little short of young workers, and has way more old people.

For those incensed at "transfer payments", here they are. There are not actual transfers. All that journalists mean when they say "transfer payments" is that income tax revenues are higher per capita in some provinces than others. When you think of Alberta "transferring" to Quebec, it's often Quebecois that moved to Alberta to work and pay taxes, which are consumed by their mother in the care-home in Quebec. At least until recently, when several thousand died.

When you subtract out the part of "transfer payments" that is just "young people paying into Social Security and old people taking it out", there's often not much left to complain about.

The differences between Alberta and Quebec may cause some loud "transfer payment" complaints, but they don't explain more than a little of the huge number of dead in Quebec. Quebec does not have twice the old people as Alberta; it's more like Alberta is 10% below Canadian average, and Quebec, 10% above.

For a real contrast, you can look at different countries, as Foot's lecture did. The terrible death toll in Italy in the beginning, and the extreme fears that people have about the Italian economy in coming years, are clear on this pyramid. Italy really DOES have double the number of old people that Canada does, and an extreme deficiency of kids and young adults. (Remember to add 10 years to this 2010 chart: the lack of those 20-29 is now for 30-39, and there's even fewer 20-29 than in 2010. Italy really, really needs immigration.

Aging countries like this will be struggling with any pandemic, since few of them are kind to the old.

For the biggest possible contrast, you can't do better than India, though I could have put up the age pyramid for our own Nunavut, and it would look the same: just a huge number of young, young people, and almost no oldsters.

I'm actually repeating myself, from 10 months ago in early April, comparing Italy and India, when the blog was barely started. Having found the original Foot graphics that compare them to Canada, I wanted to go over it again, as we consider how desperately the third world needs those vaccines. They do, absolutely. The urgency for those besides health-care workers, however, is not the same.

India is just inherently incapable of having the same death-rate from the pandemic, because so much less of her population is over 40.
---
February 8: Oh, Yes, I'd Take the 50% Vaccine. And Be Done.
Two Christmases back, I went through a week of minor hell. My then-86-year-old mother-in-law across the hall (we were visiting for Christmas) went through a week of minor hell, after first a week of major hell. The Flu.

Now both the minor and major hell terms are adjusted for "just a flu at home"; it was bad by that standard, where you're so tired you can't read, where sitting up for supper and two hours' of TV every 24 is a major athletic achievement. And of course, the endless misery in the throat, down through all the lungs, just holding on. But I don't mean that hospital needs were looming, not even for Dora during her first, worst week.

But that's all normal. People get flu every year or three, even get it that bad every decade or so; I'm sure I've been through several like that in my life, forgotten most of them - they're normal. Unpleasant, very, but not scary.

If a shot can reduce COVID-19 to no worse than that, I'm done. The pandemic is over for me, because the disease has been reduced to a normal, unfrightening, acceptable event in my life. I'd take that "only 50% effective" shot today, as my only further protection, because it's 100% effective at preventing "severe illness"...which, when a physician says it, means "severe enough to call me". I'm taking that to mean the minor hell I remember is the worst I could then expect from COVID-19. So I'd be done. I live with that already.

Dora has just turned 89, and while she has no underlying conditions - at 89, she's on one pill, the most minimial blood-pressure prescription, and shoveled the walk for an hour this week - a flu as bad as December 2018 might risk her life this year, or next. If the same symptoms hit again, she might need a few days under care - and for her demographic, any hospital would be worrisome indeed.

The vaccine experiments are not getting into that - when somebody is so weak that they can be killed by almost any flu-like symptoms, preventing even them is an almost impossible. We try with the flu itself every year, but every year, flu deaths are considered normal, and even merciful, endings for some.

If COVID-19 is reduced to only as deadly as the flu already is, in care homes, then again, the pandemic is over even for them. We, and they, have already been accepting the cost of "flu season", for decades. Maybe we shouldn't, but that's our culture. COVID-19 will become a normal part of it.

Needless to say, if we have 50% vaccines and 95% vaccines, the old people (75+) all get the best ones. For the rest of us, though, it's kind of a shrug. Or should be. I plan to shrug, and line up for whatever they've got.
---
February 7: Quebec's CCCC Milestone Passed Last Week
COVID Cup Standings, North American Deaths-per-Million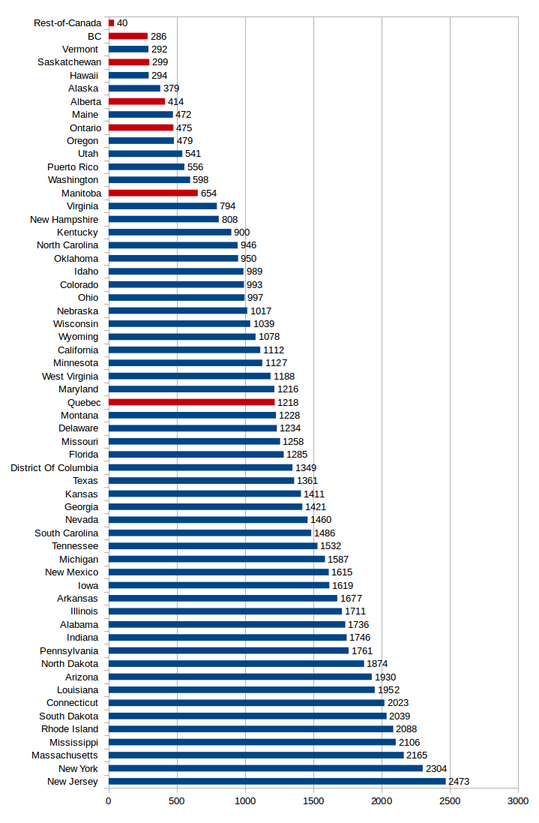 The news will be mentioning that Quebec has passed 10,000 dead in its own right. I only flashed a guilty start: I'd missed the CCCC version of a milestone, when they passed 1000 deaths-per-million, (the CCCC metric of COVID-Cup victory or failure), early last week. (Or week before, it being Sunday today.) They're doing most of Canada's dying, recently, and have already passed 1200 deaths-per-million.

Quebec has done badly, very badly. It must be noted that they have the oldest demographic age-pyramid in Canada, they just have a lot more old people to catch it. They have been twice as bad as the next-worst province (Ontario) since the start. Quebec looked as bad as the UK last July.

Well, one thing has changed from that chart, relatively: Quebec is no longer as bad as the UK. Quebec may have doubled her deaths-per-million to over 1200, in seven months, but the UK has nearly tripled their number, now up to 1,651 dead per million.

As this chart shows, Quebec, which looks awful compared to other Canadians, shows up pretty high on this overall North American listing.

All of Canada (save Quebec) would be among the very best, were we American states. Our own BC, and the two million in Atlantic and Northern Canada, are better than any. Saskatchewan, beaten by a hair, only by wealthy, lily-white Vermont.

BC is no longer twice as smart as Alberta, that I foolishly bragged about just weeks ago. Our continued high cases have us down to 25% better, and Alberta, for all Kenney's missteps, would rank in the top-five US states in the intramural COVID Cup standings.

Even Ontario would, actually: only four US states have it better. The disappointment of 2021 so far has been Manitoba, which kept to the lowest of COVID Cup scores for nearly a year, then slipped recently, now Canada's second-worst province after Quebec. Worse news for them, their decline-in-cases of recent weeks looks more like the slow, stuttering decline of BC, than the steady, and steep declines of Ontario and Quebec.

As with my Alberta/BC ranking of a few weeks back, the pandemic never gives you a breath to assume that current standings will remain. Germany had a huge wave. The USA is vaccinating much more quickly than we are: they are nearly at 12% with shots, while we languish at 2.4%, a fifth as much. They could start pulling ahead in a matter of weeks.

When you look at the numbers, its hard to avoid a clear recommendation: what vaccines we have, give to Quebec. They have a lot of seniors, and I would say they have a bad government. Rather than saying "well, they deserve this, then", we should have a care, show some national solidarity, and prioritize vaccine distribution by risk, just as we did with First Nations communities.

Being treated like Canada's problem province is punishment enough. That, and ten thousand dead.

---
February 6: Everybody Read the "Get To Zero" Screed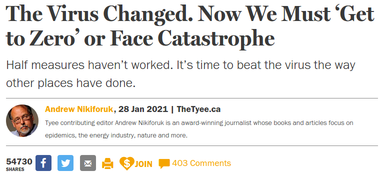 Apparently, Andrew Nikiforuk's analysis and polemic at The Tyee is now their most-forwarded item ever.
It's richly deserved. It's got people asking Dr. Bonnie Henry questions in news conferences, has her denying that its call for "Get To Zero" is even possible.
This isn't recent news, the original story has just been building for a whole week. It isn't going away. The link just above notes how many experts support Nikiforuk's call, and links in turn to the "Canadian Shield" strategy document that makes the same call for a rapid push-down on transmission.
CCCC is just joining in, after a week, because I'm not even sure that we are reducing cases at the pathetic rate of R=0.92 that I calculated the other day. Yesterday's case-count was back up again, barely below 500; we're leaving ourselves sitting ducks for the variants to spike that up to thousands in March.
Secondly, Nikiforuk, for all his popularity with people-who-read, might as well be a voice crying in the wilderness, next to all the talk of re-opening, now that curves have been crushed down to merely the size that frightened us last Spring. Everybody is talking about Whistler, but nobody is doing anything about it.
Thousands of jobs in Whistler hang in the balance, the news stressed. Can't they at least threaten them with closure, discuss the idea, just to encourage them to smarten up all that staff-socializing apparently at fault?
The contrast between the casual attitudes of the politicians and business community, and the five-alarm noises coming from the science community, is dramatic and frightening. Everybody read your Nikiforuk, today, and get ready to join the outcry. When the case-load starts rising, it'll be too late.
---
February 5: The Real Reason to Double-Mask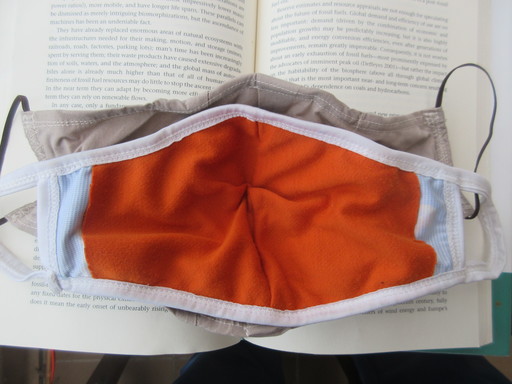 Double-masking? Does it work? We aren't sure. Does it make you feel better if you're anxious? Sure, but so do many meaningless rituals.

The important step, always, is to experiment. I tried putting two on. The thin, very comfortable one from the Aquarium, then Connie's home-made heavy-fabric one on top, with the brilliant wire across the top that lets you mold it around your nose.

It was comfortable; I could breathe fine, actually, and had a feature that made it way better. I wished I'd tried it months ago. I'm never going back to single-masking, at least, not except in mid-summer.

It practically halted the steaming-up of my glasses! I've been wrestling with that problems for months, through the late-Fall and Winter. The wire-over-nose masks really helped, but often needed adjustment. Double-masking wasn't perfect, either, but once I got the two settled together and the wire tamped down, it was the least-steamy vision I'd had since August.

So, that's that, then. Normally, asking for "more" of any sort - more distance, say, has to balance return against cost, even if the cost is "annoyance". In this case, though, I repeat that I wished I'd tried this in September. I hope I'm getting some extra protection and doing my bit; but double-masking, everybody with glasses will want to do, anyway.
---
February 4: BC Finally Declining - Just Barely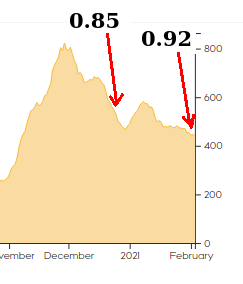 Other news sources have already noted that BC is clearly, finally, in declining cases, after sitting on that 500-cases-per-day "ledge" for a week or more. Well, breathe out a sigh of relief, but not a large one.

I waited long enough to apply my non-patented, (also, non-reliable) method of calculating "R" in seconds - taking the case-rate five days apart and dividing - to yesterday's case-rate divided by January 30. It's 0.92, just enough to cut our case-rate in half - if we keep this up for forty days and forty nights, to the middle of March. Then another forty days - end of April - to cut it in half again. Sometime in May, we'd get down to the case-rate at the peak of the first wave. In short, we are just barely in decline. It's not enough.

The variants would blow us away like lint, if they were prevalent; the lowest estimate is that one adds 0.4 to the "R", taking us up to 1.33, a 50% increase per week.

The decline of December would be more like it: at 0.85, we'd cut it in half in 20 days, be at the peak of first-wave by end of March. Unfortunately, "end of March" is about when the variants will have become dominant, and the calculation doesn't include that. Even 0.85 would probably not be enough to save us from the variants before the vaccine cavalry comes over the hill, about summer.

I'm calculating as I write, here, but my first approximation is: we're still screwed. We have to do more. This is encouraging, but still frightening.

As for any "relaxations", give me a break. Unthinkable.
---
February 3: Let's Hope Israel Falls off a Cliff
--- Cases --- --- Deaths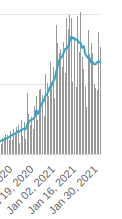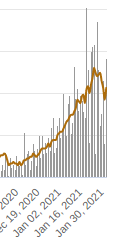 ...just their case-rate, I mean. Readers will have to forgive the rough-hewn graphics effort at left; a blog isn't supposed to be all polished. (And I suck at polish, anyway.)

The odd increases in both case-rate and death-rate for Israel over the last few days, I'm sure are the old problem of "dip in figures over the weekend, spike on Monday as they catch up paperwork".

Israel has generally been on a rather steep downside of the deadly curves for a month now, courtesy of a pretty serious lockdown. Their "R" (roughly approximated by the case-rates five days apart) is about 0.86, lately. Even the heartening American decline was only 0.83, recently moderated to 0.89.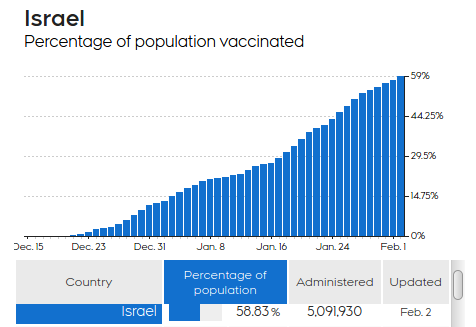 But, basically, they are still near the peak of a bad second curve, when they amazed the world by vaccinating 1, sometimes 2 percent of their population every day. They have will hit 60% later today, for first doses. One-sixth of their population is now at 28 days, 7 days past the second dose and at 90% immunity or higher. Fifty percent is a week past their first dose, and at perhaps 80% immunity. And, of course, they are still innoculating at a wonderful rate of 10% of the population every 8 days, should hit "herd immunity" in a week or so.
So the whole world is watching Israel case-rates right now. If their daily-cases stop declining at the rate of by 14% every five days, and start declining at, say, 50%, or even 60%, every five days, we all get a glimpse into our own futures. It'll be like a sped-up movie, the decline like falling off a cliff, because of the combination of their jaw-dropping vaccination rate, changing the population almost overnight, and the high rate they started from. (When we vaccinate Prince Edward Island, nobody will notice.)
It's a odd feeling, and a very pleasurable one, to say something nice about Israel for a change. They've got me so inspired and impressed that I'm minded to offer the country a respectful suggestion:
You'll be done vaccinating your whole country in a matter of weeks. Now that the team is running a full speed, why not keep them on, and start vaccinating the heck out of all your neighbours? If only to see the astonishment on their faces, when your doctors show up.
---
February 2: A Year After "Red Dawn"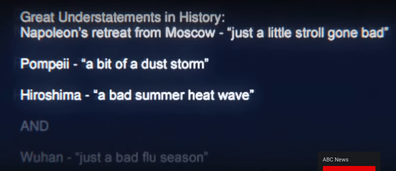 At left, a screen shot from the original "Red Dawn", the nickname for an e-mail chain among infectious disease specialists almost exactly a year ago.

They were talking about their concerns about the new COVID-19 pandemic, and especially of their problems with those minimizing it. The Pentagon had just waved off the disease with a comment that Wuhan just "had a bad flu season". Dr. James Lawless, U. Nebraska, is here commenting on that understatement.

Lawless is in the news again (link at image) because near the end of February 2020, just after the first US deaths on February 20, calculated that the US could lose 480,000 souls to it. Worldometers just cracked 450,000 the other day, and they are still losing over 3,000 per day. They will hit that 480,000 just before the one-year anniversary of the first death, giving Lawless a 99% accuracy rating.

What we heard at the time were "models", like Nigel Ferguson's two months later, that offered numbers from 50,000 to 2.2 million for America's risks. Lawless was just throwing out a number from the middle of a wide range; it's really dumb luck ("luck", hah) that he happened to nail it so very closely.

I'm eager (so to speak) to get on with a few topics that need another day or so of data - is BC finally back to crushing the curve? Will Israel now show a really dramatic case decline? But now that we are hitting various anniversaries, I thought to take a day off to look back.

We still don't know how much worse it will get; the variants have thrown all our hard-won expertise of a year into the trash bin. Lawless warns of the possibility of hundreds of thousands more. So much depends on the acceptance of the vaccines, on mutation rates.

The one-year anniversary may not be Red Sunset, but only Red Afternoon.
---
February 1: Biden's Path to Victory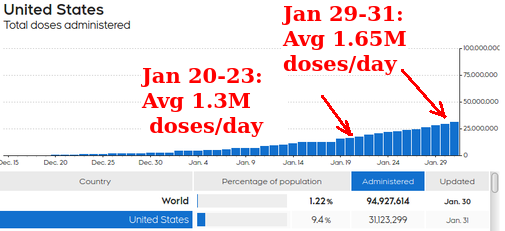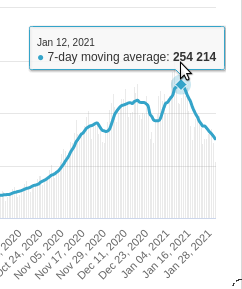 The path is between these two graphs. "Path to victory" has become a well-worn phrase in US presidential election coverage, but here it's the path to the Big Biden Pandemic Victory Party.

Biden's path to being seen as America's adult-president saviour and virus warrior rests on two things: keeping a lid on the ever-faster-spreading virus for six months, and getting to vaccine-based herd immunity in about that time.

He's off to a terrific start, from a week before he was inaugurated. As the graph shows, daily cases peaked 8 days before the inaugural - the newsies hardly noticed because of all the drama around the military occupation of Washington at the time. So Biden basically gets all the credit, in the public mind.

Can he keep that up? So hard to say, as it's all about human behaviour. But, if, just if, his haters are tired of anti-mask demonstrations and all that, if he can just promote a lot more mask-wearing successfully, there's no reason that the whole American curve can't be crushed again. Even the extreme-right Dakotas have done it already. Biden may also get credit for all the harsh lessons the virus itself has taught America this last Fall.

The other half is that he has to do significantly better than his million-vaccinations-a-day promise. There's no reason why not. Unlike Canada, America has the economic and diplomatic muscle to ensure that vaccine makers don't neglect it, and its own manufacturing. His promise was timid: it had already been 60% done, if mostly from state efforts, despite bumbling federal "help".

How is the 1.3M doses/day, shown on the right, only 60% of the way there? Remember, it's two doses per PERSON. The vaccination rate will, about now, have to accomodate those showing up for their second shot.

Biden's real goal, for PR purposes, can be calculated. Today is 153 days from July 4th, 2021. They have vaccinated 31 million Americans, and 70% of the American population (herd immunity) is 21 million. So Biden has 153 days to vaccinate almost exactly 200 million people with 400 million doses (and another 25 million for those already dosed once). Then he can stand up on the steps of the Capitol again, on Independence Day, and declare American Independence from the tyranny of the virus. That actually requires the game to be pushed up further from 1.65M/day to 2.84M/day, an increase of 72%.

Making that declaration at the start of summer, rather than Fall, would make it an exultant summer where socializing was widespread, and the economy came roaring back with a vengeance.

If he can pull all that off, it'll be a bigger victory than any since WW2.
---
January 31: Indiana University, the South Korea of Universities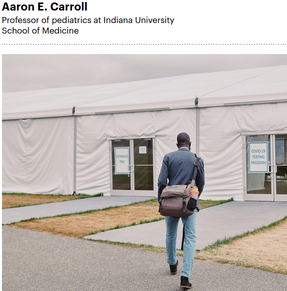 Boy, do I have a heartwarming, inspiring, uplifting story for you.

The people who aggressively fight masks, and distance, and complain, complain, about restrictions, are actually my second-biggest peeve of the pandemic. The worst are the people who are supposedly trying to fight it, but do so with slow, stupid, blind, incompetence, and even if those are absent, with plodding, timid unwillingness to innovate or change.

Universities are often Big Dumb Bureaucracies that exhibit the worst of the latter, but all of them are charged with the opposite: with being society's innovators and developers. Some universities, as the linked article notes, have done bad, dumb jobs at protecting their community, and those are all over our news pages, pleading against parties and having to close.

The story of Indiana University reminds us that they have for a thousand years been separate communities, "town and gown", giving them a kind of autonomy to work out their own community solutions:
"Fortunately, large universities can find ways to tackle society's toughest problems, including the need for new ways to detect infections en masse. Last spring, Rutgers developed a saliva-based test that didn't rely on medical professionals to collect nasopharyngeal swabs. "
(CCCC decried that nobody was using the easier testing, that we could have had almost daily testing. Public health remained impenetrable to the new ideas, but a University had independence to run its own health-care system and just adopt them! Envy...Universities, of course, have their own labs!)
"Through a partnership with medical educators and government officials in Kenya, many of our local faculty and staff had gained expertise in health-care initiatives requiring substantial community outreach. With their help, we hired and trained a corps of contact tracers. Early in the pandemic, I had marveled at how Singapore had a goal of tracking down the source of each identified COVID-19 infection within two hours. In the fall, IU's median time to close a case was half of that."

...

"Collecting a huge quantity of samples was an additional logistical nightmare. But at IU, we realized that our event staff - which has experience at moving massive numbers of people and equipment for football and basketball games, concerts, and commencements - could run our testing operation. Our information-technology services, adept at collecting and processing data as well as building websites and apps, could create dashboards, set up tracking systems, and process test results. And when other institutions found ways to innovate, we copied them."
...I'll stop before I just copy the whole article. Here's your final point: the sum of their work, where huge numbers of people are tested constantly, outbreaks shut down same-day, people kept safe...was $700 per student.

Could Canada have afforded $700 per citizen for massive testing and contact-tracing that would have allowed a semblance of normality, a lot of business, and of course, education? A real hit, some $27 billion, but of course, we could have done it. We just weren't as smart as Indiana U.

The conceit of this blog is that the pandemic is a "game", or really, a test, to which all nations (and provinces and states) are subjected, some doing well. As universities are, of ancient tradition, their own little states, the freshman class for 2021 can judge them by how honestly, and cleverly, and competently they met the challenge. That makes Indiana Univerity the top of the new Ivy League.

This article really buoyed up my day, though the rain is crashing down again. Strongest possible recommendation.
---
January 30: Blame Everybody But Fraser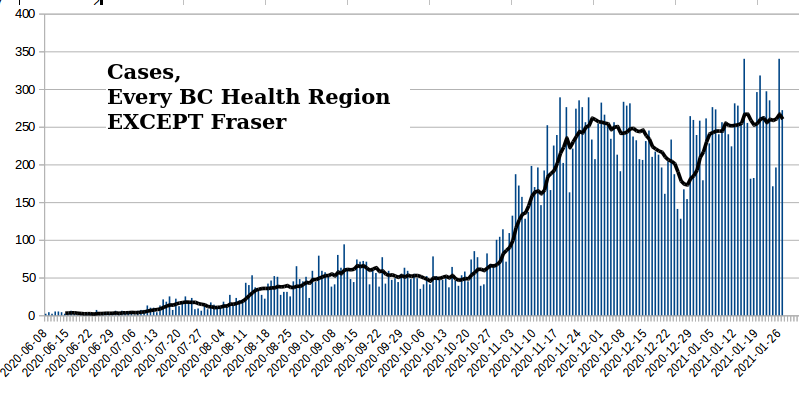 Boy, did I miss a beat yesterday, thinking the blame was all evenly distributed. I was so focused on just the last few weeks, when cases "levelled off", that I didn't look back at the earlier context.

When I got my SQL going well, and a pivot table up, I was able to quickly add and subtract health regions from the graphs, and I finally saw that Fraser and the rest (primarily us here in Vancouver Coastal) have different histories.

Fraser, to be clear, still has a higher per-capita infection rate than the rest, and is most of the infections. Notice that the scales on these graphs are different, the Fraser nearly twice as many as the rest put together. (Fraser is 1.8M, the rest together, just over 3M, people.)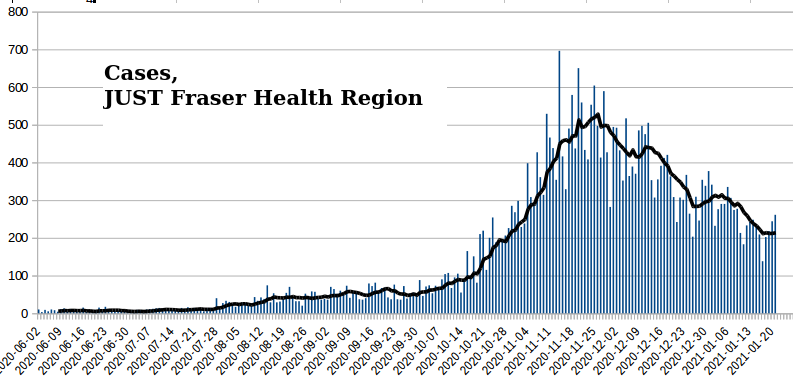 In both graphs, there's a levelling-off for most of January: but Fraser is levelling off after two months of steady decline. The rest of us declined until Christmas, had that "Christmas Bump"...and just levelled off at the new, higher, bad level. We haven't really gone down in cases since December.
Fraser still needs to get back to decline, that high per-capita is the biggest transmission problem in BC. But the behaviour the rest of us are displaying is execrable: actually increasing case-loads, if anything, while the doctors plead for responsibility. Never mind how many people at Whistler come from out-of-province: right now, nobody should be coming from in-province, either. Go cross-country skiing.
My dithering about why this is happening was answered clearly by Dr. Henry in yesterday's conference: it's socializing. It's NOT work. It's not that Fraser people have to go into buildings to work. The contact-tracing is coming back with "social contacts", over and over. She says, that even infections at work aren't happening while working; they're happening in the coffee room, over lunch, and in meetings with no masks. Meetings with NO MASKS? You idiots.
But most of it isn't even at work, it's in small gatherings, within families, within groups of friends at home. We have to cut that out.
We're doing a weekend games-party with former work people tonight. There will be chicken wings, chips, beers and shots, and good times. And games, all over Zoom. We can suck that up a few more months.
---
January 29: Blame Evenly Distributed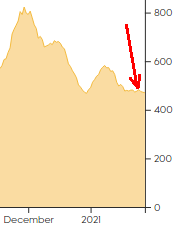 Well, that was pretty much the waste of a half-day. I found that BC has a download available of all 66,000 cases - only noted as to gender, health region, date, and age-decade. I blew many hours getting it into an SQL database, where I figured I could work reporting magic upon it, as I did through a whole career.

Then, more hours looking for the "culprit" in the phenomenon of BC simply going level on its case-count for the last two weeks. (See left.) We were starting down the curve, I had it figured we'd be down to low counts by March. Then we just...levelled off. At the unfortunate figure of over 500 cases/day.

Who was not getting their numbers down? Is this Fraser, home to many who work with their hands for a living, catching it at work? Were Vancouver Coastal (those "coastal elites", the smug swine) doing too much partying? Was it going down in some regions, but not in others?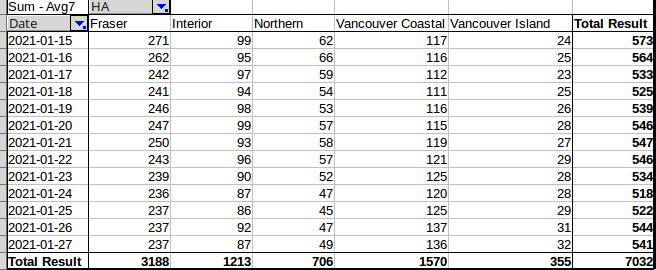 The numbers, for the 7-day-average (anything else is crazy-making, you get huge "dips" on the weekends) for the last two weeks, by region.
None of them change. It's remarkable, really, the consistency across all five health regions - not one goes up or down much in the last two weeks.
If you want to pick on somebody, pick on Fraser - their infections-per-day is about a third more per capita than the other large region, Vancouver Coastal. (1.8 million for Fraser vs 1.2 million for Coastal - they have nearly double the cases with only 45% more people). But Fraser is steady, not getting worse.
We're all not doing enough. Dr. Bonnie has asked for "more" and got the reply, basically "what more can we do?". Well, our stores and restaurants are all still open.
Dr. Bonnie, people are NOT listening to you. NONE of us. I don't see what choice you have but to close up some stuff, if only to get our attention. We seem to be thinking this is just normal, what more can we do.
The variants are coming. Time is short. Let's get drastic.
---
January 28: Canadian Shield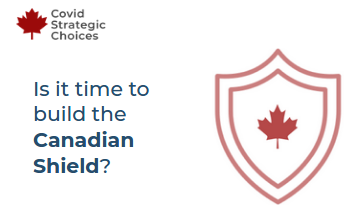 Thanks to Alan Beairsto for the tip on this. As near as I can tell, the physicians and other experts involved in "Canadian Strategic Choice" and the promotion of a set of COVID protective strategies they call "The Canadian Shield", don't want your help. Their page doesn't solicit membership, donations, or calls to your MP.

That's weird, in this day and age, but I get it. Most of the "public" input on the pandemic has been from nutbars; if I were an MP, I'd have three layers of filters between public pandemic comments, and my in-box. The group seems to be restricted to scientists, petitioning the government for tight controls on borders, brief, tight lockdowns, and quick response to increased infections with immediate restrictions. They have economic analyses, political-popularity analyses - these were the kids who did extra homework.

They're right, obviously - pandemic strategies have always been pretty obvious, in general, only the specifics ever need tweaks. We're still arguing about whether to increase restrictions as we watch infections rise, which is the very definition of "out of touch" (with the pandemic).

They may have left nothing for me to click on to support them, but I think I'll write my MP anyway - on paper - and drop it at her office.

It's not like there's any time.
---
January 27: What If We Get a Movie Ending?
...that would be terrible.

By "movie ending", I mean the standard, inevitable one, only tweaked a bit by The Andromeda Strain, (1969), the novel and instant movie about the alien plague, that was stopped by the medical team in the underground laboratory.

Michael Crichton was the only writer I've known to even partially subvert the dramatic convention that any countdown-to-disaster must only be averted with a second or so left. Preferably, with the audience browbeaten by a large, generally red digital countdown clock. (These clocks are invariably present on bombs that were never intended to be found, as well.)

In Strain, the nuclear bomb will destroy the facility to contain the disease, must be stopped by a man climbing the internal core, against the defensive system - he makes it, stops the bomb, but needs hospital treatment. When he wakes up, he's told that the countdown - which he did not know, no timer, rule-break number one - was at 35 seconds.

"Hah! 35 seconds! Not even close!"

But just for fun, Crichton throws in them telling him: "Well, exciting for us - all air is normally sucked out of our level at 30 seconds to detonation". This is still subversion of the usual trope, because (a) it was more seconds than the usual 1 or 2, and (b) we only find out when everybody is laughing later.

Other than that brave violation of norms, by a 29-year-old first-time author that was tired of those endings 51 years ago, it's been countdowns to the last second, as a rule.

Nobody wants that drama in real life, however addictive for screenwriters. But you have to wonder, as we read that AstraZeneca can't produce as much early vaccine as they thought, whether we get a movie ending to the pandemic.

If the vaccinations are nowhere near 50% by April - and that's likely - and if the variants are as scary-good transmitters as they fear, then the infection rate could just explode in the Spring, right past all efforts at lockdown.

That's just a disaster movie, Contagion here at last, but if we don't have enough vaccines in February and March, we may have more than we can inject by April or May. Jump back to my post about excess sanitizer ... our commercial systems and supply chains, crazed with lust to win the race for those sweet, sweet vaccine profits, may be in overdrive, and showering us with the stuff by summer. In my movie, this is just when the new, worst-ever, wave, starts causing panic, because we spent April locking down again, and May discovering it didn't work.

At which point, everybody who can possibly give the jab may be pressed into service: drug stores, dentists, safe-injection centres, school nurses. A race that gets more frantic every week.

I would rather not have the movie ending, thank-you very much; but the virus, and its laws of evolution, are in charge, and since the vaccine companies couldn't possibly be under more pressure, there's little more we can do but get the stuff out promptly and efficiently.
---
January 26: Hear Me, Oh Israel: Well Done.

Quebec is a somewhat-separate culture within a larger country, a province with its own health care, justice, and pension systems - of just under 10 million people. Israel is a very-separate country in a hostile region - and just under 10 million people.

One is at 45% vaccination, one at 2.6%. Enough said about that. Everybody's talking about that issue, but I just wanted to pile on. Israel is proof it can be done, and should have everybody demanding to know what our problem is. (OUR problem - I only picked out Quebec because of the same population as Israel.)

Nope, my main topic is the good news from Israel. In a very, very large "trial", there are now over 128,000 Israelis that have had their second shot, and a week for their systems to process that, and another week to see if they still caught COVID.

In the general population, 0.65% caught it that, week. Among the fully vaccinated, twenty people out of 128,000 did: 0.015%. In other words, they've validated the "95% protection" claim with really large numbers.

It gets better: [Research Analyst] "Ekka Zohar also noted that she found that none of the 20 vaccinees was hospitalized or suffered from a fever higher than 38.5 degrees."

It does not get better for sane people, but might help the nutbars, that there's no news of autism, paralysis, or any other vaccine boogeymen, after millions of people have had the first shot.

This really confirms it, for any of little faith: we have the tools to get out of this mess. COVID will be around for decades, taking a nibble here and there, even staging an outbreak when it mutates enough to need a new vaccine, but our new mRNA technology will strike back with amazing speed every time, and it is all but finished as a predator, as a drag on our society. It may have to become a yearly re-vaccination. So what? I'm fine with that. If the new vaccine research gives us a yearly "stops most colds" shot, I'll happily line up for flu, cold, and covid vaccines - maybe they can make a yearly cocktail.

It's Israel, of all nations, that got to proclaim the human victory over our common enemy to all. Nearly every piece of news out of Israel has been depressing, or even infuriating, for me, for three decades. I'm so pleased to say something nice.
---
January 25: Pity Poor Portugal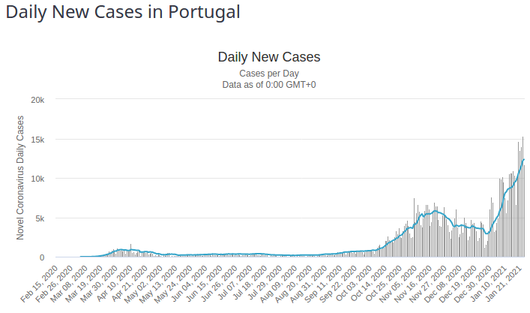 I admit it, I didn't even look at Portugal yesterday because it's filed with Greece, and Vietnam, and Cuba in my mental list of "Pandemic Hero Nations that did a great job with no money somehow". (Mostly with obedient lockdown behaviour - I think in Greece and Portugal because of strong culture ... Vietnam and Cuba, maybe more the soldiers that enforced quarantines.)

Then, today, it's mentioned by Reuters has having become one of the worst spots in Europe. Then I checked the numbers, and holy cow, just look at them. Look at that tiny, barely-there, brilliantly small first wave, way back. Their second wave started later than others, not late summer, but well into October.

A month later, they were pushing it down well enough, then as the Christmas season hit, the crushing stalled - practically on Christmas Day, it turned sharply around and took off like a jackrabbit, just crazy growth.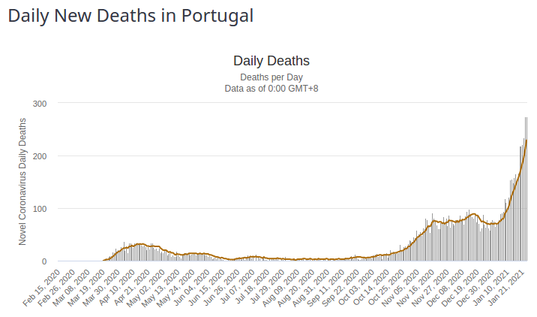 And now, the story gets horrifying. Portugal today, has a 7-day average at over 12,000 cases per day. They have just over a quarter of the population of Canada, so it's like Canada having 46,000 cases per day.
Their death rate today, is passing 230 per day, as if Canada were losing 860 Canadians per day. If they follow the usual pandemic statistics, they will be losing over two and half times as many in three more weeks, perhaps 600 per day , for a population of just over 10 million. And then, even worse, probably - look a that case-count chart, it's not even starting to level off. Portugal is going to hit those terrible numbers like 1800 dead per million, currently only suffered by the UK, USA, Belgium.
It might help to compare to the famous, terrible American death-counts of 3,000/day and every 4,000/day recently. 600/day for Portugal is like America losing 20,000 per day. That's how they'll go from heroes to bottom-of-the-league in eight weeks flat.
It's so sobering. "Time and fortune makes fools of us all", and certainly the pandemic does. I'll be not surprised if the next stories of viral ravages come from New Zealand or South Korea. If it can happen to Portugal, it can happen to anybody.
What happened? Hard to tell - Portgual isn't much noticed in the news. Everything I could search up was about the election they had the other day, in the middle of all this. The story is probably between the lines in this Reuters article from weeks ago. They relaxed lockdown over Christmas, and one suspects, people got really "relaxed", must have visited everybody, lulled by their long success, and the apparent crushing of the second wave.
But between the lines, the story is about maybe meeting next week to decide to lock back down again...despite the date, January 7, being after cases were already higher than the peak of their second wave, and had been going up like a rocket for 10 days. They responded too slowly, and it got away from them, just that fast.
Pity poor Portugal, and take heed.
---
January 24: A Survey of Europe's Third Wave
You can't keep up with this thing. Readers are starting to send me pandemic-reading recommendations, and I'm not getting to them. Will the race between vaccination and the new fast-spreading variant, end in a crushed third wave, or a massive one? Will Colchesine and antibody treatments make it a shrug to get the disease?

We Skyped to the fam in Spain yesterday, and I was blindsided as they remarked how bad their third wave was got, though it's receding now. Third wave?

Oh, yeah. While North America was only reading their own staggering pandemic numbers and arguing politics, much of Europe is fighting a third wave, with success, while we can't push down our second.

Europe is large, and it's pandemics are very different, just across borders between similar countries, like Belgium and France (Canada and USA can relate.) So I'm going with a good 'ol 1994 HTML table:
Country Graph
Country CCCC
Britain has deeply screwed itself. As anybody I respect would agree, this started with the election of Boris Johnson, and his pandemic strategy is working out every bit as well as his Brexit strategy. They are sort-of in a third wave, though the second wave never really ended; it went down to much higher than the top of their first wave, and now has gone to world-record heights. Boris has completely ruined my thesis about the USA doing the worst in the developed world.

There's nothing much to say here, save that their Oxford vaccine is their only saving grace now. While their numbers are going down, the variant they discovered will soon be the virus there is, and a fourth wave in March will be worse yet.

Spain has been pretty good at lockdowns, take it seriously, and crushed their second wave much better. The third has been way worse again, and because they responded slowly. Christmas traditions are very deep in Spain, family visiting an even higher priority, so Christmas was bad, and they're just starting to get a grip on it.
Italy, on the other hand, the worst-hit of all Europe last spring, is really still crushing their second wave; it had a "Christmas Bump" that doesn't really deserve the term "third wave", and now they're pushing that down. All hail, Italy; what are they doing right?
France is really different from the whole rest of the continent and most of the world. They crushed the second wave before the Christmas season started, and had no holiday bump - what they've got is a slow, steady increase in numbers, that isn't remotely exponential. While they're in epidemic status - increasing numbers - it looks good compared to the UK and even Spain. Not to be fooled, of coruse: their slow wave is has been averaging a death-rate of 400/day, twice as bad as Canada, by population. Not a success story, just not a disaster story.
Belgium surprised everybody with how bad it got last spring. We think of it as the most well-run of nations because its the seat of the EU, where edicts about trade always come "from Brussels". Then it soars to the worst death-counts, because it turned out to have a lot of vulnerable old people.

Well, they took heed: this is the fastest crushing of a second wave anywhere, and no third wave whatsoever, no Christmas bump, nothing. Again, not a success story compared to Canada: their death rate has just this week dropped down to the same as Canada's, by population. As ours peaks this week and heads down, I hope it declines as fast as Belgium's though: they're good at this once they get going.

And Germany is just weird. They've been struggling with, but not beating a huge second wave for three months now, and only since the New Year are there signs that they're winning at last. Germany was our hero until last Fall; a tiny first wave, totally crushed like a bug, held it down all summer.

Now, it's Endless Bummer.

If they can't shake off the pandemic fatigue thing, or whatever is keeping their infections up, the variant is going to lay a severe beating upon them. Come on, Germany: pull yourselves together and get in the game.
---
January 23: Canada "Advances" to 500 Club in COVID Cup

It happened overnight. Last night, Canada was at 496 deaths/million population on worldometers; those 128 dead reported as of 9AM PST brought us to exactly 500. I noted the American entry into "the 1000 club" on December 23rd, exactly a month ago. In that month, they made it to 1278, some 93,610 Americans having died in the last month.

The news, of course, will note in about a week that Canada has passed 20,000 deaths, that'll be the round number that grabs a headline.

To actually provide some "COVID Cup Colour Commentary", the USA is 'losing' at its effort to kill more people per million than Britain. Even the last administration's game is no match for the sheer incompetence of Boris Johnson and the Brexiteers. Handing your population over to the virus requires an ability to deny reality, and while the GOP took that to Olympian heights with denial of vote counts, the Brexiteers are hardened reality-deniers that put their backs into it.

While the United States has been marvelled at for bumping off of 4,000 Americans per day, that's still just 12 Americans per million, per day. The UK, however, has been managing 1300 and 1400 per day this last week, a staggering 20 Britons per million! Every day! You have to admit, they have game.

OK, my sarcasm chip just blew, I can't write any more of that.

We were warned that the second wave would be worse than the first, and I couldn't believe it. I figured, all those months of "practice", building new systems, getting used to distancing, we'd have tests pouring from our ears by now, we'll crush that second wave like it was candy floss.

Now, I'm just hoping that we can push the numbers down a ways below peak, perhaps down below the peaks of last Spring, before the new variants become dominant and we really lose control. That terrifying topic, and new hopes for that massive testing, will be upcoming topics.
---
January 22: The Diamond Jubilee of "Military-Industrial Complex"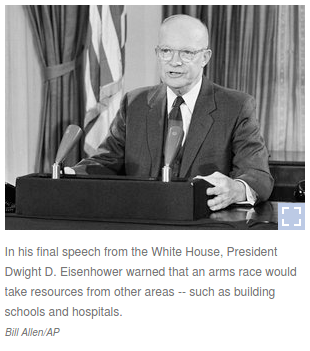 I made a note of it over a week ago, but not a sticky note for my screen, so even I forgot. January 17, 2021, was the sixtieth anniversary of Dwight D. Eisenhower's warning to his country about "the immense military establishment" that had joined with "a large arms industry."

Eisenhower had seen the entirely of the military establishment, right to the top; then he had seen the entirely of the political establishment, and supervised it. Near the start of his terms, he also noted this:
The cost of one modern heavy bomber is this: a modern brick school in more than 30 cities.

It is two electric power plants, each serving a town of 60,000 population.

It is two fine, fully equipped hospitals. It is some 50 miles of concrete highway.
(emphasis mine).
I covered this topic, before I even invented CCCC, with a separate essay with the extreme title of "US Military Kills a Million Americans". (This was March 20, and just how bad the pandemic would get was still up in the air. There were predictions of up to 2.2 million deaths in America.)
That essay runs on much longer than CCCC posts do, has some charts and graphs, and a stunning picture of Olivia Wilde. (Her Dad has done the best journalism on the subject.) The only update is that the $70B raise the Pentagon got that year was followed by another $20B raise a few months ago: an above-inflation raise in a year where everybody else is taking cuts. (The CDC budget is still about $12B, though I bet they're finally in for an increase!)
The other new point to add is that nobody noticed the sixtieth anniversary of that fundamental speech. Nobody talked about the $20B raise a few months back; it was bipartisan. No newspaper mentioned it more than in-passing, most of the articles about what programs the money was for. Nobody compared it to the cost of that unaffordable "Free College" (Estimated at $40B/year by The Atlantic). It's simply not a topic in their newspapers, in their last election, in their halls of power.
Pity dying Americans, of course, but remember: nearly all of them are content, exchanging two hospitals for a bomber - and buying more bombers than everybody else put together.
---
January 21: The Bully Pulpit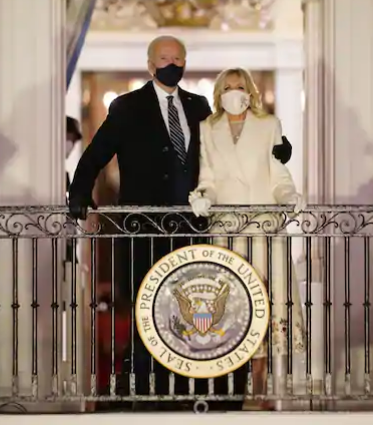 Joe Biden can do his country no larger favour than to come in bullying. "The Bully Pulpit" was a term invented by Teddy Roosevelt, to point out one of the American President's soft powers: he gets attention when he speaks, can change political conversations.

Biden's pandemic plan (Washington Post link from image) will be helpful, of course, giving more federal support and coordination to what is basically a state-level fight. Canada's own experience, with such different pandemics in the Prairies, Atlantic, and Central Canada, shows how regional and specific the fights are. Alone, however, his plan can't rescue the US from the deep pit they've dug themselves into, which is largely the result of those "unsafe behaviours" that this blog exists to rail about.

Biden has the power to change behaviours just by changing the conversation. He can change it fastest by literal bullying. He can't bully the virus-deniers of course, that would bring backlash. But he can bully the media, almost with impunity: they're used to it after the last guy. When media give oxygen to 'the other side' of the story, giving air time to people ranting about vaccines, and masks, and distancing, all being ineffective, Biden could start calling Fox News "The Virus P.R. Agency". The Wall St. Journal could become "The Ventilator Lobby". Biden could repeat "They're getting people killed" about once a day without oversaturating. I really think he could shut up a lot of repetition of bad-faith arguments.

The Republican Party? How about a special commemoration service for Herman Cain, and for Luke Letlow, the GOP Congressman-elect from 2020 that never got to serve because he died from COVID at 41(!). Biden could casually refer to Cain as having been killed by a virus he picked up a Trump rally (though that is unprovable), because it's widely perceived that way. He could go on and on about how young Letlow was, and how much he still had to give. Then there would be tones of sorrow-not-in-anger about how Letlow's party had such a lamentably lax attitude towards masks while Letlow campaigned, that the campaign probably cost him his life.

What are McConnell and the other GOP princes to do, boycott the ceremony for their own?

He can visit the dying, visit a care-home in full medical PPE, and talk to the cameras about how these people had years left - and are now dying because people opened stores, threw parties, went on vacations. He could speak with a ringing voice about the sacrifices Americans made in war, the food rations, the travel rationing.

He could bring a sense of shame. Hey, who remembers shame?

I'm kind of kidding myself, of course. Biden's a lover, not a fighter. He won't think up mean nicknames, or push very hard. He'd never exploit the deaths of GOP members to defeat the politics that killed them. He'll do better, (he could hardly not) but it won't go all that well. This is America.
---
January 20: The War for Science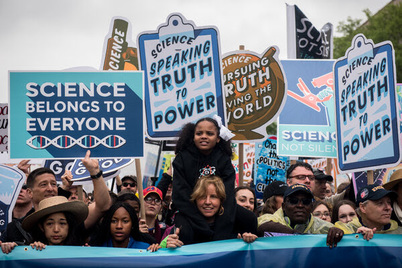 "What do we want? Evidence-based policy. When do we want it? After peer review."
That was one of the chants at the March for Science, an international set of demonstrations in April 2017.
...
As an economist watching this disaster, I was mainly horrified. But I couldn't help also thinking, "Welcome to my world." My sense is that many medical experts are still shocked to see what should be matters of science utterly politicized. But in the social sciences it has been that way all along. Those are extracts from a newsletter you can sign up for, from Paul Krugman, NY Times' economics columnist and author of the much-aforementioned "Arguing with Zombies" (He coined "zombie ideas" for the convenient beliefs that won't die.)

Krugman might have added that many sciences have gone along, publishing discovered truths and getting minor notice for them, until their truth offended Money, and a War on Truth began:
Cancer researchers were uncontroversial, discovering carcinogens, until one of them was tobacco. Instantly, there were a thousand new "cancer experts" disputing their every comma and period.

Physicists and chemists who went into climatology, and researched how forests moved, and glaciers retreated, were ignored... until they said that burning hydrocarbons was a global problem. Suddenly, they were part of a giant conspiracy.

Vaccine researchers could have warned their neighbours, the epidemiologists, that there's no record of success so overwhelmingly positive that you won't be suspected of serving Satan. How hopeless to be an epidemiologist, getting things right maybe 70% of the time, when the gang with the 99.9997% track record are hated?
Really, the "stolen election" beliefs should make us all heave a sigh of relief. It's out in the open now, how deep the delusions can run, how utterly impossible it can be to argue "on the evidence".

It was kind of marvellous, their impenetrability to data. Fifty losses in court? Nah. Two of them at the Supreme Court, with the three shiny new judges? Nope. All the Republican Governors and Returning Officers earnestly pleading that they'd done their jobs very carefully, and checked twice, every ballot was watched by scrutineers? Nothing.

My final straw was the very Republican, vote-suppressing Governor and Sec. State of Georgia, patiently explaining that the video of "ballots being pulled from suitcases", was selectively-edited CCTV footage of ballots being taken back out of official storage boxes they'd been put into for the night, before the counters were told they were going to keep going in overtime. It was the constrast to the glee with which the stolen-election believers had brandished the video as absolute proof that got me: engaging with such people is utterly hopeless.

When I got to the forum where it was taken as obvious that the Capitol rioters were really antifa agent provocateurs, I didn't bat an eye. No denial is surprising now.

It's like a joke-phrase from a cop show, or something, "I wouldn't believe that guy if he had two judges as witnesses". You can save your breath, even if you have two judges. Or three Supreme Court Judges. We can all stop arguing now. Just discuss the matter long enough to find out whether your respondent sounds like one of them, then smile and ask about sports.

The War for Science goes on; but the effort has to be at education, a focus on the young. One must engage with elected officials, but arguing with fellow citizens who've made their decision, just takes energy away from something that might work.
---
January 19: Nice To See Some Creativity
There's a need for positive news, so often. I'm aching to report good news about the curve being crushed, and while other news are already noting reductions in both Canada and even the US, I'm reluctant to jump on board without a few more days of data.

So, today's an easy and quick one, just a recommend for this upbeat little article in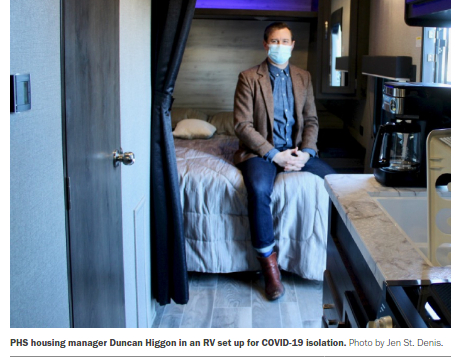 The Tyee, about a shelter buying RVs to use as isolation accomodation.
Brilliant. Creative. Simple! Effective.
Living in a car, RV, or van - "down by the river", or better yet, in a Duke University parking lot so you can afford your degree, is a problematic solution to housing, for society, but a brilliant one for the individual.
I was much taken by an article in Harpers in 2014, about "Workampers", seniors who lost it all in the crash, and had to work into their 70s, with no home any more but a van or RV. They were (and are) like modern Okies, working the summers at odd jobs, seasonal packing at Amazon warehouses, and wintering in vast Arizona RV archipelagos, "economically dormant", spending a few hundred a month on food and the lot.
The article was about how bad our society is that old people are driven to this. I agree, but their own personal, creative solution for their plight filled me with admiration, as with Ken Ilgunas, and his Duke University success a few years earlier.
It's just an efficient use of resources: a "tiny home", that's not a hipster DIY, but factory-made, with mobility, and with no (permanent) real-estate costs. The workampers further benefit from a consumer society that sells off a camper for under $10,000 when it's old and dowdy, but has tens of thousands of miles left on it.
And here, with the pandemic, the "bad" thing about a camper - that it's just a tiny place with the cold outdoors all around it - makes it the perfect isolation ward for one.
Congratulations, PHS! Smart thinking.
Society in general, however, is only shown up as uncreative dummies, for missing this as a larger solution. ATCO didn't start off as a multi-industry giant that owns the Gas Company; it stands for "Alberta Trailer Company" and got stinking rich selling modular work-camp trailers to Saudi Arabian projects at insane markups. If they'd been called a year ago, they could have created trailers that had four or five of these one-person "wards" per trailer, for a few thousand each, once they were stamping them out every hour.
We have to think this out for next time.
---
January 18: Also a Sign of Poor Resilience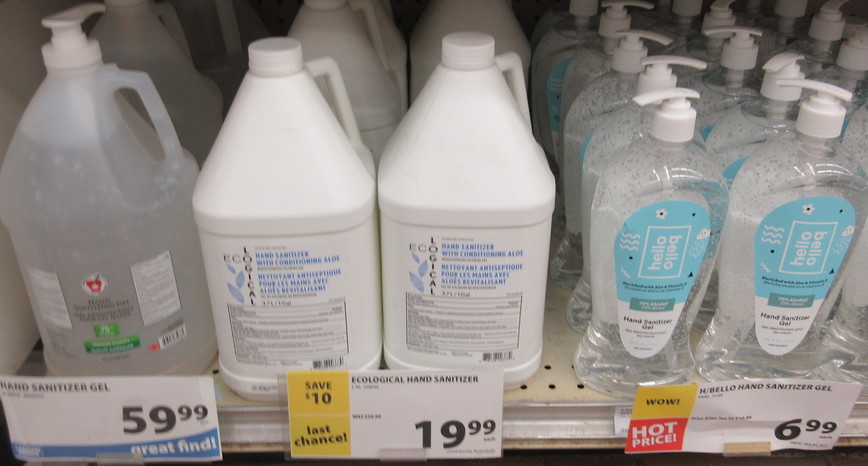 Good 'ol Free Market: it can be counted on to produce huge bounty and low prices - after the emergency is over, and the overproduction has to be dumped.
You have to pity the fool still trying to market the same thing at $59.99, on the left. If ever there was a commodity, it's a straightforward chemical. (Though single-malt sanitizer is probably available on Rodeo Drive for $299.99 a tube.)
"Resilience" is basically about "inefficiency". An overstaffed crew is resilient against losing a guy or two; a resilient hospital has spare beds. Modern commerce is all about eliminating all resilience in favour of "just in time", which is impossible if you have a sudden new need.
It wouldn't kill society to have warehouses of hand sanitizer around at all times. The warehouse cost, for a whole society, would not be that high. The stuff keeps forever, you'd just have to cycle the warehouse contents every year or so. The point could be multiplied by a lot of other things that society might have sudden need for. We always have a lot of spare clothing about in stores, but normally have just seven days of food. We never got down to handing out MREs by the Army, like they did in Contagion (and ran out), but then, this wasn't the worst pandemic possible, at all - a really bad one would shut down whole industries and disrupt them all.
And then there's stores of temporary housing and repair materials, in the event of really major earthquake, the other happens-every-century event that nobody prepares for, because, well - a whole century. But it's coming.
The other place to store spares and have resilience is yourself. We didn't need to hit the stores for hand sanitizer; I'd seen Contagion! We had two large bottles and a small one, for years. (We still have most of them; we mostly just washed with soap a lot.) We also have a few weeks of canned food, which takes up little storage space and costs nothing, since we cycle through the food anyway.
That Free Market has been in for some praise, lately, people pointing out how fast those despised Big Pharma companies swung into virus-fighting. Well, sure: with seven billion sales in the offing, that was no surprise. It's low-profit vaccines and resilience that they suck at.
---
January 17: "American Carnage" ? Try, "American Holocaust"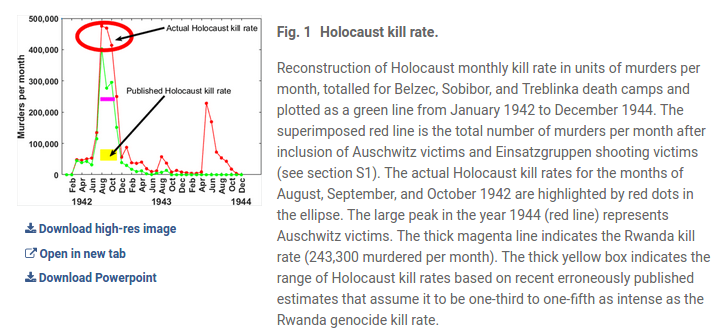 The round number of "400,000" clicked up on on Worldometers for the USA a couple of days ago, and the news headlines are now quoting it. But I think everybody is numb to the numbers ticking by.

I was wearily wondering whether to bother to note the point - about 426,000 - where the death-toll would equal the sum of military losses in every American war, subtracting only WW2 and Civil - when random searching turned up the coincidence that this is also nearly the number that died in Auschwitz. (Auschwitz itself was just a fraction of the whole 6-million of the Holocaust.)

Which brings us to the death rate. Historians are still sorting that out, since a really well-run Holocaust (at least fascists make the ovens run on time) leaves few witnesses. While the Nazis' "Operation Reinhard" did kick the rate up to 15,000 bodies per day for over three months, most of the Holocaust rarely hit 100,000 dead per month, or about 3,000 per day.

America is now going to hit that 4,000 per day as an actual rate, not just for Monday spikes catching up weekend reports. They're in Holocaust territory. Granted, America's "death camps" are hospitals, desperately pumping oxygen into human bodies to save them, rather than cyanide to kill them, but the output remains the same: over 100,000 cold bodies in the next month.

If you were getting numb to it, I hope this simile brings back your sense of horror. You're welcome.
---
January 16: Alberta is Half as Smart as BC ... and Getting Dumber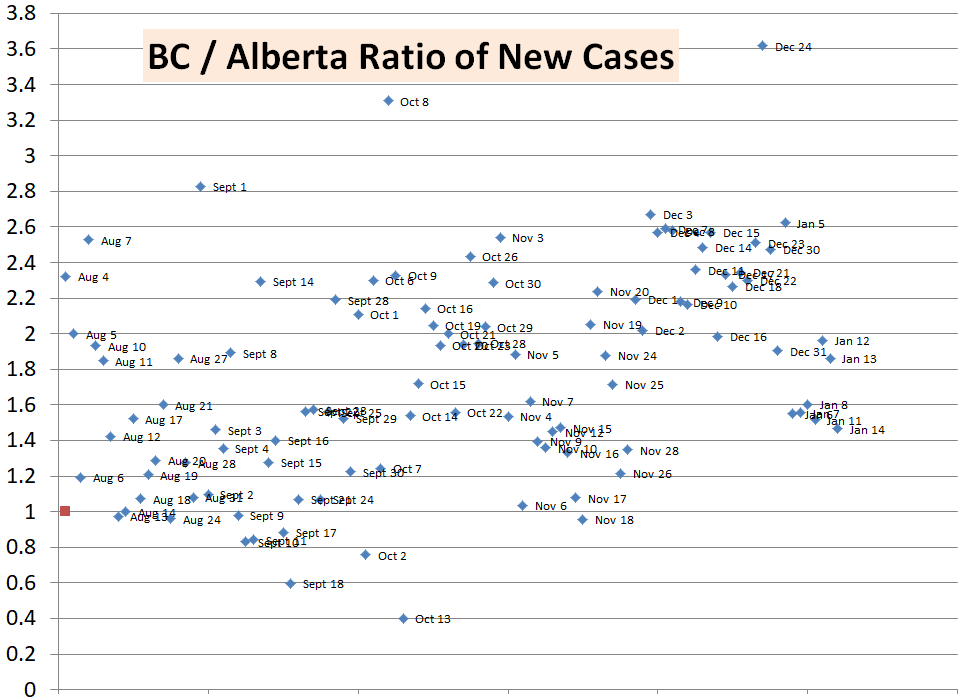 It's not just California and Canada that can be compared, straight-across, because of very similar populations. BC and Alberta aren't that different, either.

Sure, BC is more like 5 million, and Alberta just 4, but that only shows to Alberta's benefit, gives it a 20% advantage on the graph at right.

The graph just shows the number of "New Cases Reported Today" in BC, divided by the same report from Alberta, for the last 100 days or so, the whole second wave. The case counts in August are down below 100, mostly in the sixties for Alberta and the thirties and forties for BC. I noticed that Alberta always had about twice the count of BC way back, during the first wave.

I'm not sure why the ratio continued. As you can see the BC-over-Alberta case ratio was almost never under one, was mostly about 1.5 through the early Fall, and has been trending upwards in recent months, past two, now nearing three.

I didn't bother with a trend-line. This is a very dispersed cloud of points, and even hinting that it comes close to a steady relationship would be wrong. In fact, CCCC is inflicting all this data on readers because it would have been wrong to just write "BC is twice as smart as Alberta", without clarifying just how very rough that "twice" is.

The question is really whether the overall "dumbness" I'm poking Alberta for is because of the "cynical spreaders" identified by an Angus Reid survey back in August. Angus Reid defined the term as "those who flout public safety rules, have expanded their social circles to larger groups including strangers, don't physically distance, and are ambivalent toward handwashing and mask-wearing, among other actions", according to this CBC story a few months back.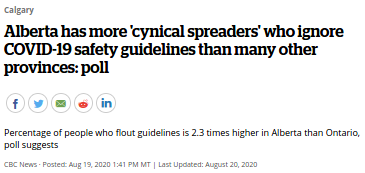 .
What's interesting is that the story identifies 18% of BC residents as "cynical spreaders" and 28% in Alberta. Are the cynical spreaders most of the story? Or is Alberta a higher-case-count than BC because of different types of work, different housing?
We know that it's the Pareto Pandemic, with 80% of transmissions coming from 20% of infectees. You'd only have to increase the number of superspreaders a bit to get a large increase in cases.
It's tempting, of course, to blame Bad People for Bad Events. Then you can do something about them. It's a lot tougher if it's just Alberta having a lot of high-transmission workplaces, and you have to start picking on businesses.
I'm really waiting for the big report that will come out in 2022, or late this year... the one that has the data we're currently being denied:
How many cases come from in-home transmission?
How many cases came from hospitality business (bars, restaurants, hotels), resorts?
How many cases came from working together in offices?
...Manufacturing?
...Resource extraction?
...and, of course, social contacts.
Somewhere in there, we really need to know how many cases were caused by "cynical spreaders".

So we know whether to be just angry at them, or take more legal action...next time.
---
January 15: The "Virus Passport" Question
I was disappointed that the PM is against passports.

I'm in favour of "divisive". I want to divide the world into vaccine-acceptors, who are welcome in newly-opened theatres and bars, and idiots, who are not.

I want there to be strong reasons to get the jab. (Like keeping, or getting back, your job.)

But also, the concept of passports might let us get a 10% jump towards that holy 70% immune state. There's the silver lining to the virus on such a ferocious tear right now, with the CDC warning that the more-transmissable variant will soon be dominant.

If we started now, while we are a month or more away from general-population vaccination, handing out passports to all the survivors, the sad truth is that nearly 10% of Canada, and well over 10% of America, are probably immune already. Give them the cheap antibody test, a passport, and firm instructions to get vaccinated anyway - sometime in late September, when the rush is over and 70% already achieved.

I know that many have said that immunity is uncertain, may last as little as six months. But it's just hit the wires that immunity declines only slightly over the first eight months, so you probably have at least a year - and the great bulk of infections have been since Fall.

We could jump from about 2% at the end of this month, to 22% at the end of February - because we vaccinated 10%, and handed passports to another 10%. By the first day of Spring, maybe 33% - and the bars running full-blast, with people toasting their new passports, and anti-vaxxers with their noses pressed against the window, complaining. (What they do best.)

In my dreams. Oh, well.
---
January 14: In A Fearful State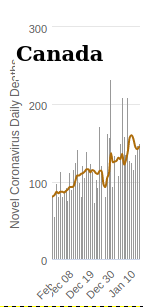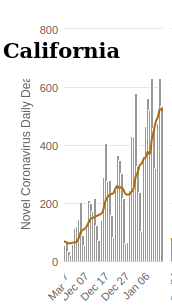 Reader Allan Beairsto pointed out last night that California, most populous in the nation, actually has 4% more population than all of our nation. Statistics between Canada and California compare almost exactly, per capita.
And what a chilling comparison it is these days, for California. Going left to right across the worldometers, you immediately note that they have four times as many total cases, 7% of population - but less than twice as many deaths. Do we have double their death-rate because they've done so much more testing and found more cases? Or is it our care-home disgrace that makes COVID in Canada twice as deadly?
But, of course, the numbers in the news that slap you are SIX TIMES as many current cases, and OVER three times as many deaths.
Canada's failures at testing became a throw-hands-in-air non-story months ago. Perhaps testing isn't as important as we thought - perhaps if you have a more rule-following population that has better financial support to stay home from work, you get the lower death rate without all the testing. Testing isn't a goal; the life-saving is.
We'll have to come back to California in about a week. Frankly, all the stats are still so messed-up by the "Double Dips" in data noted yesterday, that it's still too early for me to see Canada's case-load and death-counts in clear decline, though the last few days of numbers bring hope. California, on the other hand, is coming out of the data-fuzzing time with both the case-count, and especially the death-counts, still headed up, up, up.
It's not just that the scales on the two graphs at left are much larger - it's that direction of the curve that's terrifying for California. This is after they went under heavier restrictions in early Dember - clearly, totally ineffective, and no sign so far that only the holidays are to blame.
I've got no conclusion. I'll just say, I think today I'll put my picture of Canadian flags at English Bay beach on Dora's Page. I'm very grateful to live here and not there.
---
January 13: American Dips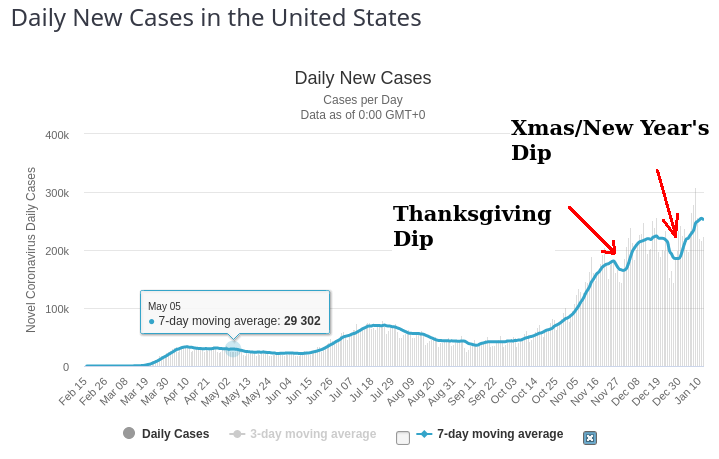 The many emotional stresses of the pandemic are wearing me out, from writing about the pain of so many. I'd like to write about jail vaccinations, and the care-home in Chinatown that's kept a zero case-rate, but it's wearing.

So I'll just write about numbers and graphs. The news noted that the USA had another record-breaking death-count yesterday. Something over 4,300, though my fave, worldometers, was 'merely' at 4,281. But the high number may relate to just catching up from the weekend - worldometers was at only just over 2,000 yesterday, and under 2,000/day on the weekend.

For months, the "weekend dip" has made it folly to look at anything but the seven-day moving average of a pandemic statistics graph. (Blue line, at left.)

The holidays caused data-losses and data-delays that were worse than that, however. Reporting was so constrained over American Thanksgiving, and even worse over the Christmas/New-Year's two-week period, that the graph of increasing cases has these prominent dips - which are then "paid for" by untruthfully high numbers after the dip.

In short, I'm saying that America is not yet really losing over 4,000 lives per day. It is probably reaching 3,500, however, and the case-counts (again, see left) are still increasing. Pandemic responses with restrictions and behaviour are local - can it be that the whole country is so distracted by their political drama, that they are just not doing pandemic response, not even as late and partially as Ontario?

They are certainly headed for 4,000 and more per day, with all those cases coming. I have hope that Canada will see major improvement in February, but I think the USA is going to keep getting worse for weeks yet.
---
January 12: Random Statistics
Number of vaccinations in Canada in one month: 377,221

Opioid Prescriptions filled per month, 2015: 1.59 million

Outpatient Clinic Vists per Month, Just Surrey Outpatient Hospital: 11,166

Bottles of Liquor Sold in BC this month (via Canadian average): 1,096,491

Number of Massages (or other "alternative health therapies" covered by insurance): 877,193

We are a large, wealthy, powerful society. We spend $415 per person per year, just on cosmetics. We have huge distribution chains, shipping and transportation for hundreds of different products delivered to each citizen, every month. We also deliver complicated services: one-sixth of the population (in theory) gets a dentist visit each month. (Dentists are able to give needles, not just into your arm, but your mouth, safely.)

When you hear a politician or public health employee describing the vaccination project as large, complicated, or difficult, stop listening. It may be so - for them. They haven't done it before. They aren't Shoppers Drug Mart, or London Drugs, or Safeway. They don't know a thing about real distribution problems, about scale. They're used to dealing with quarter-percent of the population that need their services at any one time.

But you know who does deal with the whole population all the time? Shoppers Drug Mart. London Drugs. And Safeway. And Canada's 21,000 dentists that process one-sixth of the population, every month.

Public health are not the part of our society to do this. They've shown that they can't do the job. They've been given a reasonable amount of time to show what they had eight months to prepare for. They have failed.

Pass the job to those who can.
---
January 11: Not Used to Being Worse than America
CCCC has been kind of a hotbed of America criticism since it started. Indeed, it started off predicting America would be the worst.

America doesn't think much of itself on the vaccination front, lately. If you see "vaccine" in an American headline, it's probably for a story about how unsatisfied they are to have just over two percent of their population vaccinated, so far.
Canada, for four straight weeks now, has been doing only one-third that well. Now, understand, most of my upset is at the actual terrible performance, not at being beaten by America in some game. Consider that performance.
Alberta and BC have been racing each other for "best" for a week, and Alberta has pulled ahead, with a full 1% of the population vaccinated, to our 0.9%! (We are beaten only by tiny Prince Edward Island, which is so small, it has the advantage of going from 1.2% to 1.3%, if they can just vaccinate the whole McGillicuddy clan today.)
Today's number, in the vaccination tracker, for Alberta and BC combined, is 91,203 vaccinations for ~9 million people, for that ~1%. The two provinces have 161 hospital-care facilities each, or 322 total.
Not claiming that every hospital is a vaccination site, or that hospitals are the only ones. Let's just compare the size of the medical resources available to the work done. "91,203" sounds like a lot, but it isn't.
91,203 vacciations / 322 hospitals = 283 vaccinations per hospital
Canada averages 2.5 hospital beds per thousand people. If Alberta/BC are typical, then we have done under five vaccinations per hospital bed.
The first vaccines arrived in BC on December 14. But, hey, let's round the number of vaccination days down to 20, so I don't have to grab my calculator. 283 over 20 is barely fourteen vaccinations per day, per hospital.
What I love about good data is that it requires no comment.
---
January 10: How Science Does NOT Work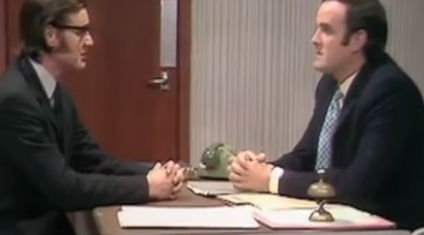 There's no "International Journal of Claimed Truths About Physics". So there's no "International Journal of Fact-Checking Physics Claims".

Nobody gets to write an article that just asserts that plutonium is really safe, and all nuclear safety protocols are a hoax; at least, not and get any reply. They can put that on a sign and wander the streets, attempting to engage. Science sees no need for journals to do work to prove assertions wrong.

No, of course the way that science works is that if you have a claim, you yourself must gather convincing data, then publish it to support that claim. The onus is on the claimant.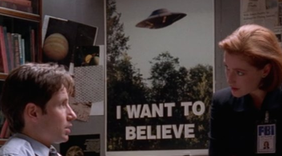 But it does seem to work that way in politics and journalism.

Paul Krugman has now been doing the prove-em-wrong side of that game for thirty years, and wrote a book, Zombie Ideas, about having to beat down the same propositions, over and over (tax cuts pay for themselves, minimum wages kill jobs). "Zombie", because, though "thoroughly refuted by analysis and evidence, and should be dead - but won't stay dead because it serves a political purpose, appeals to prejudices, or both."

You can't reply to trolling with science. In effect, journalists fall for this, over and over. Some days it seems like half the op-eds are professors patiently debunking some outrageous claim from a politician that the politician never showed evidence for, and will repeat again and again after the "debunking".

The notion: that lockdowns to "crush the curve" are harder on the economy than letting the virus run free, has been debunked (and shown wrong in practice, by Australia, Taiwan, and others) - nonetheless continues to be the backbone of most arguments!

The dynamic is actually captured in the famous Monty Python comedy sketch about "I'd Like To Have An Argument, Please",(upper left), where the guy paying for proper argument complains that the other side is just contradicting him, not establishing "a collective series of statement to establish a proposition" .

The other side, meanwhile, is working the X-files dynamic: "I Want To Believe". When somebody is fitting their data to the beliefs, the diametric opposite of science, you are wasting your time like arguing with John Cleese in the sketch.

It was kind of (sick) fun to troll, but the really important skill is learning not to be trolled. It's fair to give people one chance to respond to data, but if they don't address the data itself in their reply, you have to disengage immediately, not continue.

Politicians need to just get up and say it plainly: "The notion that fighting the disease costs more than accepting the disease is wrong. It has been proven wrong. Whole nations now have economic recovery, proving it wrong again, and again, in practice. Continuing to claim something so proven wrong is a lie, a contemptible, vicious lie that is killing people. It doesn't deserve any more of our time to reply to it; the lie deserves only our contempt. Stop insulting our intelligence".

We've had enough trolling. The trolls have killed too many, already.
---
January 9: The Sick Joys of Trolling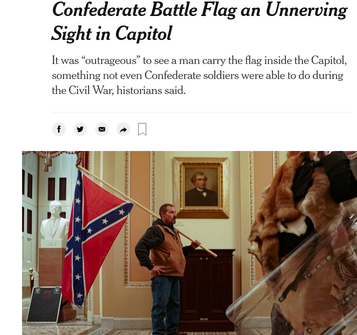 An exceptionally political week - crossed with new records in death-counts that have a pandemic blog mostly whining for attention, 'Hey guys, while you argue, people are dying'.
But, of course, it's been hard to look away from the greatest news trainwreck, and it's hard for me to shut up in the comments column, and I discovered that I'd accidentally become a troll. This is off-topic of the pandemic, except that wild Internet conspiracy theories (masks, HCQ, virus-hoax, vaccines...) propounded by Internet trollling are a major problem with the pandemic fight. But the first troll (a failed effort, stopped by the vigilant National Post) was just about Jonathan Kay's extraordinary claim in the National Post yesterday that "The Storming of the US Capitol Wasn't About White Supremacy". I'd just come off the story at upper right, so I felt an urge to comment with the screen-snap at left.

Alas, the screen-snap is all that remains. It won't appear on the Post; the tag says "Content Disabled" which only links to the note "violates our content guidelines". I was a little puzzled. There were no swear words, no insults to any person. I just called a hypothetical person with a flag, a "redneck".
I was actually proud of it; I referenced both the hugely popular Jeff Foxworthy comedy routine of 20 years back, and Maya Angelou's "believe them" quote, and was brief, for once. So what was my sin?
I can only figure that, for the National Post, "redneck" is a racist-like insult, I should have spelled "r*****k", and Jeff Foxworthy needs to be "cancelled" or something. No more references to THAT comedy routine! I'd thought that the enduring popularity of the Foxworthy routines positioned "redneck" as a proud subculture, like "hippie", "nerd", or "cowboy".
It's either that, or the National Post figures that "White Supremacist" is an unforgivable thing to say. I'd rather not go there. (The sensitivity to "redneck" is doubly-confusing because it started off as a name for left-wing labour movement protesters. Yes, really.)
What was far more disturbing, was how amused and even a little delighted I was by the revelation of their sensitivity to the word. Whose the 'snowflake' now? Nyah, nyah! Weird.
So, today, I performed a trolling experiment. Not so much on the National Post, as on myself.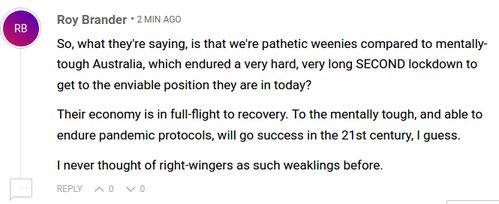 Today, the big top headline in the paper was a story about how a second lockdown - clearly absolutely needed in Ontario and Quebec, as their ICUs buckle under the still-soaring load, that "Curfew to curtail COVID-19 spread might just worsen public mental health, morale".
Neither you nor I need much summary of it: there are no new studies mentioned, there's no actual news about the headline-topic in the article. Just a review of long-known studies that lockdown is hard on you. It didn't deserve top-billing as "news". So I figured it was a good place for my experiment, at right.
As you can read, especially the last sentence, it's insulting; it's trolling for an emotional response. It's not great trolling, since it starts with actual information which is correct. So I added the last sentence for the required deliberate nastiness. Since the whole alt-right tone is about"strength", and "toughness", and manliness, conflating pandemic protestors with "weakling" is about as inflamatory as I could get. Without swearing or saying "redneck", at least.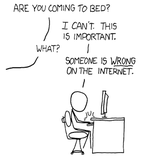 I have no idea how the NP, or the right-wing commentators I was trolling, will react. But the need for the experiment was validated when I hit the POST button: I was immediately filled with a smug, smirking, satisfied sensation. It was nothing at all like the good feeling I get when I construct an argument I'm proud of on this blog.
That's why they do it. I've let myself get mad this week, and it pops out as anger at those still whining about public health measures even as the dying gets worse and worse. So I was filled with this unholy glee at tweaking their noses.
It's not a good look. It's not, not really, a good feeling. The notion that people sit at the computer all day, getting hit after hit of that unholy-glee, smirking feeling, to feel better...man, I get it now. And now that I get it, I feel that much sorrier for them. The anger will come back now and again, but more and more, just sorry.
---
January 8: One Point One Two, Zero Point Eight Eight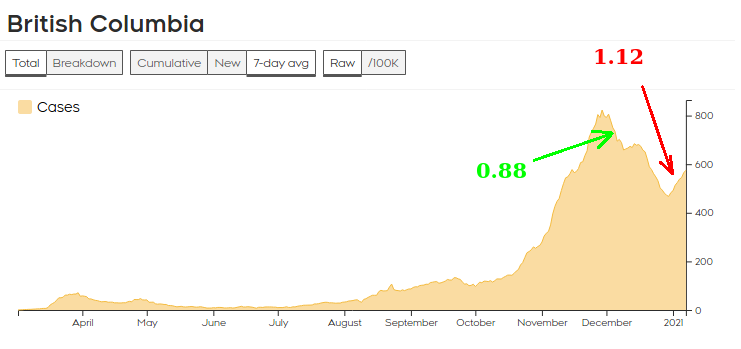 I'm quite pleased with my little innovation the other day, of just taking the 7-day average case-load from a graph, five days apart, and calling that the "R" figure for the population graphed.

It's an outrageous simplification that no real epidemiologist would stand by; I've realized my superpower is my ability to ignore proper science, when a rough estimate is all that's needed.

It's actually the superpower that Engineering has over Science, the big difference between us. Scientists seek Truth, and have to get things right. Engineers seek A Probably-Good Answer By Wednesday, and sacrifice ultimate truth for expedient results. (And that's Civil Engineers! Man, Military Engineers are stacking the bodies in the mass graves, while the Scientists have finally concluded that the enemy was about to attack.)

The confirmation that Yeah, We Are So Screwed came yesterday, when Dr. Henry announced a still-higher case-load, we are absolutely back to growing again, after those two heartening weeks of decline; all the fears about holiday gatherings have been proven right.

But look left for the good news: the fairly-fast decline was an R of 0.88, just a loss of 12% every five days. The current growth is a mirror: 12% gains in cases every five days. Considering how far below 2.8 that 1.12 already is, the additional restrictions to get us back down to 0.88 should be small.

We can do that. My hopeful timeline for low, summer, case-loads by the end of January is shot, of course, but we could still get there by Valentine's Day, if we could get even a little below 0.88 for the next five weeks.

CCCC will be hectoring for that, for a while yet. This is the point in the Big Football Game movie, where the team are bruised, and tired, and down ten points, going into the fourth quarter. It's time for the Big Push.
---
January 7: Joke Day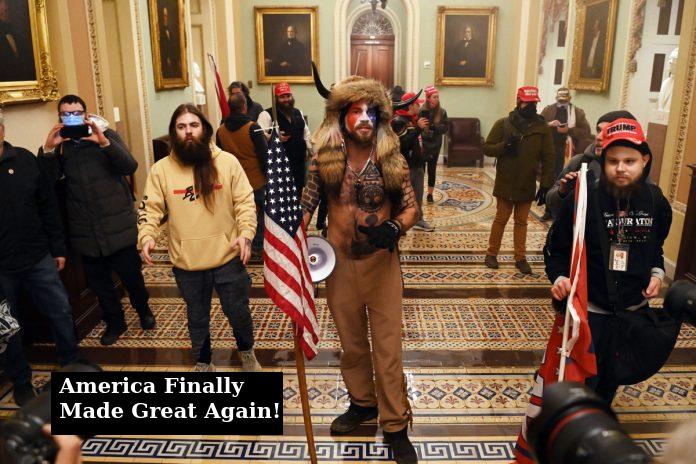 So, worldometers was mostly just catching-up delayed reports, yesterday, when it ticked over 4,100 deaths in a single day. I don't think it will continue at that rate. At least, if it does, I just blew a fuse on thinking about it, on top of everything else.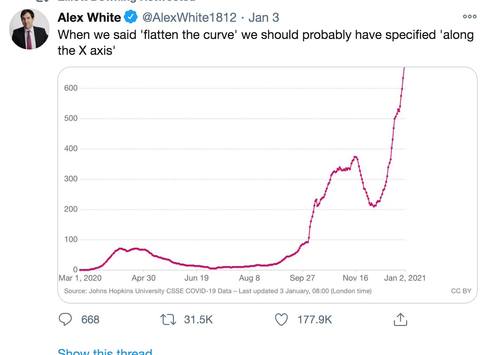 The images of packed crowds, the story of the many congress members packed into a "safe room" for hours, with the right-wingers smugly refusing face masks the whole time...on the same day as 4,100 dead, really were a bit much for the ol' fuse-box, sorry.
The credit to one Alex White, a few days back, will have to serve for the math joke, a subject I'd rather retreat to, today.
No, heck, back to politics. Here's my joke from yesterday, at which even my wife did not laugh:
Today, America waits with bated breath... to find out whether it will continue to have a bad heath-care system because Republicans keep control of Congress, or because Joe Biden won't do jack for them anyway!
Sorry.
As you can see, "Joke Day" on a pandemic blog is pretty dark humour. But, relax; there will be no jokes about coffins and ventilators. Just, "This is the perfect time to close the border, when all the Conservative politicians are outside!".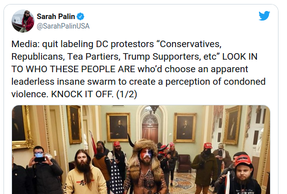 There's little need to joke about the, umm, "pro-Trump activists", who, as you can see at upper left, are better at making a joke of themselves than any snotty coastal elite liberal could ever do. Yesterday does make one wonder if this show will ever, ever, go over-the-top and cause its own believers to suddenly realize they're delusional.
But, no, I don't think that will happen. It's not just because of the Sarah Palin post at left, which uses the exact same image I found so funny this morning. It angrily disputes that a mob that was on TV the whole time it walked from the White House incitement speech, to storming the Capitol, with MAGA and Confederate flags flying...was actually a MAGA crowd, was not "antifa false-flag".
(Now, that's funny.)
No, I know that most supporters are unreachable, because a good friend and relative of mine today posted about an important political issue on Facebook: that a self-proclaimed "BLM activist" (with no actual ties to the organization, when you read the article) had tweeted joy at the death of a police officer. That was the big issue, this morning. She spent the summer proclaiming her support for "law-and-order", of course.
So, no. Events like yesterday's will have no effect on the political support these people enjoy. About all it will do is make jokes of them, to people who are still reachable. I can only hope that their pandemic opinions are taken more and more as jokes, very dark, very bad jokes, as well.
But my favourite?
"I'm just wondering why not one of these conservative, mask-hating televangelists have shown up at hospitals to perform miracle cures on even one Coronavirus patient."
Not funny?
---
January 6: The Hardest Vaccine Calculation
Where do I fit in? At what "priority level" do I sit?

I'm forced to calculate that I'm at the bottom of the list.

My simple calcuation yesterday used that R-factor of 2.8, as if every infectee went out to find 2.8 people. But as CCCC readers with photographic memories all know, this is the Pareto Pandemic, where 70% of infectees infect nobody, 10% infect one person, and 20% infect a dozen.

By vaccinating the old who don't have jobs and don't get out much we miss the opportunity to crush the curve with the vaccines by prioritizing the superspreaders.

That is a second priority, I think, because the current wave is killing so many in care homes, again. We are driven to save them with vaccines, because the care-home industry has failed - again - in full view, with warning, they failed, again. What do we have to do to get some standards? But, as a very famous failure put it, the situation is what it is. One cannot but support getting those vulnerable people out of harm's way, ASAP. (And CCCC's support for remote First Nations communities, which need just a few hundred jabs apiece to let the whole community breathe free, is on record.)

But the really vulnerable are just a few percent of the population. At the 10% mark, they'll have all the health-care workers, the very sick, and everybody over 75. At that point, priority should turn to people of any age and health status that have to work in any kind of contact with others - everybody who cannot work from home, in particular, everybody who is near anybody else on the job.

Because people often start in manual labour and other blue-collar work, that will dramatically shift the priority group to those in the 20-40 age band, who have almost zero risk of dying from the virus - and unvaccinated sixty-somethings like myself will be checking into graveyards for months of that.

But I have very good options to keep myself safe. My 88-year-old mother-in-law feels so safe, we'll have to drag her to the vaccination, I suspect - because she has her groceries delivered, needs nothing else, cancelled Christmas, and doesn't come within three metres of anybody at her door. Retirees don't have to go out. We'll have to use the threat of not coming for Easter to get her into a clinic in April.

So the safest people, if they aren't stupid, are retirees who retired young, in their early sixties and late fifties...like myself. I'm afraid my system puts me at the end of the line. At least I can proudly proclaim it, and not be accused of directed reasoning.
---
January 5: The Simplest Vaccine Calculation
The simplest vaccine calculation is the only one a non-epidemiologist can do. What the epidemiologists can do, I suspect, is toss out a number with the hasty, boldfaced, disclaimer "has huge error bar!"

The simplest vaccine calculation you can do is for the end-state, where "everything is back to normal", and people behave like they did in November of 2019. Back then, the best number anybody had for "R0" was 2.8 - the average infectee went on to infect 2.8 others.

An average of five days later, the 2.8 would each infect 2.8 more - it works out to doubling twice a week, as case numbers did, in the very early days.

The vaccine doesn't require a lot of math. Say it reduces chances of infection by 90%. So that "2.8" just becomes "0.28" infected, assuming the infectee contacts nothing but vaccinated people. If half the people she encounters are vaccinated then it's:

New R = 50%(2.8) + 50%(2.8 x 10%) = 1.54 ,

as your new "R", for a population where half are vaccinated, and half are not, and (crucial point) everybody behaves like it's November 2019, which they assuredly won't, if only half are vaccinated.

We are currently struggling to get R down to one, with some success in most parts of Canada, so vaccines can only speed up the reduction. The question is at what point people will start to misbehave on distancing, faster than vaccines can make up for it. If people are dumb enough, we could well stumble into a third wave in late spring, with half the population vaccinated. Re-read the number above: if everybody went right back to acting "normal", then R would be well over 1.0, at 1.54, and away we'd go with a wave.

Shrinking the case-load, and keeping it down, will have far more to do with those "safe behaviours" that CCCC champions, than the effects of vaccines, well into summer.

The math does let you "prove" that "70% of population for herd immunity" number that you've heard since vaccines were first discussed:

Thirty percent would still be at 2.8. Seventy percent would be at 5% of 2.8, so:

30%(2.8) + 70%(2.8 x 5%) = 0.938

...or just enough under 1.0, that an outbreak would fade away, not grow. Dr. Fauci recently upgraded his estimate to 80%. This may reflect his concerns about the "new variant", or just conservatism on that original 2.8, which was always, really, "somewhere between 2 and 3". Even the simplest of these calculations has quite an error bar.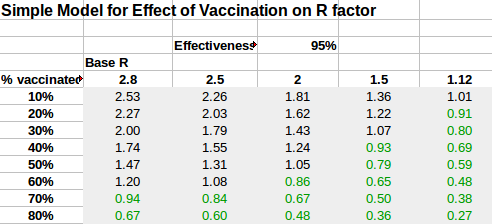 Such models should be labelled "for entertainment purposes only", but they can help to understand the basic patterns. At left, a table that assumes the vaccine is a wonderous 95% effective indeed, which dramatizes its effects a bit. It gives the declining "R" as a function of total vaccination, based on different starting growth factors the population may already have.
The last column is for Ontario, today. Consider that Ontario, in the news last night for horrifying new case numbers, has doubled those numbers in a month. That's six of those five-day "generations" of the infection, so Ontario's "R" for the last month has averaged 1.12. (1.12 to the sixth power = 2.0)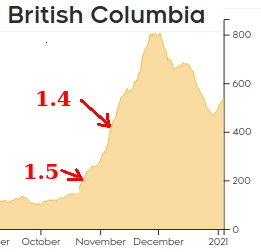 If Ontario could keep up that level of distancing, then 1.12 could become 0.99 with just a bit over 10% vaccination. But, they aren't getting there for a month at least, even assuming vaccinations increase ten-fold this week. By a month from now, their behaviour will have changed, presumably for the better, as holiday visting ends, and the endless upcoming news of dying people sinks in again.
It's going further out on a limb than a professional would (which is the value of asking a non-professional, with no reputation to protect - and not burdened with too much knowledge that might lose me in maybes!) to use the graph at right to estimate some early effects. The "1.5" and "1.4" at right, are the ratios between case-loads, and case-loads five days later - an estimate of R for that month in BC. It was the great surge of our second wave, up to our present plight.
But we got there by staying for over a month at just 1.5 - the result of all our many bad-behaviours, from Thanksgiving suppers and parties, to more outings to stores and restaurants, all the controversies in the news at the time. Still, that's way below 2.8, because many things like theatres were closed, travel reduced, schools observing distancing.
If we could just manage that lame, half-assed distancing that caused the second wave, but had 30% vaccinated, presumably around April, it would not cause a wave any more, just hold level or even decline.
So, here's the CCCC vaccination timeline, the news that no reputable news-source would dare to offer:
Until Valentine's Day, nothing detectable will happen. It will be absolutely necessary to have Ontario's "hard lockdown", and others like it, to crush the current waves.

Over February, the death-rate will plummet, because most of it is those very old people in care-homes, and when those homes hit herd-immunity numbers, most of the death counts will drop 80%, a few weeks later. (This will probably have a bad effect on people's attitudes.)

By late February, the vaccination rate per day, will finally get into meaningful numbers, a couple of a percent of the population per week. Presuming the lockdowns have crushed the curves again by then, we will be at that 10%, and could regress back to whatever behaviour levels Ontario has been displaying lately...but hold the wave down.

By April, at 30%, the BC-in-Fall behaviours will be safe, so Easter Supper with the Family will be On.

By Summer, at 50%, we will be safe with behaviours that got Italy into those packed hospital nightmares.
We will always have a 'reservoir' of bad behaviours to revert to, as the vaccines make them possible. It's like computers getting 10,000% faster over a decade, but people kept making them slow anyway, by wasteful behaviours with them. By summer, of course, it won't be the behaviour of Italy last Spring that will be demanded: the theatre chains will want their summer blockbusters back, which is going straight to the 2.8 column again.

Unless, of course, you can't walk into a theatre or bar without a "vaccination passport", which CCCC unreservedly advocates.
---
January 4: Why Are We Worse At Vaccination? Is it Really Supply?

We were, of course, warned that "We expect to have a limited supply of just a few million doses in the early weeks and months...". The PM took a few hits on TV while admitting it, though the fault would be Mr. Harper's, for failing to see years into the future and starting a vaccine factory ages ago. (Apparently, Quebec will have one in 2022.)

But we haven't seen "a few million" doses, at 3 weeks after the first shipment; we haven't seen one million. Or an eighth of a million, according to the CTV tracker at left. We have vaccinated less than a quarter of the population that the United States has, even as Americans call that "a slow start".

What's odd, to me, is that the media seem to be letting them get away with it. I'd have thought the National Post would be blaming Trudeau for every unvaccinated arm, where "unvaccinated" means the 300,000 more we'd need done by now to be at the same rate as the "slow" United States.

I'm kind of reluctant to base any posts on stats, just now; it'll be a week yet, I bet, before everybody is back to work, cleared off the backlogs, and generally caught up from the Christmas/New Year's staffing issues. I'm sure that the various case-counts and death-counts and so on, are off just now, though I'd be surprised if the vaccine work were affected, after the many apologies required when Ontario took off just Xmas and Boxing Day from the jabbing.

At the three-week mark, over holidays, one can also be a little forgiving of a slow start, for all the time they had to prepare. But they need to pick up their socks. They're embarrassing us. (And, statistically speaking, killing us.)
---
January 3: They Were Warned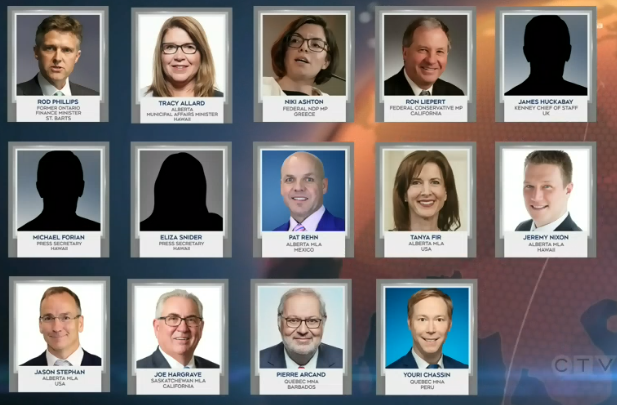 Britain went through this already. Waaay back in May, when it came out that Boris Johnson adviser Dominic Cummings took an April trip, based on his assumption that he was just sooo special. CCCC covered how pandemic hero Neil Ferguson dutifully resigned when he'd broken lockdown rules, between the time Cummings did, and when Cummings was found out. Ferguson had in fact been through the disease at the time, was presumptively immune and safe...but rules are rules, and Ferguson showed respect and contrition. He knew that leadership is by example.

Cummings never did; the big outrage was his failure to resign. Six months later, Johnson was still taking damage from it.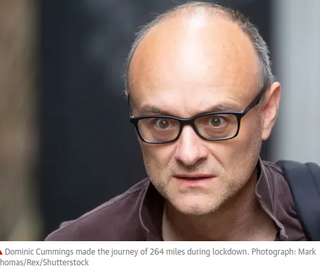 The real warning about how this is genuinely bad, not just political "bad optics", came from The Lancet on August Sixth. As the Bloomberg quick summary tells, survey results on 40,000 people showed that public confidence of the government dropped "sharply", and stayed down, since: the when you betray trust, you lose it for a long, long time. It's crippling to government authority, which depends on the public believing them.
Politicians' pleadings that their trips were "legal" under the rules were not new, either. Dominic Cummings said the same thing, that the trip was legal, and very necessary. That didn't help.
The rest of us have those excuses, too, but we didn't use them.
And all that was done and nailed down as new political wisdom, over four months before any of Jason Kenney's or Rob Ford's servants decided to ignore it. Political parties that cared about pandemic leadership, and saving lives, would have had presentations and seminars on the Cummings story, and the Lancet article. The public health bureaucracy, if it really needed a new fight in speaking truth to power, would have presented, respectfully, talks on how important it is for all the public officials to show COVID-rule-respect leadership, to serve teh public with good examples that will save lives.
The parties obviously did none of that. The failure is being portrayed as personal moral lapses, but it is also a lapse of political savvy and political competence. The NDP at least promptly fired their scofflaw; Ford depended on a voluntary resignation, but Jason Kenney, ever the political stumblebum, is actually doubling down the same way Johnson did, supporting Cummings.
Johnson may pay for that by not having to preside over the inevitable consequences of his Brexit, which may be exactly his plan. Kenney might lose his office, too, but I don't think it's a plan. He's too stupid.
---
January 2: A Conspiracy Theory I Could Have Believed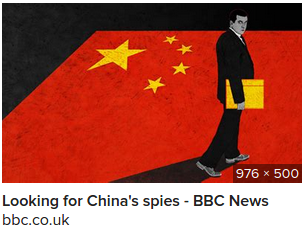 A friend on Facebook posts a lot of memes on topics related to pandemic conspiracies, many of them featuring suspicion of China. He recently derided me for my skepticism and urged me to 'figure it out for myself'.

Well, here's my very own plan for China to advance itself in the world and do dirt unto its enemies and competitors. If I'd seen something like this happening, I'd have been suspicious, too.

If I'd made the coronavirus in a lab (or just discovered it in nature, and contained the spread before anybody knew about it - same result) - and were a Chinese saboteur - I'd attack Taiwan, of course.

China has competitors around the world they feel ambivalence towards, because America and Europe and Japan are also their biggest customers; it doesn't do to too impoverish people who spend money on you. Taiwan, on the other hand, is an outright enemy, the home of those who deny the Chinese government even legitimacy.

I'd spread it around Taiwan, and Taiwan's major trading partners, entirely from Taiwan. Once some young spies had been through the virus and could handle it with personal safety, the spread would be precisely targeted by my evil agents. (Evil agents with Taiwan citizenship; I'm sure that China has had many there for decades.)

We'd spend the first week, just spraying the air in Taiwan's Jianguo Wet Market, to make sure the pandemic narrative had a believable start.

To make sure it caught on though, the next week would be around Taiwan's cities, and pump the spray into bars and other packed places.

Week three, as they're just starting to get cases from the Wet Market stall owners into the hospitals, we'd already be onto outgoing flights from Taiwan, spraying my virus-water into the cabin air. That would ensure it would spread to at least a few other countries. I'd pick flights to Taiwan's best friends. Taiwan would be blamed: the place it broke out, the place it came from. All Taiwan's fault.

Taiwan and China have no direct flights, of course, but entries from the targeted countries could be asked if they'd been in Taiwan lately. China, with much warning, would be tracking every person coming in, so they could chase them down later. The instant Taiwan announced anything, China could clamp down on visitors with testing (which would be miraculously ready in incredible time) so that China had basically zero cases, no outbreak, no casualties, because they protected themselves so competently from The Taiwan Virus.

By week four, all operations would cease, when the viral-growth of the disease, it's nature as a potential pandemic, just starting to be recognized.

What I would not do is what happened:

...the end result being a terrible global pandemic that can be laid at China's doorstep - at least to the extent that they could have contained it in Wuhan if they'd been honest and competent.

Taiwan, meanwhile, was basically untouched, because they did get enough warning, and displayed exemplary national discipline in masking and locking down, beating it handily. Taiwan shines as an example of competence, especially next to China.

Since many of the rest of us have displayed amazing incompetence of our own, (hello, Quebec care-homes), and because China is very economically powerful, they'll basically get away with it. I doubt if any "world court" of any kind will be convened to punish them with trade tariffs or anything (that would hurt us, too...)

But China bears great fault in the pandemic, and everybody knows it. There's even a "conspiracy", to the extent that they secretly bullied the WHO, and the WHO laid down for it. But still: everybody knows it. Many of their largest trading partners have been as economically damaged as by a war, and hundreds of thousands have died. (Best of luck to the Chinese tourism agencies.)

Sure, China's dictators are bad and heartless enough to infect their own people, if that had been the best way to engineer a deliberate pandemic - but it wasn't. My Taiwan plan would have been infinitely better, more effective, and cheaper((!) for China.

If what we got was a conspiracy, it was the most-incompetent one in history. Call me next time.
---
January 1: Meet VOC - When You're #2, You Try Harder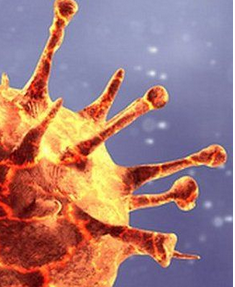 BBC has the first scientific results up about the new variant.

The UK researchers have also given it an official name, "Variant of Concern 202012/01" or "VOC". With luck, it will be adopted and cranks whining "Why say 'UK variant' but not 'China virus'?" can shut up, seeing as how CCCC has been proven right to note immediately that it would be found world-wide as soon as we looked.

The article is quite frightening, I'm afraid, at least from a restrictions-and-economic-pain point of view. While no more deadly, it is much more transmissable. Skipping the meaning of "R numbers" for once, the bottom line is that the restrictions the UK has been going through recently would not be enough to end a wave of this variant. Much more painful restrictions may be necessary. It may make the "essential services" more difficult and dangerous.

We have to remember that an epidemic can shut down a business with no government help: if half the meat-packing plant is out sick for weeks on end, it has to shut down. The uninfected, after getting a taste of how easily it transmits around a plant, or factory, or construction worksite, may just claim to be sick and stay home out of fear.

We've been thinking the next month or so will be bad, because of the baked-in case-load from the past month - but we could be looking at multiple bad months as it proves impossible to get the wave crushed, or crushed waves revive, the variant getting around all restrictions.

The New Year is traditionally time for straightening out, smartening up, going dry, starting exercise programs. The societal New Year's Resolution may have to be to Get Really Serious about distancing and masks and staying in - just the last news we wanted.
---
December 31: The Last Thing in the Box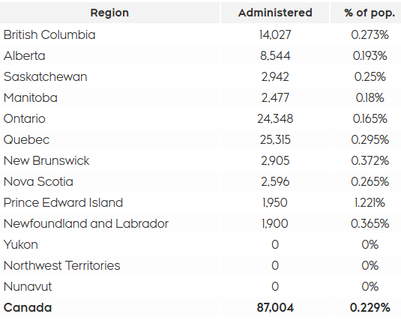 CCCC today completes nine straight months of watching people die on worldometers and other "pandemic dashboards" that track sickness and death.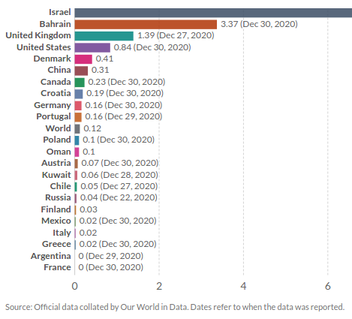 All the end-of-year pieces are out now on 2020, counting out all the terrible things that happened: Mideast violence, Australia and California practically burning down, floods, massive recession and poverty, and the worst disease event in living memory.
It's like Pandora's Box, the legend of all the evils of the world packed into one container, opened foolishly, letting all disease and war and disaster out into the world. But it's a legend about how we survive these: at the bottom of the box lay Hope - and it, too, flew out into the world.
So, today is the bottom of the box for 2020, and CCCC is pleased to offer a link to the new dashboard to watch: CTV's vaccine distribution tracker. (Also linked from sample graphics at right and left).
As CCCC has done, it allows us to follow along on the "competition" that isn't, the progress of the global vaccination effort, and Canada's programs. Unlike the bitter, ironic "competition" - at dying - on the other trackers, this really is a postive, actual race to follow. The countries and regions that deploy vaccines the fastest will have better outcomes in global economic competition.
The next month is going to be pretty awful in certain locales. While Canada seems to be getting a grip on the second wave at last (we'll really know when the holidays are over, and people get tests they've put off), and while much of the USA is actually reducing hospital loads, there's going to be some staggering statistics before it gets better.
During those times, click on your vaccine tracker. The next month should show some serious ramp-up in vaccinations per day, and the dashboard will be changing ever-more-rapidly. That's got to provide some Hope that it's darkest in January, because its just before dawn.
---
December 30: In Favour of Vaccine Snobbery and Exclusion: Jobs for Jabs
Before we get into general-population vaccination, let's be clear that there must be no quarter, no tolerance of anti-vaxxers. They do not have a religious argument, unless they make up their own religion. They can have all the "personal freedom" arguments they want, as long as they risk nobody else. For me that means:
They are not welcome in any workplace involving contact with others;
Unvaccinated children are not welcome in public schools;
Theatres, bars, restaurants, and hotels are free to welcome them, as long as they publish that they do so, that the rest of us might avoid them.
The workplaces should be forced to have that rule, as needed; you shouldn't be able to intimidate a worker out of their job by requiring them to work under risky conditions. There is risk even to the vaccinated. We simply do not know whether vaccination actually prevents infection, or merely causes all cases to be asymptomatic, allowing any vaccinated person to be a carrier to others in their life.

Certainly, we'll need a system for proving you're vaccinated, (or have antibodies from catching it in the last six months...the exact months need to be nailed down on that one.) Europe is already looking into "vaccination passport" documents.

The schools, and even the work requirement, would be hard to enforce, except that the pandemic response so far, has given schools and employers the PERFECT response to complaints about excluding the unvaccinated: you can continue your schooling or the work from home, like much of 2020.

We all agreed that the kids were still being schooled; maybe not as well, but it was still a school year. People at work over Microsoft Teams, were agreed to be at work, and deserving of their paycheque. So we aren't excluding anybody from anything, telling anti-vaxxer parents that the price of their beliefs is keeping the kid on remote-learning. It's now an acceptable substitute.

Some people may not be vaccinated - or claim not - just so they can continue working from home. But I get a strong sense from the white-collar employees I know, that while there are many good things about work-from-home, career advancement when other employees can bump into the boss every day and get literal face time (not "FaceTime©")...is not one of them. A willingness to come in may be the marker of an ambitious careerist in the coming decade.

So I see clear sailing for just not giving an inch to anti-vaxxers this time around. And every incentive, obviously: this one's too important, to put up with their shit any longer.
---
December 29: Canada Cracks 400 Dead per Million; Headed for 1000-Club?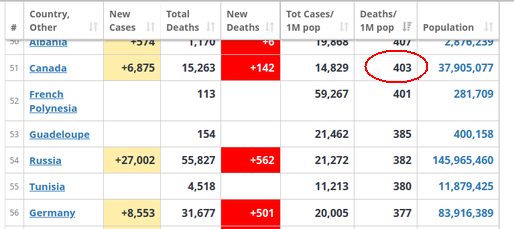 The news are carrying the latest round number for total dead, 15,000, last night. Another round number was crossed on worldometers (which is a little ahead of the public-health confirmations, at 15,263 dead already this morning), of 400 dead per million, the metric that allows comparison between polities.

That does still have us 51st-from-worst on Earth, I guess, and we're only a few percent worse than Germany, looked to as such a success. (The second wave has been hard on a lot of success stories.)

A few days ago, I sadly noted the the USA entering the "1000DPM Club", a thousand deaths per million, previously the territory of Spain and Italy. The bitter news, as we pass 400 DPM, is that the IHME COVID-19 Projections Dashboard for Canada, is currently predicting a median scenario (no fast vaccine-rollout, no universal mask rule) of 33,240 deaths in Canada by April 1, (the anniversary date of CCCC), as far ahead as it makes any sense to predict.

That would be 876 per million, and since the dying won't stop for months after that, Canada has excellent odds of going over 900, and may reach the 1000-club itself, under the IHME "easing" scenario, where we do what the USA did in the summer.

I really think we can do better than that.
---
December 28: "We've done an amazing job. And it's rounding the corner." Part II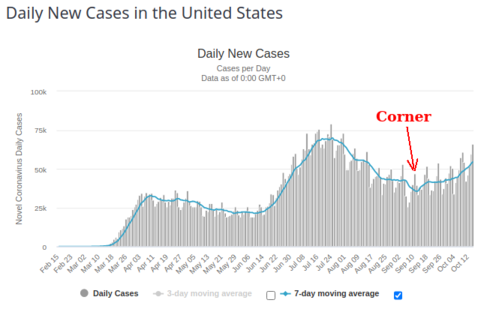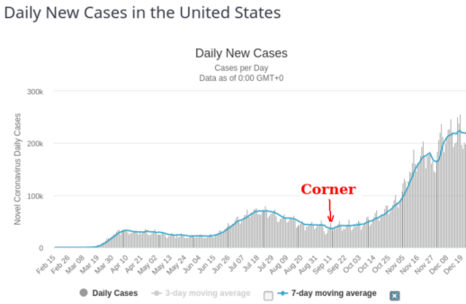 This was the title of an October 16 post, right after America's President uttered those amazing words.

At left, a reminder of the October 16 graph from worldometers beside that post, and at right, yesterday's graph, with the now-tiny "corner" dip pointed out so that you can see it at all.

All this time, and people still are not getting, not at gut-level, what "exponential" means. I think that the messaging needs to show more bombs going off, maybe show some of those amazing super-slow-motion movies of the burn going through a pot of gunpowder as it flashes, or the hilarious simulation of a nuclear explosion with mousetraps and ping-pong balls.

People seem to think that the lid has been placed firmly on by getting the case-load down; problem solved. No. It's an explosion with the lid on. The restrictions keep the lid on. Well, the lid is well-off, now, and Canada has been slooowly levelling off the increase; the national case-load was barely growing by the time the holidays hit. America, the same, actually - just at over FOUR TIMES Canada's per-capita case-load. After the holidays, everybody is expecting another jump, and more weeks of struggle to get the growth-rate actually negative.

Negative growth-rate - sustained for some days - that's when you "turn the corner", Mr. President.
---
December 27: New Variant, Same Solution
I'm basically on-vacation from doing any work on this the last few days, (obviously), but I don't need to do any work to point out something very, very obvious. I should still get credit, because nobody else seems to be noting this, in all the many, many stories on the "new variant", that of course is everywhere on Earth right now, not just Canada.

Because it took time to detect it, and because most nations are in a second wave, with high cases, and because travel is not being restricted much, half a million people flew in the United States on the holiday, it's of course everywhere, and will gradually take over from the old version, naturally.

The very, very obvious is that the fight against the new variant is the same old fight: we can hold it down by opposing transmission and crushing those curves. That will shut down all variants, and keep more-transmissable ones from taking over.

It's just more urgent now, to crush that curve, if it wasn't urgent enough for you before. It was for most people I know, so the news is almost meaningless for us; we can't do any more. But people who haven't been as serious, need yet more pleading. And demands. And fines.
---
December 26: Walking the Walk by Talking the Talk (only on Skype)
We did ourselves as said; Christmas passed without more other humans, than waving at some others in our condo while taking out garbage. We had a lovely supper together, and - here's a throwback to ancient traditions now being lost - watched "The Polar Express" on CTV - over the airwaves, no less, we've given up cable - at the same time as other Canadians. While I ate a gross amount of candy.

There was roast chicken (two people isn't enough for turkey) and a fireplace, and lots of Christmas music. We Zoomed and Skyped with Calgary and Madrid, exchanged many e-messages with friends; I caught up with one I hadn't had a whole conversation with in many years. We did "planks" exercises over Zoom with workout buddies.

And we get to have zero sympathy for those who just had to have more. No, you didn't. We toasted all the years my Dad spent Christmas in Britain, waiting for the attack that never came, and in Holland, 1945. He never spoke of them as bad Christmases, he knew how many other Soldiers were suffering much, much worse.

We toasted them, too, and had a Merry Christmas.
---
December 25: Give the Gift of Life This Christmas!
Stay home. Call your family. Call your friends!
---
December 24: An Xmas Present for CCCC: BC Climbs Down the Mountain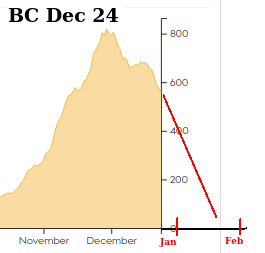 CCCC stands by its post of December 15th, "Yep, We Are So Screwed", because Christmas and New Year's, and weeks after, certainly are. Heartbreaking for the hospitality industry to go back into restrictions at their best time of the year. We built that mountain at left out of mistakes and denial, and it's going to be a long climb down it, yet.

It's not as bad as I thought, nine days ago. I was thinking that we were going to sit on that 650/day "ledge" in the mountain, that we seemed trapped into at the time, for the rest of the holidays. Instead, after more than a week there, we started climbing down the mountain again.

How unpredictable that was, makes fun of my attempt to assume a linear drop, with the red line at left, but it's a first approximation that says if we can not have a bump after Xmas day, and keep it up like this, we could see the summer case-load again by late January.

Late January is not soon enough for vaccination to greatly affect community transmission probabilities, especially since we'll be focused until then on health-care workers, and the care-home set.

One can only hope we don't just balloon back up again, because people get into a psychology - again - that we've beaten it and the whole thing is over.

That's next month's problem. For now, I'm celebrating that resumed decline as a fine Christmas present, indeed.
---
December 23: UK and USA Share The Worst Xmas Present
...Membership in the "1000 Deaths per Million" Club
As readers know (plural may be speculative), CCCC follows the pandemic statistics are worldometers.org, which uses news reports rather than the Johns-Hopkins dashboard that runs some days behind. At left, last night's final totals, with the USA at just under 331,000 dead. They have just under 332 million people, (far right column), so the deaths-per-million (highlighted column) will hit 1,000 today.
The 1000-deaths-per-million club is rarefied atmosphere. Just those former European Imperial Powers that have had massive deaths of their elderly, mostly, along with some poor but urbanized nations like Peru. As you can see in the middle of the table, the UK just joined the other day. The two formerly great nations, now labouring under the worst leaderships in the developed world, are competing to finish the COVID Cup at the "Bottom of the Major League", as the CCCC kick-off essay put it.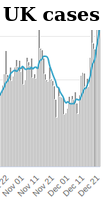 In America, the daily-case rate does seem to be levelling off; alas, it does not seem to be dropping, not yet - and the dying is only increasing. In the UK, the dying had actually levelled off and started to decline for a few weeks, but now has picked up again, because their daily case-rate has been on a steep exponential for two weeks.
I feel embarrassed for getting mad at BC a week ago with "Yep, We Are So Screwed" after seeing a traffic jam. Compared the UK, and the keen new variant they've allowed to develop by not crushing the curve, (see yesterday for link), we're doing well.
The repeating pattern seems to be that the population has to be taught over and over again, in some places, that the virus will go exponential if you don't change your behaviour. They let it get away again (and again, in America) and the virus has to teach them to pay attention. The elected leaders are slow to react, wait whole weeks, but finally impose restrictions. Gradually, people obey - partly from enforcement; in small part from genuine fear of the virus, though many keep denying and denying it; mostly because others are. Finally, the curve bends, at great cost.
That's how it works in the COVID Cup nations-of-failure. The virus finally enforces the same basic steps that smart nations take pro-actively and without foot-dragging, and charges heavily for the lessons. The UK and USA are now paying that high tuition a second (or, in some US states, a third) time. That's how you join the Thousand Deaths per Million Club.
---
December 22: Imperial Bad Guys Comeuppance?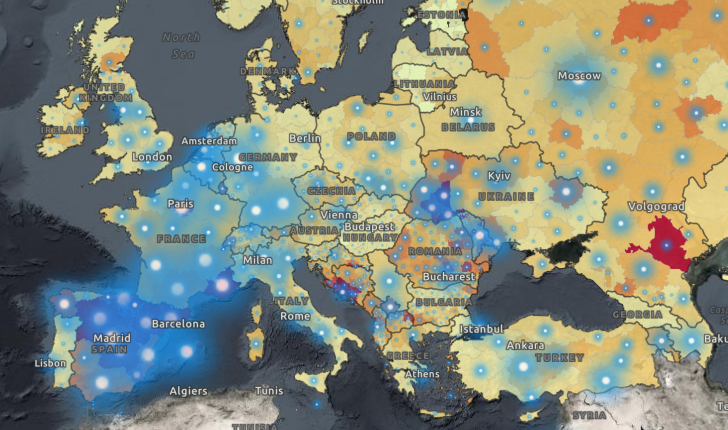 The connection is anything but perfect, it has many exceptions. But it's close enough, that historians may be chewing on it for decades to come.

It started with me perusing the many stories excoriating the UK government of Boris Johnson for their current pandemic plight: quarantined by the rest of the world for generating a new coronavirus variant. "Generating", because of this article about the string of failures that made it possible. If covid is allowed to have a colony of hundreds of thousands in your nation, for months, the probability of evolution creating new variants is that much higher than if you have few. The "lets just keep running with covid cases, not crush them down" philosophy isn't just making people sick and dead; it's helping the Enemy invent new weapons.

It came to me that there's a common thread of arrogance, to the worst-behaving nations. The USA and Britain aren't just the two most-obviously-arrogant nations about imagining they can steamroll over a pandemic; they were the ones that broke the UN Charter to prosecute aggressive war. They were the two most-culpable nations in the financial crisis, just imagining that they could keep pushing up a property bubble forever; a kind of arrogance underlay that belief, too. Whole cultures can have a belief that bad things simply cannot touch them. (The current use of the term "privilege" revolves around those who just believe this unconsciously, assume it.)

I was chewing on that, whether it diluted the evidence that many EU banks involved in the financial crisis as well, when it hit me that nearly all the really-bad outcomes in Europe: Belgium, Italy, Spain, France, in that order - were former imperial powers. In Italy's case, I don't mean ancient times, they had African colonies in the last century. The exception is Portugal - indeed, it's their colony of Brazil that, under a fascist government, is having a terrible pandemic.

But the "arrogant national psychology" theory can even take a bolster there: Greece and Portugal were deeply humbled in the last ten years by that same 2008 financial crisis, preyed upon by foreign lenders.

Like all vague Theories of History, it probably benefits from some cherry-picking. I skipped Japan, a total exception...or is it? They were humbled with nuclear weapons. Russia was and is very imperial, but you can't trust their pandemic reports.

Ah, well, my "theory" would hold up well in a barroom, if not a classroom, I contend, and it holds up well enough for me to offer whole nations advice that's so appropriate for Christmas:

Blessings will come to the Humble, Ye Nations! And the Proud and Arrogant Shall Be Laid Low.
---
December 21: The Winter of our Discontent
(Kwitcherbitchin' Lear, you got the vaccine already)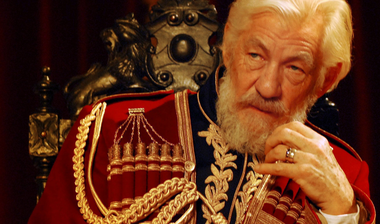 I prefer to be original when possible, but I've just got to go along with what must be the most-common wry headline on opinions columns today.
The first day of winter looks very typical in Vancouver: 1C and 30mm of rain beating just above my head. Just like my post on the pandemic timing for politics, the next 13 weeks have everything stacked against them.
It's winter, for one thing. Cases are high, and expected to surge; the political acceptance of fighting COVID with restrictions is fraying; the economy is crumbling despite (often confused) efforts to support the COVID's "economic victims"; and the vaccines will be frustratingly ineffective at limiting transmission for the whole time.
It's just going to suck.
But the medieval reference should remind us that times have been worse. There is no discontent here as bad as my father missing six Christmases-at-home in a row, 1939 through 1944. A time that included far more dying. We've been watching the mini-series "World Without End", from the Ken Follet novel about the early 14th century, the Hundred Year's War and the Black Death. Frankly, the lives of the peasants during the "good times" in that story were worse than our lowest month of this winter. And then a third of them died.
If you've got a home, and enough money to get by on, you're one of the luckiest humans in all recorded history. Keep your bubble close, call your Mom, enjoy the rich food that continues to pour from the working part of the economy, courtesy of the risks and sacrifices of many workers, tip well.
And Who-ville didn't even need any presents, so buck up.
---
December 20: How Miraculous Are The New Vaccines? Very.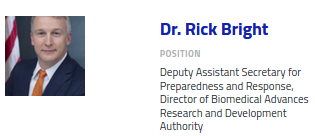 The expertise of Dr. Rick Bright about vaccines is not to be gainsayed. Granted, Dr. Bright has spent much of his career climbing the bureaucratic ladder in the US government's Health and Human Services; it's been some years since he washed a test-tube himself. When he resigned and turned whistleblower over the "hydroxychloroquine controversy" several months ago, there were any number of articles with anonymous critiques of his management style, (likely encouraged by Trump appointees).

But, being the boss doesn't mean you are out-of-touch with the science, and Rick Bright has been a vaccine expert for decades. He would be completely up on the new "mRNA" vaccines that have amazed us all, this month. And here's the thing: as recently as last May, he was skeptical of the 12-18 month time frame for the vaccine rollout.

The story at "The Hill" linked above was from May 14th. The Pfizer vaccine product was approved just seven months later - less three days. The Hill makes it sound like he was predicting another eighteen months before it would come, though I suspect he was talking about a timeline that started last January, when the vaccine work began. He was really saying that next month through next June would be the timeline, 'if all goes well, and it never does'.
So, the miracle here is just that it was a month earlier than the earliest hoped-for date by a cautious, experienced expert - who warned that it could be several months more. As experts stress, most vaccines used to take years; HIV has never had a vaccine, not in over 35 years, now.
That's miracle enough for me. The program is just getting rolling, but it should be in full flight in a few more days. Texas put up a report yesterday that they'd injected 26,007 doses: 21,820 of them in the previous 24 hours. Literally hundreds of thousands of arms will receive a Christmas Miracle.
---
December 19: Pandemic Keeps Revealing Deep Cultural Prejudices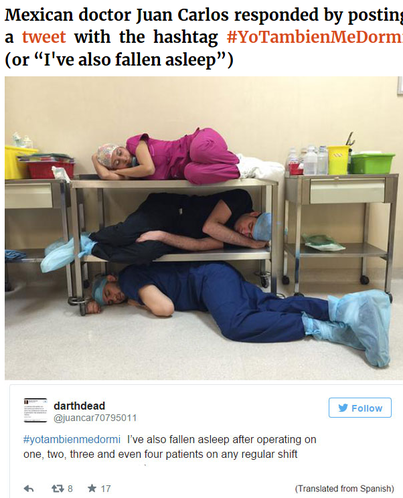 On the "outrage" beat, many news pages are carrying the comically inept, awful, terrible, no-good forgetting of the medical residents that actually treat hospital COVID-19 patients in their vaccination program.

The residents, exposed to COVID-19 for most of their endless, "25-hour" workdays, were at the bottom of the priority list, well below X-ray techs.

They're been prioritized, of course, by social status within the hospital community - which is somewhere between the status of the assistant billing clerks, and the oxygen tanks. There have long been previous articles about this: terrible pay, worked half to death, napping anywhere from their long, long shifts.

The issue has always been shrugged at as some kind of "hazing" ritual, before they become specialist doctors that, in the States at least, may pull in half a million a year. (Lawyers are also worked like mules, for nothing, for years, earning their way up to have the privilege of abusing others the same way. Is that kind of kick-down mentality really what you want in people most likely to end up in politics?)

The Stanford administrators are attracting even more abuse for the brand-new buzzword in their defense: "algorithm". But we're on to that one. Here's their mistake:
According to an email sent by a chief resident to other residents, Stanford's leaders explained that an algorithm was used to assign its first allotment of the vaccine. The algorithm was said to have prioritized those health care workers at highest risk for COVID infections, along with factors like age and the location or unit where they work in the hospital. Residents apparently did not have an assigned location, and along with their typically young age, they were dropped low on the priority list.
...just that simple. We put them in as no-location. The mistake, though, was ignoring the medical residents when you were programming the algorithm. The correct algorithm was just to list off everybody who was known to be in contact with COVID-19 patients first, then get on with people whose contact-chances might be inferred, second-hand, from their location.
Calling a "policy" an "algorithm" is just describing a policy somebody typed into a computer. If you'd assigned the vaccination list to humans, you'd just call it "policy", and skipped the new buzzword. (It would also be an "algorithm" if it were executed by a human computer.) The medical residents were ignored, at the top of this policy-making, because human beings didn't even think of them.
There's some spy fictions where the spy is effective because she is a woman, or black, or dressed as a bum or service-person, because those spied upon simply don't even see such people, they don't have names. It turns out the medical residents were simply...invisible...as they have been for a long time.
We also suddenly discovered all those people who live in care-homes. If somebody had really thought about them, the care-homes would have been prepared for the pandemic last January and February, and we'd have saved thousands of lives in Canada. But we just didn't think of that. They were invisible. So are people in jail, apparently, though there were frantic articles in the spring about protecting them, one the other day about vaccinating them. It probably won't happen, except a few locations, like Massachusetts, the bleeding-heart liberals.
As for the very poor, the homeless, they are never invisible, really...but we try hard and manage not to see them. I'm not seeing any vaccination program for them, either.
---
December 18: Vaccinate Sports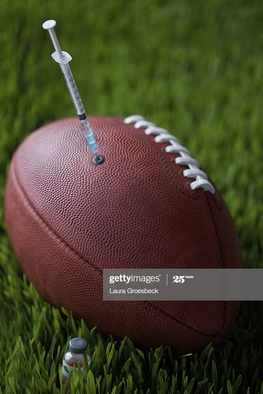 I spotted a story the other day about an inquiry as to whether sports teams could be vaccinated soon, so that they can play in greater safety, with fewer restrictions. The story included a reaction that this was like billionaires expecting to be vaccinated first, because of money, or politicians, because of power.

I thought that was the stupidest thing I'd ever heard lately (and, considering the last month, that's really going a ways)...even though I don't watch sports. I want them to vaccinate the football leagues, though I think the whole sport should go away because of brain injuries.

The reason should be blindingly obvious: people regard sports teams as their heroes, kids in particular want to dress in their jerseys, wear their shoes. But the fandom of course goes up through all ages.

I want all those kids and sports fans vying for a place in line to get the NHL-themed vaccinations, where the band-aid has a Calgary Flames flame on it. I want kids studying up on vaccine safety, so as to shut down the feeble arguments of their anti-vaxxer parents.

And in the states, those stories about Black people having an (understandable) fear of vaccinations, totally shut down by advertisements made by LeBron James - with him delivering the "get vaccinated" speech as his own needle goes in. Then another, three weeks later, where he berates fans for not getting in line yet, if they haven't. Then he can turn to the nurse as she slaps on the LeBron band-aid, and say "Thank you so much; you may have just saved my life." (turns to camera) "Now save your own life; save your mom's life; save everybody's life. Get in line, and tell 'em LeBron sent you."

My logic applies to everybody who might be paid to advertise a product, to give it their endorsement. So, I'm sorry, but the logic applies to Gwynneth Paltrow and Kim Kardashian, as well. It applies double to conservative media heroes like Kid Rock. Again, I'm sorry.

For whatever reason, they are looked to as leaders; let's get them leading people into line.
---
December 17: Dying Young: Ten Times as Many Americans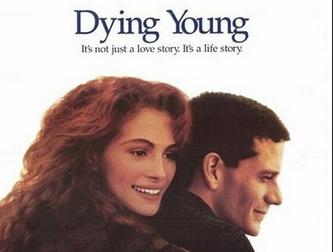 Next year will mark 30 years that I've successfully avoided everything but the poster for this tearjerker. I'll save my tears for Americans, trapped in a political madhouse with "leaders" that care nothing for their lives.

Think the coronavirus is exclusively for the old? The old, and the victims of bad government. Canadians in the age group 50-64 have half the death rate of Americans in the age group 30-49. Americans are particularly good at killing off the 30-49 age group with coronavirus. The ratio of death rates is a "mere" 7-8 times worse for both the 18-29 and the 50-64 age groups, but twelve times worse for the 30-49s. Why is that? Forcing people in the prime of life to work those "essential" jobs, like meat packing, with no workplace protections?

My study of this arose from the realization that there are two pandemics that are completely different in their epidemiology: the care-home pandemic, and the general-population pandemic. Care homes quickly become widely infected, because you can't find a better carrier than the staff who help people dress, walk, and eat: the virus races through them - and the death rates are over ten times higher than the general population.

Canada has done a spectacularly bad job of her care-homes, especially in Quebec and Ontario. We have to subtract it to judge how badly or well we did with the general-population pandemic.

Proper epidemiologists can sort through the two pandemics in future years, with great precision: we know who died in homes. For a first glance, however, we can compare just the general-population pandemics alone, by restricting the age groups to the "young", under 65, and especially the under-50 population that are all still at work and school. (Some young are in care-homes from paralysis, etc, but not enough to affect statistics.)

The Canadian statistics of death are separated out by age at the Health Canada Coronavirus site, the American at the CDC site. I collected them for a month, to see if the ratio was changing as new, high death rates hit America the last month. They hadn't changed, really, Canada is into a second wave of its own. But that just means that America is consistently performing about ten times worse than Canada at protecting the general population from coronavirus infection and death. (All are collected in this spreadsheet.)

I found the numbers so shocking that I'd like to walk through my journey step-by-step, check my work. At left, the simple raw counts of dead bodies, both sides of the border. There is one data-artifact: the Canadian column for "50-64" is the report for "50-59" plus 40% of the count for "60-69". Death rates rise with age, so I figured that 40% to the first five years, 60% to the second five years, of that decade, was a good guess. I think you'll see that the exact number is unimportant for the main thesis. (My thesis is, "Americans are much worse at this pandemic". Whether they are 9 times worse or 10, you'd absolutely prefer to have spent 2020 in Canada!)


Step two was to divide the American population (331.9M) over the Canadian (37.9M) to get a population ratio of 8.76. Yes, we're no longer one-tenth of the USA, more than a ninth, even. It's all that immigration, I guess. This gives the table at right, with the Canadian numbers multiplied by 8.76, so you can see how many Americans would have died instead, had they only gone with Canadian governance and cultural values, our community spirit of shared sacrifice.
These are cumulative numbers, you see the slowly-rising death grand totals over the weeks. As the study over time showed little changing, I'll just quote from the final line for December 12.
It's clarifying to exclude the very old, you get away from those numbers so large they mean almost nothing: 300,000 and more. But surely, the notion that America has lost 1114 people in the 18-29 age group, when only 131 would have died had they been Canadian, brings it down to a thousand dead people just starting their lives, whose deaths can be blamed on America, not COVID-19.
At age group 50-64, people are mostly still at work, people with teenagers, and kids in college. But that subtraction is 41,673-6,088, or over 35,000 dead in the USA, that would be still at work and home, if Canadian public health were serving them.
The harshest comparison is between the 50-64 Canadian column, and the American 30-49 column: half as bad. Twice as many Americans, per million, have died in their 30-49 age group, as our 50-64 age group. America would have over five thousand people alive, (11,659-6,088) between 30-49, if they were as safe as Canadians from 50-64.
I'm just belabouring the same numbers, by showing different views of them. The comparisons that some American politicans made to Canada during their campaign, were actually extremely kind to their country. A really fair comparison of the two systems of government, the two cultures, the two nations, is really about the general-population pandemic, not a comparison of the one industry of care-homes.
In that comparison, Canada looks more like one of the COVID Cup major-leaguers like Germany, nearly Australia. Not just two or three times better than America, but ten times.
Once again, the pandemic has highlighted and greatly exaggerated societal differences, and especially social failures, that we already knew about. Canada has a lot to fix in their care-homes. America has a lot to fix, period.
---
December 16: First Nations First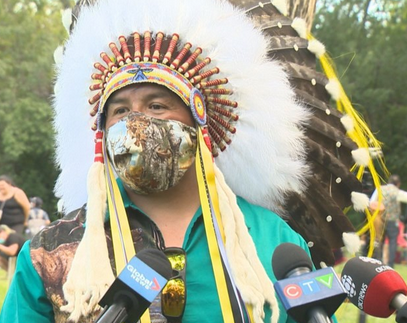 They were the First Nations in the land; about 90% of them were killed off by North American pandemics we brought along with the guns and steel. So, for that reason alone, absolutely goddam right that they should be first in line when the general population starts to receive vaccinations, right behind the very old and infirm.

Within the ranks of the old and infirm, those in care-homes need priority because their environment exposes them to massively high infection risks compared to those in their own homes; but, after that, the elders of First Nations should get to be ahead of other elders, for that matter.

It's not just a sense of moral debt, hundreds of years old (how much interest is that, then?) that calls for this, of course. I wouldn't even try to sell it on that alone, since we don't seem to feel any other debts to them (not for land, not even for clean water). It's because they have such a shockingly higher statistic of bad outcomes from catching COVID, as with persons of colour in the USA.

Canada's own populations of colour can make similar claims, but satisfying theirs is distinctly...awkward. We obviously have no spot on your ID that certifies you as such. With the First Nations, of course, we've long had "official status", lists of names...and much more importantly, there are some 600+ separate commuities to rush those vaccinations out to.

Which is where my idealism smacks into the hard reality that places without clean water are also scarce on -70C fridges.

Hard reality can be softened by smart engineers. Whether there is some portable-refrigeration tech, some plan to have everybody waiting for the plane in Moosonee, to get their shot, before the liquid nitrogen runs dry, we can do our best. Whether they are at the head of the current line, or the next line that forms when the vaccine that only needs -20C shows up soon, we should let them know we care.
---
December 15: Yep, We Are So Screwed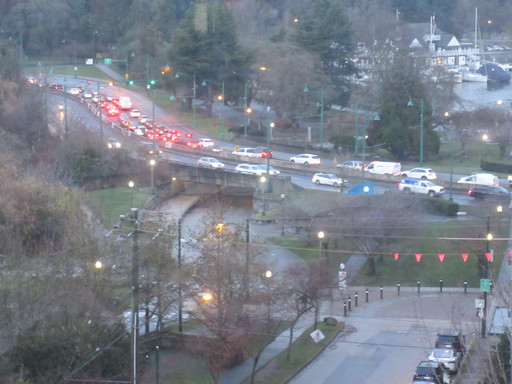 This is a follow-up to my despairing post of two days' ago, "Crushed" when I looked out at the Saturday rush-hour (about twice as bad as yesterday's Monday rush-hour, at left) and realized that Monday's case reports would be just as bad as the week before's; that we were just going to spend a month on top of the curve rather than crushing it, because Xmas, and "end of year" at work, were more important.

Tough luck for the parents and grandparents of a lot of people making that decision.

The follow-up, of course, is that I was exactly right: still over 700 cases a day, all weekend, again. It'll stay there. We're going to lose a dozen to 20 people a day in BC for over a month, probably 500 dead that might have been saved. Yes, most of them very old, but there will be enough young people in the mix to add up to that Saskatchewan bus crash, or the Nova Scotia mass murder - horrifying news in a non-pandemic context.

But we plucky British Columbians are going to take that hit just so we can go shopping and visiting and stay ahead at work. The tendency to think it won't happen to you, is behind why restrictions are so inconsistent. The officials know the urge is there, and so fear to push against it too hard, they know they are herding cats. The successful places like New Zealand and Australia have had success because they've had buy-in.

We had buy-in, but, clearly we are losing it. That, and not public health mistakes, is why we are so screwed.

With luck, rather than getting numb to the death-toll over the next three weeks, a growing sense of concern will come back, and when the revels are ended, we'll get back to crushing that curve, one last time.
---
December 14: Nikiforuk vs Kenney
I developed a real problem with journalist Andrew Nikiforuk decades ago. He didn't like the way that the Alberta oil industry treated landowners, which is very commendable; but he let that dislike give him even a speck of sympathy for one Weibo Ludwig, whom you can look up for yourself. A truly creepy and frightening individual, who deserved none. But I really got upset at one of Nikiforuk's books that really argued the position that HIV was not the real source of AIDS, and, anyway, have paid him little attention for many years.

But he's won a journalism award recently for his good works with The Tyee, which I recommend again and again, we support it, and may be upping our contribution soon, I'm finding a lot of good articles there.

The other day, Nikiforuk wrote a wonderful summing-up of Jason Kenney's stupid, weak, disasterous pandemic strategy.

I'll jump to the conclusion for you:
New Zealand and Australia did the lockdowns right (with support for small businesses) and are enjoying a normal Christmas. Alberta could have pursued that course in early summer but chose the status quo of limping along and further endangering the health-care system and the economy.

So who's the Alberta basher? Own it, Mr. Premier. You just bashed your province.
Nikiforuk builds the case for that statement in a ten-minute read. It clears the head, after reading crazy stuff about how Kenney is bad for locking down, even now.
---
December 13: Crushed
I was reflecting the other day, in front of my fantastic view, that I'm in the third, or is it fourth, weekend of hoping the three day's of data, that will come tomorrow, will show a significant drop in infections. I cheered last week, when Keith Baldry on Global pointed out how the numbers were, in fact, in decline, if not rapid. But Friday's number in the 700s made me wonder again.

And it struck me that not only had I seen some pretty long lines to get into stores yesterday, I was looking at a Georgia street choked with slow-moving vehicles at four in the afternoon. It was a typical-looking Saturday before Xmas shopper's rush hour.

Most of the "restrictions" still depend on personal choices, and people are personally choosing to do the Christmas stuff. I'm reading a lot into a packed street, but my hopes that the curve would start getting crushed, got crushed.

I think the numbers are going to be bad through the New Year. Maybe then we can get serious and make some progress. As I look back at late March through early May, it was actually about the same: the downside-slopes of the curves were gentle, the infections going down slowly - and that was with more business closed, the schools closed. Sitting around every weekend expecting a dramatic turnaround was naive.

The advocates of "circuit breaker" lockdowns, where you lock down really hard for just a few weeks, are probably naive, also. Absent massive policing of the "hard" lockdown, you'd probably still get only a gentle downward trend, and be unable to just go back to normal in two weeks. Imagining it will happen around Christmas, when all the good messaging is swimming upstream against ingrained traditions, was awfully optimistic.

I'm switching my hopes that "Dry January", will also be "Spaced-Out January", and we'll have some normality around the end of it. That, and the knowledge that at least the medical staff are protected, will cheer me up considerably.
---
December 12: Three Weeks of Inevitable Dying
I should produce a post that takes research, but today I'm basically just back to my late-April mesmerization by death-toll dashboards again. What's got my eyes round is the multiplication by twenty. Because most provinces and states are at a high level of daily infections, that just isn't declining much (yes, depressed again by a case-count over 700 in BC, yesterday - exponential increase may have stopped, but there's just so little decrease) we are sentenced to three weeks of death-tolls that look like today's.

That's hitting 100/day for Canada, with 2000 deaths to come. The US is expecting over 3000/day for the rest of the month, and into January, their curves not even changing yet. For them, another hundred thousand dead - passing their WW2 military losses - is now inevitable by early January. For Canada, sixteen thousand dead by then, and even if the curve is then rapidly crushed, stays there until vaccines reach over 60% in the late summer, we'll probably hit twenty thousand dead. It's predictable, and changing people's behaviour is now so hard, it feels inevitable.

It's not the inevitable deaths to those already sick that get to me. It's the weird notion that I could be passing people on the street that look OK, but will show symptoms tomorrow, and not see Christmas - the Walking Dead. (I'll bring out that term to pass along a joke from the other day:
"Future Zombie movies will look really naive and unbelievable if they don't show half the population running towards the zombies, daring them to bite, since it's all a hoax".)

I must have read about six SF stories now, pretty much relating back to the legend of Cassandra, about people who can predict the future - but only predict terrible things, and be unable to change them. Generally, they're basically horror stories for the Twilight Zone. That's what it feels like, watching the train come at you, down the tracks you're tied to.

It's going to be a tough month for Christmas cheer. I can only hope "The Epiphany" (January 6th) actually brings one for the ongoing denial movement.
---
December 11: The Very Simple Version of Vaccine Math
How many people need to be vaccinated, as we contemplate the bizarre notion that anybody does not want it.

"Early on in the pandemic" is the only time for which the now-famous "R0" was a reflection of what it would be if everybody went back "to normal", presuming we can even remember that. The Rt numbers ever since, reflect at least some caution in even the dumbest locations. That original R0 was 2.8.

Your extremely simple model of vaccination is that you can multiply R0 by the percent of vaccinated people that will still catch it from an infectee, and that's you post-vaccine Rt.

So, we need 66% effectiveness, because 2.8/3 is less than one. As long as it's under one, an infection will die out naturally, fewer victims with every "generation" of transmission.

Unfortunately, 100% population vaccination isn't going to happen. If we only vaccinate half the population, well, the other half still have Rt=2.8, so the overall population is at 1.4, even if the other half had zero risk. (Again, this is a very simple model.)

Even with the incredible 95% effective vaccines, you still have to vaccinate 65% of the population, because the remaining 35% will have that 2.8 Rt, for 0.95 overall. The 5% infection rate in the vaccinated 65% of the population take that nearly up to one.

The good news is that not every member of the population is an equal-risk infector. Remember that this is the Pareto Pandemic, the infection mostly the result of superspreaders, the 20% of infectees that average a dozen victims each, responsible for 80% of the infections.

It will be crucial to vaccinate that lot. People who contact many others are work, sports, education, and other institutional settings are the really vital vaccinations.

They should be mandatory for the job, in those professions, in those schools, for the sport access in those sports.

Period.
---
December 10: The Third-Worst War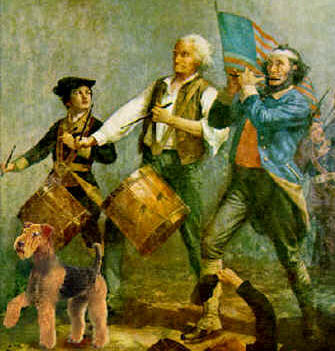 Well, the round numbers are all hitting at once, and a few papers are tiredly pointing them out. As noted a few weeks ago, numerical comparisons are getting exhausted, a certain numbness is setting in. In that post, I mentioned the number "294,265", my adding-up of every American military casuality in war, save only the two biggest, WW2, and their Civil War. Both those are over 400,000, and up to even a month ago, I would have said that 'America will not reach that high, so this is the last war comparison'.

But the other "round number headline" yesterday, was "over 3000 dead in a single day", that is, "more than 9/11". There's just no reason to assume that much less than 100,000 will die in the next month, they've kind of sentenced themselves to that by the infection-rate of the last weeks. They should hit 405,399 (WW2) around the middle of January. (On January 21, 2021, of course, all 410,000 will become Biden's Fault.) Only their Civil War death toll (~655,000) remains unlikely.

They could reach even that number, before vaccines finally take effect, but I suspect the next month will school even their most ardent denialists into changing behaviours. Or, at least, I continue to hope.

For now, though, it's just their third-worst war. It was a stupid mistake to call it "The China Virus" - mostly because the attempt - to create a public assumption of foreign attack - simply didn't catch, always a humiliating failure for a demagogue. Also, now, because, if this was a war with China, then, man, China really beat your ass, soundly. (Why, exactly, they infected themselves first as a strategy, would remain a puzzler, of course.)
---
December 9: Call Off Christmas
In the
words of the Sheriff of Nottingham in the "Robin Hood: Prince of Thieves" movie (1991): "Call Off Christmas". (Alan Rickman was the best thing in this movie. We recommend the barely noticed "Robin Hood", same year. It was ruined by the giant ad dollars dropped on the competing Kevin Costner movie. Just plain "Robin Hood", with Uma Thurman and Patrick Bergen, was the better movie. By Far. Rickman did not save the Costner version, and I'm glad YouTube lets me enjoy his best scene without having to re-watch it.)

Despite our own raising of the Christmas Lights for the first time in Vancouver, this year, it's painful that we'll be with family only over Skype. (Once again, praise be, the pandemic waited until nearly everybody had Internet that would support Skype.) It's tough. The longer an inconvenience goes on, the more you feel "due" for a break. But my parents got through Christmas 1939 through Christmas 1944 apart from their families, six of them in a row. We'll manage the one.

Can those who feel this is just impossible, spare a thought for those whose Christmas has been "cancelled" by the death of a family member? It's really hard, losing somebody when it's close to Christmas: quite the damper.

Many families can be philosophical about COVID losses, if they're that fraction that were in the last few years of life, their deaths expected for some time already. Even now, that is over half of them. Still - at Christmas. Hard.

Spare more thought for those about to lose people with decades left. Chuck Yeager made it to 97. Canada currently has some 2000 people, age band 50-70, fighting for their lives in the ICU. 1200 in that age band have already died in Canada, and some hundreds of those 2000 are going to leave those ICUs in body bags. Right Around Christmas.

Christmas is definitely cancelled for those thousands of families in Canada, probably for a hundred thousand families in the United States, just counting the losses that shocked their families as "not their time".

So please, if you were still thinking of travelling or gathering, don't. Call off Christmas, so it won't be called off in a far more terrible way, for others - possibly others in your own family.
---
December 8: Waiting Rewarded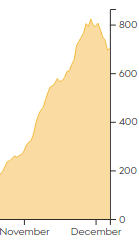 Thanks to Keith at Global News for finding the cheer in that awaited weekend news. For a moment, it still looked bad - over 2000 new cases.

But Keith pointed out the differences from last weekend: 2020 new cases instead of over 2300, last weekend; the case-counts dropped in all health regions except the far north, which has just a few. Considering that these are three-day sums, and a week apart, it's significant.

We aren't really on the downside of the curve yet, we're pretty much sitting on top of it. Yes, the 7-day rolling average of daily case-counts, at left, looks like a downside, but we're just a couple of higher days away from that looking like a fluctuation. Don't let your breath out yet. But: it is no longer an exponential increase, or any increase; it's very likely started a downward trend. If we can just keep it up.

Manitoba and Saskatchewan are in similar straits: clear signs that that R-factor has broken down below one, the curve turning. But Alberta, Ontario and Quebec, no sign of a turnaround. For the nation, things are still looking bad.

Let's all push on this, we really need to see their three numbers change next weekend for sure.
---
December 7: Weekend Waiting
December the Seventh, Nineteen-Forty-One, was a "Day that Shall Live in Infamy", because the Japanese killed just over 2400 Americans at Pearl Harbour.

December the Seventh, Two Thousand and Twenty, will not live in infamy, though at least as many Americans will die today, of a foreign (indeed, originally, Asian) attack. The virus' attack, of course, was the least-sneaky attack in American history. In 1941, 2400 dying was a terrible shock; today is just another day in 2020 America.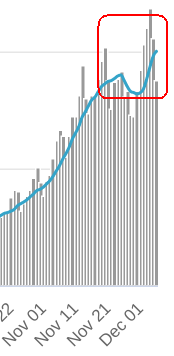 The death-o-meter will quite possibly tick up to the 9/11 number, today, and some blend of Pearl Harbour memories and 9/11 references will likely show up in your late-night news, after the number comes in.
The Monday number, however, will be false, really, an artifact of the simplest, silliest data-mangle: the weekend. Here in BC, they simply don't report the Saturday/Sunday case-loads or death-counts, until 3pm Monday, which is why I am "weekend waiting". I'll get three days of case numbers at once. In my dreams, they will be in the 700s, 600s, and 500s respectively, indicating that the curve is being crushed, and we're on the other side. In my dreams. After a couple of Mondays like that, I'm mainly hoping they just stop going up. Fingers crossed.
But the worldometers numbers for the USA come in every day, its just that some counties don't report on weekends, some do. So you see the "weekend dip", shown at right - that being the most-extreme "weekend dip" ever in USA daily-cases, because of their (roughly) five-day superweekend for Thanksgiving. Mostly, you can filter out weekend dips with a 7-day moving average line (blue), but Thanksgiving was so big, it created this bizarre dip even in the average.
This last weekend dip will result in a catch-up today that might inflate their numbers - already ticking up to the high 2000s - above that 3000 round number that will trigger all the 9/11 references in the headlines.
The poor newsies: they'll be torn between doing a Pearl Harbour reference, and a 9/11 reference: what rhetorical gymnastics will they use?
Oh, yeah, the poor dead Americans, too. Shame about them.
---
December 6: Can I Just Think about Dungeons and Dragons Today?
...the real news has too many dead people.

We've been doling out the "Hobbit" and "Lord of the Rings" movies, one per weekend, for over a month now. Last night's conclusion to "The Two Towers" was lighter on the magical enchantments, and heavy on the sort-of 14th-century medieval battles of armor and sword, with a high chance of dying.

"Lord of the Rings" has now brought some three generations to the game of Dungeons and Dragons. I think it's one of the greatest things for childhood education, ever. I'm sorry I only discovered it in my twenties, when I already had a science degree with a stats course.

It's educational, because losing roll after roll of the dice in a fight teaches you, the hard way, slowly, how statistics work, which is the opposite of how drama works, how war stories work.

Both Star Trek and Star Wars, the real children's classics of our day, feature the drama approach. Kirk and Spock are about to sneak into the bad guy's fortress, when Spock starts to say "Captain, the odds of a successful attack are.. "..."Spock! Don't tell me the odds". A dozen years later, C-3PO is trying to tell Han Solo that the odds of flying through an asteroid field are...and gets almost exactly the same reply: Never tell me the odds!.

In Dungeons and Dragons, successful players learn the opposite message: Always tell me the odds! That's what real-life warriors want, too, at least after their first battle. The last thing they want is drama. If everybody thought that way all the time, we'd have had a fraction of the casualties we've had from the pandemic. We'd have almost no arguments right now about the right things to do, save arguments over what the odds are. What are the odds of infection in a bar? In a restaurant? Outdoors versus indoors?. (Hint: given the choice, take the dragon on your left, not the bar on your right. At least in South Dakota, today.)

When the first wave was crushed, the risk inherent in going out and being near people was greatly reduced. But it wasn't zero, and the more you went out and did, the more infections happened, the more the risk increased. That's the risk-based view: that every contact was still a risk, still to be minimized. You could minimize with masks, with limited outings, with smaller gatherings.

Many people took the dramatic view instead: the Monster had been defeated, we were now in the broad sunlit uplands of safety, go do anything. Never tell me the odds, you'll ruin the wedding. And here we are.

We need the makers of Dungeons and Dragons to create a new game called "going out". You have to throw a bunch of dice every time you go out. Out to the store: you're infected if six dice come up all ones. Out to a wedding for 50: you're infected if you throw a single die and it comes up one, because the risk is hundreds of times higher. A few hours of playing that game, rolling those dice, might teach people to take fewer such risks in real life.

As proof, I offer the point that no group of Dungeons and Dragons players have ever actually attempted to storm a castle. Which should be good enough proof for your average anti-vaxxer, after all.
---
December 5: Let's Have a Global Conspiracy Against Anti-Vaxxers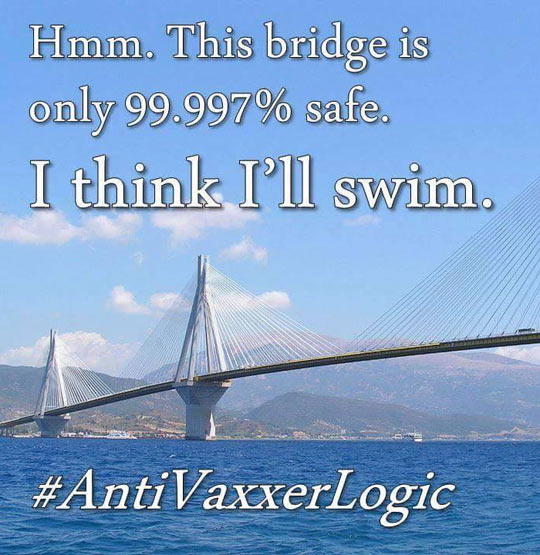 I only wish we could have a fun conspiracy, something involving hooded costumes, meeting in a Star Chamber, in the Empire State Building sub-basement, at midnight. The anti-vaxxers would like that, too, it's the kind of conspiracy they prefer to oppose, even if they have to imagine it, first.

But, no, this global conspiracy should involve about 99% of the human race, and be announced on the pages of major newspapers.

This is the year the forces of common sense can strike back. Last year was the one where (mostly liberal) anti-science idiots in Seattle caused the 2019 measles outbreak, covering their children in spots, and themselves in shame.

That started a bit of a backlash, which this year can obviously push up to a tsunami of common-sense, provided we give no quarter, no sympathy, no concessions at all to the forces of stupidity. Finally, we have a vaccine that only the craziest would not want. Anti-vaxxers have had their limited success because so many deadly diseases are now more than a generation in the past, and they don't know them, in life, or even from their parents. Now, it's been made very clear how bad the risk is - and how the unvaccinated are risking lives not their own.
Secondly, this year has provided a little white lie that can be exploited: that remote learning and remote work is acceptable. This year, schools are going to claim that children deserved to be promoted, and graduated with diplomas, after distance learning. We know it wasn't that great, but that's the story.
So, those who would claim they have some 'right' to go to school or work unvaccinated, and risk the lives of others, can just be told they're on permanent remote status - remote work, remote schooling - until vaccinated. I suppose for work, we could accept wearing a mask and distancing.
I suggested this in a newspaper comment this morning, and got a reply that many are finding remote work to be preferable, and it might be taken as a reward, not punishment. A minor concern, to me. Long before the pandemic, it was accepted workplace wisdom that the more personal contact with bosses, the better for your career. It's better to be near her office, better to bump into her at coffee and in elevators - "elevator speech" is even a common term. Remote-work being a Good Thing will die within weeks of most people going back to the office. I did a few months of remote work just before retiring, and found it very harmful to my human connections.
I do agree that you get more flies with honey. Vaccines should be promoted gently and respectfully through the next Fall. But for Fall 2021, schools in particular must demand vaccines, parent groups must threaten to not let children attend schools that tolerate non-vaccination. Best of all, now that we have the "you'll have to go remote" threat, we can insist on it for all vaccines, not just covid.
Then something good can come out of all this. I'd love to see some social progress with income inequality and child-care and all that, but I'd take a mighty win over the anti-vaxxer idiots as a Great Year.
---
December 4: Immunity Should be Seen and Not Herd

Today's post is the reverse of yesterday's, an unabashed promotion for a single pandemic article, by Malia Jones, left, in Slate magazine.

I liked it so much, I went to the trouble of googling Dr. Jones, to offer the link to her 23-some scientific publications; she also does a lot of science-fact articles for local Wisconsin journalism.

It's the best take-down I've read, in all this time, on the very idea of "natural herd immunity". Most just point out you need a dead minimum of 60% infected to get there (and this is, by the way, a round number guess: waves might not stop until you hit 70%, or 80%), compute the death-toll of that,(millions) and assume the argument is won.

Alas, the argument keeps coming back, and those who keep reviving the zombie, barely disguise their contempt for the deaths of the old, wave them away with "keep them safe in homes", so Dr. Jones decided a more comprehensive, fully dispositive argument was needed to shut them down.

She goes over how long it would take, many months: as more are infected, the rate slows..for...a...long...time...before it stops. It would come at first in this huge wave that would overwhelm hospitals, crush medical staff, eliminate all other treatment for any other problem. Then the wave would recede, but come back, wave after wave, as the virus reached ever-more protected groups.

You'd try to manage it, to restrict the size of the waves, keep the medical system functioning - but also try to push it, so it wouldn't take six months, like controlled firebreaks in firefighting. You'd fail; it isn't really possible to control it.

If you deliberately pushed contacts, say across a university, to force the university community to "local immunity", it would escape to other communities. (It would be this great "opportunity" for teenagers to legally, if only statistically, murder unpopular elderly professors, though, so there's that.)

You'd try to protect care-homes, but how to protect all the vulnerable people who live outside them, just have severe diabetes, but are needed at work? You'd lose up to 30% of those with severe "pre-existing conditions". One useful thing about the discussion, for American health-care debates, is determining who, exactly, could not possibly care less about "pre-existing conditions".

Actually walking through how the scenario would work out, in a little detail, is devastating. Nobody would propose it. All the proposers have glossed over these details, easily predictable as they are.

But people kept proposing; Sweden actually tried it, and is now very sorry.

We can put it behind us, now, with the first UK vaccinations out next week. But we really have to remember all the people who kept pushing it. They should be marked for life, like those who promoted the Iraq War.

That means, of course, that any journalists in question, are up for a promotion.
---
December 3: Rear-View Mirror
I'm pretty much too depressed to look up some pandemic story and highlight it for you, today. Recall a saying from April, that you can only see the crest of an epidemic curve in the rear-view mirror. You can hope that every day where the number doesn't go up means the crest is reached, or nearly; we had a couple of days recently, where the number went down for BC, at least - but it was just the usual vagaries of reporting, especially around weekends.

But you need a few days in a row of steady declines before you can hope it's the crest behind you. I keep hoping, every day, for a couple of weeks now.

Yesterday's 800-some for BC (I can't even be bothered to look it up), was a crushing disappointment. The soaring numbers are not news; the message from public health and the premier could not be more clear. Everybody knows how this goes, by now.

Most people I see, in my very limited corner of Vancouver, are clearly getting more cautious. More masks, more caution in stores. The restaurant I saw the other day was alarming, but as I walked the street yesterday, I could see it was an exception. A lot of people are voluntarily restricting activity.

The finger-pointing, very possibly unfair, (because the problem is work, not recreation), is at "Fraser Health Region", that is, cities of the lower mainland just east of Vancouver proper. We may need a pro-mask, pro-restrictions car rally, or something, drive through those streets honking...I don't know. People have got to get the message.

If contact-tracing says that Fraser cases are coming from work, then for heaven's sake, bite the bullet, BC, and shut down those types of work for a few weeks.

I need to see that peak in the rear-view mirror. It's not just about the disease risk; I need to feel some pride in the community, you guys are testing my faith.
---
December 2: Herding Cats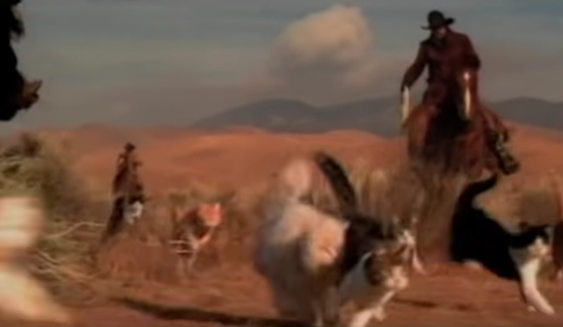 It's a good 15 years now since EDS, an HP-owned IT consulting company, did their "Herding Cats" video, brilliantly funny, with its close attention to detail - and all the remarkable cat-herding that must have been needed to make the video. Click on the image for a view.

And, I'm done for the day, except for drawing a connection to the pandemic. "Herding Cats" had already been used so much to describe "managing computer programmers" that they could reference the joke on a major-network commercial. Programmers are considered quirky, introverted, hard-to-reach, and prone to distraction by pet projects. Like most stereotypes, it's a wild exaggeration of a few truths, of course: most supervisors, after another drink, will admit that hard-to-manage people are also common through the rest of the office. (Programmers often have more option to leave, so you can't smack them down as easily.)

It's become clear that the public-health officers of Canada fear that they're herding cats. I mean, we have case-loads right now bigger than anything that happened in the first wave. Those case-loads, and a little fear of more, had us all banging pots, barely venturing out for groceries, and hoarding toilet paper for reasons that remain unexplained. Now, we're angry that the bars are closing at 10 pm. I passed a restaurant the other day, that had about four tables going in a 20x20 space, and my jaw dropped open as I stared. It was a low ceiling, no windows open. I wouldn't have wanted to pick up takeout, much less sit down.

The social media push-back includes belief systems that the hospitals are not even busy; we're back to the "hoax". Meanwhile, in Australia, they correctly spotted over three months ago that they needed lockdown to crush a second wave, crushed it, and have been fine for Several weeks. (Granted, they're going into summer over there, that helps.) It's been over a month since anybody died of COVID there.

Canada can get out of this mess. We just have to do the same stuff we've been told to do for nine months. We wouldn't even need to lock down, if people could just take their behaviour seriously when they are out. But, I'm trying to herd cats. If the cats won't herd, you've got to lock them down.
---
December 1: The Next Voice You Hear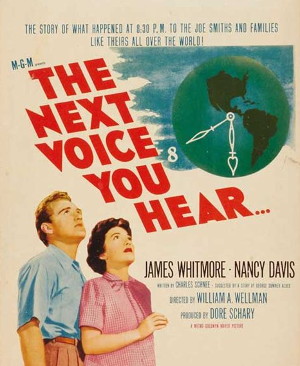 ...was the title of an odd, cheaply-made 1950s movie, (starring a future First Lady!) where God comes on the radio, and provides inspiration and advice. There's no technical explanation for the phenomenon - every station, worldwide, each in the right language - and a controversy over belief ensues.

Religious people have always jumped at the opportunity to view natural disasters as a Message from God. This is touted about hurricanes in general - they keep happening because of sin - and specific hurricanes have causes, taxation in the case of Hurricane Irene in 2011. At that time, the Republican in question wondered
"I don't know how much God has to do to get the attention of the politicians. We've had an earthquake; we've had a hurricane. He said, 'Are you going to start listening to me here?' "
In the most-memorable case, Hurricane Katrina, Pat Robertson blamed it on legalized abortion.
When I googled to find stories on the religious reaction to the pandemic, all the stories that came up dated back to the beginnings in April. The Charlottesville Observer collected some reactions. Just 11% of religious respondents blamed it on "human sinfulness", most of the rest on "governments", either foreign or domestic.
I bring this up as a conclusion to the previous three days of marvelling at the timing of the pandemic, and how perfectly BAD it was for the Republicans: all of the pandemic pain, none of the pandemic victory. (If they can get the first vaccines injected by December ninth, a heroic achievement, those first recipients will be considered 95% immune when the second, 28-days-later injection has had a few weeks to work, a total of 42 days later: Biden's inauguration day. I could argue the pandemic was timed to the day to screw the current president.)
If the pandemic is the product of "intelligent design", the intelligence clearly wanted him screwed. If you can't see that plainly, then I'm with Michelle Bachman: "I don't know how much God has to do to get the attention of the politicians."
---
November 30: The Political Price of COVID-20
So, what if Wuhan, China, were first starting to see cases of a new respiratory disease, today? Most countries would have done about the same. But, of course, this post is about the United States.

I'm going to assume a Democrat's election, again taking advice from David Frum that the old "42%" would have been no higher, just as the pandemic made it go no lower. So, one year exactly makes it interesting, because the pandemic would have hit exactly the same: with the now-outgoing President ignoring it entirely.

What would have been hard on the Democrats, of course, is that the entire thing would have been relentlessly blamed on them, from January 20th, onward. As long as they have to fight it somehow, the crisis is a "hoax"; but the instant a politcal enemy can be blamed for it, there's a sudden transformation into Major Catastrophe.

I was reminded of a "fantasy episode" of the TV show, The Good Fight, where a character is hit on the head and experiences a longish dream that Clinton had won in 2016. It's explained to her that the administration had announced a cure for cancer a year later...and was now being bitterly attacked by conservatives, with much equivocation and timid concessions by the liberals, for having done so too slowly.

In America, four dead in Benghazi was a Major Catastrophe, but 40,000 dead was "less than most flu seasons". Be assured that the same 40,000 dead, if laid at Democratic feet, would be 10,000 times as bad as Benghazi.

I doubt that Democrats could have held it down to 40,000, of course. There's only so much the federal government can do with "messaging".

It's fascinating and futile to attempt to guess what the US death toll would have been, up to now, with a good administration in charge, following Obama's "Pandemic Playbook". Better, certainly, but much better?

It doesn't matter, though. No number of dead would have been small enough to get a pass. The Democrats would certainly have wielded the "COVID Cup Defense", that is, showed how the USA did better than many other countries. Since Britain and France, Italy and Spain would still have done terribly, there'd be worse cases to point to.

But, at the end of the day, it would have been a Democrat failure and embarrassment, it would have done them some damage, even if they'd pulled out of it long before 2022. My overall point is that this pandemic was timed, almost to the month, to dump all the bad times on a Republican, and all the vaccination season and subsequent economic burst, will hit in the first months of the new administration.

From Biden's point of view, the timing of the pandemic was perfect. One can criticize the Republicans for performance (and must), but you can't deny they were handed the most atrocious bit of bad luck in recent political history.
---
November 29: The Political Price of COVID-18
As promised, a thought experiment about timing. What if it had come just the one year earlier? Was 2020 not just, as yesterday noted, a lucky decade for it to hit, but a lucky year?

That's just not true, epidemiologically, or for most of the world. The networking, and mRNA vaccines, were all nearly as good a year ago, good enough. Most nations had about the same politics; Australia and South Korea would still have done well, and Britain, under Johnson, very badly. Canada would have done the same. Indeed, I'm pleased, as a Canadian, to say it would have been the same under Harper, as little as I like his politics; Canadian conservatives would not have responded with magical thinking. Our conservatives are better than theirs.

But the United States? Well, for the pandemic itself, again the same. The administration denied it, no matter whether there were 15 cases - or 150,000 per day. The American response to the COVID-18 pandemic would have produced the exact same devastating documentary of incompetence.

But the final political outcome might have been harder for their Democrats. Perhaps not. I mind an interview with David Frum, who noted that that the deathless "42%", that we kept seeing as support for four years, never changed for any other reason, so the lack of a pandemic wouldn't have brought any more GOP support; the pandemic, he said, did not win Biden anything, because also nothing could increase that unending "42%".

But what if they'd successfully taken credit for beating the pandemic? It's well-known that people only judge you on the economy of the election year. Ronald Reagan presided over a recession for two years. It ended mostly because of work at the Fed on money supply, but he still ran on "are you better off now than four years ago", and picked up a lot of votes. Another legend is that "The economy, stupid", was why a sudden recession ended the first Bush presidency, despite him winning a war a year earlier.

If it had been COVID-18, then the vaccines would have come out in December of 2019. By the political conventions of August, the population would have been hitting 50% vaccinated, and another 10% immune from disease, because of their huge infection rate; the conventions would have gone on, rallies would have been huge, and you-know-who would have relentlessly pressed a message of his own heroic responsibility for every dose of vaccine. The economy is expected to explode in six months, and it would have been five months into that explosion on their election day.

I concede that Frum is basically correct, but I think that the vote would have been at least closer - and as we've seen from the frantic, pathetic attempts to cast doubt on the election, that would have been damaging.

2020 was far luckier, for their Democrats, and frankly, for democracy. Happiness is relative. Be happy. Tomorrow: what if it were COVID-20? Also a Bad Thing for American Democrats.
---
November 28: The Luck of 2020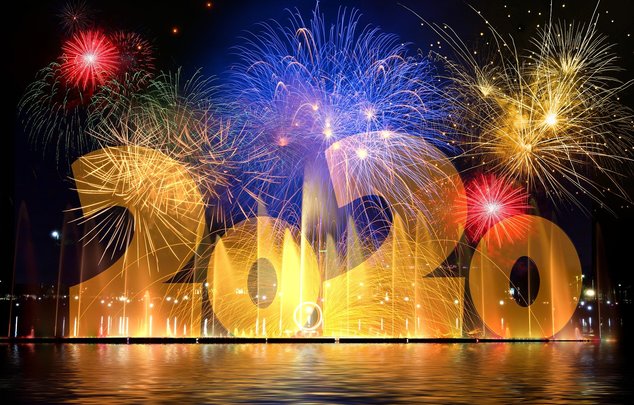 All the jokes, many of them bitter, ensure that "2020" will go down in history as "The Bad Luck Year", for the whole world.

It could have been worse. Much. It could have been an earlier year.

The horrors of a pandemic were highlighted in 2011, by the movie "Contagion", which is also all that world leaders needed for a briefing, really. Nations that did what the smart places did in that movie, are the ones looking very good these days. The SARS scare had already hit, years before, and MERS, the next year. What if COVID-19 had been COVID-13, hit soon after?

It would have hit a world with much more of it at war. Indeed, it would have been very bad in the Middle East if a pandemic had hit in 2004, with war raging.

Even several years back would have found our economy much less able to handle lockdown with only 10% of the economic output shut down. The Zoom corporation was founded in 2011. Skype already existed, but given its many bugs, I doubt that half the office workers in the developed world could have been using it, simultaneously, and most of the school students, without collapse. Our (very limited) success with telework and teleschooling, has also come from the continuous upgrades to the Internet infrastructure in recent years, to let streaming work. It wasn't there a half-dozen years ago.

And speaking of streaming, lockdown has been considerably more tolerable with all those streaming options. Not a huge improvement on 100 cable channels, but every bit has helped with morale. Those months with the library closed, and no discs rentable, were hard enough as it was.

But for the big finish, those mRNA vaccines that are now amazing us with how quickly they came out, how high a protection they offer, and how they're actually safer than the old kind, are very new. This is the first time they've been deployed in large numbers, for humans. The technology to make them at all, at scale, was only developed a few years before "Contagion" came out, and it's very unlikely they would have been approved, or even attempted, before about 2015 at the earliest.

SARS-COV-2 actually waited, very politely, for us to be much more ready for it than we were, even half-dozen years ago.

So, those observations apply to 2020 "the good year" for the whole developed world. Coming up, how it was the perfect year, almost to the exact month, for it to hit the USA -- politically speaking, for their liberals. It was so badly timed for the GOP, that one is tempted to buy into their conspiracy theories. More on that, the next two days.
---
November 27: Patriotism
Chris Nelson in the Calgary Herald and National Post today (no, not providing a link, not worth your time) derides "We're all in this together", as "sappy". More fully:
We were inundated with pious advertising campaigns...Short of asking us to link arms ...and sing Kumbaya, there wasn't a homespun homily not dusted off and presented as some part of our collective, stop-COVID-in-its-tracks campaign.
Well, sure, Chris, of course it is all "sappy".

That's because it's patriotism. Patriotism is always "sappy". Only a sap would buy into patriotism, sacrifice for others. Patriotism can get you killed, it's always best to be completely cynical and self-serving. Britons who started prattling about "we're all in this together" when The Blitz fell upon London, frequently died for their Kumbaya attitudes. Some, because they stayed in London to help the wounded, some even marched off to war, to stop the bombers. What saps.

And nothing damages "The Economy" like patriotism. To repeat, World War II subtracted 30% from the American economy to defense production, for three years. Britain fared much worse, enduring food rationing almost to 1950. It would have been vastly cheaper to have an "Anschluss", like Austria, learn a few Hitler salutes. Edward VIII was all ready to take over as a pro-German King. There were only a few hundred thousand Jews in Britain at the time. Boris Johnson nearly signed off on that many deaths from coronavirus, just a few months back, before Ferguson's presentation stopped him.

Yup, it's a lot, to ask people to sacrifice convenience, time, work, money for their country. Those opposed to all that certainly have a point. Where they go wrong is imagining that they're being asked to do all this to:

Please store clerks they'd rather spit and yell at;
Submit to a tyrannical government;
Take orders from a bunch of science nerds that don't understand business.
No. People are being asked to sacrifice for their country, for their whole country, for everybody. An invader has come to our shores; it wants to hurt us all. These are the only known ways to fight the invader, all patriots must rally to the fight.

The unpatriotic are getting themselves killed, but they're getting the patriots killed, too. We need to start calling them what they are: unpatriotic.
---
November 26: A Thanksgiving Prayer for America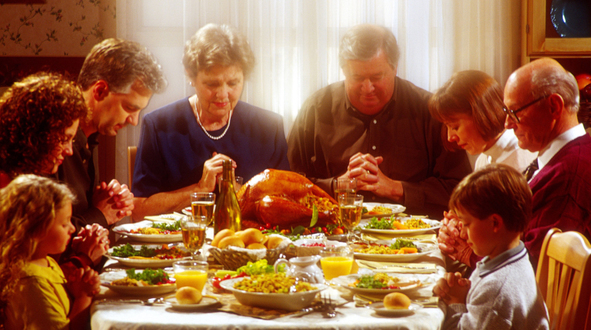 Dear Lord, let thy grace fall upon us, as we gather together about the family table, from far and wide across this great nation.

Let the laws of probability be nudged, nay, be stretched, to preclude any of us carrying the virus thou hast granted us, to show us the sins of our society. Should thy virus be present, pray alter the laws of physics, to prevent our very breaths becoming aerosol bioweapons. Be it thy will for the aerosols to fill the room, grant the elders present, the luck to not become infected.

Should thy Divine Plan include their illness, let the new treatments be not hard to find in this time of plague; let their ability to shift the probability of death downward by a third, include their cases in that third.

Do not kill us for our foolishness, for we really did mean well.

In Jesus name, we pray.

Amen.
---
November 25: Resistance
Thank you Jason Kenney for NOT locking us down. I think the increased restrictions make sense but don't go overboard. There are so many people struggling and so many businesses on the verge of closing.
...that was in my Facebook feed this morning, from family, known her all her life. A wonderful person.

But she figures that having higher case-loads than Ontario, with three times the population, still doesn't justify all that much.

The contrast with last night's CBC piece on the draconian lockdowns in Australia is sharp. They had public support, and they worked. Australia is back economic productivity today, with a total national death toll of one-twelfth of Canada's. Even people who'd lost their bar in Australia, sadly accepted the need for the actions, on camera. Everybody seemed to understand this led to the minimum economic damage, was not a trade-off with money.

My Facebook poster is resistant to current public-health policy, but on a spectrum of resistance - with these views near the other end:
We are told by the media that we are in the middle of a pandemic so deadly that we need to completely reorder our society and bring in a New World Order. Trudeau admitted as much at Davos where he met up with, you guessed it, George Soros. The same pedophile elites that have done nothing but destroy everything good in life while enriching themselves have volunteered to lead us into this glorious new future where "you will own nothing, and you'll like it".
...that was in my Facebook feed a week or so back; again, a friend for over 40 years. A great father and grandfather, pillar of his community and church, a truly sweet guy.

I disagree with these, but we all have to live in the same society with them.

I was angry at Facebook for the stuff I had to read on it, for the stupid temptation it gave me to reply, to argue. After the last three weeks, that's all drained out. There's an ocean of it, and you don't shout at the ocean.

I'm sure that Australia has a fair-sized population of people who could have gone the same way. We need to look to these successful nations: what strategies did they employ? How did they talk about this? What they did worked. What was it?

Jason Kenney's approach is not working for some of these resisters, either: I saw the "pedophile" word hauled out on him today, on Facebook, presumably for the degree of lockdown he did reluctantly accept. I didn't bother to read the post in detail. I need to read up on Australia, not shout at the ocean.
---
November 24: Waiting for the Second Derivative
I took a day off. The pandemic did not. (It never does. There's a Terminator movie joke in there somewhere: "It doesn't feel any pity"...)

It's weird, to me it feels like there isn't news right now, in spite of all the exponentials, and the vaccines, and the stores paradoxically packed, because they're so dangerous they must be closed immediately. (I'm not sure how bad that is. I'm currently irritated by shaggy locks because I was afraid to get a haircut two weeks ago. But ONE week ago, I spent a half-hour in a Best Buy...without getting within a metre of anybody for more than seconds, the new mask on tight. It didn't feel scary. Others may be less-cautious.)

It all feels like minor news, as we wait for each day's case-counts. That's the real serious news, about how Christmas is going to go, it's being decided now. The weekend numbers for BC were fairly depressing, over 600 per day. But there was a glimmer of hope, in that the previous two days were in the 700s. It's good news when the second derivative of the daily case-counts goes negative. The first derivative is the change in case-counts per day. When that goes negative, you're going down from 700 to 600 to 500, and the curve is being crushed. But it's already great news, already almost over, when the rate of increase slows.

I'm not sure if BC is yet into declining new cases, but I'm pretty sure the rate of increase has at least slowed. We need a few more days of data-points, from mid-week when the data flows consistently, to be sure. Maybe people have stepped back from contacts, from activities, broken the exponential chain.

If so, we may be better people than some. A WaPo article today openly worries that restrictions and lockdowns will just get no response in parts of America.

Once again, the people may not respond...the virus always will. It won't even take Christmas off.
---
November 22: Madrid Hanging in There
I wrote just the other day about Spain crushing the new curve, a process I'm happy to say has continued, their daily case numbers are now declining sharply. Whew.

And I can testify the people are hanging in there; we just got off the Zoom call with the relatives in Madrid, and the baby is looking healthy, the toddler is healthy and happy and bouncing about, the two adults are doing well enough with remote work, and morale is high.

PJ O'Rourke made the great comment on "morale"; it really means "how well people are doing when they aren't doing well at all". PJ notes that we speak of morale in prisons, morale on warships, morale at work. Nobody talks about the morale level of a vacation, or a love affair, or a night out on the town. So, well as things are going, it's still "morale". But they're going to make it to Spring, that's for sure.

So are we. As we go into a few weeks of the scourging punishments of Job, to which we are sentenced by the case-rates of the last few weeks, at least be sure that if we crush this curve well and hold it down, it'll be the last.
---
November 21: Introverts Rejoice! (Quietly, of course).
I like socializing, I like parties, I so badly wanted to go see family this Fall, and Christmas. But there's a little spot in there that also finds it all stressful, that kind of goes "whew!" when you're back home from the party and putting the tea on.

For lots of people, that "little spot" is most of their brain, and every hour in a group is like white-knuckle flying. They don't want to be rude, though, so they bravely accept invitations, tough it out, even put in a conversational sally or two, armpits soaking the undershirt.

Imagine how happy they are, this week! Saved, at last, after impatiently expecting a lockdown for the last week. Or three! Authorities really didn't move until they were arm-twisted. I wrote of Dr. Bonnie using "surgery" the other week. She was thinking that the key contact issues had been identified, and could be addressed, but, nope - all surgery failed, and we're back to April. Her poor colleague, Dina Henshaw in Alberta, is looking much worse right now. Most of Alberta's people are about to lock down, whatever Kenney says. Toronto, of course, has no more options.

In America, especially, this couldn't have come at a worse time for socializing: for them, the whole Thanksgiving-through-New-Year's season is a single giant family togetherness holiday. Alas, even the American "virus hoax" deniers can't really deny 2,000 dead per day, now specializing in the reddest states and counties.

For introverts, the Spring was The Most Wonderful Time of the Year, finally, everybody required to act the way they'd rather act all the time. There's going to be a great deal of unhappiness over the next couple of months, as the wave crests and slowly recedes. I'm glad that some people just got the nicest Christmas present.
---
November 20: All Numeric Comparisons Exhausted
The newsies that follow the Johns Hopkins site for the current pandemic statistics, just paused to write stories noting that the American death toll has crossed the quarter-million mark. Those of us who prefer worldometers were there some days ago, and worldometers is currently at 258,698.

The Post has a routine article about the numeric comparisons that absorbed me when the ticker crossed the "Vietnam Dead" line of 58,000. It compares the 250,000 to other disasters of American history.

It's still below the numbers for the Civil War (600,000+) and World War II (405,000), and the 1918 flu (nearly 700,000). Other than that, this disaster is the single biggest.

We are just a few days away, probably two weeks, from the last number I bothered to fix up from the casualties of war page on Wikipedia. It's 294,265 - and it's the grand total of all American casualties of all wars, subtracting only the Civil War, and WW II. From their Revolutionary War (50,000) and the "Northwest Indian War, 1785-1796" (35 casualties) at the top of the page, to the "Islamic State Intervention 2014" (157 dead) and the "Raid on Yemen 2017" (1 dead), it comes to 294,265. We'll see it around December Sixth.

The Post article does note some models show the US reaching 438,000 deaths by March 21, and actually exceeding even the WW II numbers. That would be a death rate of 1320 per million, higher than any current in the world - though by then Belgium will have pulled well ahead.

The war comparisons trigger my interest because of the variance in public reaction. During a war, every loss is publicized, keenly felt. The notion that in another month, the US might be experiencing the same losses as 9/11, every day, seems almost bizarre - 9/11 changed the US politics so much, but the losses of a hundred time as much seem only to have confirmed them.
---
November 19: Airflow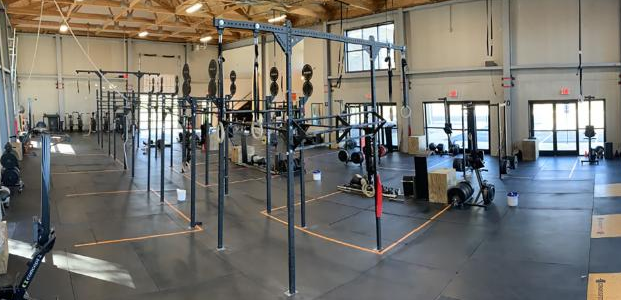 The actual virus news is bad. So is much of the political news, that reinforces yesterday's story about pandemic-response decisions being political, not scientific. I'm in search of good news.

Every day seems to bring more good news about vaccines, and every news organ jumps on those stories. The one that caught my eye this morning might as well have been a product placement, since it touts just the one business: at left, the 460 Fitness Gym in Blacksburg Virginia

Finally, finally, finally, somebody heard the "6 foot rule" and instead of saying "SIX feet? Outrageous!", said "Let's make it ten feet, then". The tape marks out your workout space, which is self-contained. No crossing into others' spaces, or sharing any equipment.

That would not have been enough, not in a gym, where people are emitting fog clouds of aerosols that can cross even a ten-foot limit, can cross a room. The key was airflow. Gym owner Velvet Minnick worked with Linsey Marr, a civil engineering professor. (Finally! Somebody asked us! We were waiting!) Marr is an expert in airborne transmission and recommended the "athlete stations" be at the doors you see at back, and those kept open. With the windspeeds in the area, the airflow was several times the normal amount. Where cold forced some doors closed, they enforced mask requirements. "We don't see outbreaks above a certain ventilation rate", Marr notes.

It's a nice symmetry: you don't wind up on a ventilator, if you ventilate your space to start with.

The amount of human exhalations in the air is monitored with a carbon dioxide meter, a neat, commercially-available approach.

The benefits were shown by disaster averted: one coach tested positive, and it turned out he'd worked with no less than 50 athletes in the space, while infectious. There wasn't a single infection.

The 460 Fitness solution can't be applied everywhere, but fans and ventilation can be greatly improved in a lot of places, like bars and restaurants. Examples like these show us how much life we can get back, altered but recognizable. The vaccine news is heartening for the Spring, but we have a winter to get through, and as much life as possible needs to go on.
---
November 18: States of Denial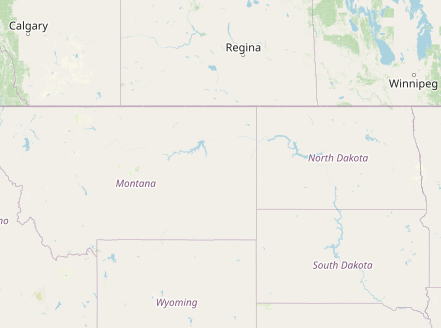 Montana, Wyoming, North Dakota, South Dakota. Four states that touch, and indeed, should probably be just the one state the size of a Canadian prairie province, like those to their north. Just 3.2 million people, almost enough to justify one senator, were their Senate rep-by-pop. Of course, they have eight senators, like the 110 million people of California, Texas, Florida, and New York. That's why the USA is not democratic enough to be admitted to the EU, if they were to ask.

And hardly any states are more for GOP politics; Wyoming delivered 70% of its vote to them this year, more than any in the nation.

Alas for them, this is associated with being States of Denial. The most-chilling story came up Monday in the Post: A nurse in South Dakota telling of patients that deny the virus is real, right up to their death.
"Their last dying words are, 'This can't be happening. It's not real,'" Doering said, adding that some patients prefer to believe that they have pneumonia or other diseases rather than covid-19, despite seeing their positive test results.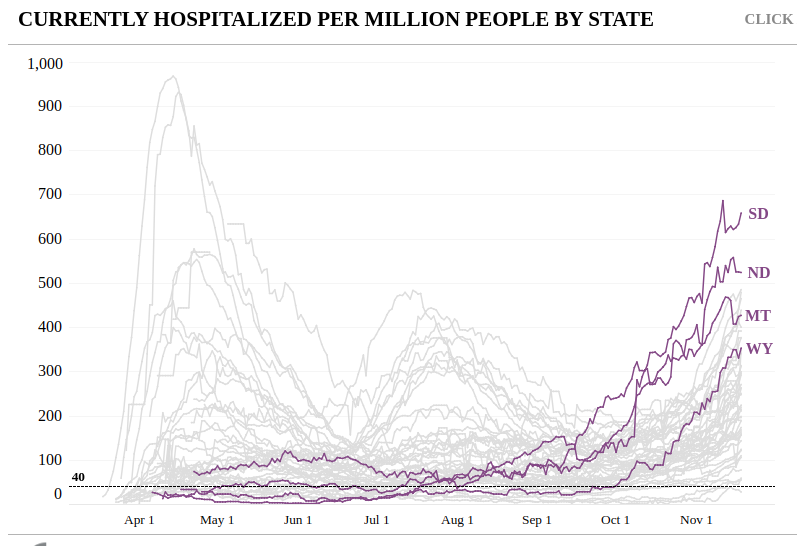 It's hard to add anything on to that. At least you can save time spent trying to get them to un-deny lesser things, like the usefulness of masks, or the good intentions of health-care officials. If you can deny you're dying of a given cause, to the nurse caring for you, right to the last breath, then you can easily deny anything.
Is the pandemic about fighting a disease, or about a radical agenda to take away all our possessions? That's where the argument goes, two sentences after attempting to discuss mask-wearing, or school closure. School re-openings are actually, the finest-grained public health decisions that are made right now, because they are far below the state, province, or even city level: there are 10,000 school systems in the US, which were studied by two political science professors for whether they re-opened or not - and what that was associated with.
It had NO association with the level of infection at the time. None.
It had a slight association with teacher's unions: the stronger the union, the more likely it was to close and go to remote instruction. A little.
But the only strong correlation with re-opening was the number of GOP voters. It's an almost entirely political decision, in most districts. The infection risk is not really considered.
So the butcher's bill for this belief system is now coming in. British Columbia and Ontario both have about 40 people per million in hospital right now, the dotted line low-down on the chart at right. Their prairie states have almost ten times that. BC is now losing about ten people per day to covid, and we know that is doomed to double and more over the next few weeks. But the four states are will be losing 80 people per day, all next week.
Whether it goes on up to 100 and 200 per day, for under 3 million people, is up to them, really. They just have to leave the State of Denial.
---
November 17: As It Gets Bad, Take Heart From The Wins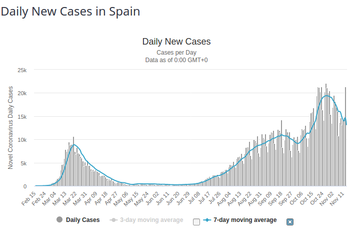 So, it's bad. It's getting worse. We don't know when it will turn around, either. Are the new restrictions enough to get "R" back below 1.0? Will people obey them? It's getting scary out there, with hospitals filling up. It's scary that Manitoba, which has been so exemplary and safe for months, is now the least-safe place to breathe indoors.

Well, take heart from Spain. Site of some of the pandemic's worst horrors, they had a new wave come for them in August, at left, that was higher than the first one. (At least in confirmed cases; those first waves may have been larger than we could prove, not enough tests.)

You notice that they were not successful at crushing that curve, it only dipped briefly in the middle of September for a few weeks, then began to soar again in October. The failure came from another success we can really cheer: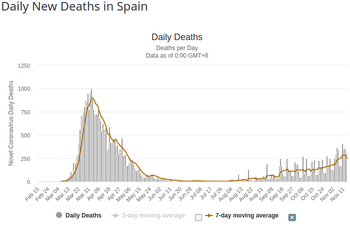 The deaths barely ticked up, thorugh the curve was as high as the first. Mostly, it was a younger demographic, of course, as covered here months ago; partly, it was new therapies. Either way, it makes the virus a lot less terrifying.
The other victory is just in the last three weeks: having soared up to an even-higher third wave, they got serious with restrictions in October, and it's now clear the curve is decisively going down. They have another month to put in, clearly, at the rate they're going. But it can be done.
Additional cheer comes from The Tyee article about the places beating COVID-19, one of which is Atlantic Canada - they'd be a world leader like South Korea or New Zealand, were they a separate country.
And the Globe has a great article about the state of Victoria in Australia and how they got it down and kept it down, a fulsome victory from the word "go".
The motto is "Go for Zero"; let's join in.
---
November 16: A Word From the Financial Post: We're All Just Money
I used to do cost-benefit calculations that mostly involved money, but also "service", and we put a notional value on that - a house out of water for a night, we'd spend $100 rather than see it happen, that is, $2500 preventing one main break that would inconvenience 25 houses. These calculations get controversial when you're spending on infrastructure to prevent death, like guardrails on a road: you have to put a figure on what you'd spend to avoid a human death, and we currently round that up to about $10 million. (Highway departments budgeting for guardrails, and chemical plants putting in pollution controls, may use different figures, and there's not enough journalism done pointing out the disagreements.)

A friend who used to work there with me sent me a link the other day to a Financial Post article by non-health expert Terence Cocoran on the topic of how we may be valuing human life just too darn much with this lockdown stuff. Maybe the hit on "the economy" (a term I've come to distrust) is too expensive. Virus fighting is apparently so expensive it has to value human life at an over-the-top $17 million to make financial sense.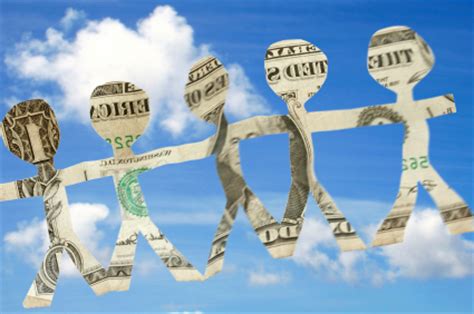 I didn't like the article much. It breezes past the issue that it's not just death. Several times as many people may be permanently injured, in nerves, veins, and organs, as die - and may suffer permanent loss of economic productivity, and indeed need expensive care, themselves. I just spent more words on the issue than the article did; that's all skipped.
Then, the article notes the plummeting death rates from the virus, as we've kept more old people from getting it, and learned a few therapies. The analysis skips over how the death rate would soar again if the hospitals clogged, or how the whole "economy" would suffer if case-rates went so high that a quarter of the population was at home, either sick, caring for same, or afraid to go out, if over 50.
There was more discussion of these issues, and more detail, from an journalist-specialist on the subject, Cass Sunstein, author of "The Cost-Benefit Revolution", in an article in Bloomberg.
Also, it came to opposite conclusions, citing a study that showed about a $5 trillion profit for America in locking down, that is, the unfought pandemic would cost $5 trillion more than the cost of fighting it. It does acknowledge that we could slip into negative numbers if the depression stretched out long enough. (Dating to March 22, it had no idea that good vaccines would come so early.)
The Financial Post worldview is neatly expressed by an article this morning: "Posthaste: Great news about a new vaccine, but the rollouts are still a year away and that may be too late for many firms."
For many firms? For the businesses, for the machines owned by wealthy investors to return profits? The vaccine will be too late for them? Yup, the article summarizes the vaccine schedule situation, then the economic forecasts, and calls out this sentence with its own paragraph:
For many businesses, the vaccine may come too late.
The word "people" does appear in the article, when it is summarizing how many need the vaccine.
But they just don't notice that the vaccine will come too late for a lot of people, who are going to die. Indeed, one of those business problems is that after they die, they stop buying stuff, and definitely don't show up to work.
It's how unconscious this telling slip was, how they don't notice the signal they're sending, that's kind of delightful. I suppose tomorrow's article will look on the bright side, how the huge surge now hitting America will be good news for the funeral industry.
---
November 15: Andre' Picard, Gold-Star Award
I have to promote some more Canadian journalism today, though it's hardly "independent", as the Globe and Mail is, of course, Canada's most-venerable, 'mainstream media' newspaper. I've got my problems with the Globe, won't subscribe to them. It irritates me excessively that they have special, front-page sections on "Investing", and "Report on Business"; but no section for that part of the economy called "Labour", which of course describes over 90% of the population.
But, on health and medicine, they do have Andre' Picard. Picard is an example of something I'm normally disapproving of: a reporter with only general knowledge to start with, had to pick it all up on the job. I'm an admirer of the book, "Informing the News", by Tom Patterson, which advocates that reporters have knowledge specialties with formal training. (Most-damning story from the book: Wall Street analysts complaining that the reporter sent to interview them had to have the terms "credit" and "debit" explained.)
Well, Andre' may not be a physician or biologist, but, damn, he really did pick it all up on the job, and has been winning awards and plaudits for his coverage for many years. His work on the pandemic has been exemplary. (His thumbnail up there is a link to his page at the paper, with all his work.)
What I have just discovered about the Globe is that I can support its best work by dropping $7 on the weekend edition in paper, more for the now-novel experience of reading the news at a table, with breakfast dripping onto the page. Yesterday's edition had an excellent opinion piece, which, like all Picard's "opinion" pieces, have more facts and figures than most news stories.
Doug Ford is properly excoriated for his loosening of restrictions while putting in his "colour coded system", the one I made fun of months before he invented it; loosening, as cases increased.
And, Jason Kenney is hit for his "I trust the public" line that is the opposite of leadership.
Best of all, Picard makes the simple, clear call for an inflexible set of rules: at so many cases, or so much positivity, restrictions increase whether politically convenient, or not.
Support your independent media, but don't miss Andre', either.
---
November 14: Canadaland on Care Homes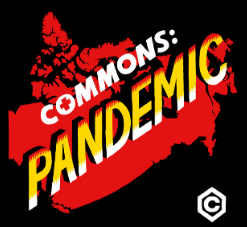 I end my plugs of Canadian independent journalism with a repeat, today, of my plug for Canadaland's "Commons" Series, "The Pandemic", which focused on the care-home debacle. I wrote about it on August 29, "The Plight of the Living Dead", an admittedly awful term that came to mind as I read about the deep dementia that afflicts so many residents.

It's excellent journalism, and the podcast format is a great presentation of it, hearing the voices of the families, the actual residents, the care-givers about the emotional topic. What I'll add today is for those who'd rather not depress themselves with sad stories of people in a bad way, of stupid bureaucracies and suffering caused to save a few pennies.

That's understandable, so please at least listen to the very last episode, "The Most Dangerous Story", in which you hear about a care-home that tried something different, and succeeded beyond expectations. It's inspiring, and heartwarming, and positive. It'll do you good.

It does start off with the most effectively chilling thing I've ever heard on podcast, or radio before it. With some terrific writing, and skilled sound-editing, they somehow took me into the mind of a man replaying, over, and over, and over, every day, the worst half-hour of his life. A man searching frantically for a safe door from an air-raid, those moments coming back, in his dementia, as he searches for his own room in the care-home. And then you are shown his route out of Hell.

I had to stop typing there to wipe my eyes, just remembering it from four months ago. Let that be my review. It was just brilliantly effective story-telling, and Canadaland's Arshy Mann deserves a couple of journalism awards for producing it.
---
November 13: Will You Kindly Stop Giving Your Coronavirus to 1.3 Other People!
It's very rude. Especially the part where they might die.

When Bonnie Henry gave a specific growth rate on the news yesterday (Daily Case-rates have doubled in 13 days), it took half a minute to work out the new "Rt", the number of people in turn infected by each new case, at this time.

For a rough number (and no other numbers are possible in pandemics, we now know), you just divide the doubling time by five, because the average time between "generations" is five days. In this case, 13/5 = 2.6. You then go to your calculator and take that root of two, because it's taking 2.6 "generations" to double. So 2 (y-root-of-x button) 2.6, (equals button)...and we have 1.3.

Currently, on average, every new infectee in BC is infecting 1.3 other people. We know that this average couldn't be further from the truth, of course, my headline is just a joke. The reality is still that most people don't infect anybody, a few infect one other, and a small number of "superspreaders" is 80% of the transmission. It's the "Pareto Pandemic". So far, Dr. Bonnie has been trying surgery on our activities to just cut out the superspreading events, and leave most activity intact.

The latest is that the superspreading seems to be mostly in the home, around the table, as it were. That's a hard thing to ask people to give up. But I missed a chance to connect with an old friend from work, whom I haven't seen in years, just yesterday - and we cancelled both Thanksgiving and Christmas.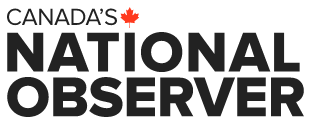 We're doing our bit; everybody else has to, right now, because those curves have gone all smoothly exponential again, where we can predict next month's death-count with that button on my calculator.
I'll admit, it's a bit of a struggle to promote my next plug for Canadian independent journalism, the National Observer, at right. They've put some resources into the pandemic, but don't have a dedicated health expert. While they express a great interest in First Nations issues, they've done almost nothing on the effects of the pandemic on First Nations communities.
However, they've been good at covering the economic issues from the pandemic, and the problems in our jails. Give them a look, they're mostly reader-supported, and thus more independent than most of your other news.
---
November 12: Good Coverage by Canadians (I)

I'll be doing free plugs for Canadian news media for a few days. In my quest for pandemic mental health, I'm trying to reduce my consumption of American news media, the way I'd try to stop eating licorice for lunch. It raises your blood pressure too much.

Today's plug is for The Tyee, a small BC paper that does everything from regional to international, and is highly independent.

The graphic at left links to a nice opinion piece - on how the stupidity that powers American right-wing politics, is also the stupidity that is killing people in the pandemic. Admittedly, the data comes from an American news source, the dry Associated Press newswire.

It seems that they went down below the state level that I graphed three weeks back as "Statistical Proof GOP States are Getting Sicker", to the county level, and found the correlation has become tighter still. Of the 372 counties with the highest number of infections, 93% voted GOP.

What I liked about the Tyee opinion piece by freelancer Mitchell Anderson was the willingness to estimate a butcher's bill for American mismanagement, a number I've struggled to justify. Anderson, Canadian, simply compares them to us:
Canada is no world leader on COVID-19, but if the U.S. had managed to replicate our flawed pandemic response, they would have saved almost 150,000 lives and $10 trillion. This is the terrible cost of having to accommodate endemic dumbass behaviour.
Ahhh...the relief of just flatly stating that, the Cold Equations, the numeric reality.

Best of all, Anderson actually then has the nerve to switch topics, though switching away from "150,000 dead" takes discipline. He goes on to compare the dumbness to our own with opioids, and how many lives we could save there. It's a Canadian article, concerned with Canadian problems. We can still improve our own pandemic response, and we can use the lessons learned to save more lives taken by other mistakes.

We don't have to obsess over neighbours who are vastly more dumbass still - the message I need to take to my heart, and get better.
---
November 11: Remembrance Day is NOT Cancelled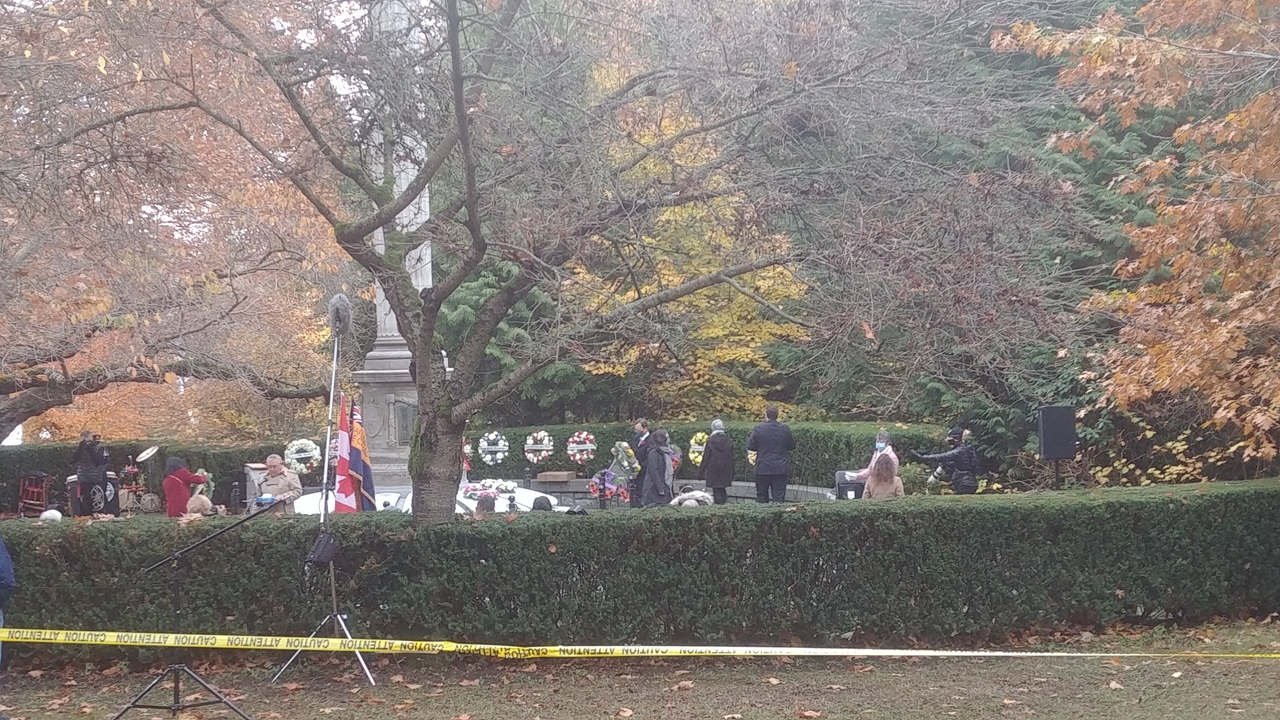 Officially, yes, no ceremonies at the big cenotaphs in the centre of cities. But Vancouver has more than one cenotaph. This one had its hundredth anniversary this year, and the community around it was not about to stay away from it for any stupid pandemic. They, and we, the crowd, found a way to do it.
Those holding the ceremony stayed distant and masked except at the microphone. The cenotaph is just in Stanley Park, in the nicest-gardened part of it - just west of the Aquarium. It's nestled in the trees that grow by the little creek, that runs behind the sea lion pool. (The sea lions make their comical-sounding calls all through each solemn ceremony, every year. This year, those calls are bittersweet comedy, because we can't go visit them.) So the crowd just had to spread out like this, and did so naturally, no prompting.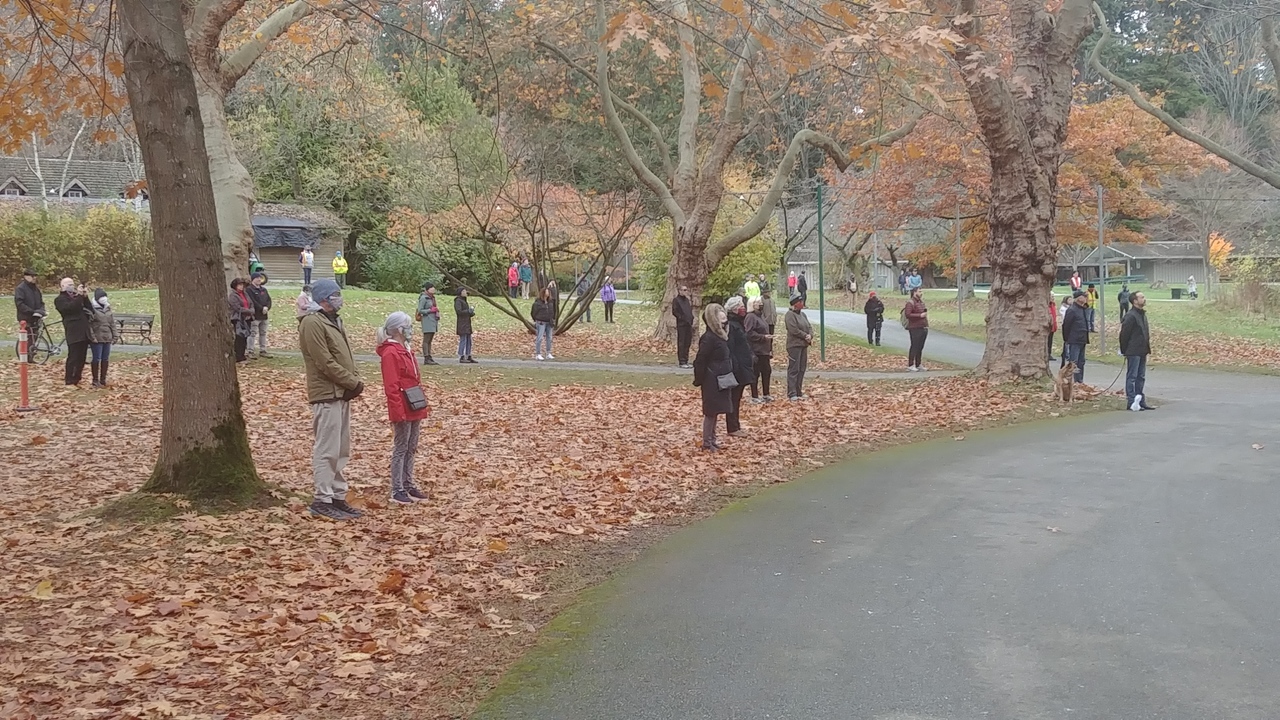 The police honour guard were distant enough up on their horses, I suppose, who were good as gold throughout. The "nine o'clock gun", just a kilometre distant, boomed 21 times throughout the hour, the echoes vollying across the harbour, but the horses remained calm.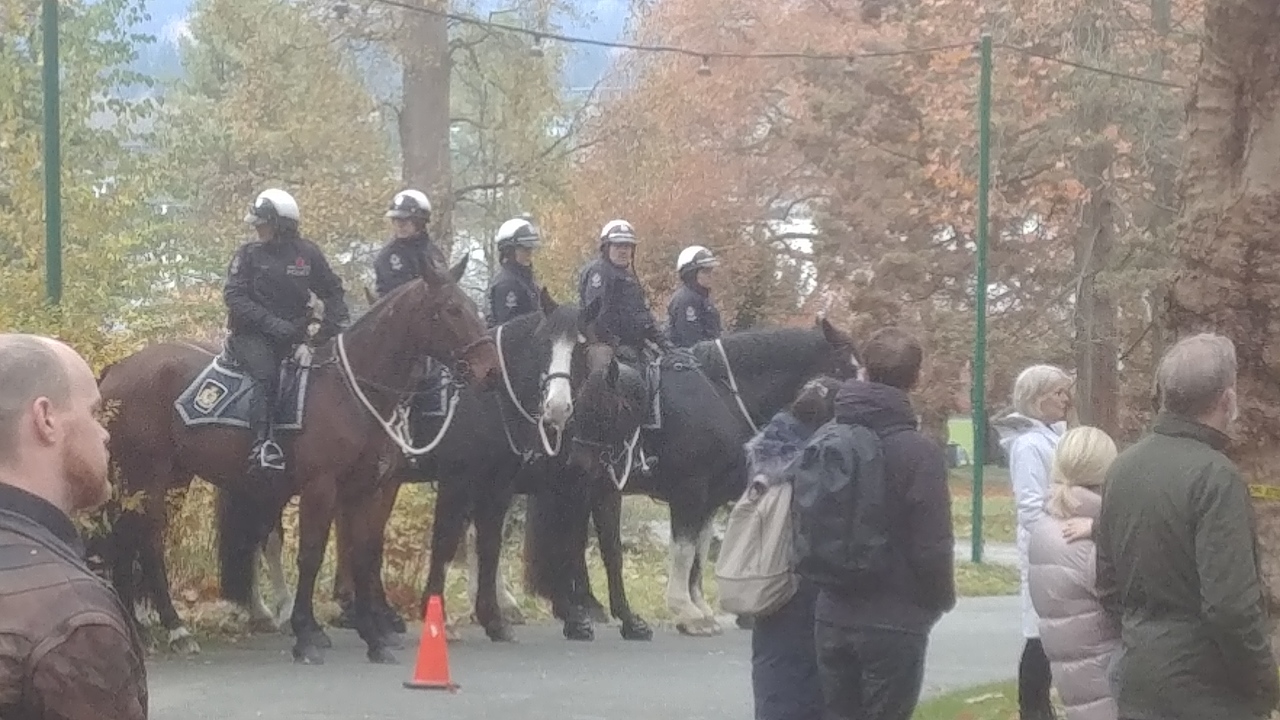 Various dignitaries "attended" by livestream, and P.A. system. There was a half-hour of stories told, about how the Nisei fought for Canada, despite not having the vote. They fought for us, anyway - twice. They asked for the vote in 1915, got accepted into the army when desperately needed in 1916, and got the vote...in 1949. After the second war, which had internment, for their families, for thanks. This was Hedy Fry, the local MP, and their descendant. So was the MLA who spoke next.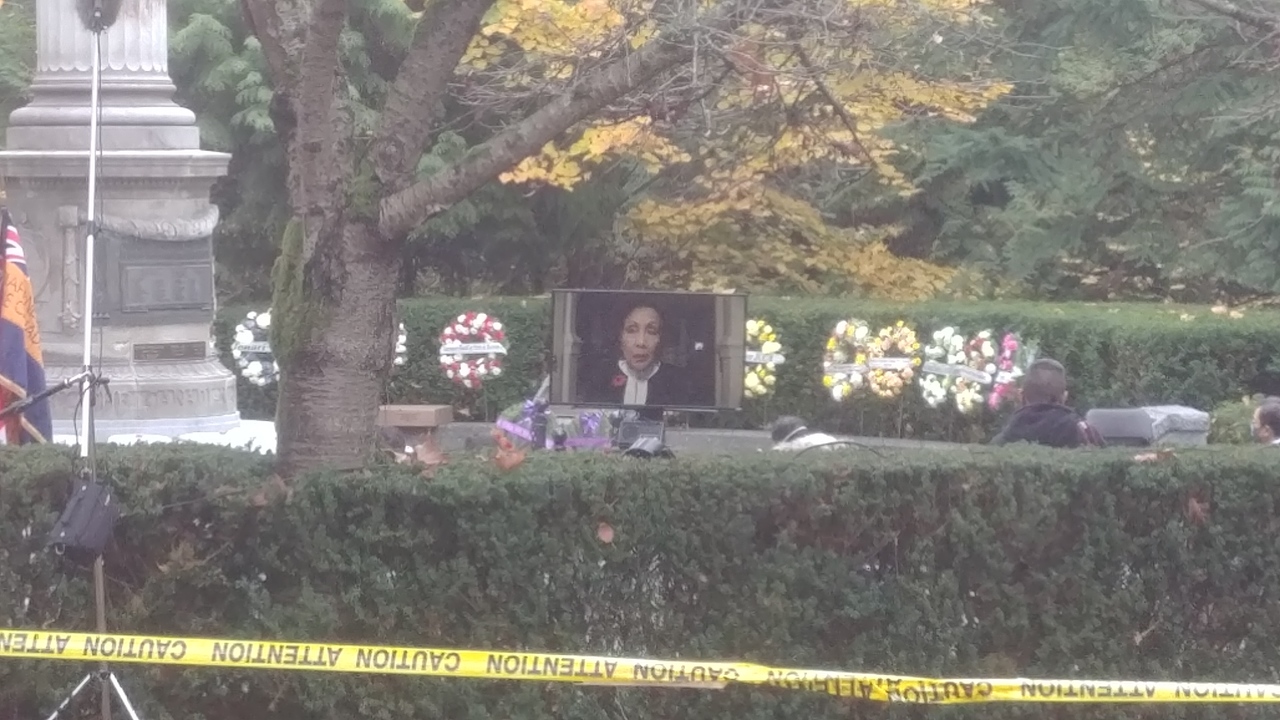 Afterwards, we walked back through the least-known memorial of them all: the garden devoted to plaques about the air force trainees in BC. It's the most beautiful part of the park.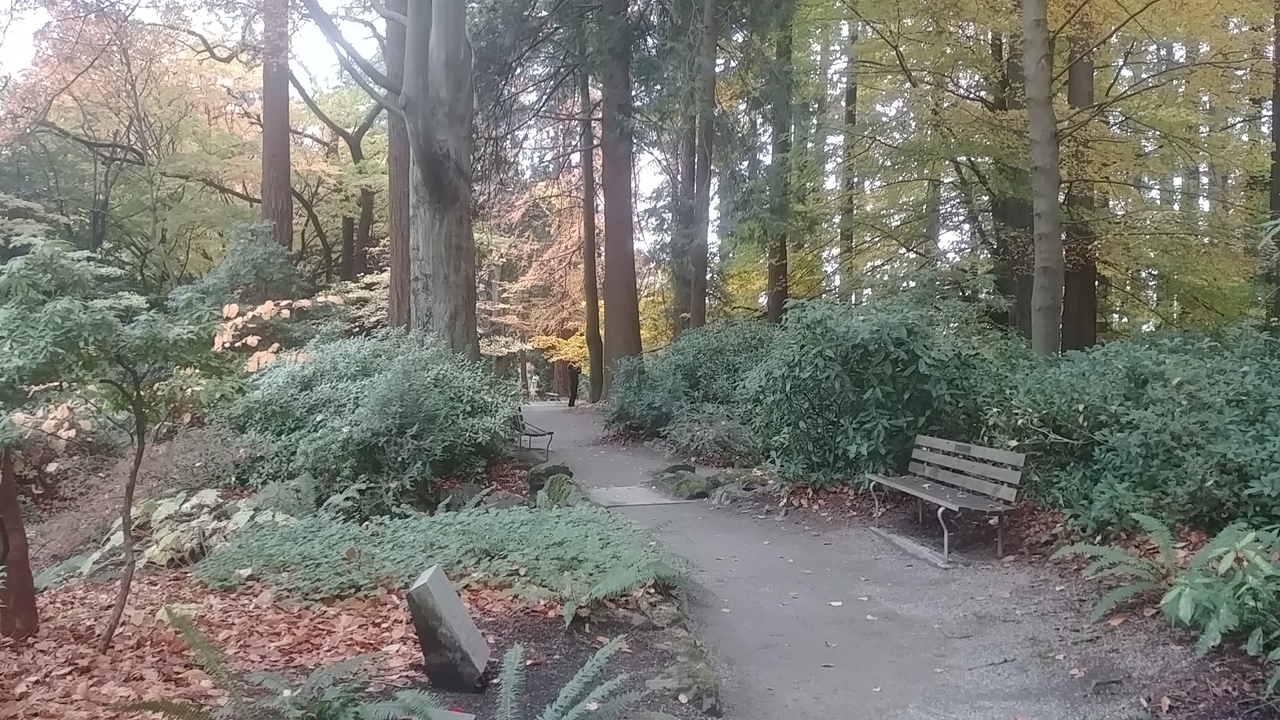 This year, the garden has a new plaque. Just installed a few months ago. This place is so little-known that we were quite alone. But Remembrance continues, in an unbroken chain.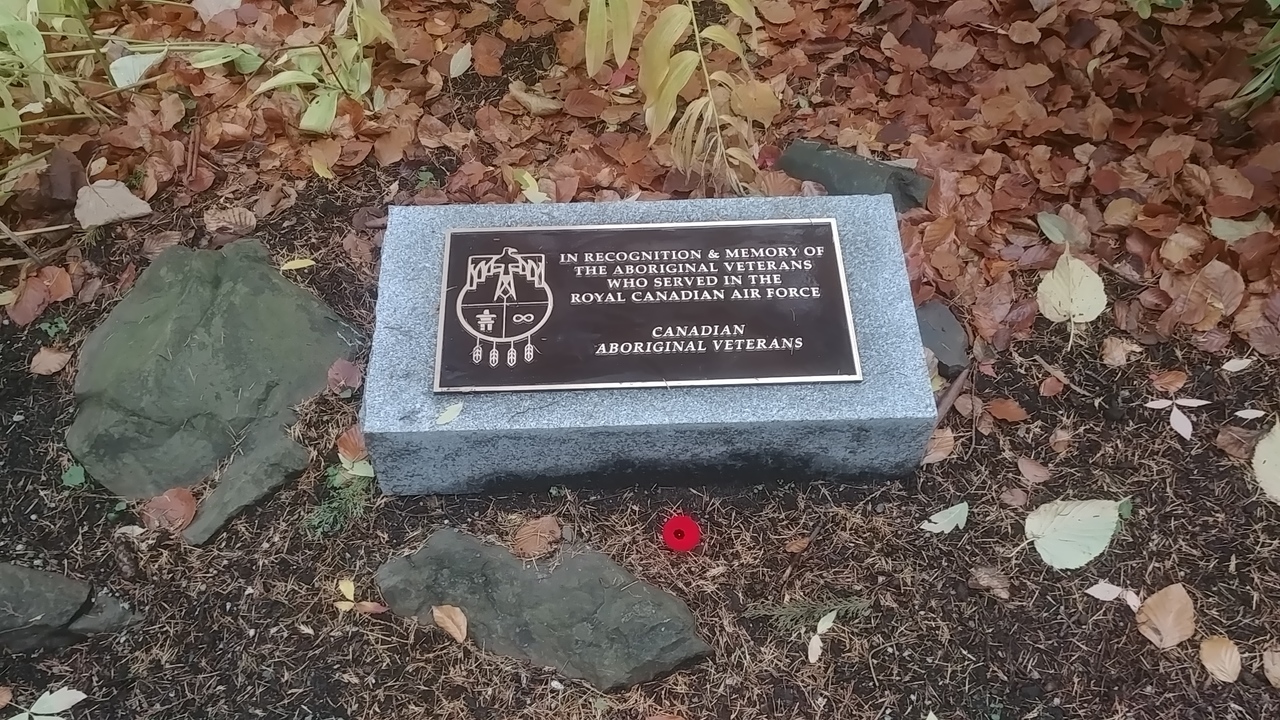 Remembrance of the dead has a second layer of meaning this year, of course; we've lost so many. Canada, about a third as many as died for us in WW1 (61,000). In America, already more than twice as many as the 110,000 they lost, and their current government has surely doomed them to that rising to three times as many, before the still-rising wave is crushed. The news today is that the American government is now basically doing nothing about the pandemic.
It reminds me of those movies about WW1, like Gallipoli, or Paths of Glory, about how people were dying in one failed attempt after another to save face, and yet the generals were stubbornly stupid, letting them continue dying pointlessly.
---
November 10: Christmas is Cancelled
It feels that way, at least. Relatives in Calgary will be celebrating without us visiting, and we're skipping the presents for good measure. (The "present" is that an 88-year-old adds zero more infection risks that month. Our presents are our absence. Not funny?)

Yes, even the Grinch couldn't steal Christmas, and we'll be fine with our Skype sessions with the family. But it sure is a crushing disappointment. It would be worse if we were one of those locations in America or Britain where stupid behaviour could be blamed for this second wave (often third, in America) that's ensured we'll all be living more-limited lives again for much of the next month or more.

But, one must admit, BC has been pretty good, had nothing but the best advice from public health, and mostly taken it. The second wave is mostly just Fall indoors, school, the accumulation of more and more businesses opening, I think. The evidence is the aforementioned "surgery" of only restricting family gatherings, and a few businesses. There's nobody to blame, for which we should all be grateful. Any cracks in the feeling that "we're all in it together" can literally be deadly.

No wonder everybody is crying with gladness at the 90% vaccine from Pfizer, which has Canadian work in it. It's a dramatic new way of making vaccines, and the now-high chance of it working means that all vaccines could soon be coming out better and faster, following mutations faster. Another great new research in the field is from a Canadian company, and showing excellent results. (Two stories in the same day, that contain the phrase "even better than we hoped". The researchers must have been restraining an urge to twerk.)

As the PM says, it shows a light at the end of the tunnel. Between the grey, dark Fall weather, and the pall cast over Christmas, the multiple vaccine lights winking on this month are sorely needed for morale.
---
November 9: A Modest Proposal
The Basement
November 9, 2020
Occupant
The White House
Dear Sir:
You are welcome to all the lawsuits and recounts you want, but I think you know, deeper down, how they are going to play out. Also, you know that I will be under intense pressure - from millions - to ensure that the Justice Department enforces every law that you may have crossed paths with, in the last decade or so. I gather there are four areas where they really won't let me ignore.
You can't let the Presidency wash clean previous crimes, so they have to look into the money-laundering and tax fraud concerns that pre-date your taking office.

We can't let the $40M for Mueller go to waste either, or the clear conclusions be ignored, so there are ten obstruction-of-justice charges to pursue, and ...
...a couple of campaign-finance allegations involving the young ladies.

What really has people fired up are the emoluments, all the many profits made from the office.
They aren't going to give me a choice: if I don't pursue that, the whole emoluments clause of the Constitution becomes a dead letter, not just a mere law.
So it's awkward for you, attempting a self-pardon, when that would establish any president entirely above the law; and it's awkward for me, because I don't want your supporters going crazy with their M16s, during the endless trials.
Indeed, I don't need your trials being "The Conversation" for about...oh, four years of appeals, I'm sure...when I'm trying to get policy discussed and passed.
So here's my solution: I can pardon you, and not be lynched for it, if and only if it would save a hundred thousand lives. Normally, that would be impossible, but, what a coincidence, here were are the one year of all American history where I could plausibly claim that. Epidemiologists will back me up on it: on the one hand, you're getting people killed. On ther other, you can save lives by just...going away. What a gift.
So: I'll pardon you. Hell, I'll pardon your family. I'll even pardon Steven Mnuchin for breaking the law to withhold your tax returns, if you care. If - and only if, Mr. Pence resigns tomorrow at 11:58 AM, you resign at 11:59, and Justice Roberts swears in Nancy Pelosi as the 46th President at noon. She will form a caretaker government of my proposed appointees, that will immediately implement a stringent pandemic response.
It's a terrible and shameful thing, a man being able to save a hundred thousand lives, by nothing more than getting the hell out of the way, 70 days early. It's a worse thing that 71 million voted for the problem in the system. But here I am, it's now my job to deal with it. My job and Nancy's.
She will not pardon you. I will pardon you in just over two months, provided you spend those two months tweeting and announcing exactly what you're told to say, which will be messages of heartfelt support for the new administration, and strongly urging your supporters to work with us in a spirit of peaceful, American transition. A lawyer will be at your side, all the time, ensuring you don't slip up, and you will cooperate, or lose your pardons. Your support must be so forceful it's impossible to walk back, after the pardons.
Be good at it, and Nancy and I will have a serious talk with the New York prosecutors, stressing the New Yorker lives saved, and get you off on everything. Just be good for 70 days, and you walk.
The beauty of this is that my supporters will know I won a hard bargain for those pardons, that you'd never have left for less. But your supporters will think that you had the big conversion in your great and unmatched wisdom, and I pardoned you out of respect, because they're incapable of thinking that you were beaten, frightened, and controlled.
Tweet "covfefe" again if you agree. Only you and I will ever see this page.
(signed) Joe.
---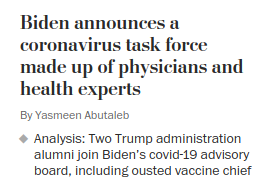 ---
November 8: Dr. Bonnie, Doing Surgery Instead of Slashing
Lockdowns no longer loom! Dr. Bonnie's new restrictions are out, and they barely touch commerce.

Bad news for wedding and other party planners, for indoor gyms, for restaurants that hoped to push a few tables together to host a meeting, but otherwise, business as usual on Main Street. A lot of people with shaky jobs can breathe out now. (Just breathe out through a mask.)

Interestingly, the restrictions are far more intrusive into personal lives than a mere business lockdown. Telling people how many family members can gather together? Pretty busybody of her, and totally unenforceable. It really depends on voluntary cooperation.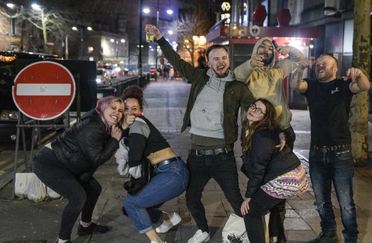 I think Dr. B will get exactly that, if reputation and the obvious evidence of ever-higher case counts means anything. I know that I'm wondering whether to get a haircut. I was thinking of getting one a little early, because "lockdowns loomed", and realized that thinking is all-too-close to the, umm, "Bridiots" in the photo at right: going out for a night of drinking and breathing on each other in crowded bars, just before the lockdown. Sigh.
Nope, I'm going to hope that Dr. B has the right mix of advice again, is going to nudge and urge and chivvy the public into crushing the second curve, and I'll be able to get my haircut in a few weeks.
It's not even about my personal risk, I really doubt I could catch it at the barber shop. It's about performing the act of being cautious, in the hope it will make others more likely to be the same, not just when seeing me, but all day. It's how we can all contribute. Those cases are getting truly alarming, and we have to get serious in response.
---
November 7: Lockdowns Loom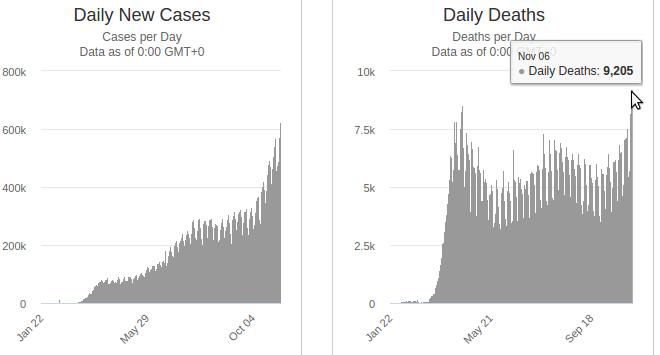 A great bolster argument for not getting your head involved in endless American political dramas: while we were distracted, the world went to hell.

America's numbers are exploding, but so are Canada's, Britain's, all across Europe. Lockdowns there are already being announced. At left, the overall world graphs just hit the very highest one-day rate of death reports ever. Not without warning, it followed weeks of smooth, unresisted exponential growth.

9,205 people around the world died in one day, of covid, and the curves assure us that we're just days away from the 10,000 deaths/day period, which could go on for some weeks, even with frantic lockdowns to crush the curve. Again.

It's pretty frightening, seeing the BC case numbers simply soar. Everybody seems baffled, it's like "We're doing everything you said! What does it want from us?". Well, "it" wants a lockdown, I guess. Covid communicates its wants by killing people, so you have to accept the message.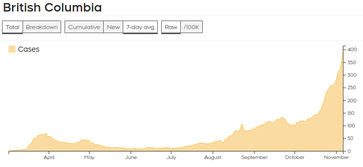 "There are only safe behaviours", is the CCCC motto: and "safe behaviours", the virus gets to define. We're learning how protected we were by the summer, apparently, how able we were to get away with various occasions. For BC, at least, Dr. Bonnie seems to be pointing at family gatherings, not at commerce. I suppose in summer, windows were open during those family dinners, and it made a difference.
It would be a novel "lockdown" if she left all the stores and restaurants open, but forbade people to gather outside the home in any social way. Much harder to police, harder to turn into politics, since people's jobs are not being hurt.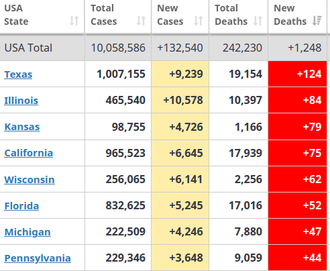 Since the post is intended to turn us back to the Real Problem from the invented problems of the Drama Queen Nation, I'd rather avoid all American news altogether.
Alas, they're actually the worst-hit of the new surge, so they have to get a mention. While they were consumed with shouting at each other, the worldometers site, some days ahead of the "official" counts from Johns Hopkins, has just rolled up some very round, and terrible, numbers for them, at left.
They just hit ten million cases, yesterday. They whizzed past that mark, as they also have just started breaking records for new cases per day. At this rate, they'll now add a million new cases every week, ten thousand of whom will die. Probably a thousand non-elderly adults per week.
OK, to finish, I did check the news, and, yes, it is huge pandemic news that their administration will shift, to one that is willing and able to fight the pandemic, in 74 days. Unfortunately, I see over 100,000 dead by then, most of them could have been saved.
Has it become harder to care about that, when I got so angry at so many of them the other day? Not really. One can feel compassion for suicides.
---
November 6: Toxic Work Environment
Day two completed of my ignoring the news as best I can, when that's almost impossible. What's been impressive to me, is how much generally better I feel through the day, catching up with books and avoiding news.

I've had to admit that being interested in major American papers is only a short step above social-media doomscrolling.

America's limitation of two political parties has degenerated down to just two opposed cultures. I mean, damn, we thought WE had "two solitudes", two cultures that didn't understand each other. Quebec and the rest get along beautifully by comparison to them.

America's terrible politics have crippled their pandemic response. One side feels such a need to promote their politics, that they'll promote them with bad public health moves. (NO, you can't blame one guy. He was supported by his party. Who were afraid of his supporters. Because of their toxic political atmosphere, and because many of them actually agreed with him, which makes blaming his "mental illnesses" problematic.)

Everybody's heard about toxic work environments, too many of us have been in them. When every project turns into a drama; when every meeting is a fight, because somebody had to pick a fight, because every day at work is about dominating others in the team, first, and getting the job done, distant second.

American governance is a toxic work environment. I first started reading their news daily when Clinton was trying to get them Canadian health care. It was popular in polls, he'd pretty much run on it and won, it seemed to be inevitable. If they do get universal health care by, say, 2026, that would be thirty years later. Keeping in mind that Clinton was 30 years behind Canada getting Medicare. When Team C can do something by 1966, and Team A is still arguing sixty years later, their work environment is profoundly unproductive. It also can't manage a one-year project, like this year.

American politics doesn't just look like a reality show on TV, the great political discovery it took a TV star to spot. It really is manufactured drama, just like those shows create it with deliberately toxic situations.

This week's drama couldn't happen in Canada, because our system was better designed. We spend something like three to four times as much per vote on elections, than Americans do. That's why we don't have "voting machines" and "hanging chads": we simply pay retired people enough money to just count them all, in small batches. We have many more voting locations that only have to count a few thousand pieces of paper, each, which only takes a few hours. That's it. All their current voting problems, still going this morning, are artificial.

In 1915, every time WW1 soldiers fought and died over the same five hundred yards of ground, back and forth, each battle was a great drama indeed. After the war was over, a account of it is repetitive and boring. It'll be the same one day, reading about pitched fights over minor improvements in health care. This week, for instance, the election is against the guy who wants to move another 500 yards towards the far-off goal of having what we got in 1966, and the guy who wants to take back the 500 yards Obama got in 2014.

Oh, yeah: according to worldometers, 3514 Americans died since the start of November third. More than on 9/11. I don't belive the news noticed.
---
November 5: News Blackout
About the only "pandemic hook" I've got for this post is the realization that the pandemic, and perhaps looking up material to blog here, has given me a news addiction that I'm glad to break. I haven't looked at a news page since 11pm on the 3rd, when I realized how many Americans had still turned out for President Pandemic-Promoter, and suffered a disgust-attack that made me genuinely ill.

News addictions are perfect pandemic companions: you stay in, you work out your emotions and rage at all sorts of things, you fall into hypnotized fascination with the rolling numbers. It's the little brother of Facebook doom-scrolling: there's always another news story, another page you haven't checked for hours.

So, I cancelled my New York Times subscription yesterday, after over 15 years. It's baby steps: that one was $275 a year, whereas the weirdly bottom-basement deal with the Washington Post is literally just $20/year. So that's harder to cancel. What I need to cancel is the amount of it I suck up. Crazy as trying to eat the all-you-can-eat buffet: you just make yourself sick. And fat. Headed.

Also, I have to switch to supporting Canadian news. I'm already into CanadaLand for $10/month, and I'm bumping to $14, and throwing in a gift to help them fight a lawsuit from "The Rebel", Canada's own effort at alt-right trolling for profit. We subscribe to The Tyee and the National Observer, also. I'm going to spend more time on our problems, even if they aren't as entertaining and outraging.

They are, at least, saner.

I've been saving, I don't know why, an intended post about CanadaLand's coverage of the care-home debacle. It's wonderful, the last episode in particular deserving some sort of award. Coming up soon.
---
November 4: Sickening
I think it was Alice Cooper, doing a joke election campaign, had the slogan "A Troubled Man For Troubled Times". I can go way further: "The Sickest People in a Sick Nation Vote for a Sick Man for Sick Times". And prove every word.

I also could make the case with "sick" as a metaphor for military and diplomatic failures and economic woes, but they're also the literally sickest nation; and the literally sickest states had the highest votes for the sick man in the mental-illness sense.

What government the Americans end up with, is a problem for tomorrow or the next day, whatever. And mostly, their problem. I'm just writing about my revulsion at their voting patterns. Even supposing a "win", it'll feel like a loss for being so close.

I really expected better. Much better. I went through all this before, in 2016, concluding I had to quit caring about that country, and here I sit, exposed as an idiot who couldn't quit them. Each of these crises has made me think, over and over, like Charlie Brown running at Lucy's football, surely this, this, extraordinary crisis, will move them. But it's Biblical disappointment, where God kept "hardening Pharoah's heart" against the chosen people.

Every time, we find their hearts are too hard to change. Not for failed war promises, for discovery of torture, for financial collapse of the mightiest capitalist towers (of money). And now, not for a failed handling of a pandemic that will take 300,000 lives by Christmas. A challenge the whole world has met, nearly all better than them. What more proof did they need that this political philosophy didn't work in the real world?

I should have been ignoring them as best I could, as promised in 2016. I would have been much less sickened today.
---
November 3: Watch This Instead of the Election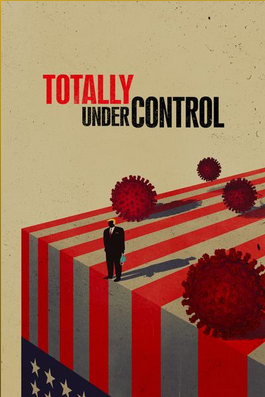 I don't know what solution you have for seeing something on America's "Hulu", though I think it's also a Shaw video-on-demand offering, but by hook or by crook (many chose "crook", via bittorrent), see this movie. What's the point in watching the American election coverage? You can't affect the outcome. Just take the day off, except that watching this movie is work. Emotional work.

As mentioned in previous posts, we had to watch it in smaller chunks, because you get reminded of all the past failures, and get angry at them again.

It's a remarkable achievement to make any movie in a short time, and during a pandemic, just amazing. They basically invented a self-operating movie camera to send to people, so they could interview them over Skype, but not use the Skype feed, rather a real camera that made for movie-quality interviews. A technical-achievement Oscar may be due.

Alex Gibney has, of course, been making most of America's best documentaries for many years now. He goes back 40 years, but became well-known after his Enron takedown in 2005, and the torture story "Taxi to the Dark Side", in 2007. He's not afraid of tackling high-tech, with Steve Jobs, Russian Hackers, Wikileaks, and Stuxnet, all in the last half-dozen years. He'll go after people who fight back hard and dirty, as with Scientology, and it's not his first foray into criticizing the current administration.

He's grabbed excellent interviews with people inside the response, subsequently fired, and not. John Oliver, incidentally, summarized the documentary's best bits down into about 10 minutes just the other night on his "Last Week Tonight" show, also a don't-miss.

(Also, yes, I'm shrinking the font a size. I've just switched from Chrome to Firefox, and realized just how oversized it looks on most browsers.)
---
November 2: American Losers
The "good guys" will probably win a lot in the American elections tomorrow, but I can barely stand to follow it any more. (It's also hard to look away, the car-wreck phenomenon.) Frankly, it's appalling. America generally appalls me, of course, but I have to admit I kept watching them through these years, hoping that all the ugliness and failure would lift scales from their eyes, bring fundamental change, etc etc.

Nah.

Their papers lately are filled with praise of the Democrats, coming from the two biggest "centre-right" Republican pundits. (The articles are literally titled "Five Great Things Biden Has Already Done" and "Seven Big Things Biden Got Right", indicating that the Post's Jennifer Rubin is 7/5ths as enthusiastic as the Time's David Brooks.) They are, obviously, most pleased of all that the Democrats picked the most-right-wing representative they've got, compromised and compromised again and again.

From an electoral point of view, pardon my coldness here, nothing could have gone more right than for all those poor people to die recently. The soaring case-loads were in the reddest states, and swing-states, are wonderful. It's smashing that the other side self-inflicted covid at the highest level. It's great, for the Democrats, that the economy is in the tank. Hell, even the weather is looking good, which is good for turnout, which is good for Democrats. For a challenger, all this hell is perfect. And the "October Surprise Laptop" fizzled. Things could not have gone "better" (for an electoral challenger.)

And as America speeds up towards a quarter-million dead, about 200,000 of whom could have been saved, multiple states are still "50/50", or "a tossup", and the Presidential election still has some doubt.

For me, that just underscores how nearly-irredeemable the country is, how dragged down the normal Americans are by the abnormal. Those are the only terms I can come up with, where "normal" means "the political centre of most other developed nations". The political centre where starting wars or running torture chambers is crazy talk; where having universal health insurance is obvious; where gerrymandering is impossible, and voting takes minutes, not hours. That's NORMAL, goddammit.

Much of America is normal. The rest of us don't have 25% of our population as evangelical "Christians" that love killing and openly hate minorities, refuse to worship with them.

Their liberals believe that their conservatives are racist (or tolerant of it in allies) but don't believe that conservatism itself is inherently racist. How well they know it: their own party used to be the (more) racist one. Conservative voters, on the other hand, really do believe that liberalism is evil, inherent in the philosophy itself. That's abnormal, in most nations.

The failure of the Iraq War did not change their beliefs; the failure of the American economy did not change their economic beliefs; and now the world's-worst response to the pandemic has failed to convince more than a few of them to switch votes for one election. This election will not remove their great power to hold America back, preventing making the changes that changing times demand.

They are on-course to be the big Losers of the 21st century, and it's just painful to watch. How I pity them.

OK, PS: I promise to take some of this back -- IF it turns out that the analyses are more-wrong on this election than the last one, and in the opposite direction. Maybe the depressing coverage is exaggerated, as the media bent over backwards to not make the same mistake.

If all the swing-states are won handily, if multiple unexpected states like Texas are shock wins; if the Senate gains as many seats as the Democrats wildest dreams. Americans can surprise you now and then. But what I've seen so far - not the extreme antics of right-wing activists, but the lack of change from the great majority that are not activist - will have me pitying again by the weekend.
---
November 1: Rally Side Effects? Associated Events? Bad Attitudes?
A few papers are carrying the story I touted yesterday, of the Stanford economists associating 30,000 infections and (thus a presumed) 700 deaths, with GOP election rallies. I have to admit I put it out there very quickly, as it hit my news moments earlier and felt "breaking". Easy to put up the link and be done the blog.

A further read revealed a puzzle: they only analysed 18 rallies. That's over 1600 infections per rally, which is totally ludicrous, as a first-order effect. Few of the rallies had more than 16,000 at them, say, so it would require 10% of the rallygoers to be infected, outdoors, in a few hours. If the rally were held in a low-ceilinged bar, maybe. Outdoors, no way.

However, the association can easily include not just second-order infections, from those who did go to the rally, it can include associated effects. The rallies are parties for those who attend; perhaps they also had home parties, BBQs, tail-gaters, fundraising dinner parties. Perhaps the rally tended to cause a general reduction in mask-wearing in the whole county, as aggressive anti-maskers hassled mask-wearers, if only with glares.

Or, possibly, the rallies were picked for NOT actually being that similar to counties around them, that the economists compared them to. Perhaps they were much more likely to continue dangerous behaviours after the cases ticked up.

And, lastly, the Stanford economists could have WAY overestimated, because of various errors - and the report would still be devastating, if you ask me. Suppose they're a whole order of magnitude high. Suppose the rallies "only" cost 3,000 infections and 70 deaths. Actually, go two orders of magnitude: 300 infections and seven deaths. That would still be awful, shameful, and even criminal. ("Benghazi" was only four, and it got a Michael Bay movie.)
---
October 31: Rallies Have Killed 700. So Far.
Stanford economists have analysed the infections springing from rallies, and they estimate about 30,000 infections, presumably costing 700 deaths.

It's an easy day for a blog, when there's one story to draw attention to: provide the link, and post. This blog has always had a fascination with following the numbers, the way a pandemic can be described and predicted with statistics. And my closest thing to "controversy" (if there were enough readers to have a discussion at some point), was when I could not find any evidence of infections caused by that first rally in Tulsa.

The Oklahoma public health official, I noted, was careful not to blame the rally specifically, only on the many different events all going on; you'll note that the many, many rallies in the last few weeks have followed that pattern, with local officials expressing displeasure and concern, but no specific blame.

That's because analyses like mine of Tulsa, are hard to do; my Tulsa work only worked for one cause happening on one night, and it could only find a lack of increasing infections; if there had been any increase, ascribing it to the rally would have been harder. With many infectious events happening, the local officials can't be positive about any blame. This approach is different, using much more data across many events.

As the article will detail for you, the economists are well-skilled in the "natural experiments" of comparing statistics from different counties, controlling for all other variables, and correlating behaviours with outcomes. They compared counties with and without rallies, but all other things similar, and the 30,000 infections, 700 deaths estimate is the result.

It will be disputed and denigrated, of course. It may even be challenged and ultimately adjusted by other studies; but the adjustments won't be huge, or Stanford will be in for an academic black eye. It's most-likely about right.

It covers rallies from Tulsa to September 22, and of course, there have been many more since, in time of greater infection prevalence, greater risk per rally. The final analysis will surely come in at over 1000 dead, many of whom did not attend, or were even related to those who did.
---
October 30: A Rough Beast, Its Hour Come 'Round at Last, Chews Its Way Into the Vitals of a Nation
The Times had a new infographic this morning. I am weak for infographics, having basically dedicated most of a career to creating them. (The Post had a 13-graphic example article on the problem of depicting red and blue states fairly, when the reds are so much less dense. It was like red-and-blue Hallowe'en candy for me.)

At left, not the case-count, or death-count, but just which places hit their peak in the last week. This lets out all the coasts, apparently. Maybe we don't come into countries by boat, any more, maybe you could fly from Beijing to Boisie direct, but most arrivals are at coastal cities. The virus "burned through" the coasts in the Spring, and they learned. Their second waves are much lower than their firsts, though America's overall, (see yesterday, below) is much higher.

So the map looks like a devouring that has eaten its way into the innards, feasting on the soft underbelly. And it is a very "soft" underbelly, to the virus. The occupants of politically red states are still not protecting themselves from it. Its hour really has come 'round: you can't beat the meal that, as you gnaw your way through the intestines into the liver, just keeps baring its belly and repeating "this is not happening".

The pandemic isn't Iwo Jima, with guys just like you falling to your left and right. The worst locations (Lombardy, New Jersey) have lost "only" a few thousand people per million, a few tenths of a percent. The majority of those were already in care. It's perfectly possible to deny it, unless you stand outside the hospitals, watching the bodies come out.

It would be terrific if those red states could learn something from this expensive, blood-soaked lesson, but my every previous hope that they'd learn something, from the Iraq War, say, or the Great Recession, has been humiliated. Statistically, they've only learned a little - maybe several percent have shifted views, and that probably temporarily - from the endless shocks of the last four years. So, no, losing a tenth-percent of their population to preventable stupidity won't do it, either. They'll be ready for eating when the next one comes, too.
---
October 29: Worst Democracy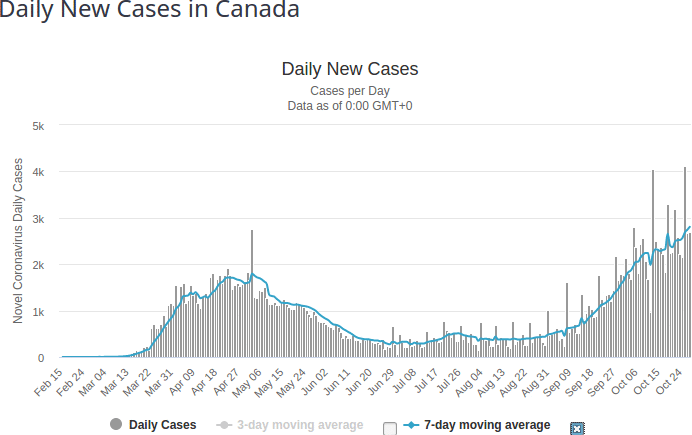 The inception of this blog was the essay (link always at top) about "America finishing in the bottom of the major league", a prediction of the worst pandemic response of all the respected industrial democracies.

America I expected to do worst, because they have the worst democracy. We just had our election in BC, and while I didn't like the result, the election mechanics were fine, voting was easy, the result undisputed. No courts will be called, no guns brandished.

In America, what's going on for recent weeks of early-voting, and for a week to come, is a cringeworthy shitshow of endless lineups, threats, fights over process. What other democracy have you seen this in? Nowhere in Europe, nowhere in the developed world. Indeed, right now, Mexican election officials are probably pitying their American counterparts for living in a real shithole.

For all my obsessions about pandemic statistics, I missed the forest for the trees until I looked, just yesterday, at the Big Picture of our two nations' case charts - alternating at left, if your browser does GIF animations.

What I somehow never commented on is the giant hump in the middle of the American graph, where Canada has three months of crushed-curve. Canada is, alas, well into a second wave that's going to go twice as tall as the first. But America is into a third wave, without ever more than mildly depressing the previous waves.

Our "crushed" period, from the first day of Summer to Labour Day, has cases 70% lower than the peak of the first wave; Americans only ever got that first wave down about 30%. Their next wave, more than twice as tall, was only depressed by 40%, that is, to a point higher than the first peak! Which is why some describe the USA as really still in its first wave. (Also, the USA graph has a scale 20X larger than ours, though the population ratio is under nine.)

CCCC readers will know the complexity that the "second wave" was in different states, mostly having their first wave. I wrote about it back in August, when their second wave peaked, and I hoped they would learn from this one (some red states finally realizing it wasn't just filthy big cities), "or it will be a hard Fall". It's a hard Fall. Now the reddest states are getting it, and I wonder if now they will learn.

I figure, not. They won't learn. I don't think they can learn, because so few are accepting new facts any more. Also, the astonishing news that Florida and Ohio are still swing-states, still unclear on who might be better, convinces me that America is a very slow learner indeed.

Is this because they have the worst democracy? Would they be a better, more fact-based nation now if they'd gone with a parliament? The American system is complicated. Complicated things (like tax law) lend themselves to being gamed. Gaming generally requires lying and misdirection.

As the man said, I wouldn't subject that theory to peer-review, but I would subject it to beer-review: I'd argue it in a bar. If I could go to a bar.
---
October 28: Anger
It's like the stages of grief. Yesterday's theme was "denial".

Last night, we finally got to the 90-minute point in "Totally Under Control", the Alex Gibney documentary on the American pandemic response. We'd reached where Jared Kushner is handed the problem of buying PPE for America. They had an office that normally does that as their area of professional competence, but they were "government".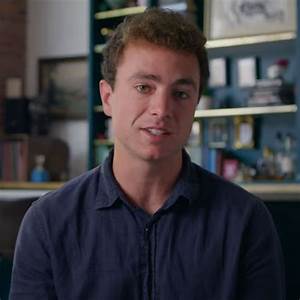 So, Jared calls friends and has them put the word out for 20-somethings that are willing to work seven days a week for no money. That was how he organized his team. No hiring. Any volunteers accepted, including Max Kennedy, right. (One of those Kennedys, Robert's grandson. Click on him for the story.) They are not given any resources; they use their own laptops and Gmail accounts, and cold-call people to ask how one might buy masks. They are given no purchasing power at all. At one point, Kushner visits, and offers them any support they need; told "the ability to pay up front", he says "Done!", and never follows up in any way - just a show.
The whole effort was just a show. They never bought a single mask, and then the regime blamed the states (you may recall the famous line about "our stockpile").. That was six minutes after we started watching. It then went on into the other Kushner step, which was all the states fighting over PPE, and having to bid over the Feds, having to protect purchases from Fed confiscation. We had to turn it off when it moved on to the miracle drug cures.
But I was still pitying those 19-year-olds with their home laptops, trying to save nurses and doctors with their Gmail accounts, when I came across this George Monbiot column today in The Guardian, about the teenage contact-tracers in Britain.
Once again, people with no skills were hired, though at least on minimum wage rather than free. That wasn't so bad for the job of phoning a list of names to be told to isolate, but then they gave them the medical professional's job of interviewing positives to get all the names. It was, says an informant, a shitshow.
Because of incompetence and graft. Graft? Well, there's twelve billion pounds missing, much of it to private firms doing what government could have done, on no-penalty contracts. It resembles the windfall profits of all those American PPE suppliers that had their prices bid way up.
The finishing touch was election news this morning, about the lead in Wisconsin is "significant", but "narrow" in Michigan, and Ohio is "50/50". How the hell can Americans be so stupid it isn't 70/30 everywhere??.
I don't know which I'm more angry at, the conservative looters, or their willing enablers.
---
October 27: Covid Denial like Climate Denial
I'm proud of actually stealing a march on the news columnist that I first began reading regularly, Paul Krugman. The man has been good at explaining the infinitely complex topic of economics to non-geniuses for thirty years, now, and it's made him good at explaining less-complex issues even more clearly and succinctly.

I anticipated his column today with my post about "The Great Barrington Merchants of Doubt" nine days back, pointing out that the Barrington Bunch were the same Bunch that worked to sow doubt about global warming, and before that about tobacco health hazards.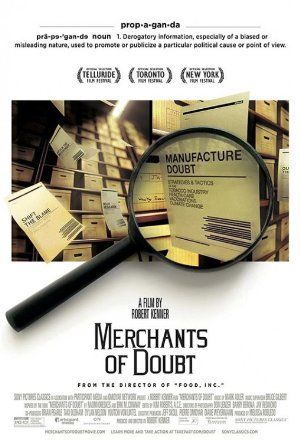 What Krugman added today was very short and simple, his great talent. It knocks both denials down to three main points, and they're the same points. These guys use the same strategy, over and over, from cancer to covid.
With climate change, the three points were: (1) climate change isn't even happening; (2) there's nothing we can do about it anyway, without destroying "the economy", and (3) it's being exaggerated by bad-faith scientists that get more (research?) money from claiming there's a problem.
With covid, those three points have all come out now. The denial that the "hoax" is even a real problem started back in January, and continues even today, somehow. The complaint that we can't fight it without the cure being worse because "economy" is identical; and now a rally the other day claimed that coronavirus fatalities are being exaggerated because "doctors get more money and hospitals get more money", Krugman writes, with the above link to the exact quote.
All three issues have in common that it takes science and statistics to be clear on the problem; they involve trust in experts. It seems bizarre now that the link between smoking and cancer was ever a controversy, and of course the similar nonsense about climate and covid will seem just as stupid (to all) in another generation.
Sadly, I'm sure in another generation, there will be some other problem that takes stats to see - and the Merchants of Doubt will be back, denigrating honest scientists, defending "the economy" from people who don't want "the economy" to kill them, and claiming the whole thing is not even happening.
---
October 26: Grudging Credit Where Due, Jennifer Rubin
I don't want to like Jennifer Rubin, who's just become a superstar for the Washington Post, the last few years. She's a never-Trumper Republican, was totally OK with the Iraq War, torture, Bush and Bombs forever, rah, rah, rah. OK, I exaggerate, but I'm an Iraq-War hardliner, it's binary: you were either against it, to switch away support in time for the 2004 election, or you're Dr. Evil. Whereas Rubin wrote Where are the Iraq War defenders? ... in 2013. So, keeping this short, I hate her, and loathe that her never-Trumping may get her peace-through-bombs philosophy a hearing from the new administration.

But.
She has indeed put out a frightening pace of work, posting blog entries that are printed as separate columns, not just daily, but multiple times per day. They obviously have a staff of researchers feeding her the facts and figures, or she couldn't put out so much work, with links and background. It's good stuff. Because there's so much Rubin, I often avoid clicking on her, looking for other's work (and general antipathy) - then I click on the "top story" link that only has a title, and its Rubin's latest, over and over again. Because it's both good material, with facts and background narrative, and because she's relentlessly caustic and incisive - in the sticking-in-a-knife sense of that word - about the moral dimensions. This is "horse-race coverage" that doesn't forget to mention the one jockey rapes the horse, nightly.
So, today, the story (also linked from her byline, above) on top, was 100% cry-of-outrage, without actual new news. It castigated, not just the administration for the sheer number of dead, the staggering size of their failure, but the media for not holding him responsible enough. Relentless rhetoric: "Even more damning, we hear a confession straight from the lips" (about yesterdays admission of failure to control). "This is simply monstrous", and the charge against the rest of the media is:
In the bizarre effort to maintain "balance," the mainstream media have failed to press the question to Trump: "Aren't you responsible for possibly hundreds of thousands of deaths because you never wanted to admit failure?"
And to her (former, I guess) fellow Republicans:
The question for them is: "How are tax cuts or Supreme Court justices worth the loss of hundreds of thousands of lives?" That is a question that should haunt them forever.
And ends by comparing it to coverage of war, where every (American, at least) death is agonized over:
You would think the death of thousands upon thousands of Americans would top every story and be addressed in every interview with an administration figure and fellow Republicans.
I couldn't have said it better, so, with grudging respect, I've just turned over half the space today, to the columnist that irritates me so.
---
October 25: Totally Under Control
"Totally Under Control" is the title of the new Alex Gibney documentary on the pandemic; the title is taken from an early White House speech, claiming "total control" when there were very few infections known. "Known", because testing was already a month behind the real story, which is that it was spreading in multiple locations. The documentary deserves multiple blog posts; we're taking it in about 20 minutes a night, to ward off the depression and fury it generates.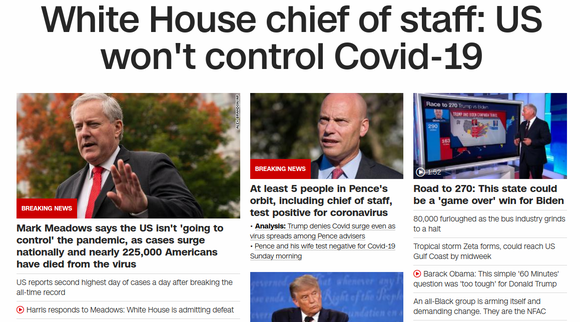 I just mention the title today, because of the contrast between two articles. At the Washington Post, Philip Bump reviews the epidemiologist's report on how many American deaths are attributable to the bad response. I had issues with it - Bump failed to compare to Canada, which is a better comparison than any European country (he picked Germany) because we also have the separate health-care officers for every province, as with their states. The analysis gets so muddled with multiple what-ifs that he ends up only concluding that "tens of thousands" of America's 230,000 covid dead (and 300,000 total "excess deaths", I'm glad he brought up) could have been saved. Comparison to Canada indicates it was more than half, that America's response will have cost a good 200,000 and more American lives, by February. ("February" for multiple reasons: no projection can go very far ahead; there will be a new administration; and vaccinations in numbers.)
The second article is on your front page this morning. "We Are Not Going To Control The Pandemic", says the White House Chief of Staff. "Mitigation" will be their whole strategy.
Their plea that the "contagious virus" is inherently uncontrollable sounds pretty weird in comparison to all the other countries that have done exactly that. No doubt, control can be lost again, as it recently has in Spain and Belgium, and certainly Canada and Germany are struggling for it. But star performers New Zealand and South Korea are still totally under control, their "second waves" already crushed.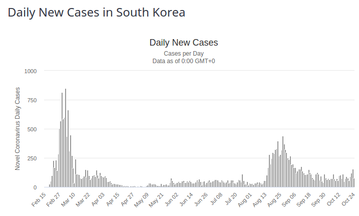 The plea also sounds weird to anybody who's read the part of Philip Bump's WaPo article about masks: that universal mask usage, alone, could save 100,000 lives in the US, going forward.
Those lives will almost certainly be lost. It can be laid directly at the feet of the federal administration, and many state administrations that have the same "ignore it" philosophy. Laid there along with the 100,000 and more that are already their fault.
It takes your breath away, after years of being "scandalized" by 3,000 deaths on 9/11, and 50 deaths in a shooting incident, or nine deaths in a terrorist attack. Suddenly, we're arguing about whether 100,000 or 200,000 are the fault of this, or that.
It shouldn't be so breath-taking, really: the financial crisis clearly caused tens of thousands of suicides, the opioid crisis will probably cost over 100,000 lives before it even starts to improve, the lack of universal health insurance was estimated to be costing America 45,000 lives per year - during the Obamacare debates ten years ago, so that would have been some 450,000 - just in the meantime. (Obamacare may have cut the rate about in half around 2015.) Those deaths were really just visible to statisticians; the same is half-true now, as the numerical complexities in Philip Bump's article attest, but they're visible enough to the journalists because of health system reports.
The conservatives would like them to vanish again, into a fog of statistics, like the 45,000 they're still fighting to keep killing every year with bad health care. It's not going to work.
---
October 24: Not Much To Say About "Fatigue"
I'm kind of speechless, today. All the news is bad, in terms of infections: across Europe, America, everywhere it seems, the numbers are up. Worse, one keeps seeing things like "pandemic fatigue" in the papers. Gosh, folks, I'm sorry you're tired of it. Ever wonder if Iraq got "war fatigue" at some point in the last 30 years? Well, they had to get up the next morning and deal with the war, anyway, fatigued or not. They didn't get to pretend it wasn't happening.

We're going to have to keep dealing with it, and that apparently means second lockdowns. Once the cases come too fast to contact-trace and isolate, the old exponentials will soar again, unless you get that Rt back down below 1.0 again, somehow. Maybe heavier mask-use and distancing can do it without lockdown; I sure hope so. Otherwise, it's inevitable; even without orders, people will start staying home out of fear.
---
October 23: A Mask Argument Without Words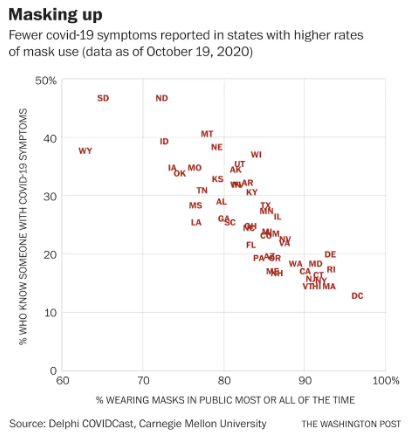 All praise to the Post for getting this one out, today, and far more praise to The "COVIDcast" team at Carnegie-Mellon University. Do click on that last link; it's not just to the source of this graph, but many others, some mesmerizing. Try the "timelapse" feature and watch the cases spread into the central northwest, day by day, over the Fall.

The mask argument needs no words from me. Just look at that; the "R-squared" accuracy measure was only 0.35 for my "2016 vote" graph on the 17th; this is up above 0.7, it's really solid correlation. (Which, yes, is not causation...it just very probably is, so why take the chance?)

My wife is now making many masks, face-fitting and colourful. Our location is not mask-averse, and it means we don't need to feel desperate about those vaccines that may be quite some time, yet.

---
October 22: Deaths Tick Up Again: Urban in Canada, Rural in the USA
Well, sickness and dying are on the march all over; North America and Europe are both losing one battle after another in this phase of the war. But there's a difference between Canada and the USA.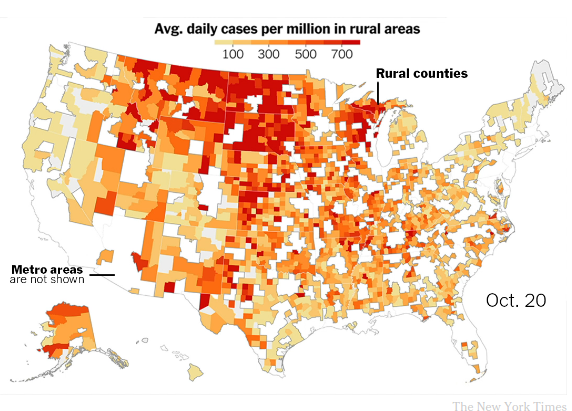 Both have seen soaring case-loads, and a recent rise in deaths per day. The "deaths per day" has been going down for months; people kind of took the news of rising cases without worry, because the death-rate kept going down as younger people, out at work and school (and parties) were a higher proportion of them.
But, finally, after three weeks since the new cases/day in the USA exceeded the highest numbers of late April, the death-rate went up above 1000/day yesterday. Canada's had been so low for months that ours has more than doubled since then.
Canada's cases and deaths follow the same patterns as the spring: the cities are the worst-hit, and the biggest cities in Ontario and Quebec, the worst of those. But the American cases have now moved out of their most-populous states and into their most-rural areas, as I noted about "Mulish Montana" the other day. The map (right) now looks like a reverse of a population map: bright red through all the emptiest plains.
Again, that's politics, as I noted with my graph of 2016 votes vs 2020 fall infections. Those politics didn't really get going in Canada, so it hasn't killed many of us yet, and it has spared our most-Conservative electoral ridings. Except the Alberta Health Minister. Probably a coincidence. This must cause a struggle for Alberta doctors and nurses; they can hardly laugh at anybody getting covid, but for Tyler Shandro, they must be wrestling with that.

The editorial position of CCCC, is that we do not revel in the sad infection of this total dick. Infection is a serious matter, and any schadenfreude about this loathesome jerk suffering medically, is wholly inappropriate, and not to be tolerated - despite his near-murderous withdrawal of badly-needed medical resources from Alberta's most-vulnerable areas. Covid is not a "just dessert" for him, that being unemployment and infamy.
---
October 21: "Excess Deaths" Only Add 50% to Virus Toll in USA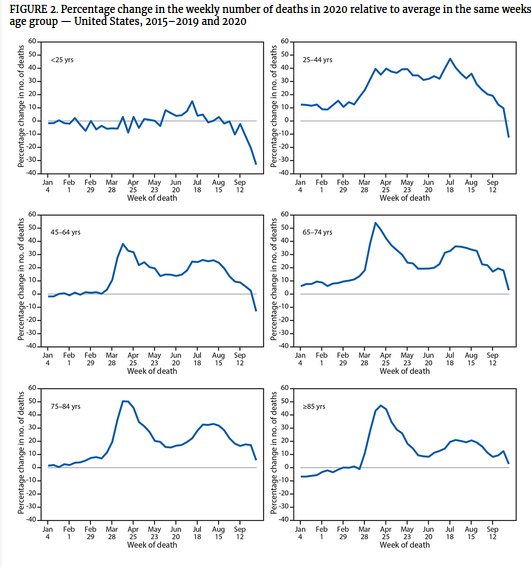 The numbers for Canada may come up differently, but the stats for the States are in. The "excess deaths", where deaths by every other cause, from heart and lung to traffic, are up this year, indicating that either covid or the response to it has cost America another 100,000 lives, on top of the 200,000 directly ascribed to the disease.

The headline says "only" because back when I first looked in May, it seemed like the excess deaths might be another 100% added on to the covid toll; so 50% feels like a win.

The headline is that it's actually been worst, in percentage terms, for young people, 25-44, "percentage" because they don't normally do much dying to start with. We older bunch have sharp peaks in the graphs at left, more clearly caused by the first wave in April and May, old people dying of various diseases, with covid helping it along, but going undiagnosed as such.

The 25-44 graph goes right up to 40% higher than "normal" (2015-2019 average) in March and stays up there through August; it's only dropped with the Fall. Theories can abound, but they should wait on data - were these already-unhealthy younger people that had their disease exacerbated by covid, again without diagnosis? People afraid to seek care? Traffic accidents delivering our DoorDash? Staying home and taking too many drugs? We'll eventually get a report on the how the separate causes added up.

The silver lining is that deaths below age 25 actually dropped a bit. Again and again, give thanks, because most of these pandemics are the worst on children, not the best.

I'm very eager to see these stats for Canada. If they're different, it will probably say something about the differences between the health-care systems.

The other stats were by ethnicity, not age, and they show that again, the pandemic has hit communities of colour harder. Most of those peaks were a 100% increase in "excess deaths", not just 50%. Just as bad as feared in May. That probably(?) indicates that these communities have even more trouble being diagnosed with covid, and of course more health risks in general.

But I think all of it is proportional to covid; that is, had the covid toll in the USA been a quarter of what it has (and it could have been) then so would this number be that much smaller. Their Administration has that much more to answer for.
---
October 20: Home-Made Masks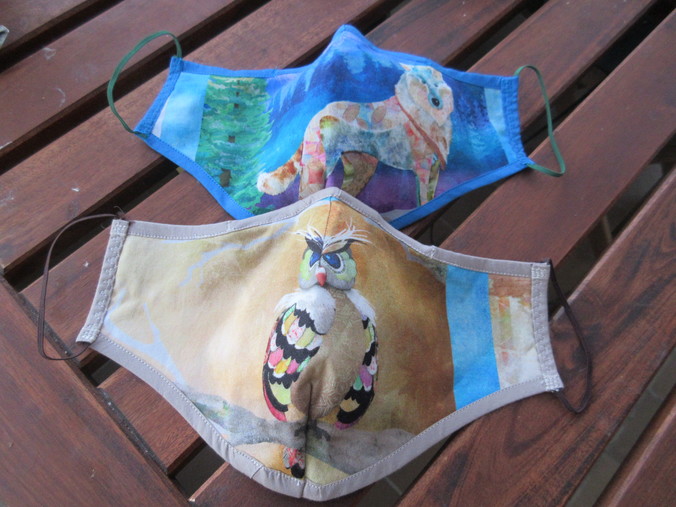 There's more and more data indicating these are useful, and that vaccines are going to take a while, so we might as well get used to masks as a fashion item. Connie has finally applied her considerable seamstress skills to the problem, and come up with some well-engineered tailoring.

Note the tenting at the nose: these contain wire strips sewn inside the top edge, allowing the wearer to mold the line over the bridge of the nose, so that you don't have twin fountains of steam, on either side of the nose, going straight up into your glasses. The bottom, at your chin, has darts so that the fabric folds over your chin and forces most air to go through the fabric.

The two are different grades, as it were. The upper one is a thinner fabric, right for clothing, could be worn for hours. The lower one is heavy fabric, and it actually does what some anti-maskers complain about: you can only breathe so fast, you couldn't exercise in it. That's my mask for the grocery store when it's at capacity, yikes, and I just want to dodge people, and get through it quickly. My industrial-strength mask, just a step or two below "N95".

I suggested just using a double-fold of twist-tie wire, the lower one has that. Even better was what Connie spotted and put in the upper one: those heavy-wire strips that come at the top of bags of coffee beans, for resealing. That's in the upper one, and it's perfect.

The Vancouver Aquarium has some new designs for sale, too, keeping them, as it were, afloat. That'll give me two Aquarium masks, a Grouse Mountain, these two, and some basic undecorated ones. Those were an early gift, from a neighbour, who started turning them out in numbers, to pass the spring; people who are good with fabric often can't stop at one mask. Check around your friends! If you gotta do it, you might as well have fun.

That said, I still see them as pointless when you are outdoors and a good three metres from everybody. I do wear them on any busy sidewalk, but the much quieter sidewalks near our house, we simply make a show of stepping out into the street to avoid people. There's a cultural value that's flipped: it would have looked insulting a year ago, now it's the polite thing to do.
---
October 19: Mulish Montana
All the trouble I've gone to, to highlight how bad it is in Montana right now (October 17, below), and all through the barely-inhabited states of the northwest, and the Montanans aren't getting it. There are multiple articles up about how difficult it is to promote masks. The Times has another. Not just the citizens, the sheriffs just decide whether they feel like obeying state orders, are empowered to make public health decisions, apparently, and do. Businesses compromise by getting staff to wear masks, and asking customers to, some of whom instead berate the high-school-aged waitresses for "kneeling to tyranny".

This California publication has a great article on them, from all the many sheriffs that picked this moment to "defend freedom", to the estimates of effectiveness that a universal mask-wearing month would control the American pandemic as well as a vaccine. The story of how Nashville, a city, has half the infection rates of rural counties around it, because it has a mask-mandate and they don't.

Up tomorrow: the cool new fun-masks my wife has been making!
---
October 18: Great Barrington Merchants of Doubt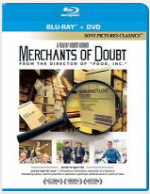 CCCC already dismissed the Not-So-Great Barrington Bunch and I would have been content to leave it there. If you want the case against their case, The Guardian made it well, a week ago. Ultra-short version: it's not backed by scientific work or evidence. They may have scientific backgrounds, but they haven't published any of these beliefs in peer-reviewed journals, gathered no data, run no models of their herd-immunity strategy. Scientists don't "declare", they publish data and their work upon it, for study and open criticism. "Scientist" isn't something you inherently are, it's a thing you do, and they ain't doing it. (dusts palms).

I'm glad of a re-run, however, to tout the new Guardian article on the connection between them and the "Merchants of Doubt". That lets me in turn tout The Merchants of Doubt, the 2010 Book and the outstanding 2014 documentary movie about the "scientists" (former, really) that peddled doubt about the dangers of tobacco, and the reality of climate change. (That was when the authors twigged, that these guys fancied themselves "experts" in such different areas.)

I've only seen the movie, but it was so enlightening. Like many, I'd thought they were paid to run around giving these talks an interviews. But no, they were philosophical Libertarians that personally loathed any government activity at all, invented their talks by themselves, did it all for expenses. The Koch brothers, and similar funders, paid for that much through Libertarian "think-tanks" (that is, lobbies and public-relations firms that do no peer-reviewed research at all and do not deserve the term). So it was pretty cheap compared to the profits selling tobacco and oil.

The new article traces how the Barringtons are also funded by the same type of source, a lobby group that openly campaigns for minimal government. It does explain a lot.
---
October 17: Statistical Proof that GOP States Are Getting Sicker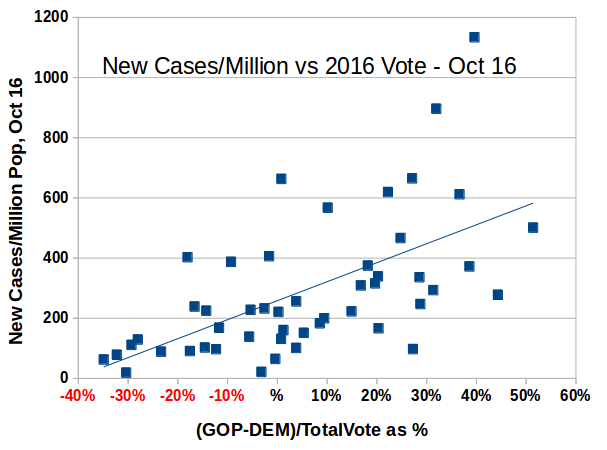 That map yesterday, showing the worst infection rates up in the hard-red states of Montana and Wyoming as the worst in the country, had me wondering if it was just regional. My fave "worldometers" dashboard doesn't show active cases or new cases on a per-million basis, so I downloaded yesterday's page and did that math. The top of the spreadsheet is at right: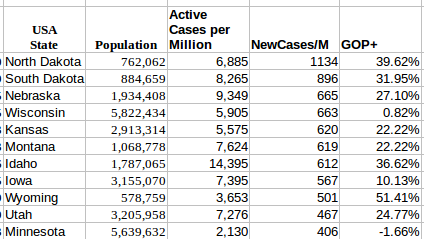 ..with the top crowded with safe GOP states like Wyoming and the Dakotas. (Excel file here.)
The "GOP+" column comes from this handy summary of 2016 published by CBS News. That page gives the total votes for Democratic and GOP Presidential candidates in 2016, and my number shows the GOP-Dem difference, divided by total votes, so that negative numbers were Democratic victory states, positive were GOP electoral college wins. The "51%" you see for Wyoming was from 175,000 for the GOP, 56,000 for the Democrats, by far the largest margin in the country. (It's Cheney country, pardner.) It means 51% of the votes cast in Wyoming were GOP votes that were not needed to defeat the Democrat.

The graph at left is simply the full picture, with the "New Cases Yesterday" (per million) as the Y-axis, and the "GOP+" percentage as the determining variable. The R-squared number, the measure of how predictive the GOP vote is, is not that great, but you can absolutely see there's some connection.

What's really interesting is that I also graphed that "Active Cases Per Million" column, and got bupkiss: just a cloud of points with no clear relationship between vote and virus. The "active cases" is kind of a summary of the last three or four weeks of "new cases", before those are closed-out as dead or recovered. (The duller graph is in the spreadsheet, if desired. Also, the one at left has all the states labeled.)

A tentative conclusion would be this: it was true, months ago, that the populous, citified blue states of New York, New Jersey, and Massachusetts were covid hotspots; and as little as a month back, you wouldn't have said that red states were red zones; but in the last few weeks, GOP voting in 2016 has become a useful predictor of sickness.

It's not bright to start drawing conclusions. I don't think there's been a rally in the Dakotas or Nebraska, the three worst, so don't go blaming those rallies. Indeed, if it were any kind of election activity that were causing these cases, they would be highest in swing states, not red states.

No conclusions, but at a guess: it's their behaviour, a guess I am drawn to by the blog motto at top. Covid risk-taking has become a cultural value of the American GOP supporters. In the last few weeks, they have paid for that value with cases; in the next few weeks, some will pay with their lives.
Postscript, Later Same Day
The Post has a good article up, reviewing the possible role of the Sturgis Motorcycle Rally in mid-August. Doh. I was not thinking of that kind of rally. It was an epidemiologist's nightmare: 500,000 drinking, partying revellers from half-way across the country, all meeting, then going back to their homes. I'm not sure if motorcycle rallying is associated with voting GOP, but going to this one, this year, probably was.
---
October 16: "We've done an amazing job. And it's rounding the corner."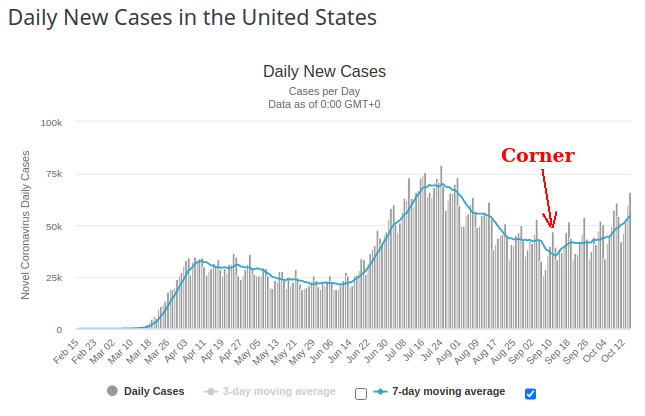 Yeah. Right. Congratulations.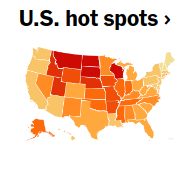 What's particularly depressing about the "corner", is that the second wave bottomed out at 36,000 cases/day, over half again the first-wave trough of 21,000; the third wave now building is going to be bigger than the second, which was bigger than the first. It will crest within a month or so, before the first vaccination program starts.
The other corner that has been turned, is from the American coasts to the GOP-voting interior states, as seen at right.
They're so low-population, you don't notice how bad it is there until you correct for it. Montana had 723 cases yesterday. Not much? Well, it has exactly 1/20th the population of Florida, so that's like Florida having 14,460; and Florida actually had 3,356. Montana is five times as bad as Florida today.
Tell them they've "turned a corner".
---
October 15: Ottawa Puts Thinking Cap On. No, Not The Politicians.
Because of my employment history, these stories will always get prompt promotion here at CCCC: Colby Cosh at the National Post has a story on Ottawa monitoring coronaviruses via wastewater sampling.

I think the guys who write these take a 4-year-old's delight in peppering the story with the word "poo". (The virus, of course, may be coming from other wastes or just water washed off the hands, body, and counters.) Whatever, it's a clever, cheap, easy way to get information. As the article points out, its value in this pandemic may be limited, but the basic idea applies to multiple other public health problems - especially drug consumption.

Bravo, Ottawa: let's make it a national program, and a permanent one.
---
October 14: BC Has This Handled
I'm even prouder of BC this morning than yesterday. That said, we didn't even watch all of the debate. Our decisions are made, after all: Horgan must be spanked for even calling the election, so though Dr. Bonnie has made him look good, no votes for him. The Liberals are too conservative. Horgan made a good point that it was the Liberals that let go 10,000 care staff some 17 years back, a funny reminder of Jason Kenney also screwing Alberta with 11,000 medical layoffs this week. (Wilkinson was dumb enough to fail to point out that the NDP has had the last 13 of those 17 years to remedy it, and didn't, arguably a higher degree of culpability.) The green Green leader, Sonia Furstenau, did fine, so, wow, only 5 years in BC, and we're already Greens. This election.

But what has me bursting with pride, is that the debate was mostly not about the pandemic. It was a first topic, but just the one topic, and there was, to repeat yesterday's post, little drama surrounding it.

Maybe it just feels like a big deal because so much dysfunctional, lying, posturing nonsense is going on south of the border this month, but I was almost bouncing on the couch when the debate turned to housing, because pandemic issues, economic and medical, were exhausted.

We were both already laughing excitedly when the moderator got any of them to halt an interruption, by just asking, and a few times we applauded when an answer was on-topic and responsive to the question. We looked at each other, wow, this is just great. It seemed so novel!

As we turned down the sound, we checked our voting cards for tomorrow: a few blocks away, five days of early voting, plus mail voting, we're not expecting a lineup. We switched to some American news, where a guy was doing a selfie as he entered the voting place after 11 hours in line.
---
October 13: Canada Inferior at Drama?
Relax, CBC. I don't mean "Murdoch Mysteries". I mean our politics.

My wife an I enjoyed the bio-drama "RBG", but I just couldn't stomach paying any attention to the new confirmation stuff that's wall-to-wall on their news all week. I attempted a few lame jokes (Who is "A:B"? Amy Colon Barrett...) and trailed off; it's all such a predictable pantomime, and the stench of BS is so thick. Arm-waving dramatics intended to put a cloud of emotion about hot-button issues around an advance for plutocratic power (Barrett, I gather, is very reliable about taking the side of Money over Labour.)

What I did enjoy was this top-of-page article in the National Post yesterday: "Unlike the U.S., Canada does not do spectacle when it comes to picking Supreme Court judges". Absolutely right. It's the least-appropriate part of government for "spectacle", after all.

And then there's the BC Leader's Debate tonight. We have it set to record, and I realized with a touch of astonishment that I'm genuinely looking forward to it. Pandemic focus has had me looking away from most other Canadian news for months. What are we doing about real estate speculation and money-laundering? In very green BC, what's our climate plan? Does giving Horgan a majority mean he'll OK a pipeline?

The moderator, for her part hopes she won't need her mute button. Which she of course has, because these things are not there to serve the leaders, they exist to serve the needs of the people to be informed. And rules that are enforced promotes that. Which we understand, this being Canada, and "we" includes the Leaders.

It's such a relief. A relief to have real issues that will get some informative debate, in civil tones. Nobody wants "drama" during any other important conversation, with your doctor or banker or even your car-repairman.

The pandemic hook here, for the blog, is of course that nations with the least drama (think Germany, New Zealand) have also had the best pandemic response. Drama in politics is mostly invented; politicians make up "burning issues" to get people out to the polls at all. When a real problem comes along, you have to be able to separate the unimportant, invented "issues" from the real ones.

The States is the worst, of course, because they turned pandemic response into a fake issue; masks are obviously not that oppressive to wear, not if you already put up with swampy underwear on a hot day to obey other social expectations. Their conservatives made it up to have something to complain about, and tens of thousands have died for it.

We here in BC simply produce drama for others to watch, where drama belongs, on the other side of the TV screen. While the Americans are probably wishing for "No-Drama Obama" to come back, at this point.
---
October 12: Just Give Thanks If You Haven't Caught It
Hard to give thanks in 2020, isn't it?

You pretty much have to be so devout that you give thanks for your chastisement, for being humbled and reminded that pride is a sin. People's plans, not just for the year, but for their education, career, family, all laid waste.

It's a religious occasion, and one is reminded, this year, of the Book of Job: disease, death, and poverty were all rained down upon him, testing his faith.

The descriptions of all the different things that can (low probability) happen to you with a case of covid would have been a harder test for Job. Stories keep coming out of "long-haulers" with months of debilitating symptoms: "brain fog", wracking pains, endless fatigue; apparently permanent losses of hearing, that news yesterday.

The lesson being that it can always get worse. Be thankful that covid barely touches children, again and again. Be thankful if nobody you know has caught it - and with only a few percent of Western Canada infected, that's true of most of us. Be thankful it's not like AIDS, where there's been no vaccine in 35 years of trying.

It's not a good time to sit beside one of those care-home beds, watching a life get worse and worse, and then it's gone. But it does drive home that it can always get worse. So celebrate what you do have, of life, health, family, shelter, clothing, food. Not everybody is so lucky. Especially this year.

And don't just give thanks. Give. The food bank is our favourite. Especially this year.
---
October 11: Who's Zoomin' Who?
I do too much journalism around here; sometimes, blogging is about doing some research and presentation, mostly it's about dashing off a cranky opinion and letting everybody get on with their day, especially me.

Today's cranky opinion is that the price of virtual commerce is shirking. Every office has people that find ways to avoid real work, but how much easier is it to do that from home? I chatted the other day with parents who found that one of their kids' teachers was really good at tasking and tracking the virtual students in her class, one adequate, and one so lax "we're not sure if he's going to learn anything this year"...and it was all about diligence, something hard for a school principal to monitor, except over time.

Bad employees happen, weak team members are on nearly every team. The job of a boss is to put together strong teams. Virtual offices just make that way harder. It's hard to guess where that goes. Modern business is terrible at rewarding real competence, and punishing performance that is merely poor. The change to virtual hits it in weak spot.

It'll raise the value of a really good supervisor, one who can spot BS over a bad connection, when most can't spot it being thrown in their face. Ambitious employees have a new skillset to develop.
---
October 10: American Carnage Now Baked-In Through Their Election Day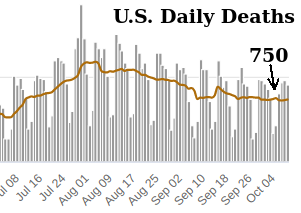 The three-weeks-to-go day, next Tuesday, would have been a rounder day to pick, I guess, but epidemic arithmetic isn't that exact.

The progress of Covid-19 is such that the dying on Halloween Day will happen to people infected this last week, or the next few days. It was possible to hold out faint hope for sanity until this week, and indeed, their president's own sufferings presented a possibility of a sudden turnaround.

I read just yesterday of Florida's largest retirement community, heavy GOP voters in '16, suddenly wanting masks at gatherings, one interviewee saying, "it was a hoax until he got it". (Their state has 15,000 dead, so he must have thought it a very clever "hoax" indeed...)

So what is baked-in? A national death rate of between 700 and 750 per day; Johns Hopkins should be giving a figure of 230,000 dead. It'll be possible to argue that the bungled response has killed a round 200,000 people, perhaps 10,000 of them under the age of 50. Worse for the incumbents running for the GOP, the dying will be highly concentrated in some of their hardest fights: Florida, and amazingly, Texas.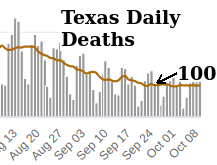 Texas would be quite the electoral coup. It's now the second-most-populous state, at 29 million. It was considered "not in play" before the pandemic, and now the GOP may actually lose their crown jewel. In that regard, the coronavirus has a well-known liberal bias: it's "conservative" down there to pretend it doesn't exist, so when it goes right on existing and killing people, every coffin is a message that "The GOP sucks at their job." And Texas has leveled off at about 100/day, so there will be over 2,000 repetitions of the message "The GOP killed me." At least, if the Democrats are marginally competent at that message translation.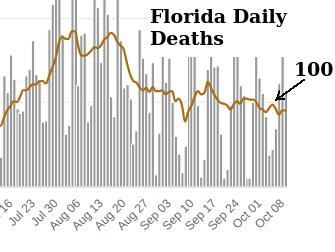 Florida is not a huge coup, in the sense that it's been a swing-state for decades, but the odds of a swing away from the GOP are helped by it having the actual highest death-rate, despite lower population than Texas. Theirs is still declining, slowly, will be under 100/day soon - but both states will be close to 20,000 dead, each, when the polls open. If the Democrats win both states, then the four most-populous states in the Union (California, Texas, Florida, New York).
Personally, I've gone beyond shock at American attitudes and values. Four years back, I wrote about how 2016 shouldn't even have come close, it should have been 80/20 against the corrupt con-man rapist, etc etc. Now, I'm watching polls that say maybe Ohio will actually cross the 50% line, maybe, maybe. Each percentage point costing thousands dead.
The coronavirus is moving America towards liberalism like bouncers manhandling a fighting, ranting drunk out of a bar, resisting them to the last. I suppose their Democrats will cheer their mighty victory, but all I see is a dysfunctional family where the one least-crazy member managed to put out the fire started in the kitchen by the drunken ones. It'll still be the same family in the morning, and the drinking will start right after breakfast.
---
October 9: Doesn't Suck To Be Us
The news is pretty much all bad, this morning:
America has little hope of relief with their nominal leader crazed by steroids and attempting, I suspect with little hope of success, to turn the conversation back to Hillary Clinton's Emails.

Alberta, where I don't get my dang Thanksgiving with badly-missed family, just posted a shocking 364 cases in one day; even if an artifact of held-back data, the 7-day average is now over 200, heading for the peak of late April.

Ontario just came close to 1,000 in a day, sending the provincial cabinet into emergency discussion, presumably about lockdown.

I can't even draw some lame "Conservative governments screw up pandemics" moral from the last two, because lefty Quebec got back up to 1,000/day, with a lower population, days ago.

Oh, and it's raining. I'm not even allowed to complain about that, as a Vancouverite. Douglas Coupland even put a number on it in his book about his hometown, "City of Glass": we aren't allowed to complain about rain for the first sixty consecutive days.

But here's the thing: a month ago, I was very worried about BC hitting 100 new cases/day, and we're still around that number. Relatively speaking, that's feeling like success just now. The case-load is controllable with contact-tracing, just; as noted the other day. The "rest of Canada", by the way, is even better off; much.

Especially as the news from the States goes into Tom-Clancy-novel territory, I'm very conscious that the biggest problem in BC right now is that John Horgan is going to be rewarded for his perfidy, the cynical, faithless, public-endangering sumbitch.

Ordinarily, I'd be a lot more upset by that, but 2020 has given me perspective.
---
October 8: Barringtons Not So Great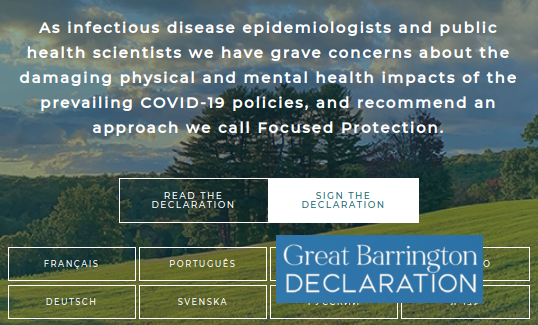 Because of the incessant din of a certain other news item, this story is mercifully getting a short shrift.

The three initiators of "The Great Barrington Declaration" (from a place called "Great Barrington"; the declaration, not so great) are epidemiologists, so it's polite to give them a hearing. That thousands of other "health professionals" (self-declared) have signed it, is pretty meaningless. I could call myself an "engineering professional" on a declaration against PCB chemicals; but the fact is, that I've never studied chemical toxin problems, and know nothing I haven't read in the news about them. It's empty grandiosity to flout your credentials outside your area: "I got a degree and am smart about something else", is all you're saying.

We have Sweden's experience: twice Canada's death-rate, five times Germany's. We kind of know the costs of their plan, already. They aren't suggesting anything Sweden hasn't tried, to limit the casualties. They are right, that we could split the population into older people that are locked down, and younger that are not. But for the USA, for instance, that would still mean sacrificing tens of thousands more, just between the ages of 25-44.

Their arguments, that the costs of getting to herd immunity are lower than the costs of restrictions, just don't hold water with me. Yes, there will be deaths from other diseases, from suicide and conflict, but they just don't compare. Significantly, the GBD doesn't include any kind of estimate of the death toll under their recommendations. If they're such great epidemiologists, where's their "Great Barrington Model"? They don't have one, because they know it would end the argument when people saw it.

Produce your estimate, gentlemen: show me your butcher's bill before you ask me to join in.
---
October 7: It's a Nice Day
It's a crisp morning in early Fall, the leaves are turning, the birds are chirping. The kids are in school, and pretty safe there, as noted yesterday.

The Vancouver fog is burning off, and it'll be a lovely sunny afternoon; that mean little man, Stephen Miller, has coronavirus, and the brilliant legal mind of Sandy Garossino, at the National Observer, has argued well that I should have permission to just enjoy it.

...so All is Right with the World.
---
October 6: Humble Pie
It's time for a serving. After 3 straight days of attention to America's tiresome celebrity dramas, the news back home is good, when I was predicting bad. It's so great to be wrong.

At least for now, anyway: the schools, so far, are not becoming covid hotbeds. I thought our schools were run by fools, but the staff and students (I'm crediting them, not the hapless planners) have managed to keep their distance and keep their health for a month. There have been cases, but no serious outbreaks, they've kept the lid on it. Most of the kids testing positive (0.7%) actually got it at home.

I do credit the kids, not in jest. We have this image of them as crawling over each other like puppies, but we hosted a 9-year-old for two weeks this summer, and it was she that sharply reminded us about hand-washing all the time. Her covid distancing on outings was impeccable. The Kids Are Alright.

Indeed, the report yesterday was all good. Well, sort of: still up at 120 cases/day, on average, but I trust Dr. H that the second derivative has now gone negative; we're just past the hump of the curve. They used to say you can only see the peak in the rear-view. I think their greater knowledge, and especially testing - the good part of the case-news was that positivity is now back to 1% - let their models spot it earlier, now.

Too bad about the locations for larger gatherings, but it seems preventing the super-spreads is the real key. Or the real "k". A recommended article is at the Atlantic on the "k factor", how much of spreading is in clusters. Of course, here at CCCC, it was dubbed "The Pareto Pandemic" (80% of infections from 20% of spreaders) when this was first spotted four months ago. Just sayin', to get over my serving of humble pie.)

Everybody in media is talking about the clusterf**k in the White House, of course. It's like slipping into a calming bath surrounded by candles to get a briefing from Bonnie Henry. That quiet, clear, calm voice telling you that science analysed the problem, found the minimum-trouble tweaks to make that would have the most effect, applied them, and they worked...and the danger is already receding.
---
October 5: Do Not Expect Change from the GOP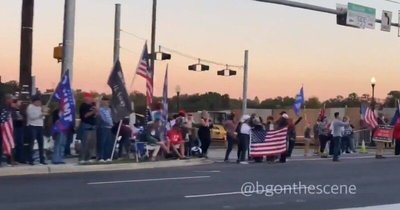 When a big celebrity gets ill with Covid, it makes the disease more "real" to people who haven't had a family or friend catch it yet, hopefully inspires a greater sense of awareness, presence-of-mind, better behaviour for a while. The celebrity towards which all American Republicans turn for sunlight is down with the bug. Will it change them? Will we see Republicans all in masks now, distancing, changing their positions on activity restrictions?

Dream on. Even the noisy, dancing "vigil" outside Walter Reed is maskless.

It's funny, having had to reference my very first post just the other day to help estimate the fatality odds of Patient One, I now have to reference my second, from six months back, about "GOP Resists Torture" (by the facts). I wrote that it's hard to keep denying the seriousness of the pandemic as the bodies pile up. At that time, April second, the USA was at 7,676 bodies. It seemed large at the time, but it was 207,000+ bodies ago.

The GOP torture continued for half a year, shaving away at even their adamantine 42% support. Finally, the other day, I saw a poll that was 53%/39% - dropped 3% after 200,000 dead. It shaved off one GOP fan in fifty, every time another Vietnam War's worth of dead bodies went by. Man, that's commitment to the Cause.

So, no, this won't break into their shell, either. If it did, that would be kind of disgusting, meaning that a single individual mattered more to them than 200,000, many from their own neighbourhood. Much of that 3% drop, which is recent, may be because the pandemic finally made it to red states in a big way: the highest active cases/million right now is Mr. McConnell's Arizona.

With all that, with all that, don't expect to see new behaviours, do expect to see fiercer denials, hope at best for another "amazing" drop, down to 38%.
---
October 4: Edgar Allen Poe, Prophet?
The Masque of the Orange Death...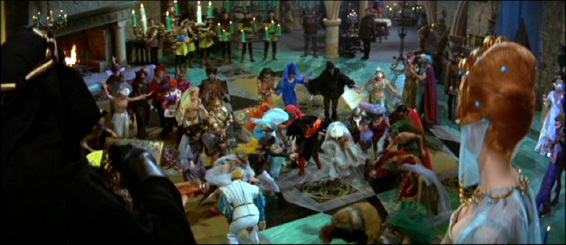 I've been saving this one a long time. You could apply the Poe story as a metaphor for North America: it won't come here, it only affects filthy, diseased foreigners in old countries. Or "Real America": it only affects filthy, diseased, crowded, crime-ridden cities, not our 'burbs and towns.

The story, of course, needs only a brief refresh for anybody who had an English teacher with a dramatic turn, which is nearly everybody. There was a terrible plague, and the heartless Prince Prospero (proud of his "prosperity") gathers all the rich and powerful of his land into his castle to ride it out, above and aloof from the suffering and dying outside.

Indeed, it's a huge party and pageant:
...upon occasion of this great fete; and it was his own guiding taste which had given character to the masqueraders. Be sure they were grotesque. There were much glare and glitter and piquancy and phantasm ... There were delirious fancies such as the madman fashions. There were much of the beautiful, much of the wanton, much of the bizarre, something of the terrible, and not a little of that which might have excited disgust.
At right, lead picture from a Politico article about "Dictator Chic" and how the comical overdecoration and grandiosity of dictators around the world looks similar..and similar to the housing of a certain real-estate heir. Readers who haven't read "Dictator Chic" are encouraged to look through the photos without the name at the bottom, to see if they can distinguish the "taste" of Saddam Hussein, Nicolae Ceausescu, Ferdinand Marcos, and America's current President. Play "Guess the Owner"!
Clearly, the story is best a metaphor for the actual "castle", the heavily-guarded military fortress at 1600 Pennsylvania, with its new 13-foot, anti-antifa fence. The motley crew within had all drunk the Kool-Aid, were having meetings in small rooms every day, acting as if the 13-foot fence were also a giant N95 mask. It can't come to us, because we're clean and white and rich and powerful...is the only thing I can imagine was in their subconscious, though they wouldn't have phrased it like that, out loud.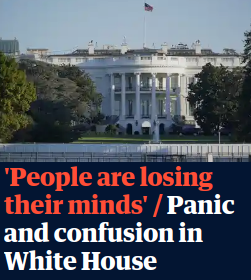 The story contains its own metaphor, of course: the disease appears at the party, personified as a reveller in a mask, and starts touching people, who fall where they stand. But Poe's personification was an accurate description of exactly what has happened: the Prince Prosperos, both of them, were wrong to imagine you can create a safe place from disease, where behaviour can go on as "normal". It'll sneak in past all your guards, military and medical, as long a your behaviour isn't safe.
It was today's headline, above, about the staff now are "freaking out", that finally made me haul out the Poe reference. "And now was acknowledged the presence of the Red Death. He had come like a thief in the night. And one by one dropped the revellers..." They're "freaking out", partly because their jobs just got very complicated, partly because they weren't allowed to even think about this happening, much less have a PLAN prepared, like they didn't for the peons they pretended to serve...and partly because they might be next up for the Judgement of Covid. They've realized they were at far higher risk on the job than if they worked for an ad agency. Possibly higher risk than at one of those meat plants the Boss kept open, killing people.
This very unsafe place (caused by unsafe behaviours) has inspired me to alter the top line of the blog to show my oft-repeated phrase as the blog motto.
But, still no schadenfreude, I'm afraid. This is as funny as an Edgar Allen Poe story.
---
October 3: Techno-Thriller with The President as His Own Threat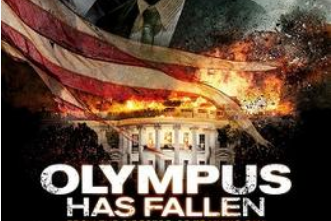 I once heard that "techno-thriller" is a genre in which American might is celebrated as it protects the President, who is invariably threatened by vile schemes.

The movie title came to mind as it penetrated to me that the big story isn't about the one guy; it's that the whole pack of them were treating their jobs and lives as if they lived on the actual Mount Olympus, above and protected from the seething, diseased masses below their feet. Once the virus got in to such a foolishly-run place, it found easy prey.

Once again, my best line in this whole blog so far, I think, has been: "There are no safe places. There are only safe behaviours". The Post has a long article on the psychology of those who thought they lived in the clouds. It wasn't just the president:
It's the entire senior team around the White House participating in this fiction that, 'We can ignore it,'?" said Simon Rosenberg, founder of the liberal think tank NDN.

...

"The White House was a petri dish," said Olivia Troye, a former staffer to Vice President Pence, who orchestrated meetings of the White House's coronavirus task force meetings.

Aides were traveling regularly, attending large meetings and rarely wearing masks, Troye said, which made her uncomfortable. "Some of these offices are like closets, with people sitting on top of each other," Troye said.

"The fact of the matter was, 75 percent did not walk around with masks. Maybe 85 percent," she said. "It was a very small percentage of people who wore the masks all the time."

... [A couple of stories about SS agents no longer getting tested after rallies; and The Family hauling them around on multiple trips despite lockdown orders, the kind that UK politicians get in big trouble for violating.]

Secret Service agents expressed their anger and frustration to colleagues and friends Friday, saying that the president's actions have repeatedly put them at risk. "He's never cared about us," one agent told a confidant...

"This administration doesn't care about the Secret Service," one current agent relayed in an internal discussion group. "It's so obvious."
So there's a silver lining here. If the election goes for the Democrats, and the President refuses to come down from Olympus, the Secret Service agents will by vying for who gets that shift, so they can be the one to escort him from the premises.
---
October 2: Shut UP With Your Schadenfreude
This is probably a disaster.

The odds of a population producing a lot of hospitalizations, especially a population of 74-year-old males, are certain. The odds on any one of them even having a bad time with covid-19, are only 50/50. Hospitalization, a bit over 10%. Maybe 20% odds of needing some clinical support, given age and obesity.

This patient has a large following that are prone to magical thinking. The Republican party has been inculcating them with magical thinking about economics for decades; they've sold wars with magical thinking. So this disease will be, magically, all their diseases.

This could turn out "well". Boris Johnson had a very bad case, hospitalization; came out with all his ideas about "herd immunity", no longer up for herd mentality. The news helped his nation see the disease as serious. Heck, this could save thousands of lives that way. But the odds of a similar happy outcome in the US are only about that 20%.

Almost anything less - if he's not completely off the screen for weeks, unable to make a TV appearance because he's so ill - can be claimed to be a no-problem little cold that he's slaying like a champion. Can only make a 5-minute TV appearance because he's sooo busy coordinating the campaign. The odds of it being mild enough to claim something like that are a good 70%.

Magically, in follower's minds, this will allow two contradictory beliefs to be held as proven before all our eyes:
The Man is a mightly physical specimen, a robust contrast to his frail old opponent;

The disease is really nothing, a paper tiger, can only kill those who are weak, and, frankly, deserving of Darwinian Death anyway. We can all forget those masks, let's get back to work.
None of this, by the way, is about the election. That's pretty much a(nother) Lost Cause already. Even the positives from the above "magical thinking" argument probably couldn't save it for the Republicans. This is all about the legacy. Does the election cost that Movement, or galvanize it? The real fight for liberals isn't the election: it's to change their country into one that won't just elect another. Ted Cruz is probably practising his Mussolini in front of a mirror already.
Republicans were already going to proclaim the loss "crooked", now they can just say "would have won without the virus".
Even if that 2% odds, of the Black Queen flipping up from the deck, come to pass, I'm sure he'll be turned into a Sainted Martyr, somehow - would have lived if he hadn't fought so hard for the Lost Cause.
In the very worst case, or in the quite-likely good cases, the movement gets a validation, the philosophy will claim a "win". So, again, two-thirds odds of this being a Bad Thing. You can hope for the good luck if you want; but remember: this is 2020.
(I type this blog into emacs, a text editor with no spell-checking. If I got "Schadenfreude" right in the headline, I want credit.)
Postscript: Afternoon, October 2
I appear to have understated the current odds of a bad outcome. James Hamblin, M.D., writing at The Atlantic has pulled the best-estimate figures. They are worrying, for the patient.
Eight percent of COVID-19 patients ages 65 to 74 die from the disease. Those 75 to 84 are at far higher risk: 18 percent die. And men are significantly more likely to die of COVID-19 than women. Obesity is also predictive of a severe course. Compared with people in the "normal" BMI range, obese patients are 74 percent more likely to be admitted to an ICU and 48 percent more likely to die.
For the borderline between that 8% for those younger, and 18% for those older, it's right to take the geometric mean (12%), not the arithmetic mean (10%), because the fatality odds go up exponentially with age, my very first CCCC post. Clearly, we need to bump up those hospitalization odds to at least 20%, odds of not being able to pretend this is minor probably double that. But still: "back to work by mid-October" is clearly the most-likely outcome.Frankly, "inspiring the followers to be dismissive of the virus" is the most-likely outcome.
---
October 1: Their Hour Come 'Round at Last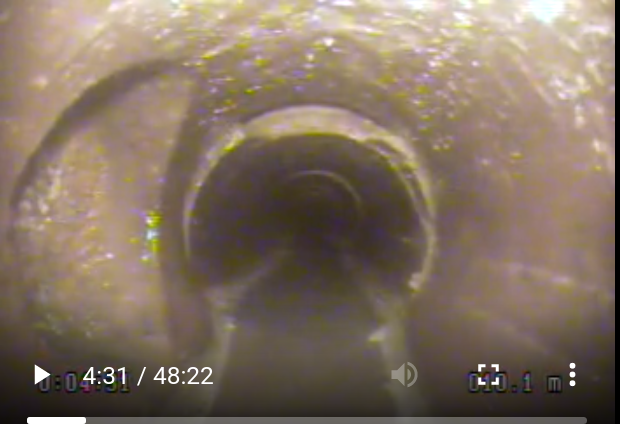 At left, a still from a 48-minute video of a sewer pipe going past. The most mock-worthy part of my career: at the very end, I spent a lot of time working on the "video system" that stored some 30,000 such videos in multiple terabytes of cloud servers, so that any one of them could be brought up by clicking on the inspected sewer pipe on our GIS map.

The videos are shot for structural and operating inspections: is the pipe blocked? Is it cracked, broken, collapsing? Most of my career was spent guessing at the condition of water pipes, which have to be dug up to be inspected - until Alberta companies started inventing tools that could sneak into the water pipe network through the hydrants (they had to be built like a "string of pearls" to go around the 90 degree bends to slip in).

But sewer pipes are dead easy: a manhole at each end. Just drop in the "crawler", a rugged video camera, on a heavy steel tiny-tank. No need for light weight to spare the batteries, they just pulled their power cable, and outgoing video cable, after them and could ram their way through minor obstructions. So there are a couple of "video trucks" that do nothing all day but inspect old sewer pipes. My job was just to process the data and sum up a list of worst-cases for repair.

This trip down a (very gross) memory lane, to emphasize that your municipal government actually has very intimate access to data about your house, business, or campus: they can have crews standing by that, within any given business hour, could grab a sample of your wastewater outflow. (We wouldn't, unless some court ordered us to. We do sample outflow in the manhole, which sums up all the outflows on a block. We do this looking for fats, not disease or drugs; the culprit is generally obvious: the restaurant with the fatty foods. There was this KFC, and a Chinese Buffet, that were notorious. But that is another story.)

The pandemic news is that, after some successes in American university dorms, the city of Guelph is looking at testing sewage to get a heads-up on coronavirus outbreaks.

Well, about time. Your local sewer department has always been the greatest disease fighter in your town, not the hospitals. What Guelph is doing is the easiest way to use the technology: gather the outflow from one building at a time, the residences.

As mentioned, this follows a successful case in New Jersey.

It should, of course, be extended to public schools, offices, other places where the people infected can be tracked down and contacted. As we look to hyper-sophisticated technology to save us, we shouldn't neglect very simple things we can also be doing.
---
September 30: Giving Henderson The Tulsa Treatment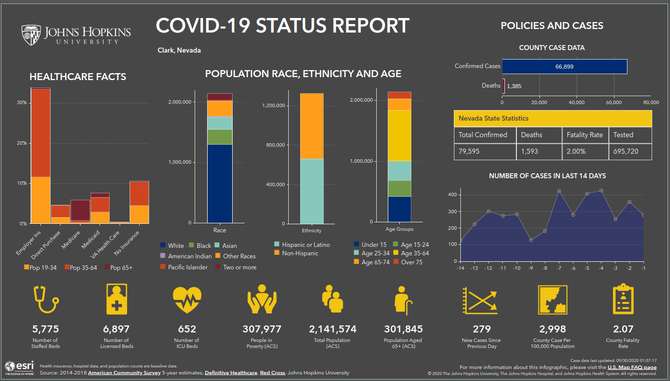 Well, enough time has gone by since the Republican Rally in Henderson, a suburb of Las Vegas, NV, on September 13, to look at the subsequent case-counts for Clark County, Nevada, which includes Henderson, Las Vegas, other suburbs, and most of the people who would likely have gone to the rally: a population of over 2 million. The barely-legible data page for it, from Johns Hopkins, at right, is a link to the full-size version. The graph at lower right on it, are the cases for the last 14 days, going back to September 16th, sixty hours after the rally, and the first day a subsequent case could have been reported.

The background to the rally there, is that there are around 60,000 confirmed cases for those 2 million people then, and as that blue chart shows, about 300 per day for the last couple of weeks, giving us 67,000 today. With 300 new ones per day, there are probably about 3000 infectious people on any given day that became cases, and up to 20,000 more that don't become cases: studies have routinely shown that prevalence is 8 or more times as much as is logged as "cases".

A generous, conservative, estimate then, would require assuming that nearly 1% of the population (20,000 out of 2 million) might be able to infect you on a given day - and one should be generous and conservative when estimating for a crowd of Republicans that glory in doing "open" activities, and doing them with no masks or distancing.
The figure "25,000" keeps coming up about the Nevada rally, but that was mostly outside; estimates run about the same as Tulsa, inside: five or six thousand. The fact that the exact number is not known, along with party-contact information and seating assignments, is damning in itself, of course. We should know exactly whom contracted the virus at the rally, by now, from reports and contact-tracing. Instead, we're making do with the chart at left, which is, for the red line at least, a duplicate of the analysis done for the Tulsa rally on July 9th. It doesn't predict numbers, just percentages of the number exposed that show symptoms and could become a "case".
In blue, of course, the actual cases from the Johns Hopkins page above. This time, it's the opposite of Tulsa: there's a bulge in cases just at the time the normal symptom-display statistics would predict one, if the rally caused a bunch of infections. ("Hah! Got him this time!" his accusers chortle.)
Is the hump in cases actually the result of the rally. I think not. Maybe a fraction of it - at most, the fraction showing in the yellow line at bottom. The yellow line is the one you get if you multiply those percentages by a total of 200 cases caused by the rally. I really believe that to be conservative.
If the rally-goers really were way up there at 1% infected, that's still only about 50-60 people of the 5000 or so. While we have heard of these weddings, and the one infamous choir practice that included a meal together, where one person infected dozens, it would mostly be unusual for one person to infect more than three or four in a few hours, in a room with a high ceiling and good air circulation. Fifty times four is 200, and I really think that's an upper bound. So most of that bulge in new cases from September 20-25, about 700 people above the 120-150 a day they were at on September 19-20, cannot be from the rally. If the rally had infected an additional 700 people, we'd all have heard about it: one person in 8 who attended?
The complaint isn't about the exact number infected, though if they did cause even 100 cases, they also killed two people, as Clark county has been running at a 2% case-fatality rate throughout. The complaint is that the cases caused led to more cases, and more cases. The complaint is that they were sent home happily reinforced in their decisions to ignore masks and distances. And infected.
I like to run these numbers, because I'm interested in epidemiology, and how my very rudimentary statistical skills are nonetheless enough to follow along with the experts. But Biden's message, that it was "totally irresponsible", was spot-on. Tulsa gave me the feeling that rallies in very large arenas with a lot of open-air, are at least possible. But packing people together and disdaining masks, that's just crazy talk.
Of course.
---
September 29: BC Turning the Tide? Maybe not.
So late in the day, today, just off my usual schedule; I figured that at least now I have FOUR days of case-counts from BC. About 280 over the weekend is a little under a hundred a day. That's better than the past week or so? Are we turning the tide?

Then today's count came in at 105, and it seems more like we're hovering around that 100/day figure. That's actually pretty good news. The number is probably within the tracing capability, so we can be considered "Under control", as it were. It's just a number that could so quickly explode if people stop working at it.

Fingers crossed...
---
September 28: Hail, Africa, The Pandemic Slayer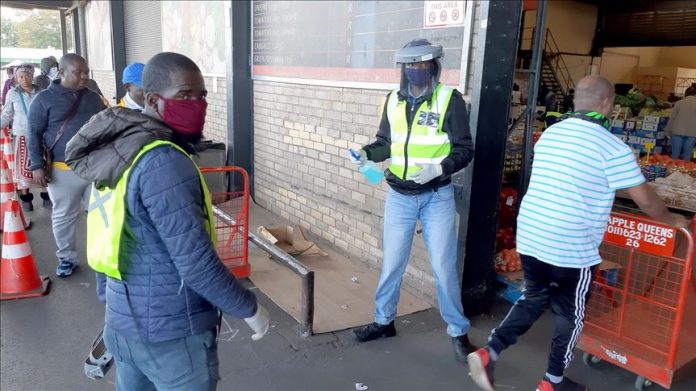 I'm not sure if I owe any apologies or not for ignoring most of the world, here. The kick-off essay mentioned the "major league", of nations, meaning those with advanced health-care systems, thousands of ventilators, PPE stacked to the ceilings of our hospitals. I certainly wasn't about to mock Bangladesh, or Somalia, for not having good results.

Further, I saw no point at looking at the statistics from poorly-governed regimes that lie constantly. That was a sore point back in January about economically-mighty China, and I haven't covered them, either, because I don't trust the data provided. No great knowledge of about 170 of the worlds 180+ nations, I pretty much stuck to North America, Western Europe, Asian democracies.

Staying within your limits is wise, but I missed how well Africa has been managing, on half a shoestring in most cases. Because they've been the subject of much journalism, I at least did backpat Vietnam and Cuba, tyrannies both, but with a reputation developed for honest reporting of public health issues.

That was almost two months ago, and I failed to think about how many other poor countries would actually be able to do well at pandemic protection, because distance, masks, and willingness to alter commerce patterns, don't require capital. The pandemic is crushingly expensive, but only in terms of lost production. The disease is expensive, all that hospital care - but only if it gets loose to start with.

My lead, buried in this fifth paragraph (the joys of blogging: screw you, Columbia School of Journalism), is an excellent article by Karen Attiah at the Washington Post, about how Africa "defied the covid-19 nightmare scenarios". Some nations' experience with Ebola can be credited for preparing them; with others, it was AIDS. Africa's been fighting various kinds of epidemics - malaria, tuberculosis, cholera, too - for a long time, while we grew stupider and more arrogant in our bubbles of protection.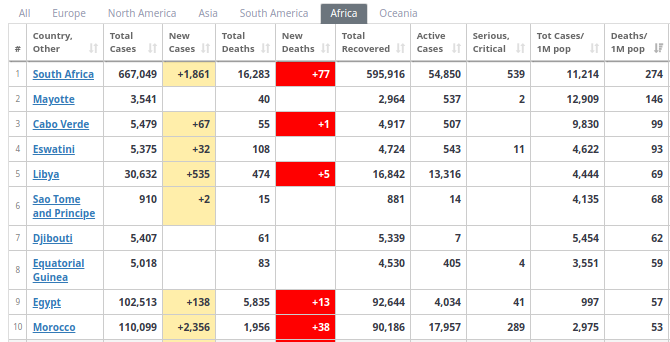 Many nations of the continent are not providing good reporting, but most are. I should have looked more closely. My go-to, the worldometers site, has a button you can click to pick out a continent. Click on "Africa", and sort by "Deaths/1M pop", and you find the worst case in Africa, South Africa - has only just passed Canada's own 245 deaths/million. Egypt, with over 80 million people, has lost less than 6,000 of them.
In the early days of the pandemic, it was OK to dismiss great performance from small counties with less air traffic, because they hadn't been infected to start with; especially, as they didn't get surprised by the first spread. At this late date, however, every place on Earth has had a few exposures, and after that, it's all about your control of the spread. They've just done very well. If they hadn't, no government could keep a lid on the news. Remember the bodies stacked in the streets in Ecuador?
So, Africa knows how it's done. With no money. We should humbly ask them to send some development workers over and instruct us.
---
September 27: Finally

Today, I was able to cheer up by reading a Fox News headline. Yes, you read that correctly. I'm sure other papers had this story, but Fox got it to me, they get the link.

I understand if you don't want to click, so I'll just tell you that the offenses were indeed clear, egregious, and repeated, and so he was also fined $5,000 - then will have to do three years of probation after he gets out.

Canada has done everything better than the USA at the pandemic, but this is one area where we need to catch up. Let's jail somebody like this; they get people killed. Most people need only gentle correction and advice, Dr. Bonnie's strong suit. On rare occasions, however, we need to clarify how serious this is.
---
September 26: Americans Killing Their Young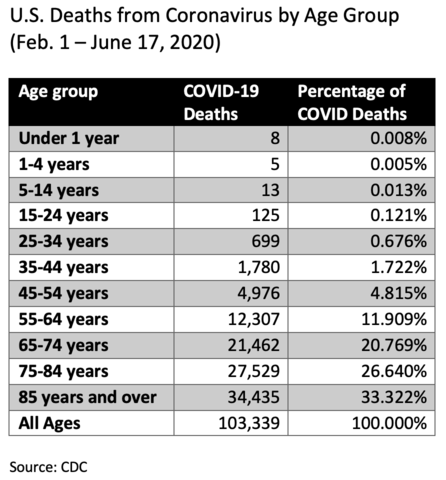 So I'm just cruising along on my weekend morning, reading a predictable article in the NYT about infections of the young then spreading to their elders - that the recent surges infections of younger adults are followed by a surge in the middle-aged a few weeks later, then a surge in the old a few weeks after that. The American CDC is confirming, basically, what everybody was already sure of, and it seemed thin material for a blog post.

Then I'm stopped by an incongrous number.
Young adults are not immune to the virus themselves. Though older people make up the majority of deaths from the coronavirus, more than 5,000 younger adults between the ages of 25 and 44 have died of the virus, according to C.D.C. figures...
FIVE THOUSAND?? Stop the presses. They've lost more young-to-40ish adults than to the War on Terror when Bush left office? (Figure at left from when total losses were half of today's. They show almost exactly half the young deaths, so the rate is steady.)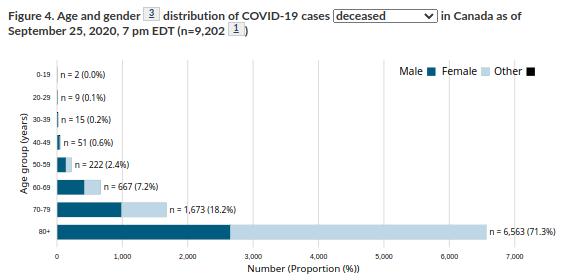 Hastily, I look up the Canadian numbers.
We've lost just 75 Canadians between the ages of 20 and 49, a wider age-range.
The great bulk of Canada's losses, I keep repeating, were our care-home disaster in Ontario and Quebec. The United States has lost 2.6 times as many, by population, as Canada, but the ratio could have been over 10:1 - if Ontario and Quebec had protected their care-homes as well as BC did.
STILL! To get how many Americans, 25-44, would have died if they had lived in Canada, you can take the 75 and multiply by 8.76, the ratio of our two populations (These days, 331.5 million vs 37.8 million.) and get 658.
You got that right: overall, 2.6 times as many Americans have died of Covid-19, by population, as Canadians have, but by population of young adults, the disease is 5000/658 = 7.6 times as bad in the United States.
Young Americans could lower their chance of dying from coronavirus by 87% by crossing the border. OK, strictly speaking, they should have crossed it years ago. Much of this staggering difference may come down to the health-care systems, to medical conditions untreated for years.
5000 minus 658 is 4,342 "excess deaths", by Canadian standards. Assuming that trends continue, and eventually over 300,000 Americans die (see post 2 days ago), we can add 50% to that, and get 6,513 young Americans will die from this virus that did not have to, would not have done had they had Canadian health care and public services, were killed by their government. It'll be more than the whole "War on Terror", across its 20 years from 2002-2022, just in their 25-44 age group.
Oh, praise be, for being Canadian. Those poor, poor bastards; my pity for America grows every day.
---
September 25: Sigh. I Thought Too Highly of British Columbia
Back in my June 25 post, "Officers in Danger" I wrote that "The contrast to our own praise and adulation for Dr. Bonnie Henry and Dr. Deena Hinshaw in BC and Alberta, respectively, could hardly be more dramatic.", in comparison to the death threats faced by other public health officers.

Oops.

I forgot that many of those threatened officers had surely received "praise and adulation", as well; it just only takes the one, or six, death threats from the whole population to scare somebody out of their job.

Dr. Henry was just shrugging them off and not even complaining about them; just happened to mention it, now. There's a dramatic contrast for you.

If I can stretch a bit to offer BC a kind word, it's likely that the "death threats" she received were judged not serious. In the US, with its gun culture and so many mass shootings, a health officer would do well to take them much more seriously. Henry was able to brush them off and concentrate on working for us.

I'm glad that my June 25 post highlighted how all the most-threatened officers were women. Dr. Henry's news has, bravo, stimulated stories about how women in public positions suffer far more of this than male counterparts. All BC is shamed that it happened here.
---
September 24: See your 200,000 and raise you another 100,000...or more?
Well, the 200,000 milestone shows that they've quit doing headlines about the numbers themselves. They just started noting "nearly 200,000" some days ago, and switched to "over 200,000" yesterday. The numbers themselves are losing their ability to shock, which is to say, their ability to sell clicks.

It's becoming at least possible (if foolish) to speculate about the ultimate butcher's bill. Foolish, because anybody can screw up and have a whole new wave, and there's plenty of time for a few of them before vaccines come to save us all (fingers crossed on that...)

But if Canada doesn't screw up too badly, we'll probably only continue losing 5-10 people per day for another 200 days, then a slow decline as the vaccination rate takes effect. At very best, we might clock in under 10,000 dead, though over 11,000 is very likely and 12,000 is certainly possible, even without any major waves. We'll never get back the 7,000 lives we lost to our gross failures in long-term care, but we won't repeat such mistakes, either.

If Ontario and Quebec had replicated the performance of BC with long-term care, Canada could have gotten away with under 5,000 dead, certainly, a number comparable to bad flu seasons. It kind of implies that a perfectly-run United States might have seen under 50,000, just by population proportion.

That was never likely, even if their Dr. Fauci had been elected President, instead; and their performance had been optimal for them...because of that awful health-care system of theirs. But still: other nations could have done that well, and unlike us, nations like Australia and Germany actually did.

America is becoming as sadly easy to guess at a number for as Canada: except in their case, it looks like they will have several hundred dead per day on average, rather than 5-10. Two hundred days times five hundred bodies is another 100,000 dead for a total over 300,000(!!)

It's possible that a new administration might bring the numbers down starting in February, but a lot of the damage is in people's minds, treating masks and distancing as offenses; that "damage" won't heal, maybe ever.

The number isn't shocking to news junkies: it's been predicted since early August, not for the whole pandemic, but by December first. That's currently hard to see, with 67 days to go, and well under 1,000 dying per day. But even by the time a new administration takes office, that's another 50 days later, and it's hard to believe it'll be under 300,000.

It could have been 50,000. American incompetence and political posturing will then have killed a over a quarter of a million Americans that would have lived in the best-case scenario. That's more than every American war, ever, combined, if you subtract their Civil War and WW2.

And that is why I do not understand how there are still any states considered "close" in their election.
---
September 23: Pandemic Patience
I'm always looking for good news on the climate front - which never comes from watching the weather, of course, I mean good news of scientific and engineering developments that provide hope for no-GHG industrial conversion.

A kind of Holy Grail that keeps people clicking on hype YouTube videos and news articles is a distinctly better battery. Industrial analysts have calculated that if batteries came down below $100/kWh of storage capacity (from their $160 at best, today - mostly $180-$200), then electric cars would be as cheap as the regular kind.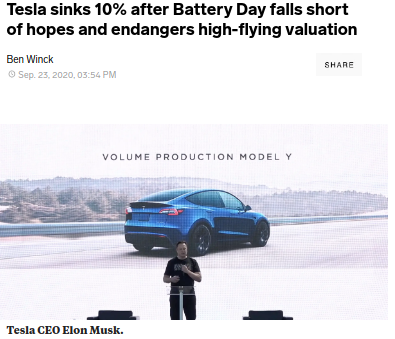 That, in turn, is expected to be like when flat-screen monitors became cheaper than the foot-thick tubes, heavy with lead inside. The flat-screens are better in every other way: better colour, lightweight, no distortions; when they were also cheaper, tube monitors vanished in a year. Electric cars are quieter, smell better, have almost-scary acceleration, less maintenance, lower fuel costs.
So yesterday's much-hyped "Tesla Battery Day" had hearts aflutter: a "solid state" battery that can't catch fire, keeps running if punctured? An engineering realization of lab experiments that hint at doubling, maybe quadrupling storage per kilogram? The needed drop below $100/kWh?
Alas, none of the above. Basically, it was a promise that they're sure they can realize significant improvements (no doublings, sorry) over the next three years. They've got it all worked out, just have to build the factories.
That really is good news. Everybody loves a "Eureka! Breakthrough", but nearly all technology improves like this, or slower.
What's my link to climate change, from the pandemic. Well, it's teaching us patience. I hate the term "climate emergency", because the climate-change project will go on for the next three generations. Greta Thunberg will die of old age during the project; so will her kids. "Emergency" denotes something you can just drop everything to fight, put life on hold while the fire is put out and the victims bandaged, then get back to it.
The climate fight, on the other hand, will just be our life. We spent a hundred years building up coal infrastructure, have let most of it decay away, unreplaced as we built up oil infrastrucuture, which will soon be built less and less, and carbon-free, methane-free engineering more and more. And when we're GHG-free...all the GHG will still be in the atmosphere, and we'll need generations of more patience before the climate recovers.
During which time, life must go on, as we've had to figure out ways for life to go on during pandemic protocols and limitations. At least with the pandemic, we only need a year or two of patience; it's a global, species-wide, "starter problem" to get us used to the idea. It's funny that the nations doing the best on the pandemic were also the ones already doing well on climate change. And vice-versa.
---
September 22: Pandemelection: There Will Be Consequences
Very Small Ones, Probably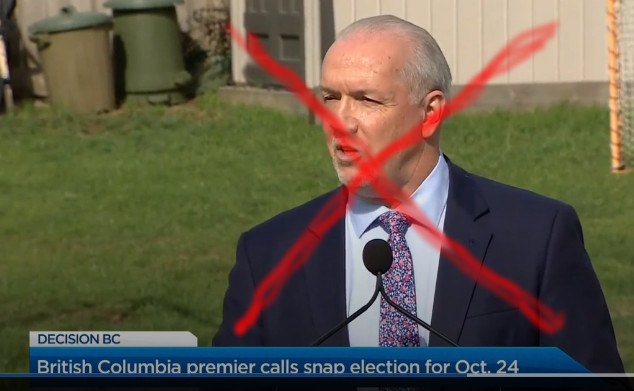 Well, I couldn't be more contemptuous. The promise not to do this. The costs of doing it in the pandemic: money costs, time-and-distraction costs, hell, there could be medical costs, infections in a voting line.

The worst part is that we like our MLA from his party, are reluctant to vote against him. But I, for one, just must. Alas, the guy got 60% in the last match, so even the justified anger over this outrage probably won't cost him his seat. Indeed, many think Horgan will be rewarded for his perfidy with a majority. Argh.

The upside is that I kind of have to vote Green. My MLA would get the biggest scare if votes went to his closest challenger last time, a Liberal. But the BC Liberal party is acting as our conservative party these days. We're still mad at them from their last time in power. So it's the Greens, which actually does double-duty of expressing climate-change concerns. After two weeks of smoke (that used to happen much less often), how could we not?

The Greens don't have a very workable industrial-change plan, but they're pushing very hard in the right direction. They have been needed as an influence on more "industry friendly" parties. (That is, green-industry-unfriendly, green-jobs-unfriendly parties.) If any election reminded me that voting can be about strategy, and the enemies-of-my-enemy, rather than idealism, this is the one.

Those were long sentences. But, I can think of a four-word one that ends in "John Horgan". I hope everybody votes that sentence next month.
---
September 21: Dug Deep and Found Good News
Been busy lately, and I haven't done any analysis projects. I'm not sure what's left to do. We pretty much know what to do now, it's just sticking with it that's been hard.

Scrolling the news to see if there was a story worth highlighting for time-short readers, and it was all increasing case-counts across Canada, outbreaks here and there, schools closing...in short, the same news for the last few weeks: all bad.

Then one from the London Free Press, about "Encouraging Signs" caught my eye, and it seems that London's thriving college party scene was pretty quiet last weekend, the places open were uncrowded, parties around campus were not heard.

Well, they are university students. For all the criticisms we make, they are pretty bright, and possibly they're starting to figure out, from their own bitter experience, the central mental block that everybody has about this danger. People think there are safe places, safe times, that we can make a place safe for some time, and then, it being "safe", you can behave how you want. It had led to folly every time, even in the super-safe places like Australia and New Zealand.

There are no safe times. There are no safe spaces. There are only safe behaviours.
---
September 20: Johns Hopkins Catches Up to 200 000 - Tomorrow
I've had some distractions today and have no post of substance. So, instead, just a quick note to follow up on September 17, about the newspapers going with Johns Hopkins for the count of American dead. Worldometers is already past 204,000, but Hopkins finished up yesterday at 199,259. Counts are low on the weekends, so today will not take them past the round number. The papers get to start off the week with the 200,000 milestone. Lucky for them, as there are only so many times you can re-read about the death of a judge, or the overwhelming importance of the next one.
---
September 19: Test Positivity Going Up, Will Get Worse
So there's this government of Canada page at:
https://www.canada.ca/en/public-health/services/diseases/2019-novel-coronavirus-infection.html that was the main source of information when the pandemic started, and it gives the nationwide summary of total tests done, and total positive:


...and I started saving it every day. It helps to have a Unix computer with with "wget" utility, so you can just tell the computer to snapshot the page at 5PM every day and forget about it. Eventually, I typed them all in.
They're the ultimate in "big picture" data, useless for anything else. Agglomerating vastly different health system issues, where the Maritimes have almost no cases, and Quebec had thousands. Then there's time: each day, the new count of positive tests has nothing to do with the count of new tests, because results can take days and more to come back; the positives are for tests from all last week.
So only the big picture over time and space is captured, and Canada, on the whole, as the months go by, had a rise in positivity, then a fall as we beat it down, and now it's steadily coming back and back: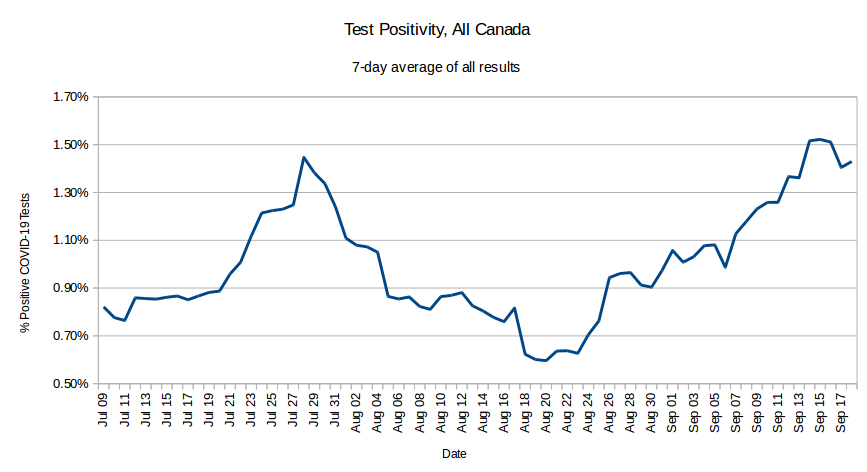 Alas, it seems likely to get worse. Alberta is already reducing testing(!) to save up tests for the Fall surge. (Boy, will I be coming back to that!)
It's right in the article:
Since May 29, when the broad asymptomatic testing was introduced, the province completed about 233,000 such tests, with only 0.07 per cent returning positive - about 163 cases.

The low positivity rate shows this capacity could be better utilized, Hinshaw said.
The asymptomatic-testing program was to get an idea of the prevalence in the general population, and it was diluting the positivity rate. Across the country, it's the generally rising case-rate that's going to bring it up. People in Ontario are waiting several hours for a test already; that's going to cut it down to people with real exposure to worry about.
Anything under 3% is still good news, but Canada is going back to school, and into flu season, in a deteriorating condition from the great place we were in a month back.
---
September 18: One Step of Progress on Testing
It's not often a blog can do "breaking news", but I dropped reading up on how Australia crushed a second curve the moment it hit the wires that BC has a new test, aimed now at "school-age children".

It's still similar to the brain-scraping swab test, it just gets the gunk out of the back of your throat with gargling instead.

What the announcement is NOT, is any greater availablility of testing. It's only at those 19 centres. It "can be done" without a health professional, but there's nothing to get it into the schools, school staff administering it. There's no indication the results come back any sooner.

It would be nice if this is a real step forward for safety in the schools; but that basically depends on more testing, proactive testing before symptoms, and quicker results, quick enough to get a kid home before they spread it. There's no sign of any of that in the announcement.

Still, any new test being approved at all is a big step forward, intellectually, for the health care bureaucracy that has been so resistant to new products.

Parents should cheer, but go right back to pressing for more tests, proactive tests, faster results. They still haven't got them.
---
September 17: Newsies Go With Johns Hopkins
The big controversy about counting COVID-19 deaths is really how many we've missed. The numbers for excess deaths are still high, indicating that a lot of people who die of heart attacks and so on are not being tested for whether the virus pushed them into the attack.

But, the news is ever-cautious, and although Worldometers.info was cited in some early journalism, it's ignored now in favour of the Johns Hopkins Mortality Analyses page that keeps a global count of cases and fatalities.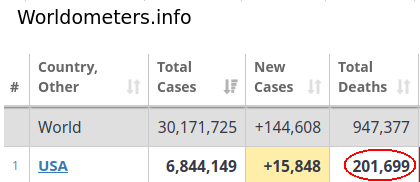 How can I be sure what data source dozens of news organs are using? Nobody has mentioned the USA cracking 200,000 dead yesterday. They really did, as worldometers is pretty careful in adding up all the news announcements, via volunteers. Those announcements are just some days ahead of the "proper, through channels" data-gathering of Johns Hopkins and the health bureaucracy.
At this point, they're nearly a week ahead. JH is still down under 197,000, when worldometers is already past 201,000, with the death-rate down below 800/day, lately.
It was still well over 1000/day during the Democrats' convention a few weeks back, and people laughed at the grimmest political 'joke' in ages: that Michelle Obama was criticized by the president for obviously pre-recording a message that mentioned 150,000 dead, when it was already up to 170,000 - proving he understood there were 170,000 dead, if not that it was going up by nearly 10,000 per week at the time.
It's a dumb, data-collection issue to even remark upon, just that CCCC is out-of-sync on it's "another round number passed" postings with the rest of the media. The real point here is to keep marvelling, in a bad way, at the death-rate, let yourself remain shocked by it, by how it compares with our pearl-clutching when soldiers die in a helicopter crash, or many die in yet another crazed-shooter incident.
The five Canadians that died of it yesterday should be news, by those standards. Instead, we only note the even tens-of-thousands in the USA, now. In Canada, not even a note when we crossed the line to an even 9,000 (August 12 on Worldometers...)
We've become very numb to it. We've had to. We can't become numb to the ongoing risk.
---
September 16: Australia Completes a Second Wave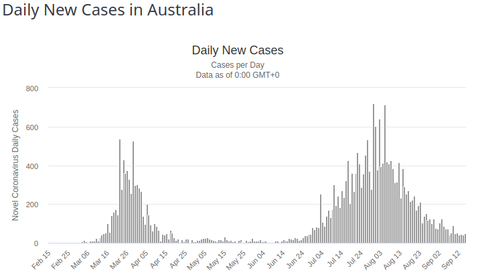 Look at that classic shape. If you were trying to illustrate an exponential function that rapidly changed from growing to shrinking on August 5th, you couldn't do better than Australia's second wave, at left.

Of course, the companion function of "dying" indicates this bit of mathematical sculpture cost them 700 lives; they were one of the best in the world, at 102 dead back in June, then they let it get away, and now their total is well over 800.

Of course, they still have us beat all hollow. They have gone way up to the number that we would have had if we'd protected our care homes (down to 2000 from 9000) and also had closed up a week earlier, before Quebec and Ontario had spring break, so that we had just over a thousand lost. If we'd done all that perfectly, we could hold our heads up around Australia.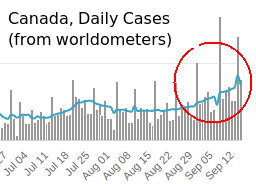 So, we can't criticize. Indeed, too-close behaviour was something that their previous successes made them vulnerable to: everybody seems to need their noses rubbed very directly in the fact that "it can happen here, too".
Canada's case-chart keeps increasing, but very slowly. Nothing exponential, at least not quite. The last few weeks are looking more like it, though, and we've got to get a grip on it.
---
September 15: New York City vs Madrid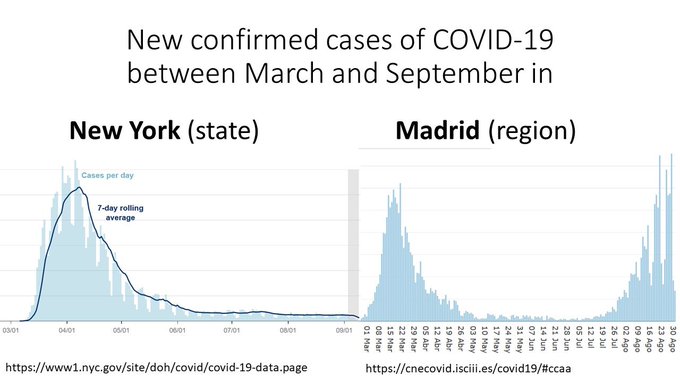 I keep thinking I'll skip a day on this blog, but stuff keeps coming up. The easiest ones are what most blogs do, just provide the blogger's friends with a favourite link of the day, "read this one". That's today.

A Paul Krugman newsletter (recommended in its own right if you like super-easy explanations of economics) linked to this Twaddler (sp?) thread where Miguel Hernan, Harvard Prof, examines the two situations at left. Hernan specializes in information graphing, a subject I love too, and all in that field agree that the best graphics speak for themselves, as here. (The graphic is the link to his thread.)

So why did Madrid lose control and spike back up in cases? In four words, "too few contact tracers". Though unlocking too quickly was a big problem, too. Hernan writes:
Indoor dining in Madrid was OPEN at 60% capacity in June. Bar service opened too. Protocols weren't aggressively enforced. Since June it has been easy to find crowded bars and tables. The contrast with NY was striking as anyone spending time in both places can tell you.
This allows me to refer back to my own photoessay below about The "passaggiata" culture, the thick crowds of Madrid. Madrid culture was inherently at risk for spreading respiratory disease, just look at those photographs again. Whether they are again gathering outdoors like that, they're definitely crowding into bars and restaurants too much.
I have relatives there, a newborn grandnephew, a toddler grandniece, a brother who recently turned 70. Who loves his favourite bars. So it's worrying. The idiots (RNC) talking like this is as good as over, really need to see this graph.
---
September 14: Smoke Cloud With a Silver Lining?
I did some running yesterday, worrying family somewhat, I guess it's actually not a great idea in all this smoke. Today, the smoke is distinctly thicker, and I believe I'll mostly stay in.

I notice the streets are pretty quiet, indeed, I think everybody is. And the smoke may be going on, all week. I reflected there's now two things locking me down - fear of virus particles and fear of smoke particles.

It's got me depressed enough that's all I'm going to post today: maybe we'll be able to detect a fall in transmissions in a week or so that comes from the smoke keeping us all in and grumpily watching TV.
---
September 13: For Some, the Worst Vaccine Would be Better Than None
The New York Times has a wild article on DIY vaccine scientists. They note that Jonas Salk tested his polio vaccine on himself and his family, to show confidence in its safety.

These experiments probably are "safe" by most definitions of the term. Vaccine safety has to work in the hundreds of millions. You probably couldn't inject saline solution into that many people without some bad reactions. So, they set the safety bar very high, because we all know how much trouble vaccines have with public suspicion. Insane, baseless public suspicion, so think what the nuts could do with an actual base for it.

The scientists injecting their experiments into 10 or 100 friends and family, probably have less than one chance in many thousands of causing a really bad reaction. On the other hand, even a vaccine that offered a pathetic 50% reduction in infection odds, worthless as a program, would be a big relief for an individual, compared to zero protection.
I couldn't help contrast the caution of the public health system about this, with the other recent story, in the Post, at left. Because the health regulators are, as usual, siding with the industry, and ignoring the deaths of its low-paid workers, we might see another 200 of them die before they get a properly vetted, safe-for-sure vaccine to stop it.
There was talk earlier on about massive strikes, "for our lives", etc, but I knew the meat plant workers would knuckle under, go back to work, take the risk. They are, of course, poor, many desperately so; nobody who's read Eric Schlosser's "Fast Food Nation", or any other journalism about meat-packing, knows that nobody else will work there to start with. Poor workers, from time immemorial, have risked their lives to keep working. Ask any family with coal miners in their history, like mine. (Grandfather, dead in his 50s. Injuries from a cave-in.)
If you could assume there was a route to safety through PPE and workplace measures, you couldn't suggest the obvious: let the meat plant workers test the vaccines. There are other jobs taking infection risks right now, but the meat-plant workers are by far at the highest risk of it. Their need is greatest, but also they can really put it through the functionality test: far fewer testees would be needed to prove efficacy. As for the dangers of the vaccine itself, they're orders of magnitude lower than the dangers of no vaccine, already demonstrated with 200 coffins.
---
September 12: Bad, But Not Exponential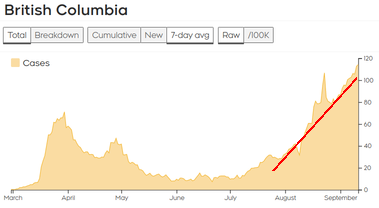 As we all await indications of whether the long weekend caused another infection "bump" from parties, and whether the school year is leading to just a few isolations, or a lot of outbreaks, I'm just reading those embarrassing, worst-in-Canada case counts in Alberta and BC, and fighting depression. (The shroud of smoke over the city isn't helping.)

I managed to dredge up one cheery thought: at least when case-loads go up these days, it's not those terrifying exponential curves that lead quickly to jammed ICU beds. Note at left, the red line that generally tracks the sad story of BC since the end of July: six weeks of steadily increasing cases every day. But that's a linear graph, not logarithmic.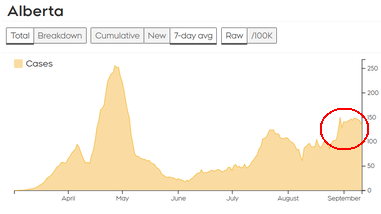 The Alberta graph isn't even a steady increase. They actually did this one giant leap in case-counts a few weeks ago and have leveled off, since; the problem being they aren't dropping, either.
This really does put a different complexion on the problem, and perhaps explains why the public-health people aren't panicking and ordering another lockdown, though I noted onAugust 22, "Time to at least Threaten Drastic Measures?" that we were already way above the case-counts we had when the first lockdown was ordered. The difference is that case-counts back then could be expected to increase exponentially, and now they cannot.
Behaviour has changed. I see it in the streets every day, people are hardly noticing as they maneuver away from each other as they pass, now. Our news may be filled with snaps of crowds, but that's because they're all news: the normal routine is spacing.
I'm sure that increases are still actually exponential - that's the way it has to work - but the exponent is far lower; low enough that whole weeks of increase are hard to tell apart from a straight line. Too, if people become more alarmed, less outgoing, and more distancing as numbers rise, and they react to that news - then the exponent would keep dropping and make it even closer to linear.
It would still be really good to see it decrease, though, for the sake of the schools. For BC in particular. It's pretty hard to hold my breath, though, as the news about the long weekend, and about schools, is still to come in.
---
September 11: Overall Planetary Case Mortality-Rate Dropping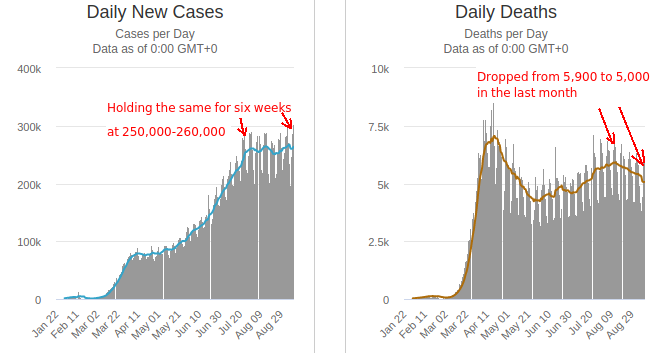 I noted on August 26, "Human Race Starting to Win This" that the overall planetary death-rate was falling. What's become clearer over a few more weeks, is that the infection rate peaked - and stayed there, so far. It's not declining, just the death rate, which is continuing down.

A quarter of a million people will become infected today, but perhaps fewer than 5,000 will die of it. So, adding up the planet, if not just the USA, every day is still worse than that September 11, by a few thousand dead. (The USA alone is now falling below 800 deaths/day, so for them, every day is about a quarter of a 9/11.)

The case-fatality rate, of about 2%, is a fraction of what it was in April, no doubt because cases were not being counted well. But they were counted about as well a month ago as they are today, and the case-fatality rate has dropped since then. I lean to the same explanation I had for falling rates in America: we're protecting the old better, and they are protecting themselves. All around the world, older people who can stay in and limit contacts are doing so, and care facilities for the old (including homes) everywhere are mindfully protecting the elderly within.

This makes the average age of those who are "cases" younger, and of course with COVID-19, that means the fatality rate is much lower. Even a small increase in the proportion of young (here meaning "under 40") infectees would explain the drop so far. In the developed world, especially the USA that are contributing a quarter of the cases right now, there's also credit where due to the gradually improving treatments they're developing.

September 11 is an inherently solemn day, in Chile certainly, and the USA, too. It's nice to read some positive news.
---
September 10: I Found The "COVID Panic": Turns Out It's Public Health Measures
Attempting (pointlessly, since nobody believed) to downplay health dangers from COVID to avoid creating "panic"? What panic? Did any other nation than the United States "panic" at any point?

When the ambulance sirens were coming just minutes apart in Lombardy, in Brussels, did people take to the streets, mindlessly smashing things? Did anybody shoot anybody else to keep them from coming close, or nail up sufferers in their homes?

What "panic"?
Well, I found it, just a few search terms away. It explains everything. The Mises Institute promotes the ideas of Ludwig von Mises, which is to say, that government is Always Wrong, whereas Rich People Are Always Right. (I'm summarizing; they'd claim that "the market" is what's always right, but we know that comes to the same thing in practice these days, what with a few oligopolies running most markets.)
They've been calling out the "COVID Panic" since early May, the panic that drove nations to prevent people from "looking for work", by "shutting down businesses". Which is to say, public health lockdowns - the crude, but only known way to fight a pandemic without testing everybody every day - are to them a "panic".
"Panic" generally means that people do the worst, dumbest things in crises - panic driving people to run straight into the line-of-fire in a battle; or rip out their air hose while diving. What's the dumb thing that COVID panic caused?
Those in favor of lockdowns and impoverishing millions insist that there is no other way. Unless we outlaw employment for millions, we are told, the death toll will be unacceptable. Of course, when pressed for what death toll is "acceptable," no answer is given. Is it six hundred thousand (the number who die from cancer in the US each year)? Sixty thousand (the number who typically die in the US from flu and pneumonia each year)? Some lesser number? One? This figure remains a great mystery. We are only told that human rights are null and void until the "experts" decide otherwise.
Actually, by May 5, it was two weeks after British epidemiologist Neil Ferguson had changed the Bush/Johnson strategies of "herd immunity" to "lockdown necessary" with one presentation, which calculated that the USA would lose 2.2 million people and 510,000 in the UK. Even those politicians were not ready to champion paying that price, so they flipped their decision overnight.
Defined this way, it's clear that the US administration indeed wanted to avoid "panic" - that is to say, avoid public health measures that shut down businesses for a few months. It's a funny kind of "panic", though, that is openly stated as the intended strategy, years in advance, with a whole Panic Plan in Panic Steps and Panic Phases according to Panic Criteria that are re-evaluated by epidemiologists (they would be "Panic Planners", I guess) every week.
What the Minds of Mises are not going to admit, I suspect, is that in the long-run analyses, the nations that succumbed to that particular kind of "panic" actually will have the best economic outcomes, as well. If they were honest (they're not), they'd look back and say, "We shouldn't have written that. We looked at the plummeting economic indicators and freaked out. We didn't see the 18-month long run; instead, we..."
---
September 9: Since Mom Is Grounding Us, Consider a Restaurant with More Than Face Shields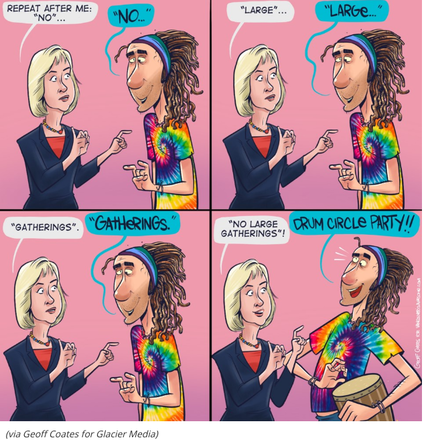 When the lockdown started, there was an explainer on TV that showed, not just a curve being crushed, but a succession of waves, the cases coming back and multiple lockdowns needed to crush them. I couldn't believe it. Why would people let it come back? It's like dieting until you decide you have to binge on ice cream and fries. For a week. Then back to another harsh diet? If most dieters aren't that bad, why would a whole society?

Well, it's not another full lockdown, of course, but we finally have "re-opening" halted and reversed, at least to a small extent. Dr. Bonnie Henry finally lost her patience, when the last four days averaged over 100 cases/day (anybody remember when it was under 20? It was last month...) and closed some bars and banquet halls for large gatherings.
Kudos to "Prince George Matters" and cartoonist Geoff Coates for the message at left, which, alas, dates to July 24...but remains true as ever. While it picks on stoned hipsters, those who read the news know that the rolling-eyeball idiots are the ones who presumably spent wedding parties yelling drunkenly at each other from short distances, crowded into bars, and generally forgot the simplest things during gatherings.
But the news link for the day is to "The Tyee", a West Coast journal, with an important article on those restaurant face-masks at right. I've already been served in restaurants where the waiters have this very minimal face shield that looks like it redirects exhalations upward. They likely do keep actual droplets from hitting you, but the article shows studies have found that much of what's exhaled still gets around in the air, and the wearer is little-protected.
Consider hitting restaurants with better protection.
---
September 8: Get My Flu Shot - When?
The news is full of articles about flu season, the redoubled importance of getting your flu shot, and the increased ordering of the vaccine by the health systems.

All the stories lack one helpful bit of information: when the heck is the flu shot coming? They don't even mention the topic.

Googling didn't help much, it took me to the Government of Canada Flu Page...which had information about last year's flu vaccine. It even shows a page modification date of 2019-August-9. What's thirteen months between friends?

Well, we have something for our readers: and Edmonton Journal article from last year, noting that in Alberta, clinics generally open about October 13, though last year they were delayed to October 21. Let's hope they instead start early this year. 2020 already has all the viruses it needs, thank you.
---
September 7: Labour Day Brings Expected (Statistical) Pile of Dead Bodies
Well, the day's about over - the rigors of hosting kept me from my morning writing habit - so I won't attempt much of a post today.

But, the results are obviously in on the blog's prediction of 190,000 American dead by Labour Day.

A bit after I forecast that with rough calculations, the CDC came in with "180,000-200,000", not a very courageous prediction, being plus/minus 10,000. My call was dead in the middle, of course, so we're both right.

Worldometers, with it's reliance on calls to local news, has it at 193,500 just now, and Johns Hopkins, ever-further-behind by relying on the slower stats coming in through the medical systems, is still at 188,941 - though by tomorrow, when people currently off work send in numbers, it'll probably prove to be well over 189,000.

So, in short, dead on. Upcoming predictions are apparently actually for a resumption in death-rates, which have been declining for weeks; apparently, case-loads in the mid-west bring fears that it will soon enough start going back up again.

From a cruder standpoint, where you (foolishly) assume the future looks like the recent past, with the death-rate slooowly declining from 966/day two weeks back to about 870/day today, you'd assume an average of 800/day for another 10,000 dead in the next 12 days, and that round 200,000 number that will be the headline, due just before the first day of Fall, September 22.

Will it be round enough, big enough, to change American attitudes? No; it's not about the number you read in the news; it's about whether somebody you know has had a bad time with it. If the rural centre of the nation is finally in for a bad month, it might finally change the last skeptics. (I doubt it.)
---
September 6: Canada as America's Yardstick
Well, the Covid Cup Concept is finally coming around to American politics. They are famously loath to bring in comparisons to other countries to their political discussions. There's a ritual nod to every other country having universal healthcare, and another to all other rich countries have less military spending, put together - then they eject the rest of the world from the discussion again.

But today, conservative NYT columnist Ross Douthat finally asked the question "How Many Lives Would a More Normal President Have Saved?" by comparing to other countries. After admitting that Germany did well, he wants to point out that Spain and Italy and the UK did not, that America actually looks about "mediocre", rather than "uniquely catastrophic".

Naturally, having followed the whole issue of deaths-per-million as a metric for all this time, I put in an NYT comment that Mr. Douthat was doing the Right a favour by not comparing to Canada, probably the most-similar nation. Same continent, same level of travel, same federal system where the feds have to work through state/provincial health systems. Compared our 242/million (so far, and climbing at several per day) to their 582/million (so far, and climbing at several hundred per day), and computed that if they'd had Canada's pandemic, another 109,000 Americans would still be alive.

Most of the mistakes Canada made were the care homes, of course; without that terrible performance, we'd have lost less than a fifth as many people. In America, it was just 40%. So there's another rubber ruler to stretch up against the problem: if both nations had protected their care-homes well, and the only losses had been to previously basically healthy people, America would still have lost 111,000 to date, and Canada would have lost under 2,000.

Both nations failed their very old and vulnerable. But in America, if you were not under care, just living your life independently with reasonable health, your chances of dying in the last six months, were six times higher in America than Canada. And rising. That seems "catastrophic" from here.

Just saying.
---
September 5: All Risk Is Additive (and Subtractive!)
There's a fine article up at The New York Times: "When It Comes to COVID-19, Most of Us Have Risk Exactly Backward", by physician Aaron E. Carroll. I spent much of a career managing risk, and his view is very valuable.

By "backward", he means that once people have taken a risk, they act as if that were some barrier they'd broken through, that now admits them to a new space. If you go to a restaurant, well, you've taken the "restaurant risk", that's a done deal, might as well go to a restaurant every day.

This is precisely like playing a round of Russian Roulette, concluding that you're now a person who can just pull a trigger on yourself and get away with it, and keep playing more rounds. Exactly backward: each round of Russian Roulette is a new, separate risk, like a spin on any Roulette wheel. Having won once, the only winning move is still not to play.

Dr. Carroll counsels you to "counteract" risks you do take by being extra careful to reduce other risks. This doesn't make the risk you're taking any lower, of course, but it helps. Statistically, if everybody does it, we all benefit, too.

So, the kids going to school doesn't give you permission to also put them in team sports. Consider compensating for school by doing something extra-safe on weekends. Look for tradeoffs. You have to add some risks to get on with life, so look for ways to subtract risks, as well.

We have guests for a few days, so I'm going to avoid stores for a few weeks -and be extra-careful and mindful while getting groceries. It's something, at least.
---
September 4: Degrees of "Precipice"?
My first instinct, on seeing the headline "B.C. on 'a precipice,' provincial health officer warns, as 89 new COVID-19 cases confirmed" this morning, was skepticism.

This applies to both Alberta and BC, which seem to have decided to become the Twin Provinces, as far as "trying to have a second wave" is concerned. Both have been struggling, for six weeks and more now, to hold down case-increases that stubbornly keep rising.

The reasons are various, and it's frustrating that the public health investigators don't talk more about them. They don't break down the reports by how many at restaurants, other stores, how many between business co-workers, and whether those are "office", "retail", or "industrial" environments.

A friend pointed out the other day that Alberta doesn't have so many cases, if you subtract the ones in meat plants that aren't an infection concern outside them. And this may be why they're hauling out the word "precipice".

Normally, I'd figure they were just engaging in fresh rhetoric, to keep people concerned, when vigilance normally flags. After all, epidemiology doesn't have "precipices", it has the same exponential function whether you have 20 cases or 20,000. Exponential functions can LOOK like they have a precipice, and definitely feel that way, when the numbers get frightening.

However, they're tracking the case-load in deep detail that we aren't hearing about. It's possible that they felt for some time that the situation was controllable, because most cases were in places with well-known lists of contacts, like, well, meat plants and businesses. They may be getting more concerned now, not just because of "89 cases a day", but because a much higher proportion of them are the kind of "community" cases where they can't contact-trace and contain.

So take this one seriously. All risk is additive. Society is adding in a lot of risk by going back to school right now. Soon, additional risks will be imposed by fall weather. We need to cut all the other risks, to compensate. Beware gatherings, meet with caution. We do not want another lockdown.
---
September 3: A Little Space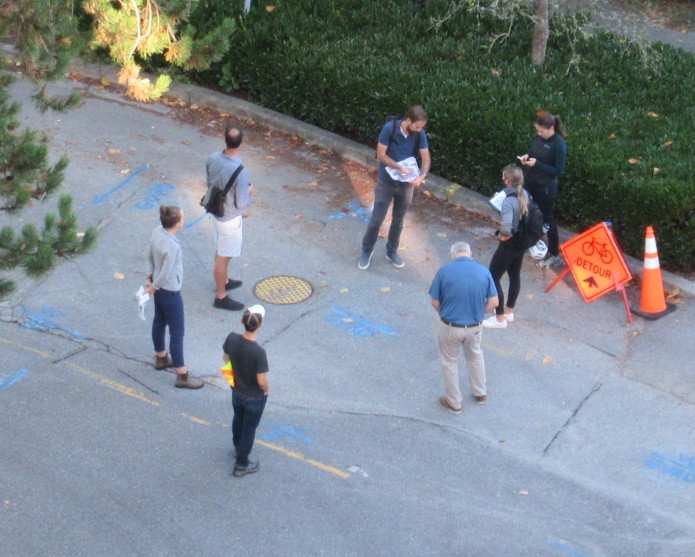 Frankly, I could use a break. I've been railing about tests, and stupid public health-care bureaucracies and stupid education bureaucracies, and tests, and bureaucracies, for a few weeks now, and every news organ is on about it, making additional efforts pointless.

We have guests right now, from Calgary. We compared a few notes as we looked at the "crowd" on the beach at English Bay, watching the sunset, last night. The "crowd" was a couple of hundred people, all in little pods of two to six, not just two metres apart, but more: everybody had taken as much space as they could. Our guests confirmed that this is standard behaviour in Calgary, these days, too.

I see it when I go out; people swing way to the side of trails as we pass in Stanley Park. If I actually step off a narrow trail into the brush to let somebody pass at more than arm's length, people smile, and thank me for it.

I watched the people in the picture at left meet to decide some outing, in the street below the house, just now. They assumed this spacing quite automatically, without any discussion, or anybody at first standing too close. It's become automatic.

There's a lot of reasons for hope. We should remember, as we rail at the school boards and the partiers, that most people are doing the right thing. Fears of exponential curves taking us back to packed ICUs are very unlikely.

If that doesn't cheer you up, read some American news, keeping mind that you don't live there.
---
September 2: Perish Forbid A Small Class (in Cities)
I got some editorial advice about yesterday's "Prasad's Law" post, and was at least reassured I was right to look for help - I'd written it upside-down, getting around to schools at the end, when they're the topic. I just really like "Prasad's Law", it explains much of the world to me, so I tend to get diverted on to all the examples of it.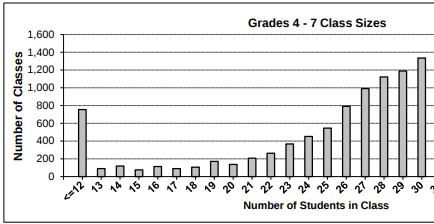 Prasad's Law says that schools will always try to pack the maximum number of kids they can into any classroom, and that goes back for a century. At left, the BC government records for class sizes the other year; they really hate to have classes of under 27.
Notice one thing, of course: that very tall bar for "class sizes under 12", that being the rural schools, I assume. If they're very upset at the lack of remote-learning options out there because their Internet is slow, at least they have the option of a real-life class of ten, the lucky ducks. Everybody else gets as close to 30 as can be arranged.
But how the heck can this mentality survive the concerns about the virus? How can they not be rearranging the whole school, spreading out over rooms, corridors, tents, temporary classrooms like they love to drag into the courtyard when demographics hand the school too many students? Some schools had temporary trailer-classrooms in their yards for years.
My friend with the kids heading off to school, described the first day yesterday as a monumental screw-up, more proof to me that staff positions that could be teachers, are wasted on ever-more administration staff. They had the one job, organize the new return, months to do it, and it was the worst.
The parents were all directed to a "portal" for all information...and then the portal had none. Normally, teachers e-mail the parents about where to bring their kids, to meet their new teacher. No e-mails at all. It's not clear the teachers knew who was in their class: Moms got there to find that three grade-2 classes had been "dissolved" into two, and met the befuddled teacher who'd lost having a class at all (sent home? Reassigned to a new class, cross-town? Who knew?)
The insane incompetence of recombining new classes on the spot, like reassigning Canada to invade a different beach on D-Day, while the boats were crossing the channel, stopped me for a moment. Then it hit me, that rather that accept the gift of having some kids not show up, allowing three smaller classes, they'd made sure there would be just two extra-large classes.
It kind of drops your jaw.
I don't know; maybe the kids can save the adults on this one, by being really careful and good. But unless they grab at that straw for us, it's hard to predict anything but trouble. If so, I just hope the school board sees some consequences.
---
September 1: Prasad's Law Applies to Schools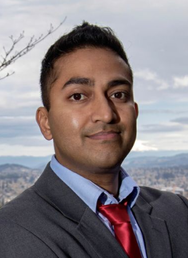 Vinay Prasad is a smart guy. He's an oncologist, a hematologist, a professor, and a podcaster that does journalism on health delivery.

He's credited with Prasad's Law, though this hasn't made it to his Wikipedia page yet. In his podcast, he gave examples that summed up to a "law" for some:
Dr Ray Poses, Clinical Associate Professor of Medicine at Brown University, has consolidated this into "Prasad's Law": "Medical goods and services that concentrate wealth can be paid for; medical goods and services that disperse wealth are 'unaffordable.'" ...

The "unaffordable" interventions are things like more nurses, home visitors, and other policies that give small amounts of money to a large number of people to deliver health care.
The hospital will buy a three-million-dollar MRI machine that will save 30 lives at $100,000 each, but it will not hire 50 care-aides at $60,000 each, to save 30 lives. Same evidence, same price, different outcome.
I suspect that a lot of professionals can think of Prasad's Law in their careers. I found that vast sums would be expended on IT to help manage IT - expensive systems to automatically install software, manage licenses, complicated "ticket" systems to manage all help calls. Most of it was thousands of dollars per year per computer-user served, more expensive than just hiring one "computer guy" helper for every 40 or 50 users, to be their local Mr. Fixit. Worse, I saw the local Mr. Fixit hauled away to a pool of people answering "tickets", about 1995. Until then, users of these new "PC" thingies had personal help from a face they knew, knew their area and problems. Personal help was never to return.
Nobody ever checked whether the pool and the ticket-system saved a penny. The important thing was to automate, and reduce staff. Or appear to; when I added up the staff handling tickets, no jobs had actually been reduced. They had to have a new management bureaucracy to oversee the "pool", after all.
People who read about Prasad's Law promptly pointed out that this applies, perhaps even more, to education. Schools have loved buying expensive technology for fifty years. TV teaching, computer teaching with 8-bit, 16-bit, 32-bit generations of computers. They just kept buying and trying. Teachers who started out watching 8-bit Apple IIs fail at teaching in 1981, retired in 2011, watching iPads fail the same way. What they didn't try was smaller class sizes, absolutely proven to improve education outcomes. They would buy machines, but not hire people. Having to buy 30 kids 30 iPads for a year is, what, $30,000? So is a $25/hr classroom aide for 1200 hours. Ask any teacher which they'd prefer.
They were forced to hire some people to deal with special needs kids mainstreamed into regular classes. There's just no machinery that can care for kids. Those extra staff will be a blessing, now. They've had six months to look into hiring more, preferably young, help, at a time when a lot of young people are out of work. It might have been a special grace for tens of thousands out of work, to get a job that happened to last the pandemic, just watching over kids in spread-out classrooms and keeping them on-task, while the teacher shuttled back and forth. It would have been the simplest thing.
But no; it's like a managerial Deep Instinct, for generations now: hiring humans is anathema. Anything but that. The pandemic has shown the broad applications of Prasad's Law much more clearly, and I think it needs to be on his Wikipedia page. And the lips of every politician.
---
August 31: School: Trepidation, Disappointment, Fatalism
The "trepidation" is the parents. The "disappointment" is in the two provincial health officers that have been held up as such heroes. And the "fatalism" seems to be the attitude of the health officers themselves.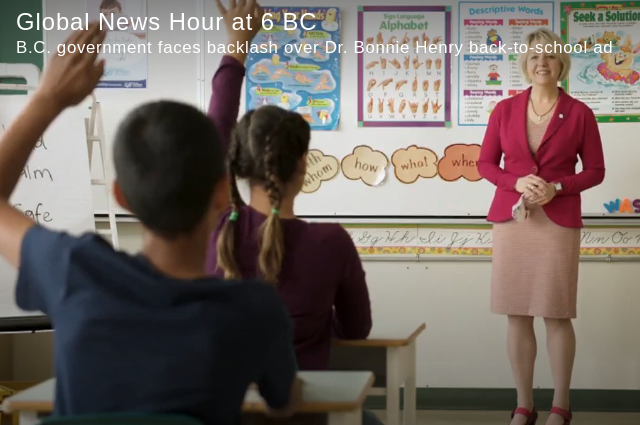 There's disappointment that Dr. Bonnie Henry lent her image to this back-to-school ad. The ad offers the perception that there will be about 7 kids in a classroom; teachers fear that it will be more like 27. A few less at earlier grades, but up to 30 for high school. Distancing is obviously impossible.
Meanwhile, in Alberta, Dr. Deena Henshaw has a "solution" for that: remove the distancing rule.
I didn't need to blog-post this, it's hardly gone without notice; it's the top story on The Herald righ now.
About all I need to add is that this is what happens when a rock meets a very hard place. The rock is the public health bureaucracy that is tasked to fight the pandemic, but doesn't enjoy dictatorial power. The very hard place is the edcucation bureaucracy that simply won't be told to change. And they have one huge advantage that effectively does give them dictatorial power: they are the day-care system that parents need to get back to their jobs.
A friend with 3 kids assures me that she doesn't know a single parent not planning to send their kids back. They have trepidation about the virus, but their whole family needs them on the job.
When the pandemic was younger, there was this great atmosphere of creativity: we'll change society, we'll reform the economic system, we'll permanently go virtual with things. It turns out, that as we near the six-month mark, we can't even re-organize schooling to take advantage of empty buildings; use the gym and other rooms for larger schoolrooms; and so on. It'll be the same old classrooms, with the same old class, packed together. They couldn't even stretch their approach to look at longer hours, create more "space" by creating more classroom "slots".
I've devoted several posts now to castigating the public health bureaucracy for their lack of adaptability: they had a hard time accepting tests that have high false-result rates, in return for being enormously cheaper and faster, so we don't have those. Meanwhile, the other public bureaucracy couldn't envision classrooms spread out over multiple rooms and corridors, teachers assisted by aides and administrators; or just longer hours, or temporary staff...couldn't envision any changes that would have made distancing possible. So now, their charges get neither distance nor tests. In short, they'll get the virus; explain to me how they won't.
The utter failure of the school bureaucracy to adapt at all, save to dump everything on the teachers at the bottom, should really have us all looking at major turnover in the adminstrative ranks. Just save money by concentrating on teachers, teachers, teachers. The upper-crust of the school system might have earned their high-salary keep if they'd been wizard managers that came up with creative ways to organize and teach safely. They've done, basically, nothing.
And now they're arm-twisting public health doctors that know better, to legally let get away with it. Parents should not.
---
August 30: Well, At Least Somebody Is School Testing (and it's 600,000 students)
Los Angeles United School District is "united" because it combines a number of municipalities in that exurban sprawl, so that 500,000 kids have the same school system. It's the second-largest in America, as large as all of BC and Alberta school districts put together.

And they can see the need for testing. It won't be daily, or even every other day, or anything. Indeed, all they say is that "eventually, all staff and students will be tested, which will be followed by periodic testing".

It's kind of exciting, in a way: with such a huge statistical base, any level at all of regular, pro-active testing is bound to tell us a lot about how risky different behaviours are, what situations it transmits in, and doesn't.

But the very large point here is that Los Angles is proving it can be done. All across Canada, I see nothing but fatalism (and despair) about school; what happens, happens. Fighting it with testing is just too big a job; we can only do a few thousand tests per day for millions kids.

It's still not clear just how many tests they will be doing. The budget so far is $300/student/year. For the current "PCR" tests, at $100 each, that's only 3 tests. But LAUSD is the first customer of "SummerBio" a company that claims "extremely low costs" compared to existing. Presumably that means a fraction, and the kids will get a dozen or more tests in a year. They're being cagey about it, certainly, and cautioning the news that they don't intend to catch every positive, that they are mostly "studying" the pandemic.

But, again, all of these caveats aside: they're doing something. Other school systems are not even trying. Should this bring LA success, when other school openings lead to embarrassing, long-predicted failure, there should be some consequences for the administrators who made the wrong choice, with so much at stake.
---
August 29: The Plight of the Living Dead
So, the thing I didn't want to write, the thing I put off for months, is that I lost my Mom in a care-home, 17 years ago, and it was a relief when it came.

Nobody wants to write that, even think that. But she had lost her cognitive abilities by then. It happened slowly, over a few years.

The physical and mental health went down apace with each other. The leukemia had come back, after 15 years survived, and soon enough every cold, and touch of flu, was a life-or-death crisis. After a few of them, the last dregs of her ability to consent were carefully probed by those medical ethics specialists, who concluded she was indeed able to sign a DNR for the next time.

Then the next time, bizarrely, did not come for over a year. She was finally moved to one of those care-homes, from the hospital. She sank slowly into a state where she barely knew where she was, or what day it was. She recognized family to the end, but just. When Influenza A of 2003 swept her away, we grieved, but the relief was there, too, unspoken.

Michael Crichton, Harvard Medical grad, wrote once about how colds and flus, that give the elderly terminal pneumonia, have been used for generations by doctors, nurses, and family to quietly provide an escape. They'd just..."leave the window open" for cold draughts. None of us could have done that, to Mom; she was in no pain, and nearly every visit brought some tiny flash, of who she'd been, to light; we'd have fought to give her another day.

I have to admit, though, because of Influenza A, Mom died painlessly before she'd reached...the worse condition of most of the other people in the care home.

The visits got me quite aquainted with the degrees of it. The ones who needed to be fed; the ones who just stared at the opposite wall, all day, would not acknowledge a friendly "hello", though I always tried.

People this far gone from the human community received professional care; all the care-aides do try to engage them, every day, however unrewarded. The place, by the way, was clean, well-run. Mom liked the food. When you hear about hellhole care-homes in Ontario or Quebec, at least be aware that the funds allocated do allow for better. (At least in Alberta...)

These people, however, are the truly forgotten, save by those paid to be attentive. For many, their families have given up, barely visit, forget. It's hardly surprising that the government took the same attitude. Nobody sat around in a Star Chamber, rubbing their hands with unholy glee, that the residents could finally be disposed of. When the pandemic hit, though, the care-homes were just...forgotten. That's the plight of the living dead, who breathe, but don't chat with visitors. They just get... forgotten.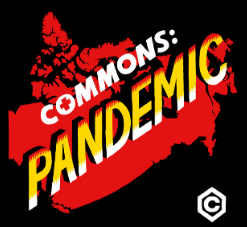 The care-homes have a "grad class" into the mortuaries every year, and respiratory illnesses are probably responsible for half of it. Perhaps nobody is leaving windows open, but it's normal to let it happen in care-homes. Protecting them with all that PPE and protocol was never done in any flu season, was it? So, they weren't set up for it. Zero PPE, zero training.
If you gave Legault and Ford a warning back through time, that they could have saved 5000 lives with some masks and added staff (like Bonnie Henry did), they'd have done it. There was no malice; they just forgot. Oops.
Well, that's my story and my theory. My message today, though, is that everybody should listen to all of the Canadaland podcasts about the Pandemic. They tackle the care-home story head-on. They're all good, but if you must cut the time to the bone, above all, do not miss Episode #2, "When the Plague Came" and then take hope and inspiration from the incredible "happy ending" (sort of) in Episode #12 - The Most Dangerous Story. "Dangerous", only to the intolerable status quo.
It's the best thing Canadaland has done, and that's saying a great deal. I love Canadaland because I often disagree with their take, but I always respect it and want to hear it.
---
August 28: In Which I Do Simple Divisions To Obtain An Obvious Result
First, let me get the operands of my divisions lined up.