Dora's Page: An often-daily photoblog to assure Connie's Mom that we are Not Dead Yet. ---Dora's Page looks best when your browser has a full widescreen size, with this headline on one line.
(I hate tiny web-sized photos; these are big.)
It's Beairsto Week on Dora's Page
Well, it's at least going to be three days in a row. Alan sent me the nicest email yesterday, in part:
Tracy and I were thrilled to see our pictures on Dora's page, so here are some more. They were all taken today during a 13 km walk.
And several photographs that don't go blurry when you zoom in on them: Alan has a real camera with good optics. The photos were all just exquisite. I'm going to limit it to three of them today, but there will be more tomorrow. Alan and Tracy are giving me time to watch the exploding blooms finish exploding. By tomorrow or the next day, this city will look all different.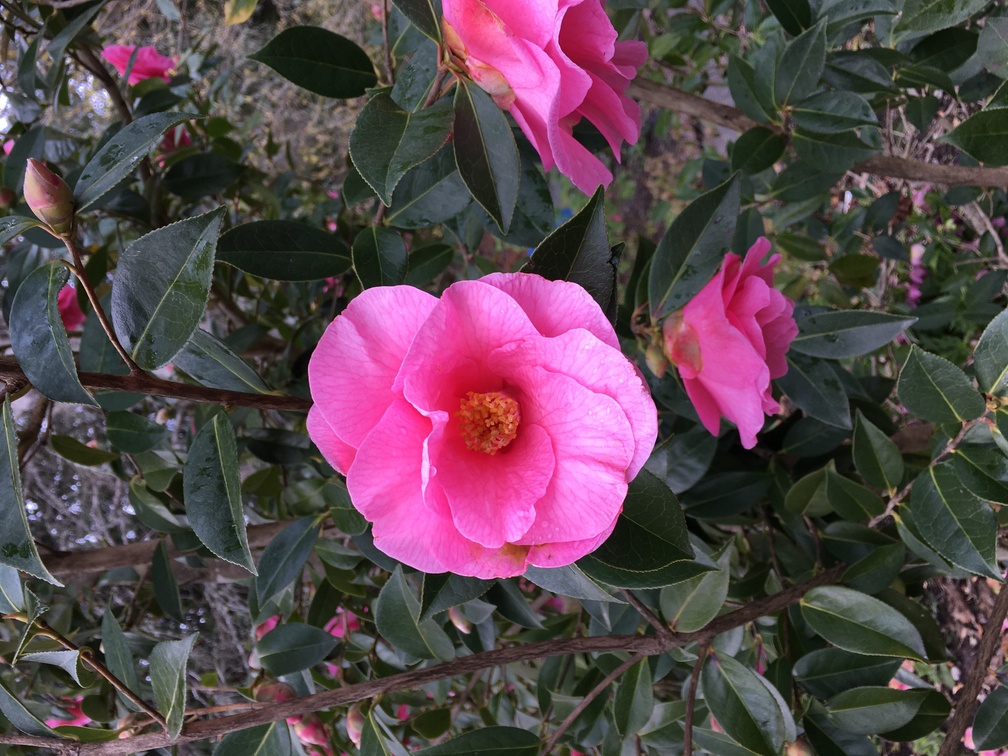 I don't know much about these flowers, so they'll come with no commentary, alas.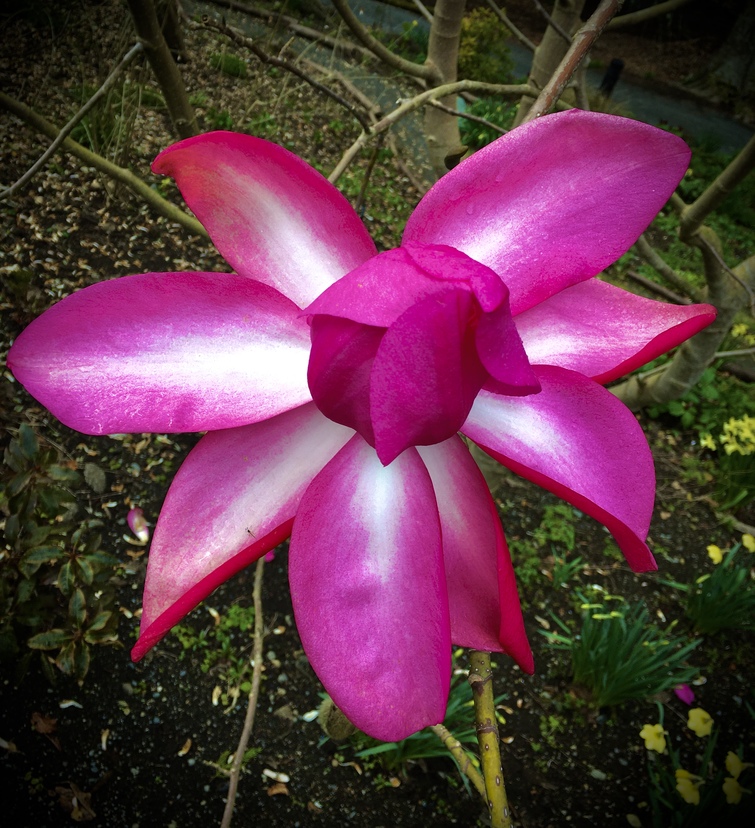 And, lastly, this truly perfect sight: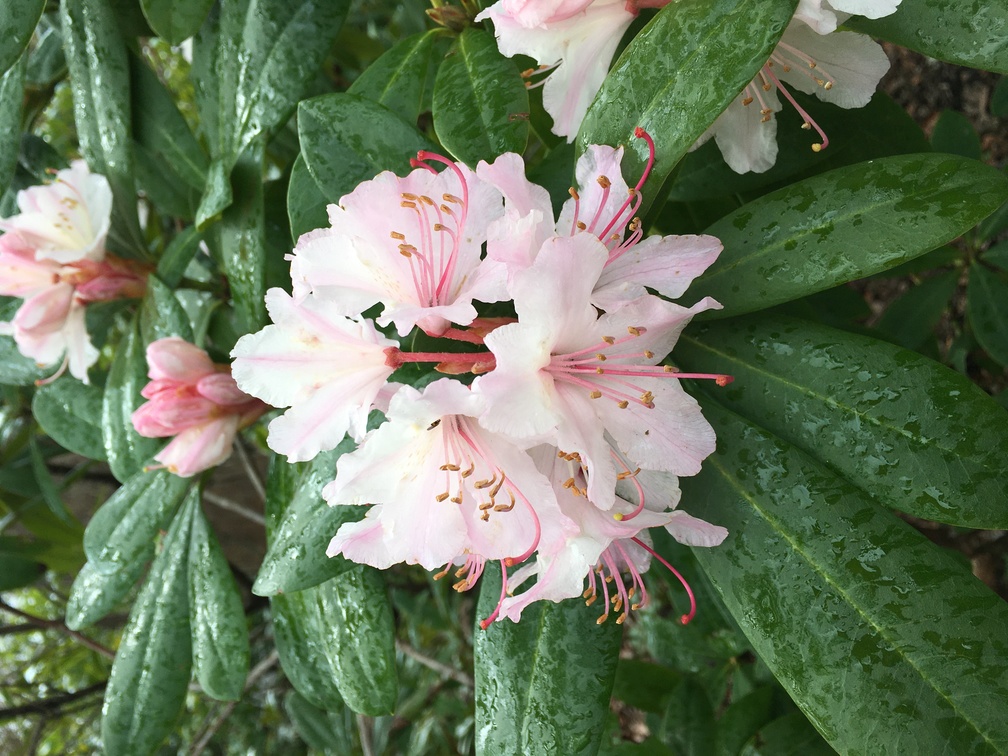 Bottom line, if Alan and Tracy keep doing this, I'm out of a job. Except for being their publisher, a job I can really handle. There will be more tomorrow! And possibly a less-sharp contribution of my own.

Oh, yeah: there's no question around the building that the only really popular shots I offer are pictures of the cat. Felix is continuing to only come out after supper, when we have the lights down low and its quiet. I'll try to get a well-lit shot again of him tonight.

2020 March 31: Guest Photos from Alan and Tracy

2020 March 30: Felix AND Cherry Blossoms

2020 March 29: Gardens in Tree Wells

2020 March 28: First Goslings!

2020 March 26: Felix Day at Last

2020 March 25: Examples of Exponential Growth

2020 March 24: Flowers Come Out as People Go In

2020 March 23: Felix Comes Out of the Closet

2020 March 22: Other First Day of Spring

2020 March 21: First Day of Spring

2020 March 19: Restaurants Still Open

2020 March 18: COVID-19 Sports Day

2020 March 17: Whole Trees Bloomed

2020 March 16: Extreme Duck Crowding; Humans Non-Crowding

2020 March 15: Lots of Life in Vancouver

2020 March 14: Two Garden Patches

2020 March 13: South Gardens Popping

2020 March 10: Buds on the Brink

2020 March 8: Swamp and the City

2020 March 7: Evergreen Wall, Lilies, and a Rainbow

2020 March 6: Another Kind of "Evergreen"

2020 March 4: Madrid Metro and Glowing Skyscraper

2020 March 3: Another look back at 2015

2020 March 2: Animals of Lost Lagoon

2020 March 1: First Cherry Blossoms of February

2020 February 29: Duxedo Closeup, Dark Sunset

2020 February 28: Butchart Gardens 2015

2020 February 27: Dora's Garden 2015

2020 February 26: Curvaceous Architecture

2020 February 25: Santander Sunset

2020 February 24: First Blooms on Our Chilco Side

2020 February 23: Blooms Begin!

2020 February 22: Tuxedo Duck; And, Fishes that Sleep With the Fishes

2020 February 21: Scrounging Animals

2020 February 19: Old Pub and Feb Flowers

2020 February 18: Beaver Swamp

2020 February 17: Lord Nelson's Ride and an Otter

2020 February 16: Santander Funicular

2020 February 15: Santan-couver

2020 February 14: Madrid View, Scrounging Birds

2020 February 12: The Santander Speaker

2019 December 7: Farewell Duckstravaganza

2019 December 6: Ducks and the Heron

2019 December 5: Hooded Mergansers

2019 December 4: Crazy Duck Lady

2019 December 3: Duck Week Begins

2019 December 2: The Seawall Graveyard

2019 December 1: Chilly Out There

2019 November 30: Sunset Around The Lagoon

2019 November 29: Birds and Yellow Trees

2019 November 28: Frozen Lagoon with Otters

2019 November 27: Eagles; Horse Patrol; First Snow; Lamp

2019 November 26: Camera Comparison

2019 November 25: New Camera Phone Dubious

2019 November 24: Little Carnival and Misty Lake

2019 November 23: Kalalau View and Fall 2016

2019 November 22: The Yellow Tunnel and Geese Take Over

2019 November 21: Lakes that Mirror

2019 November 20: An Aquarium Visit

2019 November 19: The Last Fall Colours

2019 November 18: The Brown Trees

2019 November 17: Vancouver Still Green

2019 November 16: Colourful Lighthouse and Ship

2019 November 15: Lagoon Reappears

2019 November 14: The Air Memorials

2019 November 13: The Empty Park

2019 November 12: Sid's Red Maple

2019 November 11: Patriotic Red Maples

2019 November 10: Fall with Palm Trees

2019 November 8: Even Better Mirror

2019 November 7: Lagoon Like A Mirror

2019 November 6: Cedar and Riverboat

2019 November 5: Cherry Trees Year 'Round

2019 November 4: Waterfront, Early and Late Fall

2019 November 3: The Missing Tree

2019 November 2: Ducks Everywhere

2019 November 1: Random Fall Colours

2019 October 31: Green Tunnels Open

2019 October 30: A Walk Along The Seawall

2019 October 29: A Mountain Makes an Appearance

2019 October 28: Big and Little Lion's Gates

2019 October 27: The Brownest Place in the Park

2019 October 26: Carpets of Stanley Park

2019 October 25: Lost Lagoon Viewpoint

2019 October 24: Fall in Stanley

2019 October 23: The Red World

2019 October 22: Rerun of same views, in sunlight

2019 October 21: Return to Vancouver Fall

2019 October 2: Last Blooms of Summer

2019 October 1: Tree Killers and Killer Geese

2019 Sept 30: As the Snow Fell on Calgary

2019 Sept 29: Tree, Ducks, Geese

2019 Sept 28: Broken Tree and Pat

2019 Sept 27: Water Park Done For The Year

2019 Sept 26: Construction Drags On

2019 Sept 25: Return to Rosebud

2019 Sept 24: From Spain to Oh, Canada!

2019 Sept 23: Pictures of a Pile of Sulfur

2019 Sept 22: A Boating Day and Geese Gangs

2019 Sept 21: Stumps and Strikes

2019 Sept 19: Birds and Cats, Though Not Together

2019 Sept 18: Record Stores Not Dead Yet

2019 Sept 17: Empire Landmark No Longer a Landmark

2019 Sept 16: Five Years Since We Sold The House

2019 Sept 15: Rain today, Rain in Stanton 2012

2019 Sept 14: Time-out for garbage cleanup

2019 Sept 13: Hiking Back in 2010

2019 Sept 12: Ride Sharing? How about Lawn Sharing?

2019 Sept 11: Business as Usual During Construction

2019 Sept 10: Missing Sid today

2019 Sept 09: Rain vs Sunflowers

2019 Sept 08: Rainy-Day Mushrooms (and pink birds)

2019 Sept 07: Alan Beairsto's Moonrise

2019 Sept 06: Geranium branches out; Cityscape

2019 Sept 05: Barretts and Branders Round the Seawall

2019 Sept 04: Local Construction

2019 Sept 03: Hilary and Rick On Their Way

2019 Sept 02: Rose Garden Roundup

2019 August 31: Cat Saturday Redux

2019 August 30: Some More Barrett Pictures

2019 August 29: Community Garden Banner Year

2019 August 28: Harrisons Away

2019 August 27: Harrisons Here!

2019 August 26: Neighbourhood News (water mains)

2019 August 23: A Run Through Stanley Park

2019 August 22: Back to the Garden

2019 August 21: Embarrassing the Embassy

2019 August 20: News Catch-Up: The Cut-Down Trees

2019 August 19: Geranium Full Flower

2019 August 18: Geranium and Heron II

2019 August 17: The Geranium Blooms

2019 August 16: Heron Still Here, Black Flowers

2019 August 15: Heron Up Close

2019 August 14: Water and Waterfowl

2019 August 12: Map and Marina

2019 August 11: Geranium and the Odd Boat

2019 August 10: Right In Our Own Backyard

2019 August 9: Back to Flowers

2019 August 8: Boats and Carbon

2019 August 7: Dealing with Summer

2019 August 6: Crowds and Forests

2019 August 5: Pride Parade Whales

2019 August 4: Bye-bye Barretts

2019 August 3: Once Around The Park

2019 August 2: Fireworks and Butterflies

2019 August 1: Charlie's Birthday!

2019 July 31: A Day at the Aquarium

2019 July 30: The Barretts Arrive!

2019 July 29: Random Things in Stanley Park

2019 July 28: Fireworks Last Night

2019 July 27: Monitoring Progress

2019 July 26: Being glad it's not winter

2019 July 25: We Return to Vancouver; Street is Torn Up

2019 July 2: Cat Pictures as we Drive to Calgary

2019 July 1: Canada Day in Stanley Park

2019 Jun 30: Madrid and Victoria - nice cities.

2019 Jun 29: Seattle boat shelves, Cat-vs-Beer

2019 Jun 28: Back from Seattle

2019 Jun 21: Volunteer Gardeners

2019 Jun 18: Tiny Roses and the Outside Cat

2019 Jun 17: Heron Nesting Season

2019 Jun 16: What a Difference a Month Makes (to goslings)

2019 Jun 15: Kittens Who Look At Phones, plus, Spain

2019 Jun 14: Lake Blossoms Everywhere

2019 Jun 11: Scenes from a flight to Denver

2019 Jun 8: Beaver Lake Developments

2019 Jun 7: The Rose Garden Returns!

2019 Jun 6: D-Day commemorated with poppies!

2019 Jun 5: Geese families and Heron at Lost Lagoon

2019 Jun 1: From the archives: Cuba 2017

2019 May 30: Ravine Trail to Beaver Lake

2019 May 28-29: Our Garden and Stanley Forests

2019 May 27: The Umbrella Tree

2019 May 26: Animals of Stanley Park

2019 May 24: Last of the Rose Garden South

2019 May 22: Rose Garden, South End #2

2019 May 21: Retiro and Kitten-Warmers

2019 May 20: Goslings and our Chilco Neighbours

2019 May 19: Finishing up the "back walk" all-floral garden.

2019 May 18: First trip to the Rose Garden South

2019 May 17: More "backwalk" south of Lost Lagoon and Lagoon Drive

2019 May 16: The "backwalk" south of Lost Lagoon 1