Dora's Page: An often-daily photoblog to assure Connie's Mom that we are Not Dead Yet. ---Dora's Page looks best when your browser has a full widescreen size, with this headline on one line. (I hate tiny web-sized photos; these are big.)
August 5: Dutch Tilt Comes to Rose Garden
There's this cinematographic technique called "Dutch Tilt", where you rotate the camera a bit off from the horizon, making the whole scene tilt a little sideways, making the viewer feel things are a bit off. It was used to an extreme degree in all the villain's lairs in Batman, when I was a kid.
I wanted a higher shot of the Rose Garden yesterday, and climbed up, not just on the bench, but balanced on its back, and then raised the camera way above my head. Bad idea. I got the Rose Garden in Dutch Tilt that would have made the Batmam cameraman a little ill. Why I'm showing it here instead of the wastebasket, I don't know. I guess the notion of making the Rose Garden look psychologically disturbing is so impossible that it makes me laugh. Since it is Dutch Tilt, I guess I should have picked a Tulip Garden.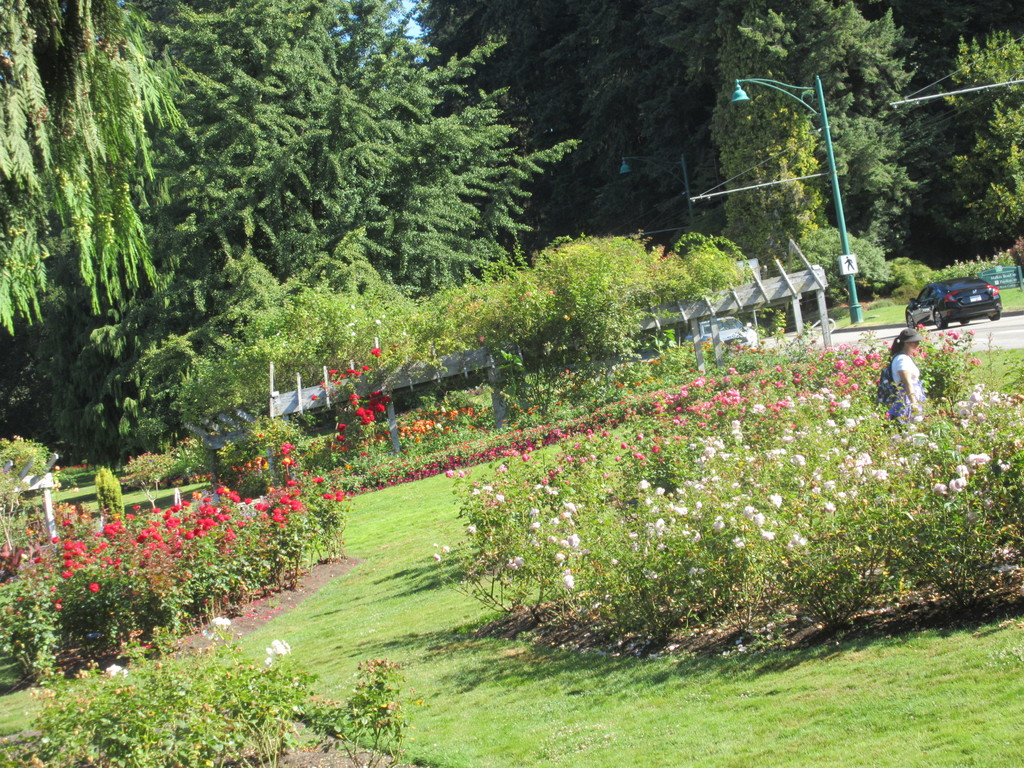 And, there's three Rose Garden images left, that were orphaned by the loss of the July 8th HTML file; the real reason I'm going back over them is they were too nice to lose, but also too nice not to give a second run. From July 2nd: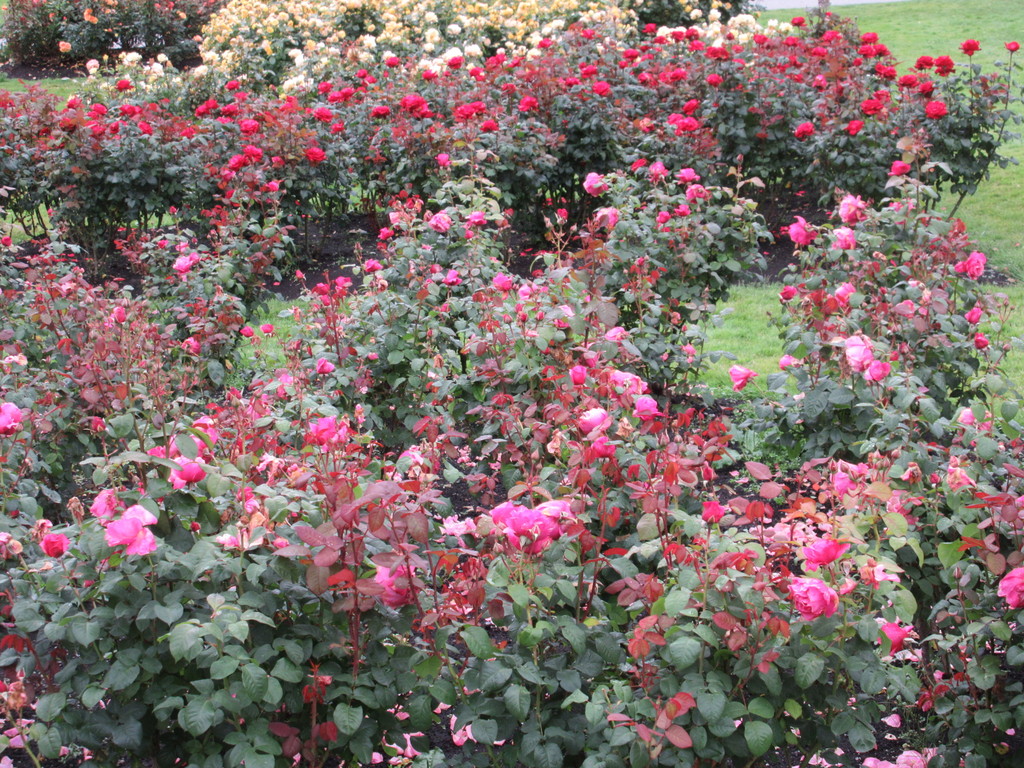 I took a bike ride, yesterday, and snapped a really dense, lovely, wonderfully gardened bed; I'll keep you in suspense until tomorrow as to where it actually is. This shot conceals the location, but lets you admire the work: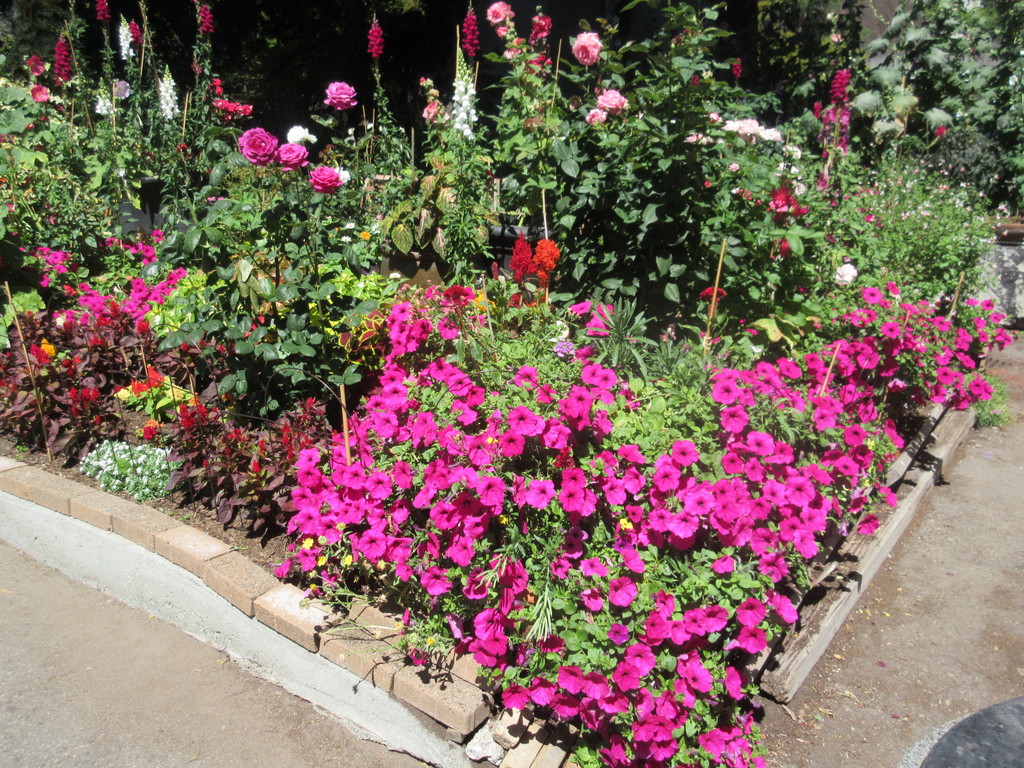 On the way back, I saw the most wonderful thing. Most of the seawall bike path is closed off to give walkers more distance, and two lanes of the road have been blocked for cars, so we bikes can have them. At the very, very busiest spot, across from the Laughing Men and the Beach Hot Dog stand, there was this incredible sight: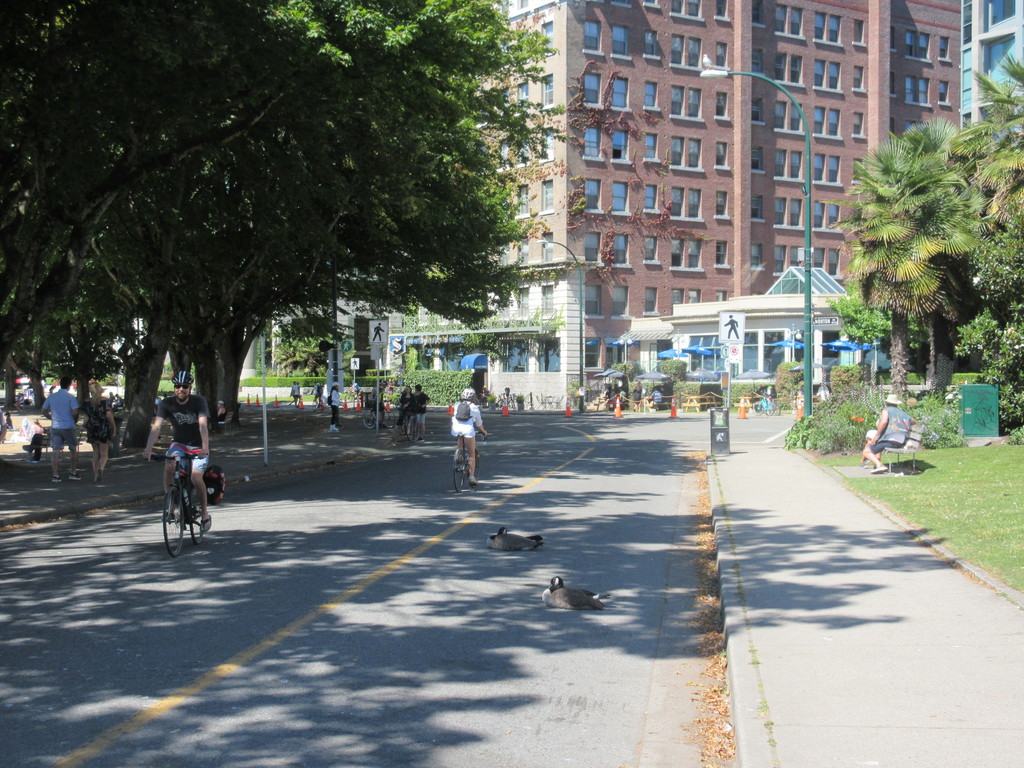 Yup, two geese had just decided to own the road and lie down on it. And everybody let them. The bikes just work their way around. Yes, the further goose is in fact sound asleep. On a busy downtown Vancouver road. I love this city.