Aug 4, 2019 - Bye-bye Barretts
The Barretts have left the building. We had much of a day, yesterday, though, got in a good walk to the sea and did some more searching for shellfish. The kids were thrilled by the little squirts from the sand identifying where the clams are. Connie thought it was cool, too. We have oceanside pix from yesterday, so today's best picture is Eddie in Elfland - both in the sense that this forest could come from a Lord of the Rings movie, and that Ed and I walked together for much of the trip, with him regaling me with stories from his Dungeons and Dragons games, of which he had apparent photographic memories.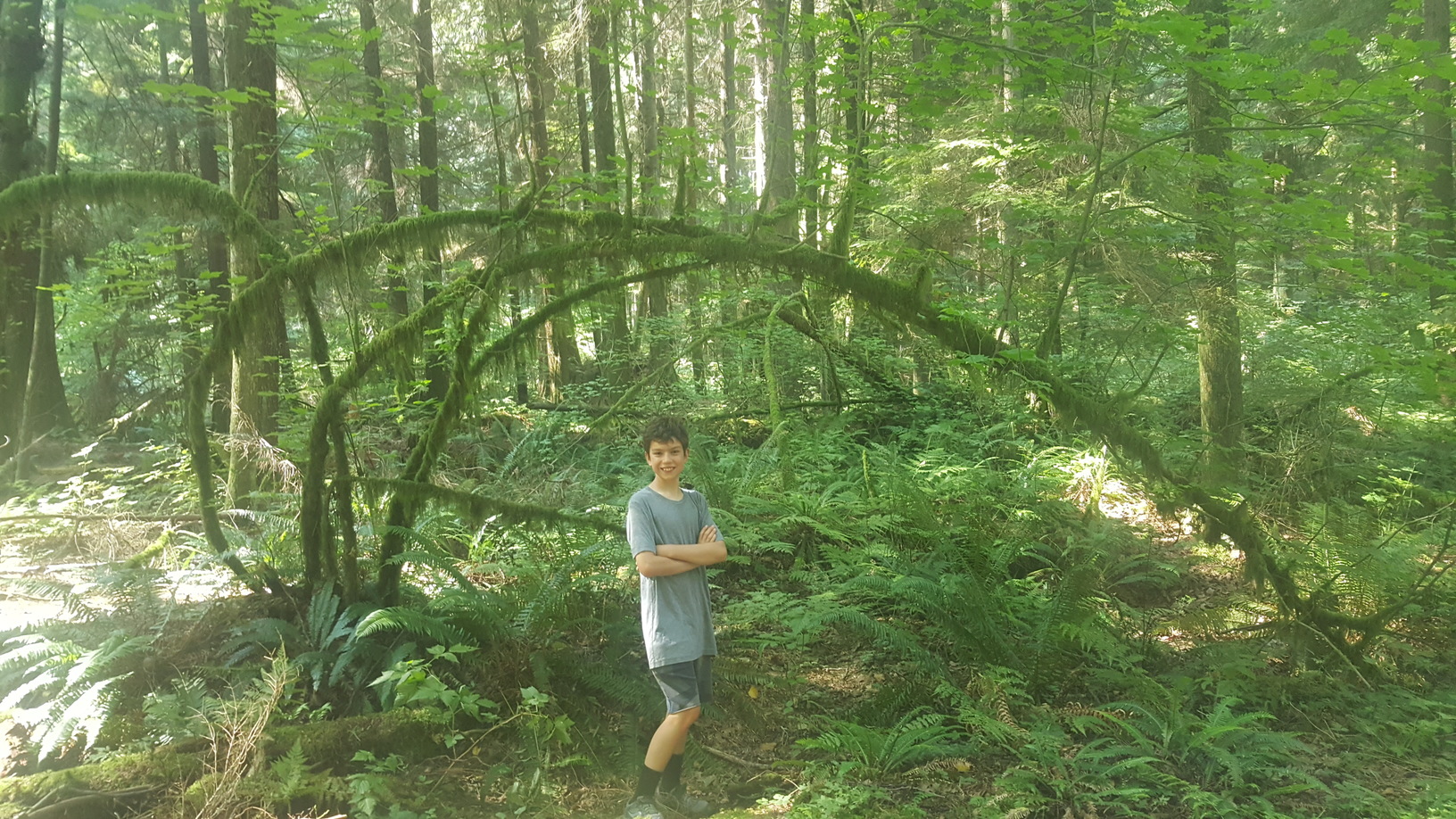 And then they packed, piled up, and pulled away, leaving us with only memories of when getting past the entrance involved navigating all those shoes. Were there really seven of us living here? It seemed quite roomy, perhaps because the kids don't take up much space, always crawling into your lap.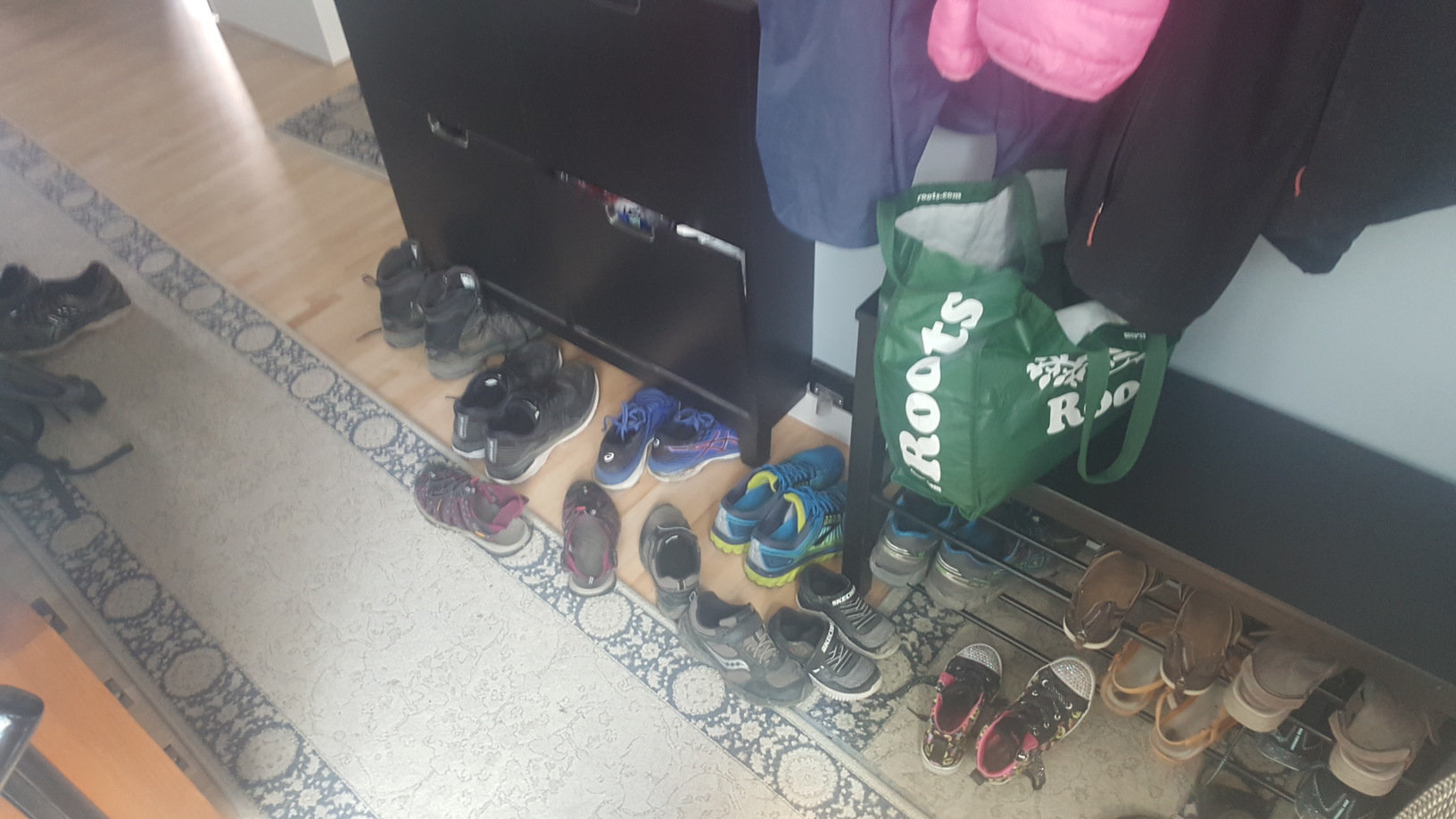 Older posts
2019 August 3: Once Around The Park
2019 August 2: Fireworks and Butterflies
2019 August 1: Charlie's Birthday!
2019 July 31: A Day at the Aquarium
2019 July 30: The Barretts Arrive!
2019 July 29: Random Things in Stanley Park
2019 July 28: Fireworks Last Night
2019 July 27: Monitoring Progress
2019 July 26: Being glad it's not winter
2019 July 25: We Return to Vancouver; Street is Torn Up
2019 July 2: Cat Pictures as we Drive to Calgary
2019 July 1: Canada Day in Stanley Park
2019 Jun 30: Madrid and Victoria - nice cities.
2019 Jun 29: Seattle boat shelves, Cat-vs-Beer
2019 Jun 28: Back from Seattle
2019 Jun 21: Volunteer Gardeners
2019 Jun 18: Tiny Roses and the Outside Cat
2019 Jun 17: Heron Nesting Season
2019 Jun 16: What a Difference a Month Makes (to goslings)
2019 Jun 15: Kittens Who Look At Phones, plus, Spain
2019 Jun 14: Lake Blossoms Everywhere
2019 Jun 11: Scenes from a flight to Denver
2019 Jun 8: Beaver Lake Developments
2019 Jun 7: The Rose Garden Returns!
2019 Jun 6: D-Day commemorated with poppies!
2019 Jun 5: Geese families and Heron at Lost Lagoon
2019 Jun 1: From the archives: Cuba 2017
2019 May 30: Ravine Trail to Beaver Lake
2019 May 28-29: Our Garden and Stanley Forests
2019 May 27: The Umbrella Tree
2019 May 26: Animals of Stanley Park
2019 May 24: Last of the Rose Garden South
2019 May 22: Rose Garden, South End #2
2019 May 21: Retiro and Kitten-Warmers
2019 May 20: Goslings and our Chilco Neighbours
2019 May 19: Finishing up the "back walk" all-floral garden.
2019 May 18: First trip to the Rose Garden South
2019 May 17: More "backwalk" south of Lost Lagoon and Lagoon Drive
2019 May 16: The "backwalk" south of Lost Lagoon 1