Aug 6, 2019 - Crowds and Forests
I haven't taken a good photo recently, so I'm dipping into the recent archives. I sent this photo out to friends while awaiting the first fireworks to start ten days back, but it's a good one and deserves a permanent home here in high-rez.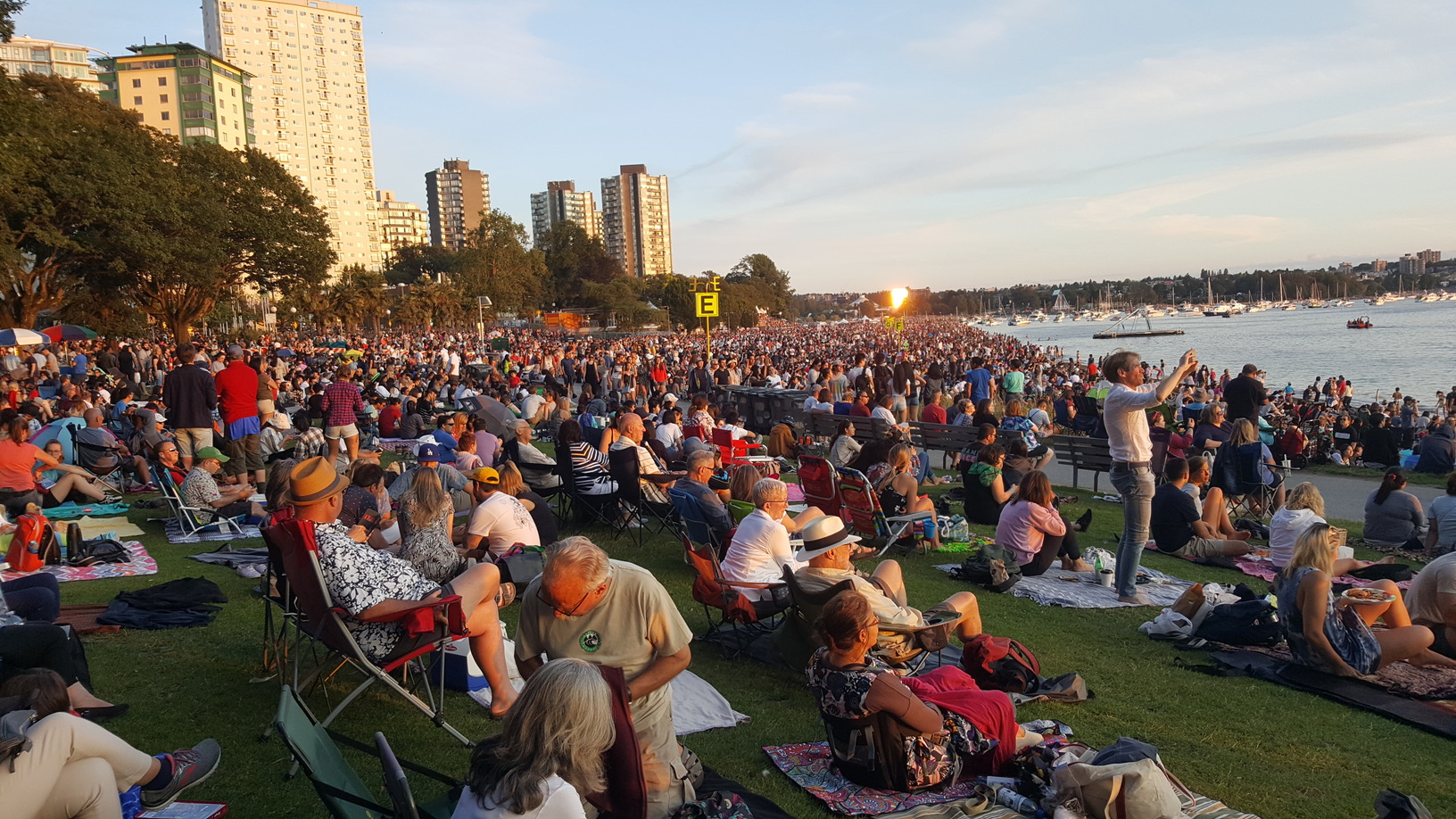 And the next day, I took this very tall picture, here in full, scroll-down resolution, of the massive trees you can still find in Stanley Park, which alas was logged off of the really big ones in the 19th century. The Barretts really loved their walk through the forest on their last day. And you know a weird fact? This photo was taken a ten-minute walk from the crowd photo - and except for the lower sun, would have looked like this at the time, because everybody was at the beach and the forest would have been quiet.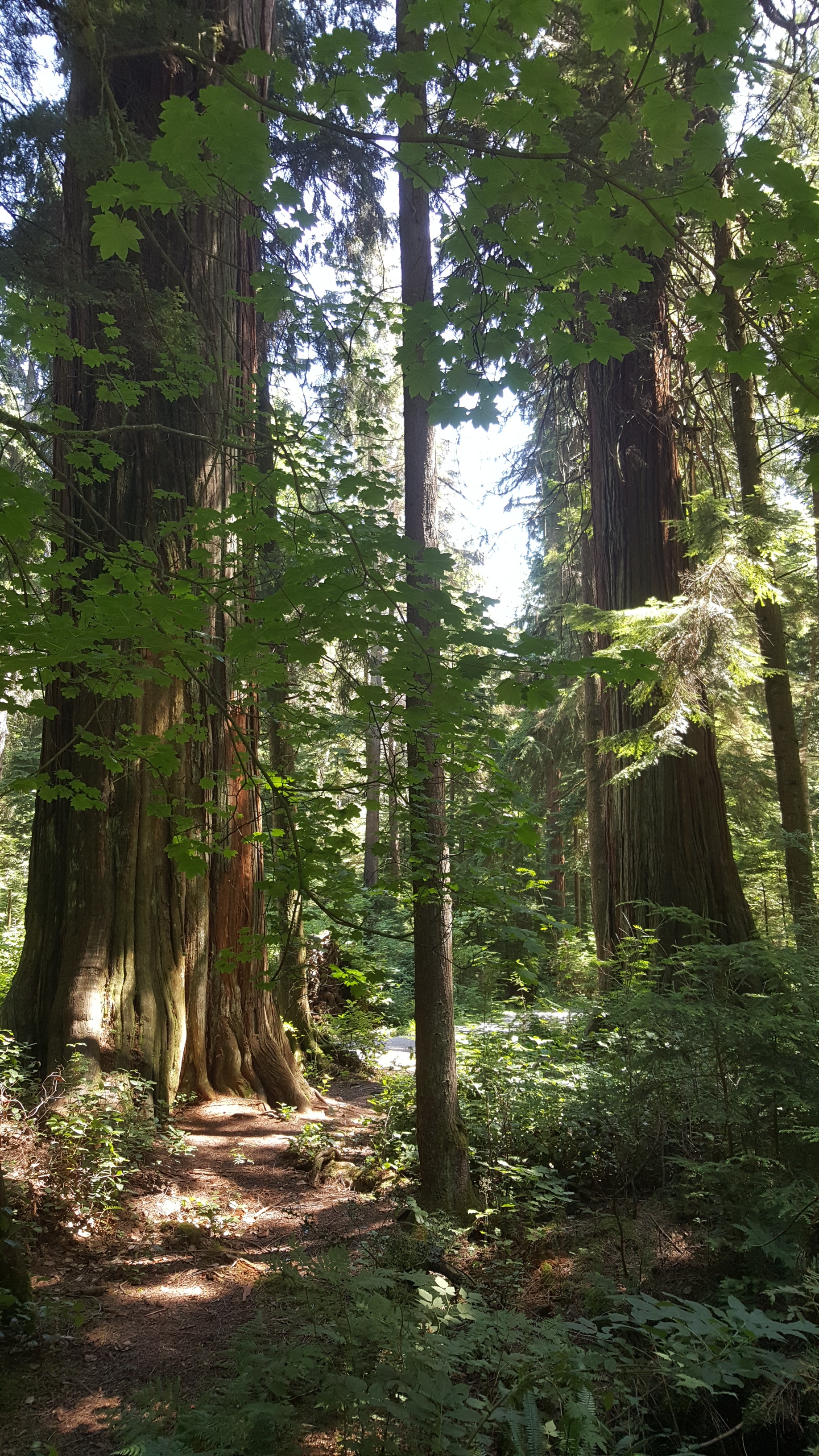 Older posts
2019 August 5: Pride Parade Whales
2019 August 4: Bye-bye Barretts
2019 August 3: Once Around The Park
2019 August 2: Fireworks and Butterflies
2019 August 1: Charlie's Birthday!
2019 July 31: A Day at the Aquarium
2019 July 30: The Barretts Arrive!
2019 July 29: Random Things in Stanley Park
2019 July 28: Fireworks Last Night
2019 July 27: Monitoring Progress
2019 July 26: Being glad it's not winter
2019 July 25: We Return to Vancouver; Street is Torn Up
2019 July 2: Cat Pictures as we Drive to Calgary
2019 July 1: Canada Day in Stanley Park
2019 Jun 30: Madrid and Victoria - nice cities.
2019 Jun 29: Seattle boat shelves, Cat-vs-Beer
2019 Jun 28: Back from Seattle
2019 Jun 21: Volunteer Gardeners
2019 Jun 18: Tiny Roses and the Outside Cat
2019 Jun 17: Heron Nesting Season
2019 Jun 16: What a Difference a Month Makes (to goslings)
2019 Jun 15: Kittens Who Look At Phones, plus, Spain
2019 Jun 14: Lake Blossoms Everywhere
2019 Jun 11: Scenes from a flight to Denver
2019 Jun 8: Beaver Lake Developments
2019 Jun 7: The Rose Garden Returns!
2019 Jun 6: D-Day commemorated with poppies!
2019 Jun 5: Geese families and Heron at Lost Lagoon
2019 Jun 1: From the archives: Cuba 2017
2019 May 30: Ravine Trail to Beaver Lake
2019 May 28-29: Our Garden and Stanley Forests
2019 May 27: The Umbrella Tree
2019 May 26: Animals of Stanley Park
2019 May 24: Last of the Rose Garden South
2019 May 22: Rose Garden, South End #2
2019 May 21: Retiro and Kitten-Warmers
2019 May 20: Goslings and our Chilco Neighbours
2019 May 19: Finishing up the "back walk" all-floral garden.
2019 May 18: First trip to the Rose Garden South
2019 May 17: More "backwalk" south of Lost Lagoon and Lagoon Drive
2019 May 16: The "backwalk" south of Lost Lagoon 1