Aug 9, 2019 - Back to Flowers
Here at Dora's Page, we have a focus on gardening and floral exuberance, and we've been distracted by it with travel and the Barretts' visit. Next thing you know, I was ranting about pipelines. Let's get back to our home base of enjoying Vancouver's flowers: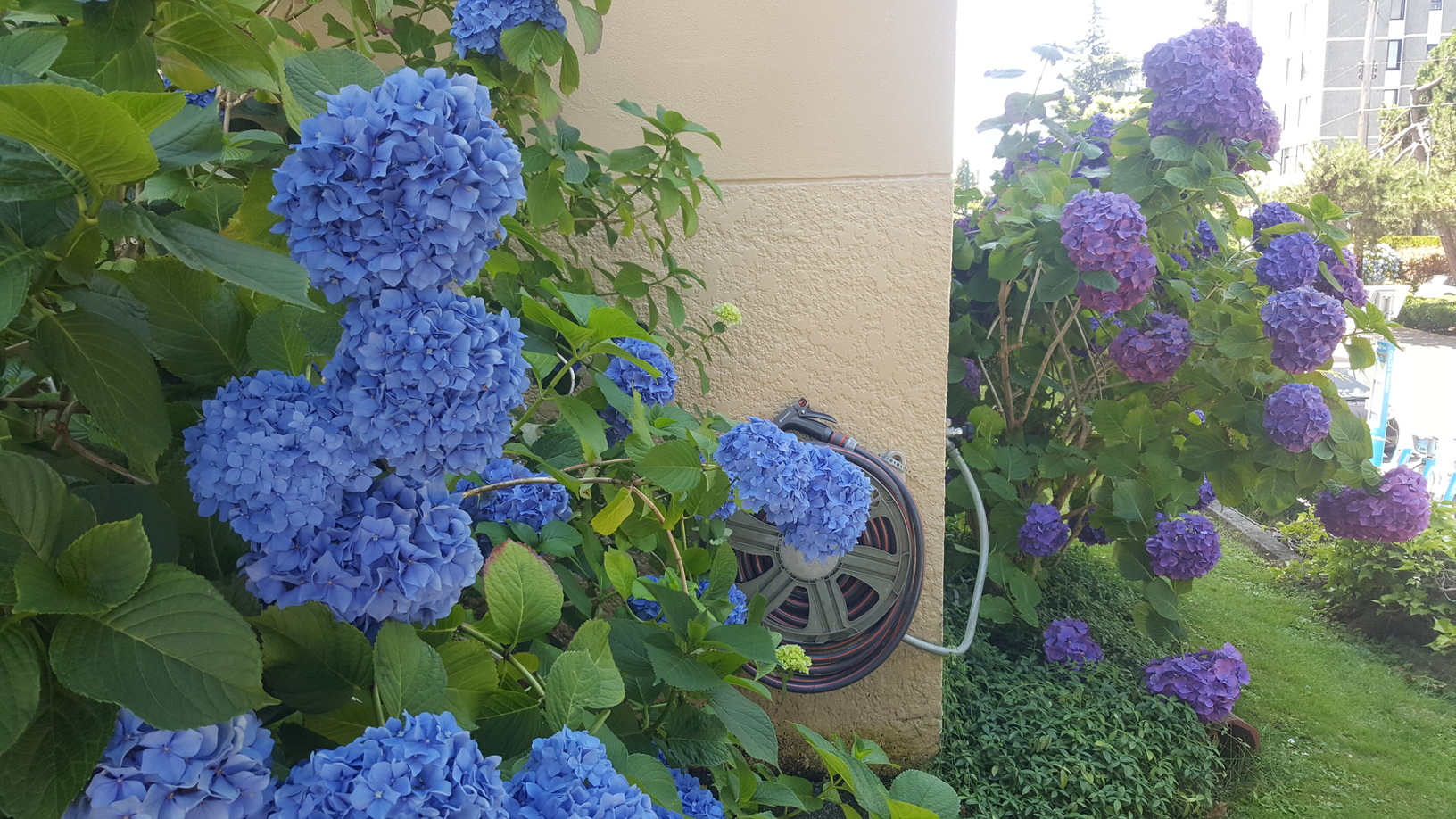 Above, the rhododendrons have come out at the corner of our building -in two colours, no less, purple and blue. These things astonish me every year. One minute it's plain, green bush of leaves, and suddenly these flowers the size of a baby's head explode out of it.
Then there's the community garden, it's time for a check in with them. They're having a great year, with those three people who all have major, major projects going in their little 2-metre chunk of space. You can hardly breathe nearby for the many scents.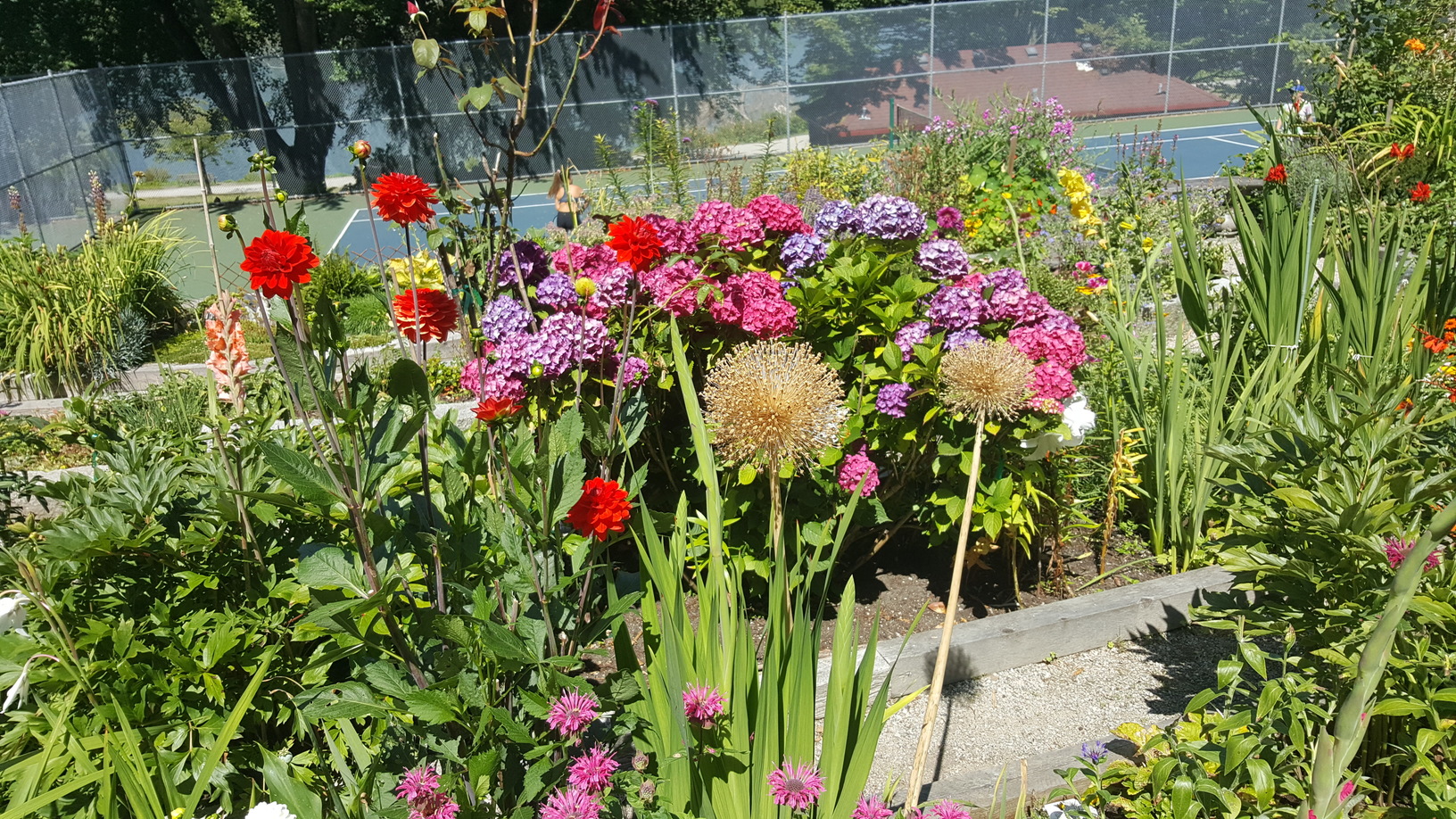 Older posts
2019 August 8: Boats and Carbon
2019 August 7: Dealing with Summer
2019 August 6: Crowds and Forests
2019 August 5: Pride Parade Whales
2019 August 4: Bye-bye Barretts
2019 August 3: Once Around The Park
2019 August 2: Fireworks and Butterflies
2019 August 1: Charlie's Birthday!
2019 July 31: A Day at the Aquarium
2019 July 30: The Barretts Arrive!
2019 July 29: Random Things in Stanley Park
2019 July 28: Fireworks Last Night
2019 July 27: Monitoring Progress
2019 July 26: Being glad it's not winter
2019 July 25: We Return to Vancouver; Street is Torn Up
2019 July 2: Cat Pictures as we Drive to Calgary
2019 July 1: Canada Day in Stanley Park
2019 Jun 30: Madrid and Victoria - nice cities.
2019 Jun 29: Seattle boat shelves, Cat-vs-Beer
2019 Jun 28: Back from Seattle
2019 Jun 21: Volunteer Gardeners
2019 Jun 18: Tiny Roses and the Outside Cat
2019 Jun 17: Heron Nesting Season
2019 Jun 16: What a Difference a Month Makes (to goslings)
2019 Jun 15: Kittens Who Look At Phones, plus, Spain
2019 Jun 14: Lake Blossoms Everywhere
2019 Jun 11: Scenes from a flight to Denver
2019 Jun 8: Beaver Lake Developments
2019 Jun 7: The Rose Garden Returns!
2019 Jun 6: D-Day commemorated with poppies!
2019 Jun 5: Geese families and Heron at Lost Lagoon
2019 Jun 1: From the archives: Cuba 2017
2019 May 30: Ravine Trail to Beaver Lake
2019 May 28-29: Our Garden and Stanley Forests
2019 May 27: The Umbrella Tree
2019 May 26: Animals of Stanley Park
2019 May 24: Last of the Rose Garden South
2019 May 22: Rose Garden, South End #2
2019 May 21: Retiro and Kitten-Warmers
2019 May 20: Goslings and our Chilco Neighbours
2019 May 19: Finishing up the "back walk" all-floral garden.
2019 May 18: First trip to the Rose Garden South
2019 May 17: More "backwalk" south of Lost Lagoon and Lagoon Drive
2019 May 16: The "backwalk" south of Lost Lagoon 1