Dora's Page: An often-daily photoblog to assure Connie's Mom We're Still Here
December 23: Robsonhenge - Way Better Than "Manhattanhenge"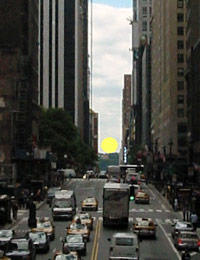 As this picture at the web site of the American Museum of Natural History (Hayden Planetarium Section) shows, there are a couple of days of the year when the angle of sunset lines up with several streets of Manhattan (including the famous "42nd Street") to shine exactly across the width of Manhattan for a few minutes.

New Yorkers call it "Manhattanhenge", but it's not like the real Stonehenge, where it aligns with the spring equinox. It's just random dates like May 29, and July 12.


In contrast, look at this picture I took straight down Robson Street just after dawn this morning: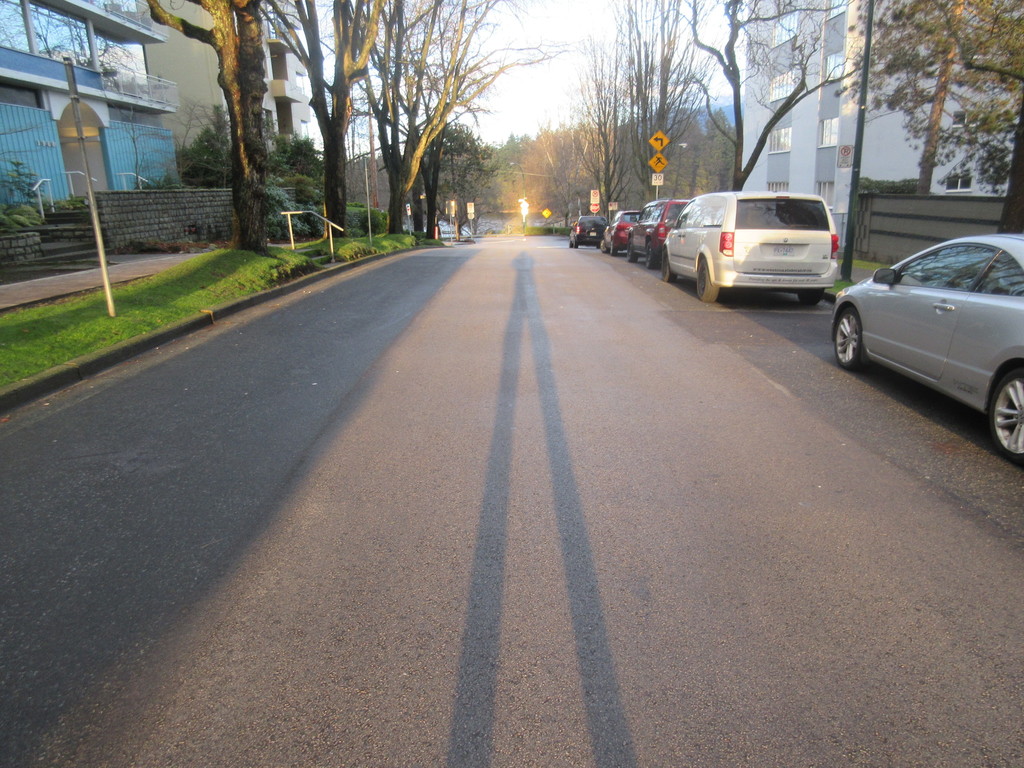 This is two days after the solstice, and it was a bit after sunrise, but this is the time of year when the length of day is changing by barely a minute or so per day, the place the sun rises changing by only a degree. It's the point where the changes slow down to zero, and slowly go back the other way. So this is close enough.
The sun doesn't just shine straight down a city street around sunrise (as with the Manhattan sunsets); it does so on the solstice.
Should civilization fall, future civilizations might find nothing but the line of building foundations, the strip of different soil packed where the road was. They'd measure the angle, conclude this had to be on purpose, and wonder whether we were honouring our Gods, or just trying to time the harvest.
Back to the Long Sunset pictures, tomorrow. What a time of year.
2021 December 22: The Long Sunset I
2021 December 21: Elevated Ice
2021 December 20: Found a Few More Decorations
2021 December 19: Snow(fall) Day in Vancouver
2021 December 17: Last Few Neighbourhood Decorations
2021 December 16: Larger Buildings Sometimes Decorate
2021 December 15: Tudor House Christmas
/home/roy/Desktop/brander.ca/dora/manhattanhenge-full-sun-mock-up_full_610.jpg2021 December 14: Neighbourhood Winner!
2021 December 13: Neighbourhood Outdoor Christmas
2021 December 12: Neighbourhood Christmas
2021 December 11: Back to Early Fall
2021 December 10: Gardener Tree, Lost
2021 December 9: Melting Snowman
2021 December 8: Another Upside-Down
2021 December 6: ...Look a Lot Like Xmas!
2021 December 4: A Meadow Vole
2021 December 3: One Tree in the Sunlight
2021 November 30: The Soap Trail
2021 November 29: The Filter Gallery
2021 November 28: "Street Waves", New Monitor