Dora's Page: An often-daily photoblog to assure Connie's Mom We're Still Here
January 7: Vancouverites are Funny in the Snow
The transplanted Albertans are having much fun with Vancouverites paralysed by a little snow. Really, we've only had about six inches in a dump, less than a foot between three of them. Yet mail delivery was cancelled, too unsafe. Not the roads so much, as the unshoveled sidewalks. Well, ours were well-shoveled, early and late. I stayed up to midnight to do one last shovel of ours, not only to get a few inches off the top, but so that the morning wouldn't have much snow ground down into "snowcrete" by passing feet.
Maybe not much foot traffic after midnight, but I was royally entertained, looking down on four young men gathered about, trying to figure out how to make a car go, in its summer tires, with zero traction. They actually shoveled a bunch of Chilco, sloped upwards ahead of the car: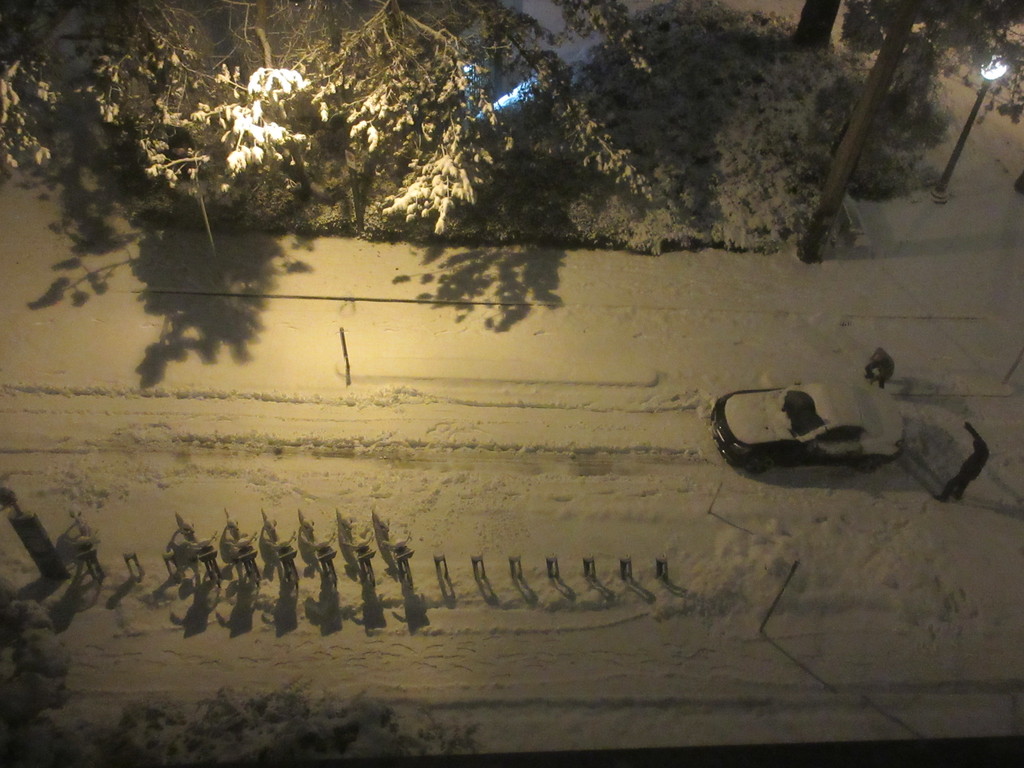 It did not work. One guy spent 20 minutes shoveling harder, really scraping down, put his floor mats under the rear tires (to be spat out). A tow truck finally was talked into helping him, as it pushed towards 2 AM.
What made it all just a great show for me, was my impulse to go out and help, say, "Hey, I'm from Alberta, we deal with this"...and realizing that the absolute LAST thing that four young men want at 1AM is to have an Old Guy come out and tell them what they have to do. So I was free! Absolved! I didn't have to take any responsibility, I could just sit four floors above, watching, hugely amused.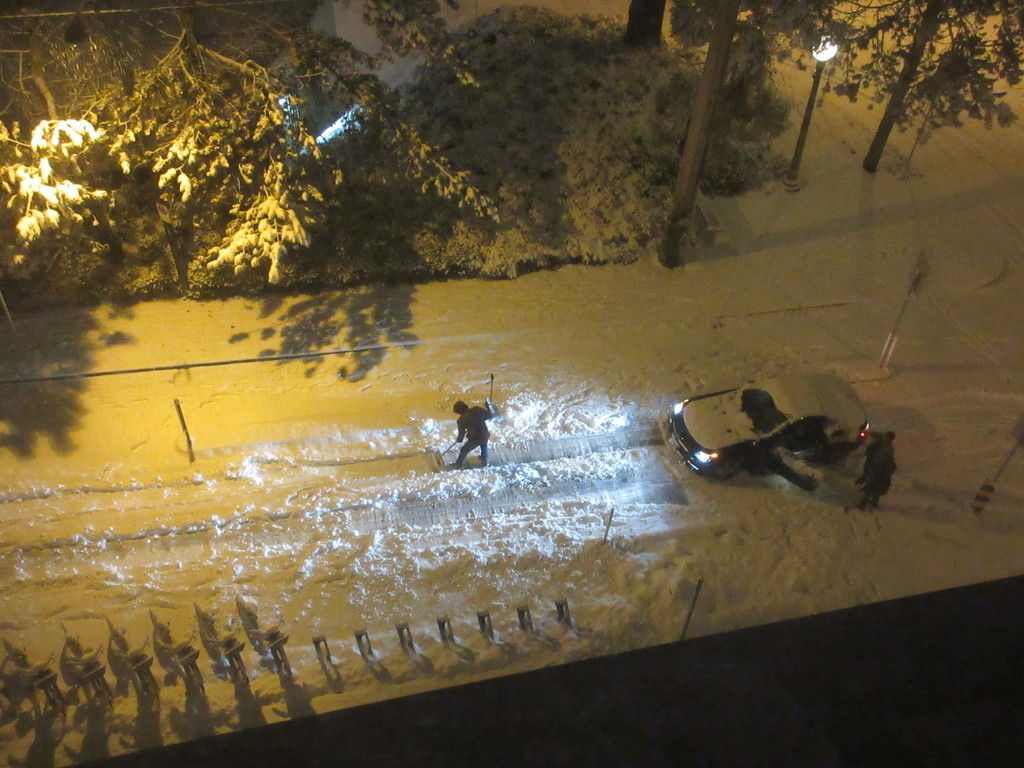 2022 January Moonset, and Sunset Upon Xmas
2022 January 5: Squirrel Explorations
2022 January 4: Snow Nostalgia
2022 January 3: Water in an Icicle
2022 January 2: Building Shadows
2021 December 31: Butchart Gardens AND The Long Sunset
2021 December 30: Interrupt Again With More Weather
2021 December 29: Butchart Gardens Light-Show I
2021 December 28: Weather Bulletin: Frozen Lagoon Snow
2021 December 27: Long Sunset IV
2021 December 26: Long Sunset III
2021 December 25: Xmas Day is white
2021 December 24: Xmas Eve: Sunrise, Sunset
2021 December 22: The Long Sunset I
2021 December 21: Elevated Ice
2021 December 20: Found a Few More Decorations
2021 December 19: Snow(fall) Day in Vancouver
2021 December 17: Last Few Neighbourhood Decorations
2021 December 16: Larger Buildings Sometimes Decorate
2021 December 15: Tudor House Christmas
/home/roy/Desktop/brander.ca/dora/manhattanhenge-full-sun-mock-up_full_610.jpg2021 December 14: Neighbourhood Winner!
2021 December 13: Neighbourhood Outdoor Christmas
2021 December 12: Neighbourhood Christmas
2021 December 11: Back to Early Fall
2021 December 10: Gardener Tree, Lost
2021 December 9: Melting Snowman
2021 December 8: Another Upside-Down
2021 December 6: ...Look a Lot Like Xmas!
2021 December 4: A Meadow Vole
2021 December 3: One Tree in the Sunlight
2021 November 30: The Soap Trail
2021 November 29: The Filter Gallery
2021 November 28: "Street Waves", New Monitor