Dora's Page: An often-daily photoblog to assure Connie's Mom We're Still Here
January 10: Hangovers
I don't know what to call it, when the snow packs down on our glass roof, then slides off slowly, with a "hangover" of snow that holds together like this. It's such a cool phenomenon. There were huge ones with the first snow dump, but I showed some of those pictures last winter. The second dump managed to do it again, though the "hangovers" were less than an inch deep, and, as you can see, not even solid.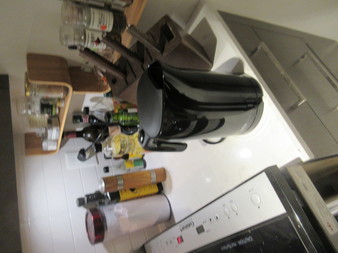 This is for the "blog" part of photoblog, just what's happening in our lives, Dora. As you'll recall, I have this affectation of loving my European kettles that run on 220V and boil water twice as fast as a North American kettle.
We were recently bereft to have our spare kettle die after just 18 months. That was the one I bought on our last trip, I literally got it in Portsmouth in February 2020, a day before leaving. The old one was still running, but started leaking just a few months into the pandemic, and we smugly switched to the new-bought one, thinking it would last for years. Last "Russell Hobbs" kettle I buy, I guess.
Anyway, we went back to a slow 110V kettle, but I asked Yan in Spain if he'd try sending me a European kettle as an Xmas gift, and he ordered it from Amazon, with our address for delivery, in the middle of the Xmas rush. I'm not sure if that's why a foreign appliance slipped into the country, but it is much appreciated, running on a safe, professionally-installed legal 220V Canadian power plug, and is happily pumping out a teapotfull of boiling water in a minute flat.
Merry Xmas, with many thanks to Yan and Maria!
One extra thing - click on yesterday's link, right below, for another look at the lightshow picture at bottom. Alan Beairsto just had to crop it, improving it enormously.

2022 January 9: Lightshows, Morning and Evening
2022 January 8: Snowed-in Beach
2022 January 7: Vancouverites are Funny in Snow
2022 January 6: Moonset, and Sunset Upon Xmas
2022 January 5: Squirrel Explorations
2022 January 4: Snow Nostalgia
2022 January 3: Water in an Icicle
2022 January 2: Building Shadows
2021 December 31: Butchart Gardens AND The Long Sunset
2021 December 30: Interrupt Again With More Weather
2021 December 29: Butchart Gardens Light-Show I
2021 December 28: Weather Bulletin: Frozen Lagoon Snow
2021 December 27: Long Sunset IV
2021 December 26: Long Sunset III
2021 December 25: Xmas Day is white
2021 December 24: Xmas Eve: Sunrise, Sunset
2021 December 22: The Long Sunset I
2021 December 21: Elevated Ice
2021 December 20: Found a Few More Decorations
2021 December 19: Snow(fall) Day in Vancouver
2021 December 17: Last Few Neighbourhood Decorations
2021 December 16: Larger Buildings Sometimes Decorate
2021 December 15: Tudor House Christmas
/home/roy/Desktop/brander.ca/dora/manhattanhenge-full-sun-mock-up_full_610.jpg2021 December 14: Neighbourhood Winner!
2021 December 13: Neighbourhood Outdoor Christmas
2021 December 12: Neighbourhood Christmas
2021 December 11: Back to Early Fall
2021 December 10: Gardener Tree, Lost
2021 December 9: Melting Snowman
2021 December 8: Another Upside-Down
2021 December 6: ...Look a Lot Like Xmas!
2021 December 4: A Meadow Vole
2021 December 3: One Tree in the Sunlight
2021 November 30: The Soap Trail
2021 November 29: The Filter Gallery
2021 November 28: "Street Waves", New Monitor